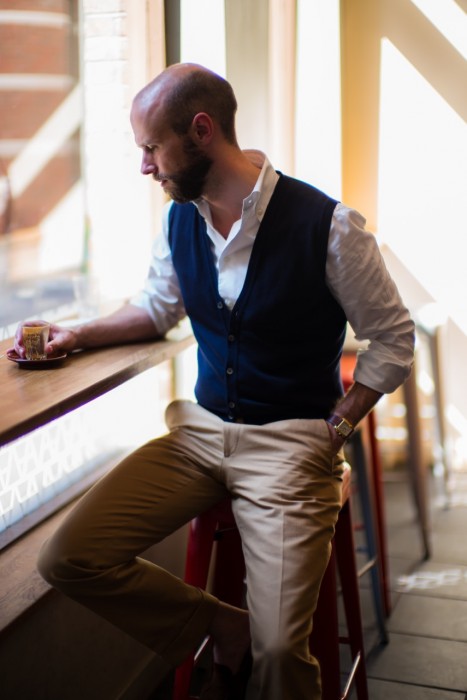 THE FINAGON CARDIGAN WAS PUT INTO SMEDLEY'S PERMANENT COLLECTION FOLLOWING THIS COLLABORATION. YOU CAN BUY IT ON THE SMEDLEY SITE.
–
Last year I began working with John Smedley on our next project – the perfect cardigan.
The requirements were:
It had to be thin enough to wear year-round (and under a jacket).
It had to be slim enough to perform the same function, also making it more flattering than the vast majority of cardigans.
Finally, and perhaps most importantly, it had to be the right length.
Most cardigans are simply too long. That's the biggest reason why they bag out around the waist – the combination of long length and tight webbing. Guys who wear tailoring often have to undo the bottom three buttons of cardigans to avoid this happening. It's particularly bad with high-waisted trousers.
The result of our work was the Finagon: a slim, sleeveless cardigan knitted in Smedley's 30-gauge merino. It has a superior fit, works beautifully with tailoring and, length-wise, sits perfectly with both chinos (Incotex straight-cut, below) and high-waisted trousers.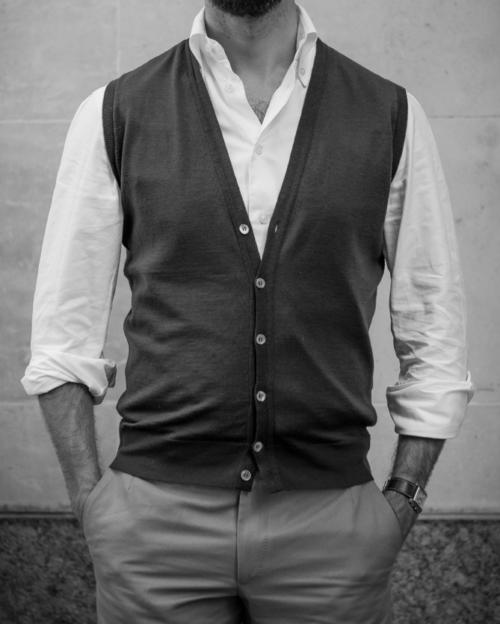 But this is different from previous collaborations in one important aspect. You can buy it now, to be shipped instantly, in 14 colours.
Previous collaborations such as the Dartmoor were made on a pre-order basis in order to keep down both costs and risk. The success of those projects enabled us to make the leap with Finagon, and make it part of the full A/W 2014 collection. So it is all knitted, sitting in stock and available for you and anyone else to buy.
Those 14 colours include classic navy ('midnight') and some of my all-time favourites: deep green ('racing'); a teal colour ('Egyptian blue'); and dark purple ('Italian plum'). All will look great with navy suits, chinos and flannels. Deep green is the most versatile; I plan to acquire at least four.
As a Permanent Style reader, you can get free shipping on any order – not insignificant, given the majority of Dartmoor sales came from North America and Asia.
Simply use the code FINFREEPOST at checkout and get a leap over the general public. That code won't be around forever – it runs out on September 10 – so get in there now.
As with anything bought from Smedley, their full exchanges and returns options also apply
There are more details of the product on the John Smedley site. If you have any questions, please ask in the comment section below.