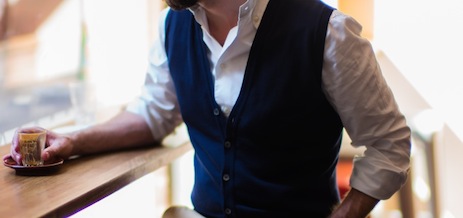 THE FINAGON CARDIGAN WAS PUT INTO SMEDLEY'S PERMANENT COLLECTION FOLLOWING THIS COLLABORATION. YOU CAN BUY IT ON THE SMEDLEY SITE.
–
Following Monday's post on the cardigan we have developed with John Smedley – the Finagon – here is an update and answers to questions.
Almost three-quarters of orders so far have been for Racing Green, and as a result medium and large have already sold out. It's great to have such a strong response, but I'm sorry for those that missed out.
The next delivery should be in five weeks. However, having spoken to Smedley, we have come up with a way to get you to the front of queue. Please email [email protected] and ask to reserve a colour and size. That way we can guarantee a piece from the next release, and there's no chance of missing out again.
In the meantime, having seen all the colours in person, I also recommend indigo (a subtle, alternative shade of blue that looks great under navy) and soot (a nice yarn mix of grey and brown).
Second, here are the measurements for the Finagon, in sizes from small to XXL:
Chest width: 48, 51, 54.5, 58.5, 61
Body length: 60.5, 62, 63.5, 65, 66.5
Width across top of ribbing (hips): 37.5, 40.5, 44, 48, 50.5
Shoulder width: 31, 33, 35, 37, 39
Armhole (seam to seam): 21, 22, 23, 24, 25
Lastly, a reminder that unlike some collaborations that require guaranteed orders, the normal John Smedley returns policy applies to Finagon orders. So feel free to order, try on and return if necessary. Particularly given the free shipping available to readers by using the code FINFREEPOST.
Note: pre-orders are on a first-come first-served basis while stocks last, and are only available on Racing Green