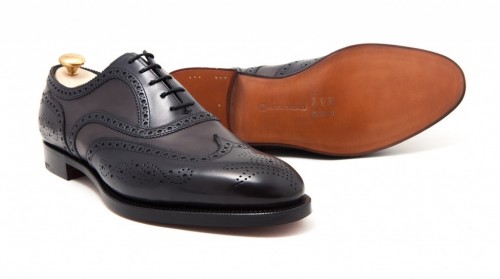 You see quite a few bankers around this part of London wearing driving shoes with their suits. They presumably think they've stumbled onto a great thing – like loafers, but different, and in a huge range of colours.
But then they can't see their suit trousers piled up on the rubber nubbins that driving shoes often have on their heels. To those walking behind them, it looks just as bad as wearing chunky trainers with a suit.
Driving shoes and worsted wool (the smooth wool of most suits) are just too far apart on the formality scale. This is why they look wrong together; why suddenly the shoes make suit trousers look flimsy and insubstantial, a little like pyjamas.
Here is my approximation of the sliding scale of formality:
ShoesTrousers
Wholecut Oxfords – Worsted wool
Toecap Oxfords (quarter brogues) – Worsted wool/linen or cotton
Monk-front shoes – Worsted wool
Half-brogues – Worsted wool/linen or cotton
Derbys (Bluchers) – Flannel/worsted/cords or khakis
Smart slip-ons (Norwegian split-toe) – Worsted/cords or khakis
Full brogues (wingtips) – Flannel/cords
Suede/Nubuck – Anything but worsted
Deck shoes – Cords or khakis/jeans
Driving shoes – Khakis/jeans
[Notes: This list does not include boots, extending above the ankle makes any of these types a notch more casual; neither does it include shorts, as I think they can look good with anything but the top three types of shoe; double soles also make any of these a notch more casual, particularly monk-fronts; patent leather should be reserved for formalwear; cotton is the most versatile material and can be hard to pin down, as jeans can go with all but a few of these shoes, as can khakis arguably.]
These, to me, are the types of shoe (beginning with the most formal and ending at the bottom with the most casual) that most suit a material of trouser.
The more formal and elegant a piece of clothing the more delicate its materials and textures are likely to be. Worsted wool needs shoes with sleek shapes, slim soles and clean designs. Heavier wools need heavier shapes, most obviously flannel with brogues. The rough seams and rubber ridges of driving shoes are more suited to jeans or more casual trousers.
Within this range, combinations can work by going up or down one notch, possibly even two. But the problem of wearing driving shoes with worsted is demonstrated – the two are just too far apart.