Which sports-jacket office are you?
One of the most popular posts we've ever written on Permanent Style was 'Which office are you?', back in February 2016.
It showed a spectrum of outfits from T-shirt and jeans, through knitwear and flannels, up to a jacket and tie - with just one piece of clothing changing each time.
The idea was to demonstrate how such changes affected formality – and therefore how any reader could pick the one that suited the dress code of their office.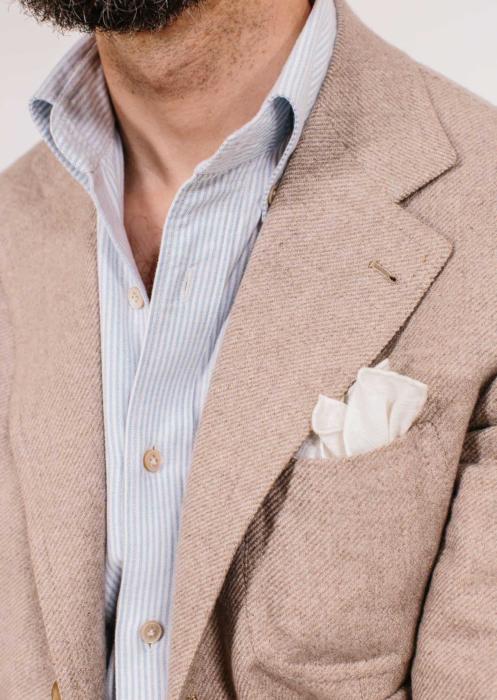 This post builds on that concept, but within narrower bounds.
Here, we take what I hope to be the future of professional office wear – sports jacket, shirt and trousers – and demonstrate how similar changes affect formality.
So we start with the American classic - navy blazer and grey trousers - and push it through paler colours, hairier textures, and different trousers, all the way down to tweed and jeans.
It is a more focused 'Which office are you?' The kind, in fact, where everything could be relevant to the same office, going from client meeting, to every day dress, to perhaps dress-down Friday.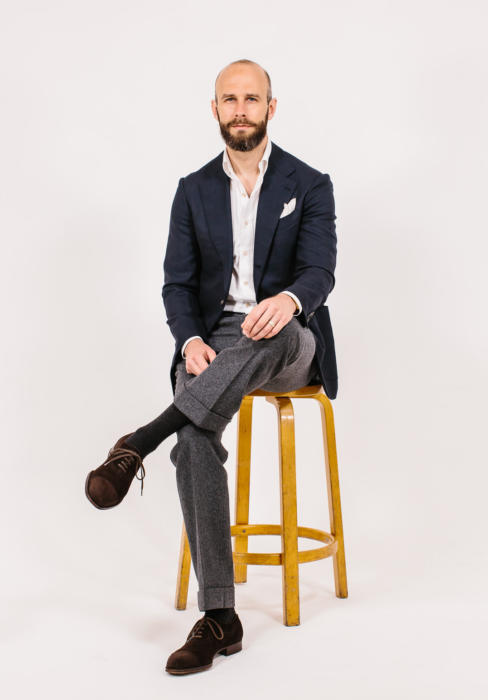 1. Navy jacket and grey trousers
This first combination is so ubiquitous it is sometimes referred to as the 'menswear uniform'. But frankly, unless you spend your time at Pitti or in a menswear store, it's more likely this will be associated with a certain gold-button-blazer American type.
Ignore that and try it. The combination looks so much better than a suit without a tie, and if well made and well cut, it will look smarter too.
The trousers can be a high-twist wool in warmer weather or flannel (as here) in colder.
The handkerchief makes it a little stylised, and you could start without it. Perhaps even just to add when you go to dinner in the evening.
Jacket: Navy mesh from Holland & Sherry, made bespoke by Ettore de Cesare
Trousers: Mid-grey flannel from Smith's, made bespoke by Edward Sexton
Shirt: White-cotton twill, made bespoke by Luca Avitabile
Shoes: Brown-suede oxfords, made on an adjusted last by Saint Crispin's
Socks and handkerchief: Cotton and linen respectively, from Anderson & Sheppard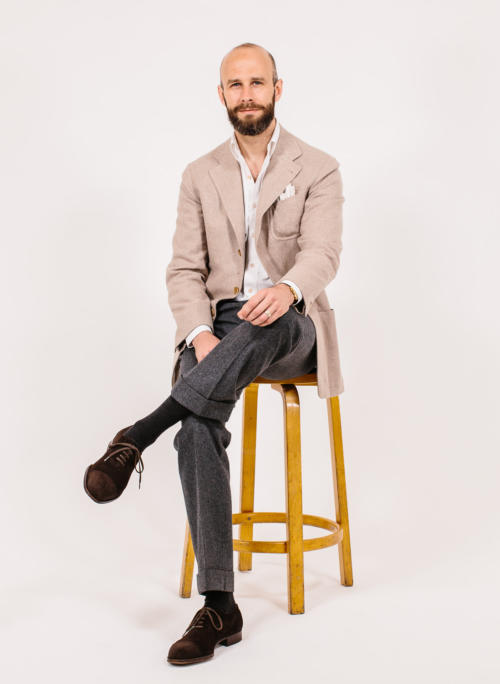 2. Oatmeal jacket
In outfit number 2, we swap the navy jacket for an oatmeal-coloured cashmere one.
Changing from navy or grey is instantly more casual; but the oatmeal is still quite smart, due to its cold, muted tone. It sits perhaps halfway between navy and a stronger green or brown.
The cashmere fabric also means the jacket sits between those two, being not as sharp and crisp as hopsack, but smoother and more luxurious than tweed.
The overall look is still fairly formal, with its restricted palette and lack of pattern.
The shoes, by the way, we are keeping the same throughout every outfit: a brown-suede oxford.
A leather shoe, in particular a black one, would be smarter and probably more appropriate with the first outfit (especially given the contrast laces).
But suede still works. And keeping the same shoe throughout allows us to focus on just the jacket, trouser and shirt.
Jacket: Oatmeal Loro Piana cashmere, made bespoke by Elia Caliendo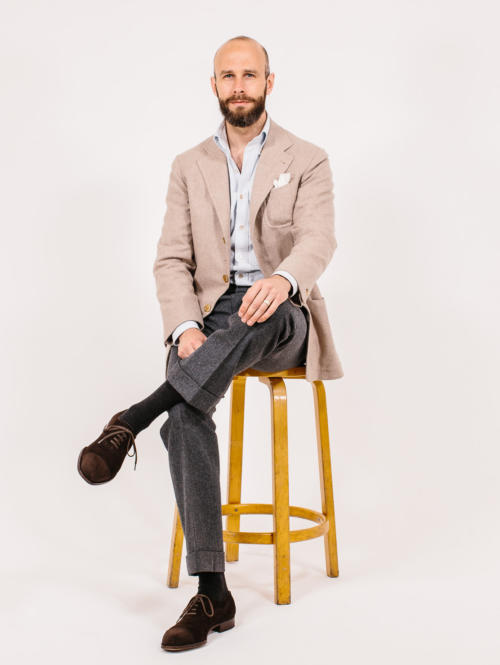 3. A blue oxford shirt
This is the most subtle change of the series, and has greater impact in person. But it's an important one.
Most men think of blue and white shirts, in a variety of patterns, as interchangeable. But a plain white cotton-poplin is much smarter than a striped blue heavy-oxford, as shown here. The first is very corporate and professional, the second rugged and casual.
There are three variables, and they all make a difference: colour (warm/cold), fabric (smooth/rough), and pattern (plain/not).
Other parts of the design can also make the white shirt more formal: a lack of placket, a non-button-down collar, even the height and angle of the collar.
Perhaps most obviously, the shirt makes it much easier to bridge into the next change, which is one of the biggest.
Shirt: Blue/cream stripe PS Oxford fabric, made bespoke by Luca Avitabile
4. The tweed jacket
Hopefully by now readers will know to look at this jacket from the point of view of both colour and texture. The brown is stronger and warmer than the oatmeal it replaces; the tweed is rougher and more varied than the cashmere.
The whole outfit is now much more casual, and is perhaps one no lawyer or banker would wear to the office. But a fund manager or tech executive might.
Indeed, during a talk I gave two weeks ago, one attendee said in his area of tech, the uniform was pretty much jacket, polo shirt and trousers. His question was, how to do it better. I'd point him towards this outfit, plus numbers 3 and 5.
At this point the white-linen handkerchief is also verging on too smart for the outfit. A wool/silk or cotton, with more colour and pattern, might be better. But as with the shoes we'll stick with it for the sake of simplicity.
Jacket: Holland & Sherry tweed, made bespoke by Elia Caliendo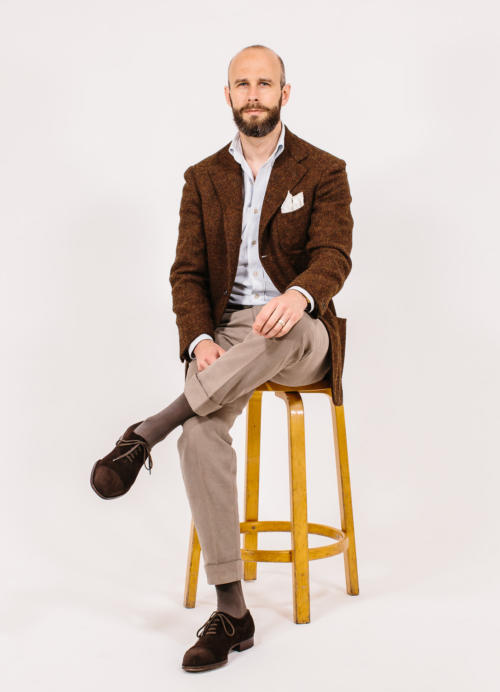 5. Chinos rather than flannels
Arguably, the trousers make a bigger difference to these outfits than the jackets. The change from flannels to chinos to jeans, is more extreme than worsted to woollen to tweed.
That change can be felt immediately here. Even though the cotton trousers are fairly trim and smart, they don't feel like traditional office attire any more.
Tailored cotton trousers to wear with a jacket are not an easy thing, largely because of the cottons offered by most mills (in my experience). But these from Stoffa do it well. More on them in a week or so.
Trousers: Stoffa exclusive plain-weave cotton, made to measure by Stoffa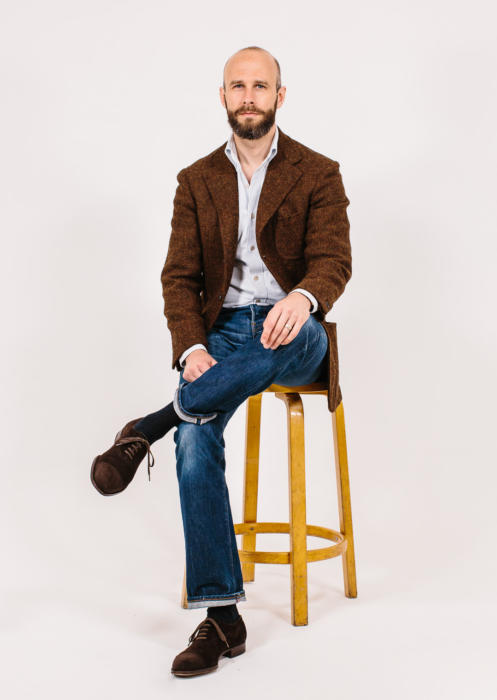 6. Swap chinos for jeans
The final change, and the obvious one. It doesn't get any more casual than this, unless you want to explore rips and cargo pockets. Which we don't.
These are of course my bespoke Levi's jeans, which have done great service over the years (though now a little tight in the seat and thighs).
They are a blue Cone Mills denim, heavily worn and therefore lightened. Newer, dark-indigo denim would be smarter and easier to wear with tailoring.
But these are just about OK, largely thanks to the casual pieces that have been added during this process: the shirt in a traditional, slubby oxford fabric, the jacket in a Harris-coloured tweed.
The oatmeal jacket from earlier would struggle to work with these jeans, as would the white shirt.
The latter would need everything else to be casual: that same PS Oxford texture and style details like the placket and button-down collar; even a breast pocket.
Jeans: Cone Mills denim, made bespoke by Levi's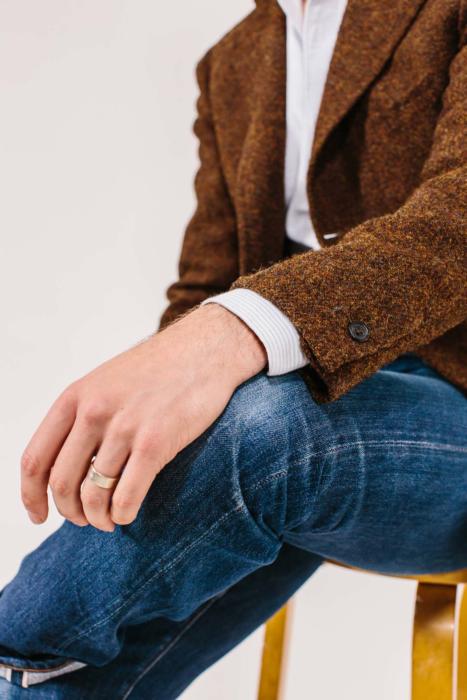 That's the sliding scale of formality. The modern office outfit of jacket and trousers, in six different combinations.
Links to all the clothes featured (including cloth numbers, for example) are in the links at the bottom of each numbered section.
The only question is, like last time, which office are you?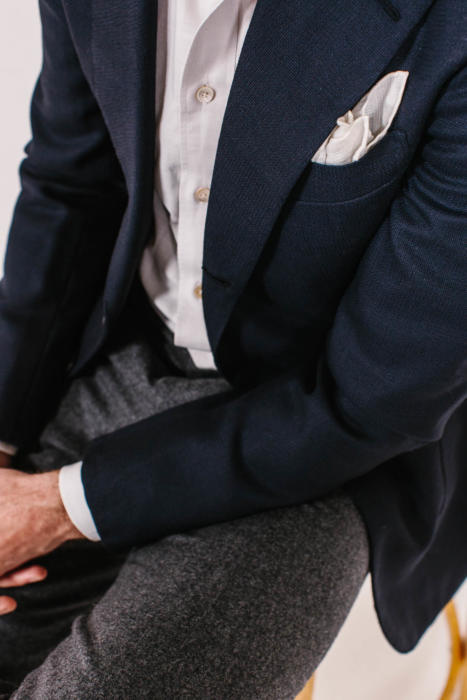 See the original article here.
Photography: Jamie Ferguson @jkf_man
What to know more about how Permanent Style is funded? Read here