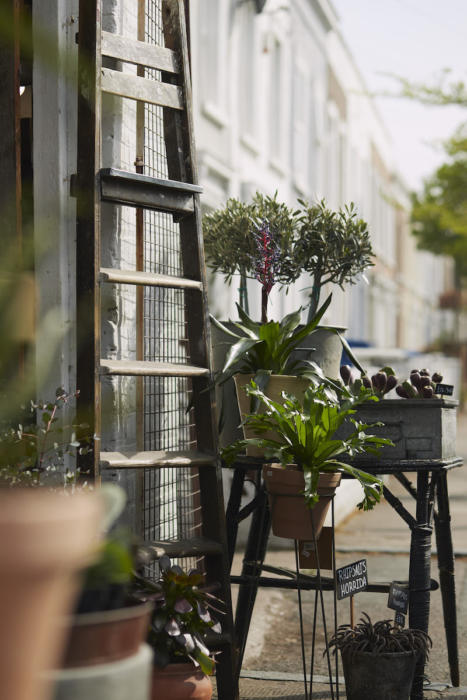 Six years ago, we began a collaboration to create a perfect polo-collar sweater, called the Dartmoor.
It was made by John Smedley, was popular with readers, and sold out several times. Since then, unfortunately, Smedley have discontinued it.
So last year we began the process of recreating it with the Italian factory we work with, Umbria Verde, and I'm really pleased to say that it is finally available again.
Indeed, it is rather improved on the original, in terms of the quality of the merino used, the fineness of the make, and the functionality of the style.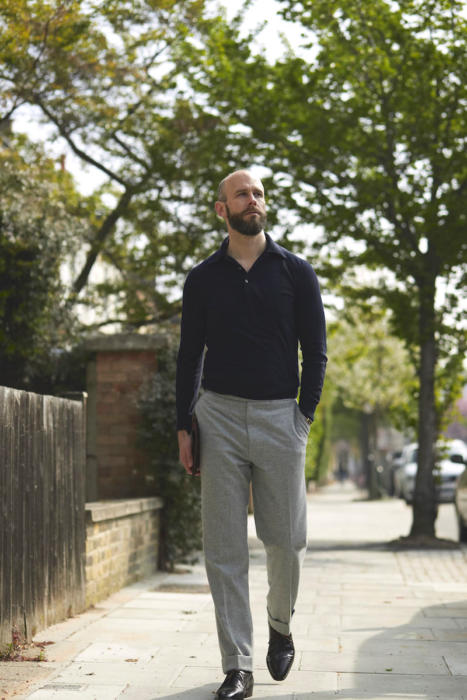 I find a polo-collar sweater like this endlessly useful, because it's such a smart style of knitwear.
I don't necessarily want to wear a shirt every day: I instantly feel more relaxed without one, and ironing is never fun.
But wearing just a crewneck or V-neck isn't that smart. The addition of a collar makes the knitwear much sharper and sartorial, but no less comfortable.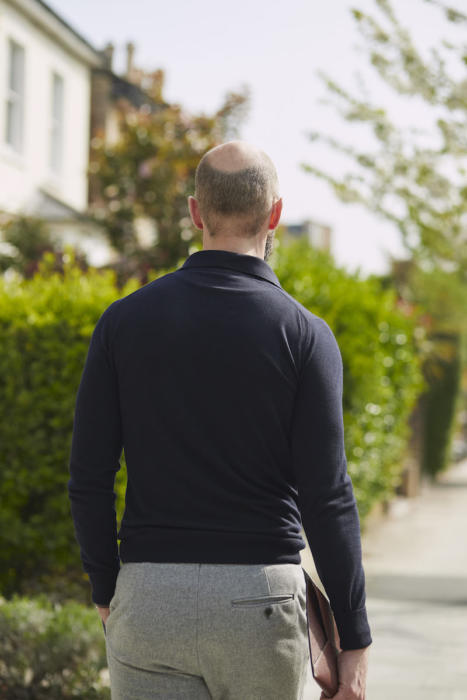 Just as importantly, a crew or V-neck sweater without a shirt underneath is not that flattering on many men.
I see a lot of guys wearing a crewneck as dressed-down office attire. It can look good: casual yet refined.
But just as a collared shirt is more flattering on most men, so too is knitwear with a collar. Especially for anyone with smaller shoulders or a longer neck.
I wear a polo-collar sweater like this with tailored trousers, as shown above, and a blouson or other suede jacket over the top.
I'll either wear a T-shirt underneath or - as here - a vest.
The only issue with polo-collar sweaters, I find, is that they don't work under tailoring. The collar has a tendency to collapse under the lapels, or occasionally flap out over the top.
That's a shame, because it's a great option to have under a tailored jacket: a shirt alternative that's not as dressed up or seasonal as a roll neck.
So on this new version of the Dartmoor, we worked through several prototypes to improve how the collar sat under tailoring.
We knitted the collar tighter, reinforced the placket with a light fusing, and moved the collar's position up the neck.
We also experimented with different lengths and angles of collar, to find one that wouldn't collapse underneath the jacket, or flop outside it.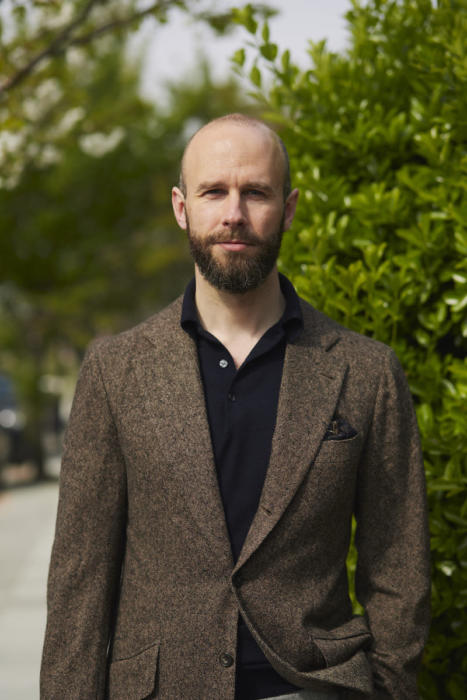 The result, as you can see from the images, is pretty good.
A knitted collar like this is never going to have the stability of a shirt. It will move around, shift from side to side, and need a touch of adjustment when you put your jacket on.
But it doesn't readily collapse or flop out, and in that regard does what we wanted. It's a realistic, elegant alternative to a shirt under tailoring (as many things we've done are).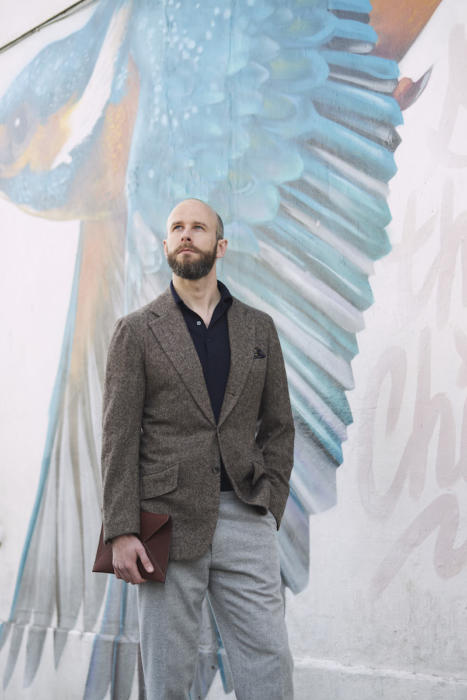 The Dartmoor is made from a fine Loro Piana merino wool: the best merino you can get, but in a slightly thicker yarn than the Finest Knitwear we did previously - in order to be more similar to the original.
It has a placket with three mother-of-pearl buttons, and a ribbed cuff that is designed to be folded back on itself.
This double cuff is a little smarter than a regular one (in the same way a French cuff on a shirt is: no seam is exposed) and also allows a little adjustment in the sleeve length, which is nice.
I've continued to use Umbria Verde in Italy for this production because Simone and his team produce to such a high level.
There are little touches of this exceptional quality throughout the garment. For example, the placket is knitted in the same direction as the body of the sweater, making it feel like part of the whole (below, circled). This takes an extra step in production, and almost no one else does it.
The collar is also fully fashioned together with the body - rather than cutting the collar separately and knitting it on. Again a small point, but it too makes the collar feel part of the rest of the piece, and avoids a hard seam.
The shoulder seam is fashioned using a herringbone style, which you would never notice but gives the seam more stretch than a normal one, and therefore more comfort. (Indicated above with a green line.)
And finally - the easiest thing but probably my favourite - the buttons are fastened with different-length shanks. The bottom two have a long shank to make fastening easier, but the top one has a short shank so the collar sits flat if you do it all the way up.
I've included images the factory sent, above, because I love how excited they were to communicate these things. People never normally ask.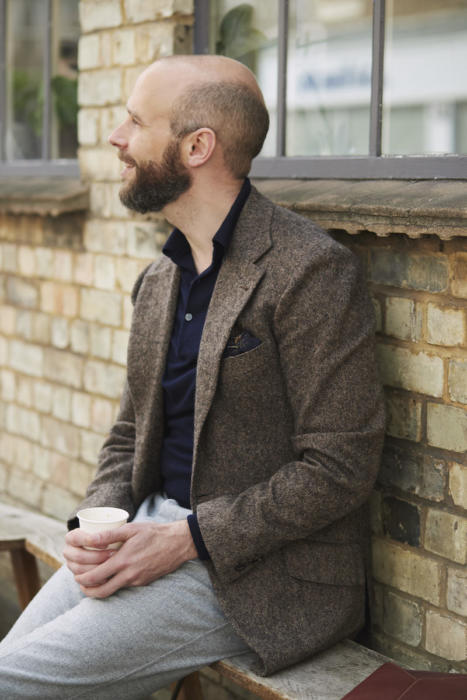 The Dartmoor is only available in navy at the moment, but we'll do more colours in the future.
As per usual, it's also good value as we pass on a lot of the savings of only selling online, and don't do wholesale. The Dartmoor costs £215 plus VAT - almost half the price it would be from one of those luxury brands.
The fit is the same as the Finest Knitwear, so anyone that has bought that previously should buy the same size here.
I would describe that fit as moderately slim. It's nice on me, but also works on less-skinny readers that I've seen. For full measurements see the shop page here.
I really hope you like the Dartmoor, and find it useful. In an age of dress-down tailoring, it feels like the kind of thing men will get a lot out of.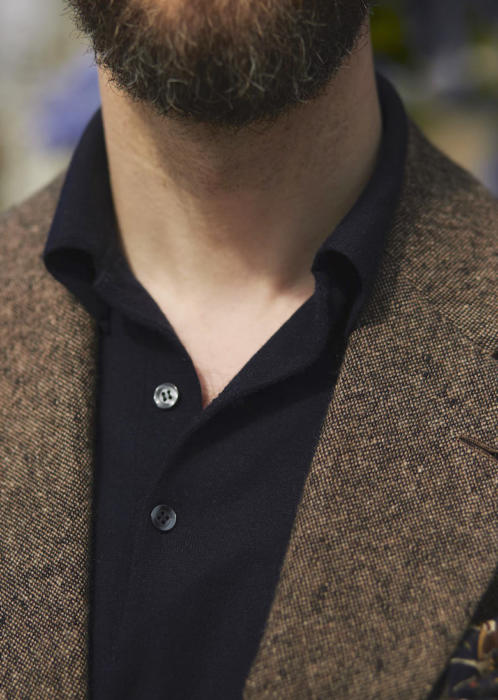 Dartmoor worn with:
Photography: James Holborow. Shot around my home in East Dulwich, and its wonderful street art.