Musella-Dembech is a tiny tailor. They're still based in the family home, even though recently they've expanded to make the whole appartment a working sartoria.
Their reputation, however, is rather larger. That's down largely to the father's background (Francesco Musella, who worked at influential tailors Mario Donnini and then Augusto Caraceni) and the skill and style of the son, Gianfrancesco.
(More on that background in previous posts here.)
Stylistically, the result is a cut with the strong lines and lapels of the Northern Italian tailors (such as Caraceni, who we covered in this series previously) but the soft structure and shoulders of the South (such as Solito, for example).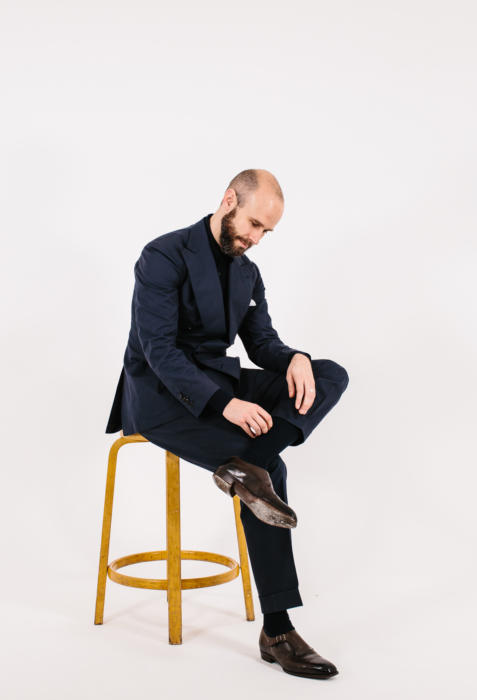 House: Musella Dembech
Address: Via Celestino IV 9, Milan
Site: www.muselladembechmilano.com
Cutter: Gianfrancesco Musella
Price (at time of writing): €6500 (incl VAT, price higher because of extra finishing around unlined body and sleeves)
Suit starting price: €5700 (incl VAT)
Gianfrancesco cut this suit for me in 2017, and it has become one of my favourites. Indeed, it was the basis for naming Musella-Dembech the Artisan of the Year in 2018.
Part of the reason is the navy cotton, which I really enjoy wearing in the summer.
Cotton like this does not hold a crease, and wrinkles much less elegantly than linen. But it is very comfortable, and pleasingly soft and casual in appearance.
The bigger reason, though, has to be the style. The shoulders are soft and natural, yet the lapels have real impact. It looks laid back, yet sharp.
I can't think of another piece of tailoring I have that combines those elements so well.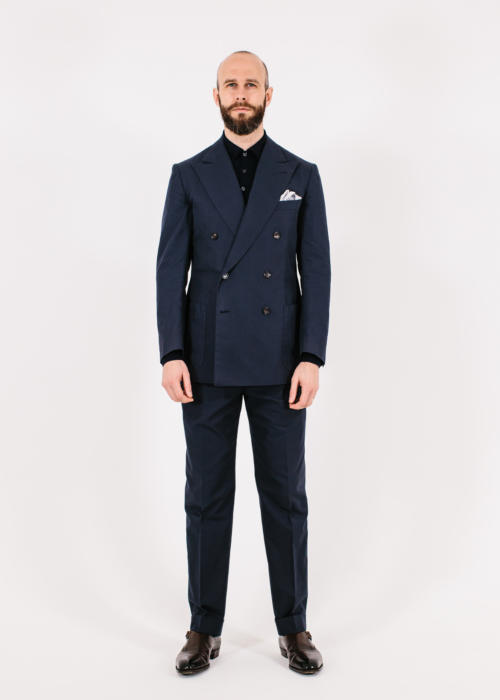 Let's break down that lapel, given how much it dominates the style of a double-breasted suit like this.
First of all, it's wide. At the peak it is 4½ inches across. Compare that to the other double-breasted we've covered in this series, from Henry Poole, which was 3⅞.
Second, it's long. Its buttoning point is 19½ inches from the shoulder seam, which is slightly long anyway, but more so proportionately, given the relatively short length of the jacket (30¾ inches in the back seam).
Third, the gorge (where the lapel and collar meet) is high: just three inches from the shoulder. This makes it even longer, extending it at the top end. The peak is saved from flying off the shoulder (and looking silly as a result) by being quite flat.
Last, it is curved. It has what the English tailors call both 'round' and 'belly': both curving outwards from the waist button and continuing to do so through its middle. (Again, the Poole lapel looks even slimmer because it is relatively straight.)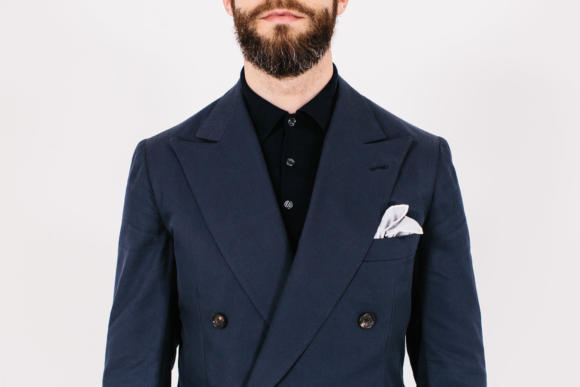 I should say that the lightweight structure also means that the lapel can be buttoned fairly satisfactorily to the bottom row of buttons, rather than the middle.
This always means some kind of sacrifice to the fit, but it is slight.
And that lower buttoning (sometimes called 'Kent buttoning' after the British Duke of Kent) makes the lapel still more dramatic still – though perhaps too stylised for some.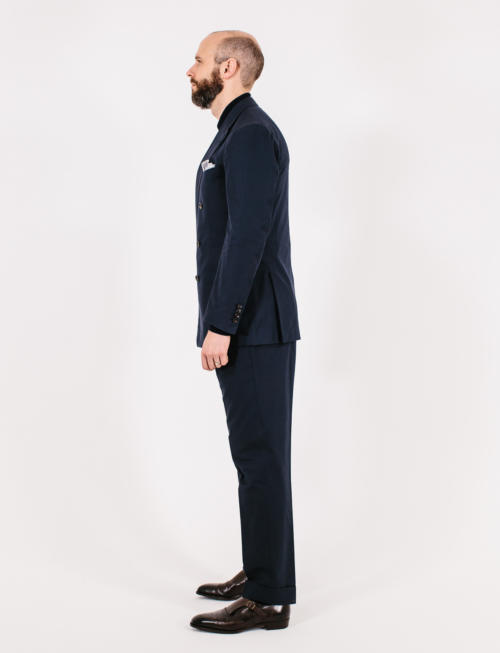 I find it interesting myself looking at some of these straight, profile shots of the jacket, because they don't necessarily match up to how it feels.
For example, the jacket has a very straight back, as you can see in the side-on shot above. There is no shaping at all to try and follow the shape of my lower back – it's pretty much straight from top to bottom.
Gianfrancesco did this deliberately to allow more movement and comfort (an issue with cotton, as it doesn't have the natural stretch of wool) but it's not something I notice, I guess because one rarely sees oneself from this angle.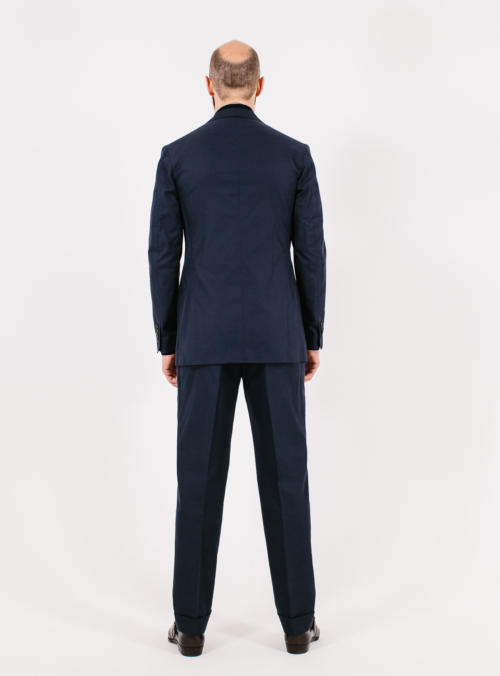 The jacket is also a little shorter than I realised. You can clearly see the fork of the trouser below it, at front and back.
In fact, with that shortness, straight back, and the straight bottom that comes from being a double-breasted, the jacket could be said to look rather square and boxy.
I think this is slightly misleading, and perhaps is an issue of presenting these suits largely in such unnatural poses.
For I would never stand like this normally, but would have at least one hand in a pocket, or be leaning, or have my arms in some other position.
The shape of the bottom half of the jacket would be frequently distorted, as a result – and I think this is why I have generally judged the suit's style based so much on the shoulder and lapel line.
Those things generally have greater impact, of course, being closer to the face; but I think they do so even more in how a suit is used and worn every day, than images like this suggest.
Such poses make analysis easier, but are not always realistic.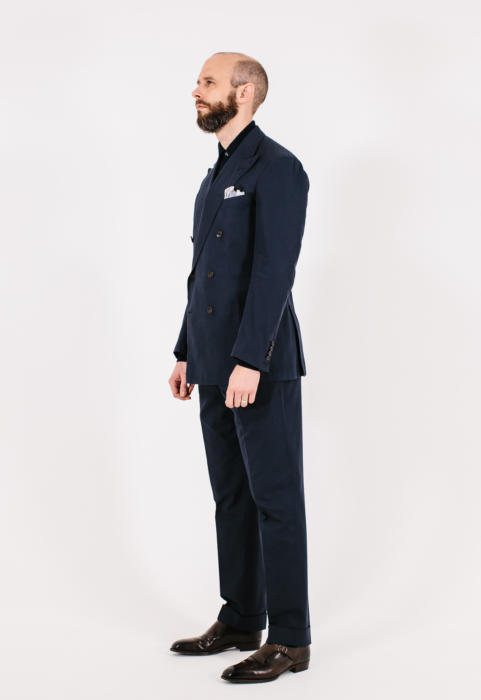 The suit is worn with a Dartmoor polo-collar sweater, done up to the neck in a style that I think is elegant for smarter occasions, but not day to day. (And unfortunately, is now permanently associated with British football pundits.)
Navy-on-navy is of course a rather formal combination given its darkness and simplicity, and this is increased by the grey linen handkerchief with white border (from Anderson & Sheppard).
The shoes are my much-loved Oundle monk-straps from Edward Green, in their Top Drawer make. They call the colour bronze, though it has rather darkened over the years with polishing.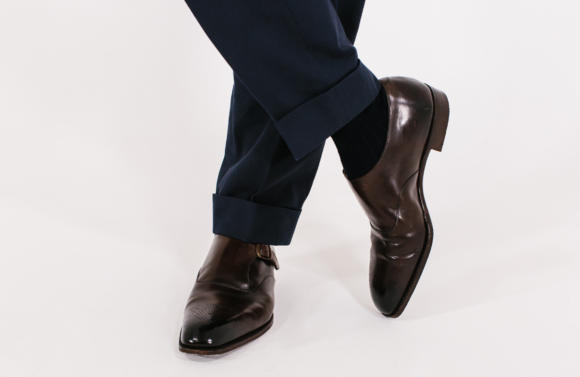 Style breakdown:
Shoulder width: 6 inches

Shoulder padding: Thin, single-ply pad

Sleevehead: Natural, spalla camicia ripples

Sleeve: Slim, not much tapering

Cuff width: 10½ inches

Lapel: 4½ inches

Gorge height: 3 inches

Drape: None

Outbreast pocket height: 10⅜ inches

Buttoning point: 19½ inches

Waist suppression: Small

Quarters: N/A, double breasted

Length: 30¾ inches

Back seam: Straight

Vent height: 9 inches

Trouser circumference at knee: 19¾ inches

Trouser circumference at cuff: 15¼ inches
Photography: Jamie Ferguson
What to know more about how Permanent Style is funded? Read here