Finest Polos back in stock, with charcoal and black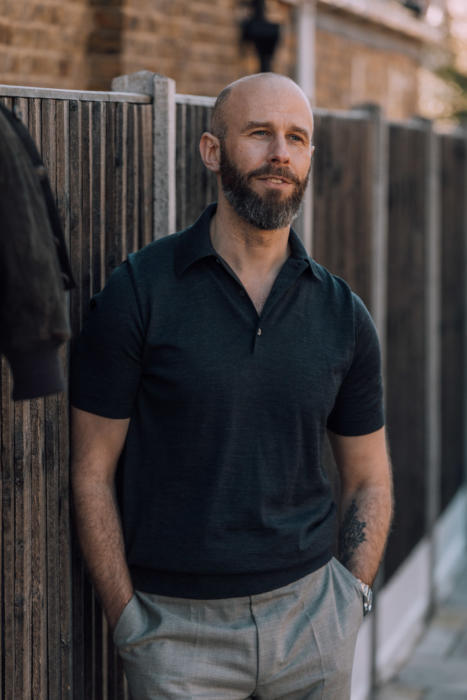 The Finest Polo - our superfine, high-twist merino knit - is back in stock, with black and charcoal new for this season, alongside navy.
The colour choice this summer was partly driven by last summer. I wore a sample of a charcoal at Pitti last year with my Dege & Skinner jacket, and a lot of readers said they'd like to see that added to the collection.
Later the same week, an all-black outfit with a black polo and black linen trousers was equally popular, and so I thought it made sense to add black too. It was also logical given the Dartmoor had just been released in black, and black knitwear is something we've written about on PS during the past year.
Grey and cream will be back, but not this year.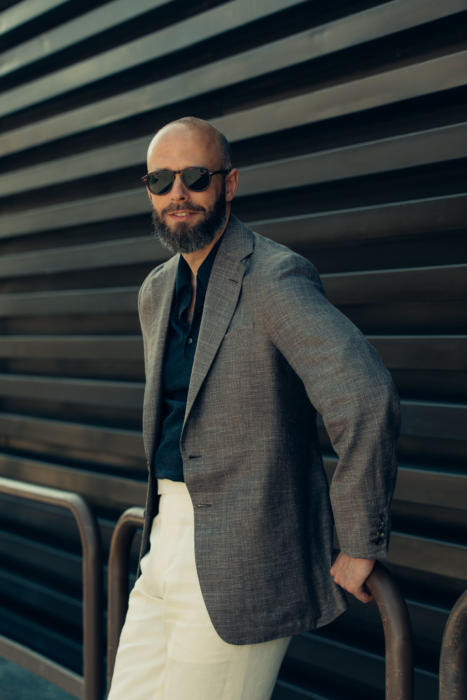 Now there's one thing I wanted to talk about with these polos early on, and that's shrinkage.
We had four or five readers report last year that they had issues after they washed the polos. That's not a lot out of the 150 that bought them, but enough to make me want to investigate and prevent it happening.
Readers will know that these polos are basically knitwear, and should be treated accordingly. That's a pain with a polo shirt, but being merino, I find I only have to wash them every second or third wear.
Just like other knitwear, I usually wash the Finest Polos by hand, simply putting them in warm water with a squirt of detergent, and giving them a couple of squeezes. There's a video showing a sample washing process here.
Wool is so much better than cotton in this regard, and I find odours disappear almost instantly. Steam has a very similar effect, and I know one reader that just steams his knits for a couple of minutes to good effect.
However, I have washed my polos in a machine - cold or 30 degrees, knitwear/wool setting, no spin, hang dry - and had no issues. All of those things are important, and I only do it because I know my machine: I've washed plenty of other fine knits that way.
What you do get when you wash a high-twist merino is wrinkling, which compresses the material and can make it feel like it's shrunk.
If the knit is quite roomy on you, you can wear it and much of the wrinkling will drop out. But, you can also get rid of it completely by ironing - you can actually see the material reshaping out as you do so.
I asked the makers, Umbria Verde in Italy, to make a little video showing this pressing process, and that's what I've included above. As you can see, it's mostly steam and shaping, not that much pressure, and pretty quick. They're professionals of course, but it's pretty easy to do at home.
The important thing is that it won't damage the knit at all - one reader was surprised when we told him that; he'd assumed ironing would shrink it further, given heat and moisture are generally seen as bad for wool.
Use a low temperature, certainly (there's often a wool temperature indicated on the iron) but otherwise you can press most knits - the steam does the same great job it does when you steam a jacket, or this polo when hanging up, as noted.
I also looked at the fit of the polos this year - comparing sizes on a few friends - and decided they'd been a little too slim. We'd come to the same conclusion with the Dartmoors, and like them added a centimetre to the waist on each side.
There may be a little bit of trend to this, with everyone preferring things more comfortable. It feels like there's such elegance in the drape of a fine material like this.
But they were also pretty slim to start with, and I had found that I sometimes wore a medium, sometimes a large. I'm now solidly a medium, as pictured here.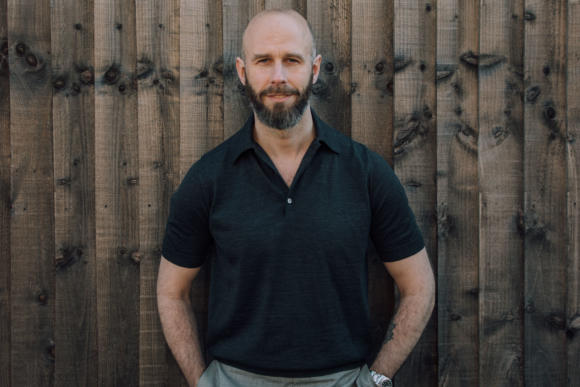 I'm very pleased the polos are back. Few things give me more pleasure in clothing than something that's easy to slip on, but creates an instantly elegant effect. That might be a linen overshirt or a pair of Belgian-style loafers, but it's always the same sense of easy refinement.
The Finest Polo is in that category. You pull on rather than button in, and are perfectly framed by the drape of the body, the roll of the collar.
The sunglasses, by the way, are from Clan in Milan. Connolly stocks them in London, though they're not on the website. It's good quality for the price, just over £200. Nicely finished, well-made hinges, understated designs.
I know I have a tendency to go for slightly more striking models, like the Meyrowitz I was wearing with that Dege jacket last year, and these have become a useful everyday style for me.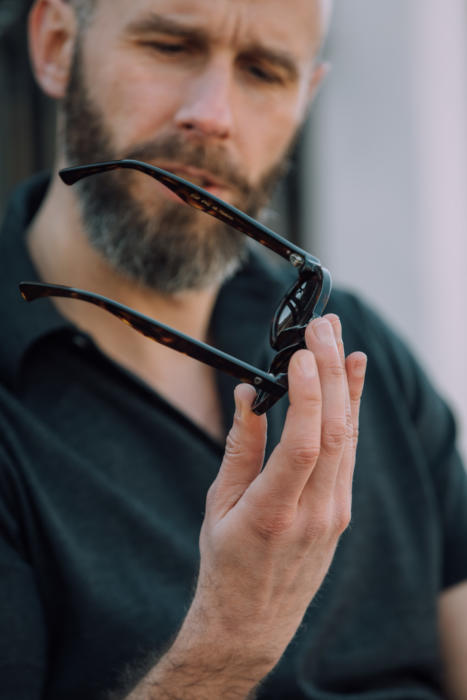 The Finest Polo in navy, charcoal and black is available on the shop site here. As with many things this past year, we've had to put prices up slightly, but only to reflect costs from the suppliers.
All the details about fit and make of the Polo can be found on the original launch article here. That's always more comprehensive than the product page.
The other clothes shown above are:
Bespoke trousers in two-ply Draper's Ascot high-twist wool, from

this suit

Piccadilly unlined loafers from Edward Green

Dark-grey socks from Anderson & Sheppard

Rolex GMT Master 1675

Dege & Skinner jacket outfit details here
Details on outfits below, here
Photography: Jamie Ferguson