Nicola Cornacchia grey summer suit: Review
This summer suit from Sartoria Cornacchia was made for me last year, and I would like to apologise for the delay in covering it.
I didn't get around to shooting the suit until the end of the Summer; events and the pop-up then got in the way; and by the time that was all done, it was cold and wet and the article no longer seemed appropriate.
Of course, few readers would have realised this (other than the occasional eagle-eyed commenter on the fitting post), but I do apologise to Nicola Cornacchia and his team.
Cornacchia is a small, regional tailor in Altamura, in the Puglia region of Italy. It's not the most popular area for English tourists, but is for other Europeans, and Italians in general often holiday here.
Altamura is a little way back from the coast, a beautiful walled town up on a hill, and makes a nice day trip. It's also famous for its bread (see my first post).
Nicola is the father and the cutter, Maria runs the business, and their daughters both do some aspects of the making.
The construction is lightweight, without being full-on Naples. So only a thin pad in the shoulder and a lightweight canvas, but no spalla camicia, shirring or anything particularly short or tight. It is a smart suit, for a hot climate.
The quality of the work is good - full bespoke - without being the best in the world. You can see on the post showing our one fitting (in Florence) for example, that the collar is padded by machine, not by hand.
This isn't the worst thing, and even some Savile Row tailors do it occasionally, but it's not the purist's idea of top-end bespoke.
In fact, I'd say overall that this suit is a great example of a good-quality, local tailor. The kind of thing there used to be far more of around Europe.
The fit is solid, the finishing good, and the product excellent value (suits start at €2200).
The problem for tailors like this over the past 40 years has been that people increasingly value design over quality - and so for someone that doesn't understand bespoke, €2200 seems like lot of money for someone they've never heard of.
If Permanent Style could achieve anything, I'd love it if it could encourage men to seek out local tailors such as this, realise the great value they get, and understand enough about design to make informed decisions about the suit's style.
Because the only obvious thing that tailors sometimes lack is an understanding of style, in order to keep their tailoring relevant.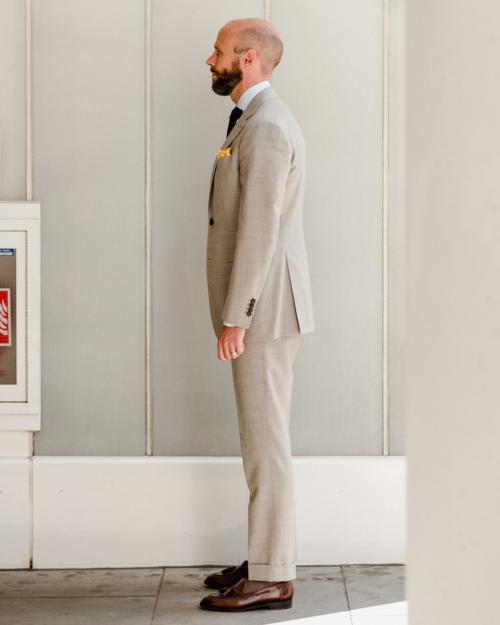 Cornacchia does quite well in this regard. They naturally cut a slim trouser and a relatively high buttoning point, both of which make it look contemporary.
The buttoning point is actually one thing I'd change if I made a second commission, perhaps lowering in 2cm. But it's pretty much the only thing.
The lapel also has a tiny amount of belly, which is a little unusual for southern Italian tailors, but again makes it look more like a ready-made style.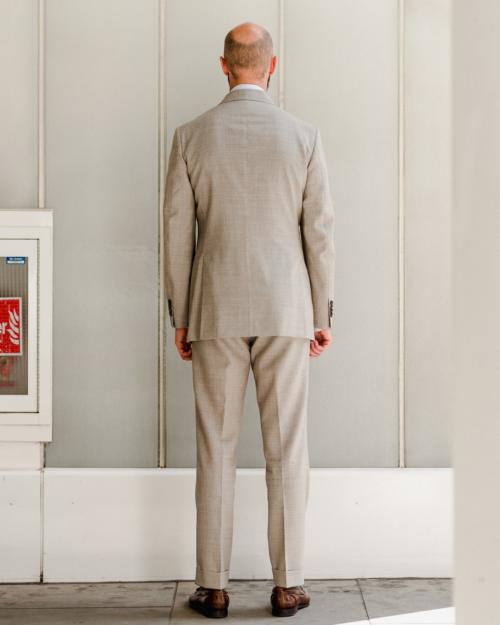 The fit is good, particularly for a first suit and with only one fitting.
The collar could do with being a little closer on the neck, and the shoulders lifted up slightly (visible on the back, not the front). The right side at the front could also do with being picked up a touch, and the armhole cleared.
But these are all small issues, which more expensive tailors have also had with my body shape.
And, it's worth emphasising that this fit is hugely better than any ready-to-wear suit. (I am planning some comparison pieces on that subject.)
Plus of course, the advantage with bespoke is that the second suit would fit better every time, while the RTW version would always be the same.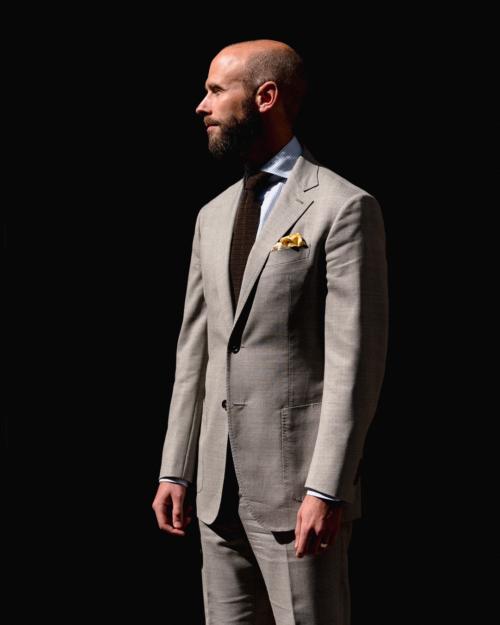 In fact, this is something that doesn't get enough attention on Permanent Style.
A problem with covering lots of tailors - in order to give readers an informed view on all of them - is that there is less coverage of repeated commissions, and how this develops a practically perfect pattern. I think this underplays the benefits of bespoke, and is also something I will try to cover more.
The finishing on this suit is good, as I say. Not at the level of the top Savile Row tailors, let alone the Parisians or someone like Michael Browne, but certainly as good as the best Neapolitan.
The buttonholes are neat, there is nice pick stitching around the edges and seams, and the lining inside is top stitched.
Personally I don't like the way they've included the selvedge of the cloth as an extra line between the lining and the inbreast pocket, but a customer could easily ask not to have that.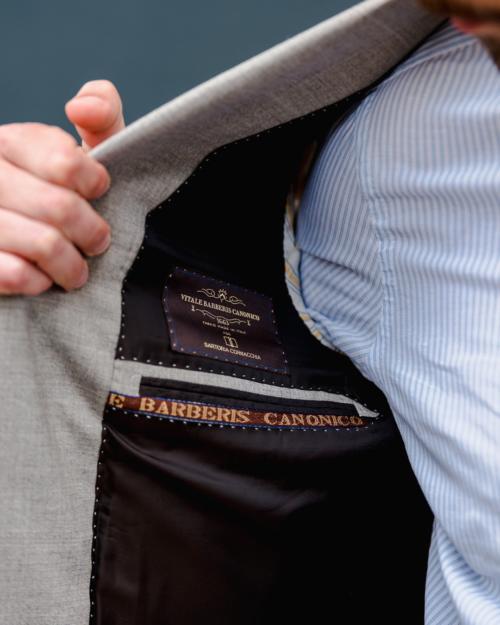 The cloth, by the way, is the 2-ply high-twist woven by Vitale Barberis Canonico that you find in the Drapers Ascot bunch.
It's light grey but with a brown cast, which is something you often see from Italian mills - an effect brought out here by the accompanying brown tie and brown shoes.
I like the effect because it's warmer than English greys, and makes the suit look less formal. It would still look elegant with black oxfords and a silk tie for a wedding, but could equally be worn casually with an open-necked white shirt and loafers.
Having said that, of the VBC high twists I probably prefer the 4-ply (see my Ciardi suit) for a hot-weather suit, even though it's heavier.
Weight isn't everything when it comes to cool cloth.
As Mark Cho of The Armoury commented on our recent Instagram Live interview, a heavier linen can often feel cooler because it clings less, and lets air circulate more easily. Heavier high-twists are the same: more body makes for a fresh, free-flowing material.
The Cornacchia cloth is 280g, while the Ciardi is 390g, yet the latter almost feels cooler.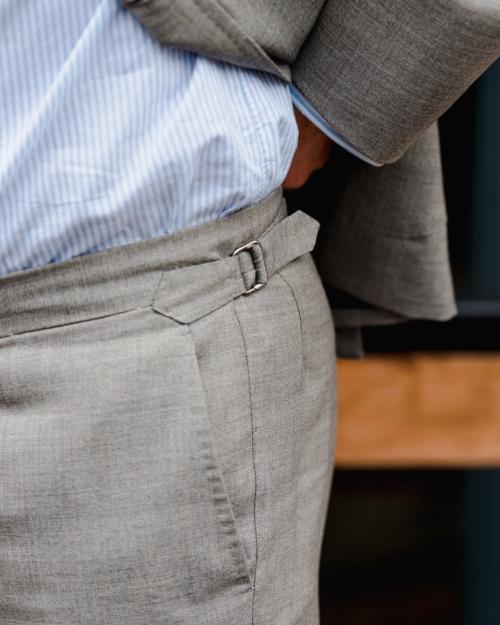 Photography: Alex Natt @adnatt
Suit worn with:
Cotton/linen bespoke shirt from 100 Hands

Knitted silk tie from Drake's

Silk handkerchief from Rubinacci

'Belgravia' tassel loafers from Edward Green
Unfortunately Cornacchia are not currently planning to travel outside of Italy, though they were planning to when this suit was first commissioned.