Nicola Cornacchia: Bread and murals in Puglia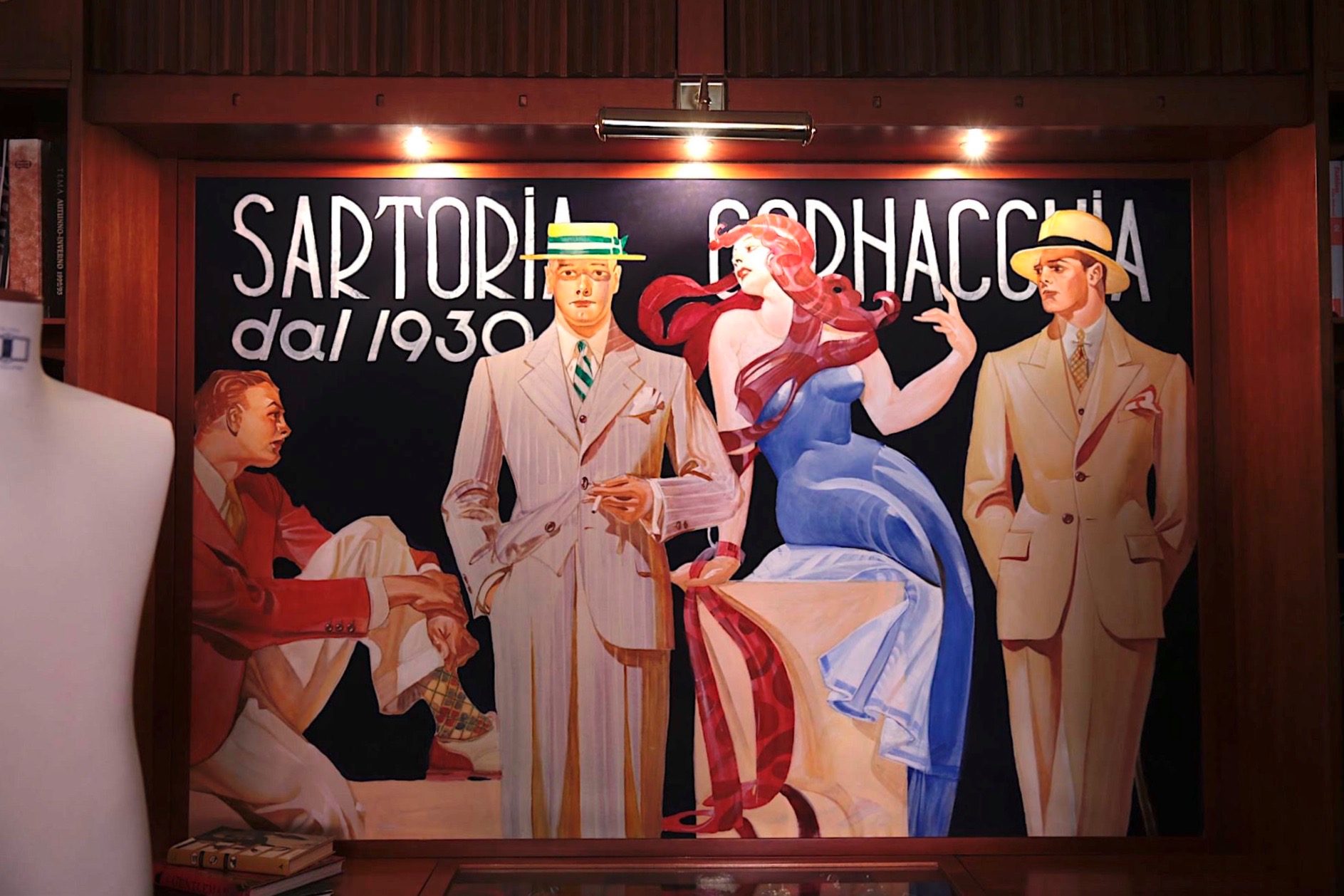 It's easy to draw conclusions about a tailor from their surroundings. The big houses of Savile Row certainly benefit from this, in particular those with wonderful interiors like Huntsman or Anderson & Sheppard.
But they can be misleading. Sartoria Cornacchia, which I visited last year during a trip to the south-east of Italy, is on the first floor of a modern block just outside the centre of town.
The town is Altamura, a beautiful place with stone-paved streets and a soaring cathedral. It sits on one side of a hill, overlooking the Murceau plateau down to Bari and the sea.
The day we visited it was hot - almost 40 degrees - and the town was a lovely shelter, with the cool stone and shaded streets.
"We used to be in the middle of town, but moved out years ago," says Nicola Cornacchia. "It wasn't fashionable to live in those old houses."
Now, however, people are gradually moving back. "Everyone is rediscovering the appeal of living in such a historic place, and the beauty of it - even if you can't get the same conveniences," he says.
The block Cornacchia are now in is not historic. But inside everything is dense with tailoring, its inspiration and its references.
Across one wall is a large mural (pictured top) taken from dress of the 1920s and 1930s - all cream high-waisted trousers, boaters and panama hats.
And around the rest of the room are other pictures, both original compositions and old reproductions, demonstrating the kind of things that keep Nicola and his family inspired.
Like most Italian tailors, this is a family business with one cutter, Nicola (above).
Nicola's wife Maria runs the business and her, Nicola and their daughters do different aspects of the making. Inevitably, the daughters also speak the best English.
"We like this system because it gives us a lot of flexibility," says Maria. "Everyone can do other things, like study, when we're not that busy, but help out when we are."
The house was founded by Nicola's uncle in 1930 - and he took over (also renaming it after himself) when the uncle passed away.
Francesco and Simone at Vitale Barberis Canonico put me on to Cornacchia (as well as De Chiara in Bari) and said I should visit when I was in the area.
I have to say I was impressed, both at the quality of the work and the house designs.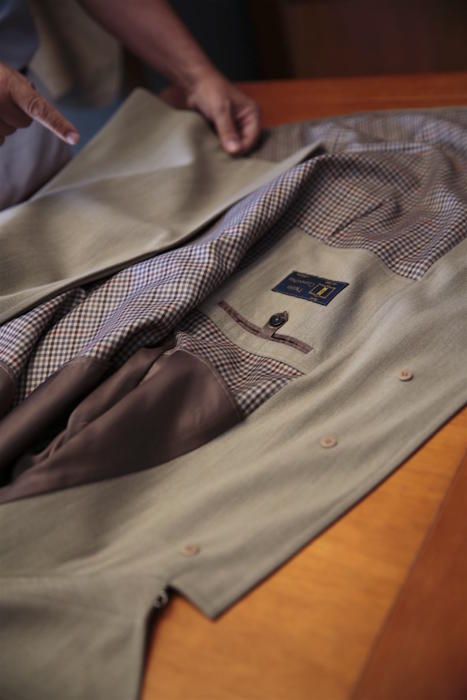 Cornacchia make quite a lot of bespoke raincoats, for example (above), and the lines of the double-breasted versions were appealing - including details like a slit just above the patch pocket (the combination of which they called a 'Milanese' pocket).
Often smaller, regional tailors like this do offer a broad range of prices and product, because they need to cater to different tastes and incomes to survive.
But Cornacchia have just the one quality level, and that is on a par with any Neapolitan I've used.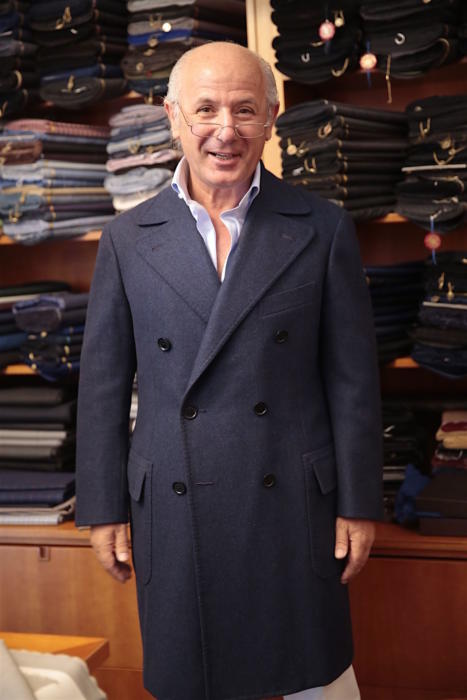 VBC are trying to help these small tailors travel abroad, and Cornacchia are looking to London as a result, as well as elsewhere around Italy.
On the strength of this I commissioned a suit in a pale-grey high-twist wool, and will have a first fitting in Florence. (Suits start at €2200.)
I've wanted a pale-grey summer suit for a while, and I'm a big fan of the VBC high-twists. My Sartoria Ciardi suit was from the same family and has performed well.
This light grey is a two-ply, where the Ciardi was four - which will make it much better for summer.
VBC are unusual among Italian mills in producing high twists like this with relatively coarse fibres - here 21 micron. And compared to English mills, they often have a better selection of warmer or brown-tinged greys.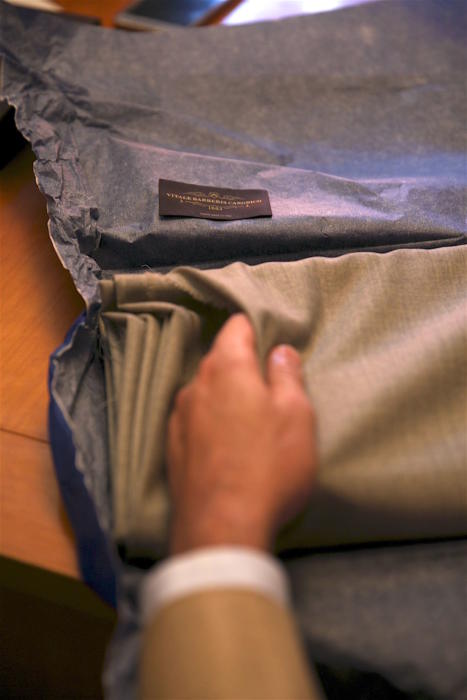 I'll show more images of the cloth in subsequent fittings, but it's VBC code 595 in their Rustic Tropical range - also available in the Draper's bunch Ascot 2 ply.
The Cornacchia style is fairly standard for the south of Italy, with a lightweight chest canvas, thin pad, and natural (though normally not spalla camicia) shoulder.
After the fitting, the Cornacchia family kindly gave my wife and I a tour of Altamura, finishing up at a historic bakery that dated back to the beginning of the seventeenth century.
Altamura bread is famous around Italy, and has EU protected status - requiring it to be made with certain wheat and water.
The oven we visited was vast, made of stone like everything around it, and served bread with simple olive oil (also big in the area) or tomatoes. The bread is supposed to get its flavour from the local stones of the oven itself.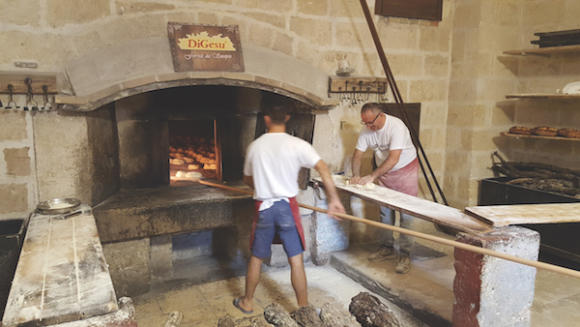 Loving the local bread is not a great reason for buying a suit.
But I am hoping I like the suit as much as I liked the town and the cuisine, to give me an excuse to go back.
And maybe this time take the children.