Michael Browne bespoke coat: Review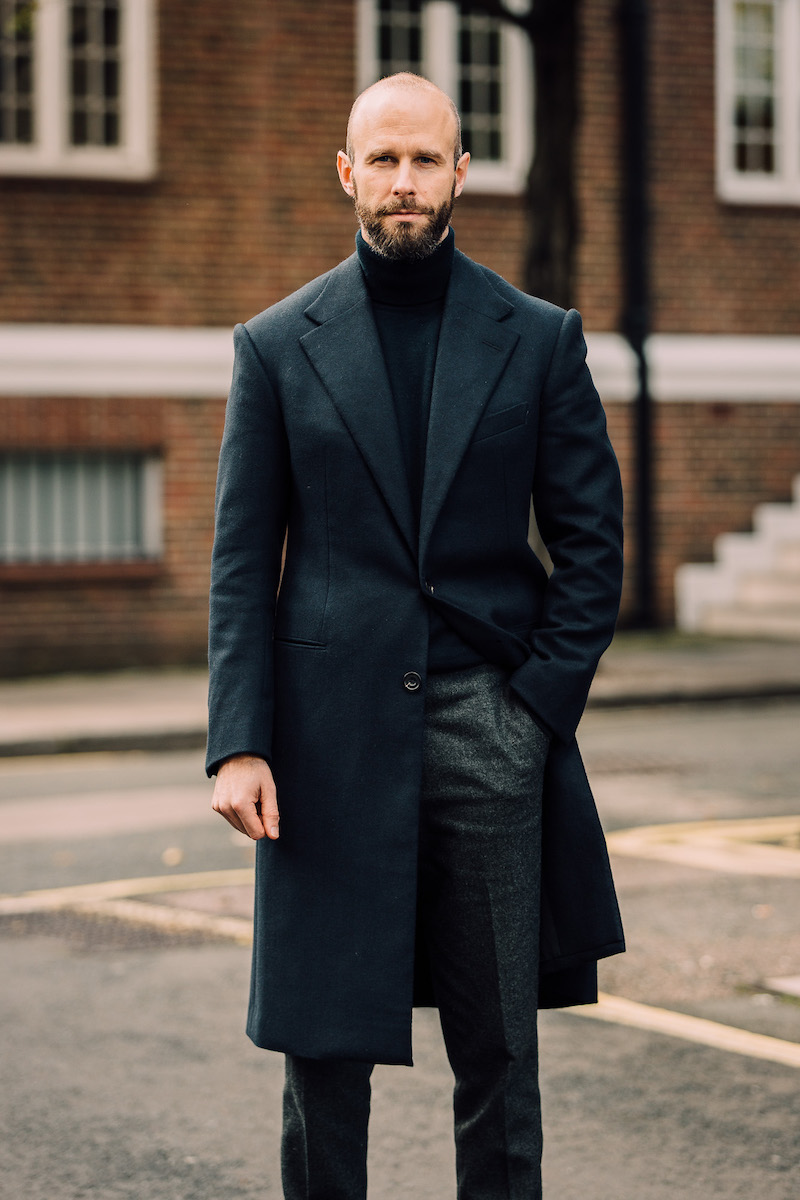 Permanent Style prides itself on honest reviews of clothing.
Please be reassured that this policy continues in this piece on Michael Browne. Despite the fact that there are basically no negative points.
There's just hardly anything bad to say (other than the price).
I commissioned this navy coat from tailor Michael Browne earlier in the year.
I've known Michael for a long time, but he recently set up on his own, after being at Chittleborough & Morgan for several years.
Michael founded his operation with the pure aim of making the best bespoke he thought possible. That included everything from putting all fittings together himself, to the finest buttonhole and pocket finishing.
He also had a few design ideas in mind - including this piece, which he calls a 'body coat'. Basically, an overcoat cut to fit over knitwear, rather than a jacket.
It just really means that the fit is closer, and perhaps more striking. But it's niche: only really useful for someone that already has normal overcoats; or never wears a tailored jacket.
You can read more on Michael, his background and his workshop, in my first article on him here.
You might also be interested to read about the suit he helped cut for me at Chittleborough & Morgan, at that link.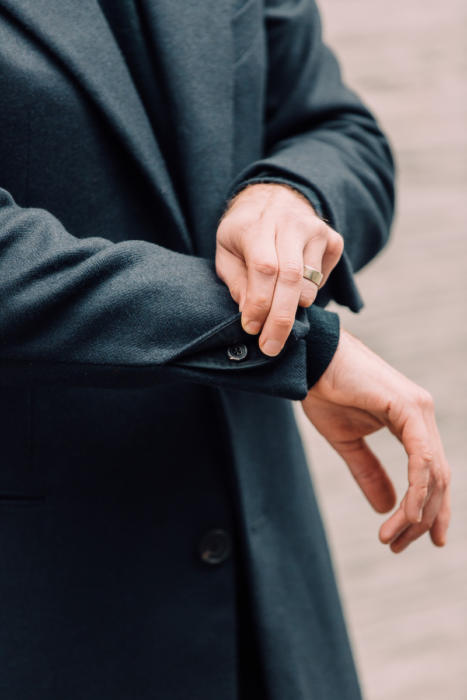 This coat was good from the start.
One of Michael's policies is to make the first fitting as complete as he can: to nail the fit early and then refine design later on.
So even though the coat took five fittings in total, the fundamentals like balance, pitch and shoulder line were near perfect from the beginning - and certainly at the second fitting.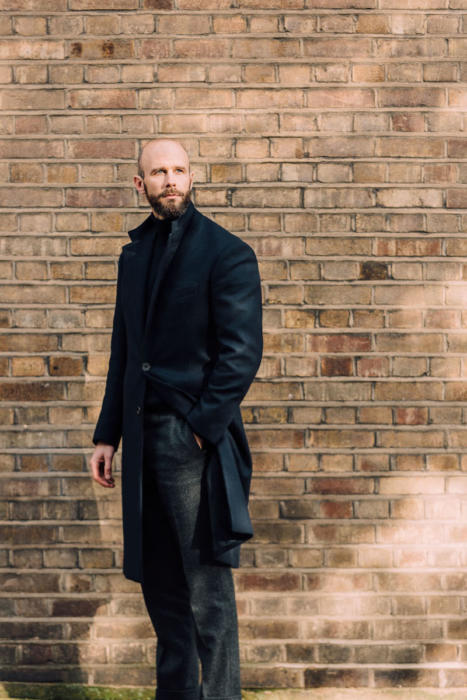 The remaining appointments were spent playing a little with the shoulder width, where I pushed to go a little wider, and the position of the waist button, where I tended towards it being lower.
We were able to adjust small things, like moving the waist button a tiny bit closer to the front edge.
This creates a little less overlap, and means that when worn, the fronts are more likely to hang slightly apart, which looks great.
It was a tiny change, but over the whole length of the front, made a noticeable difference.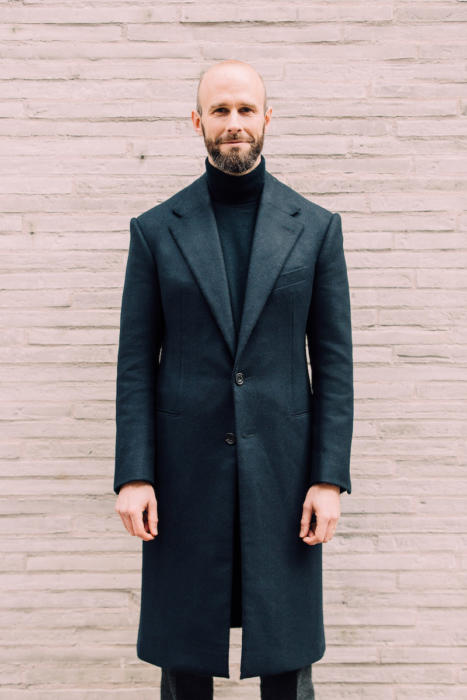 This whole process was reassuring as a customer.
I can imagine others finding it frustrating, if the coat looks that ready and yet takes another four fittings for completion.
But for someone that enjoys the tailoring process, it felt great to have the fundamentals done, and then to discuss design and proportions gradually. The process could also be quicker for subsequent commissions.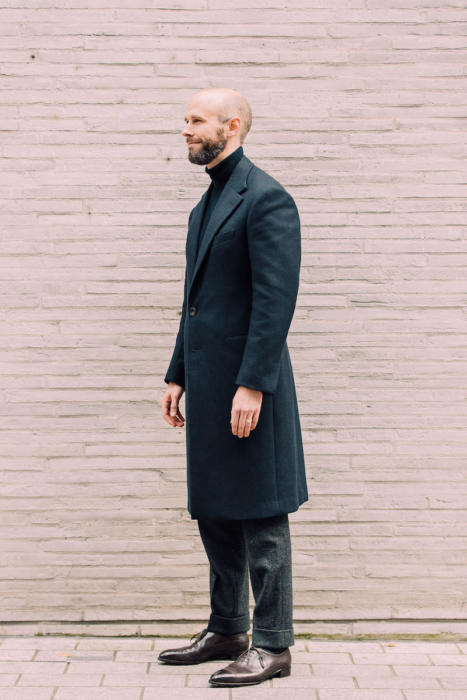 The final fit was not much of a surprise, but still extremely satisfying.
Both sides of the front of the coat dropping perfectly and smoothly from the shoulders; a back broken only by the intended drape below the blades; and a perfect run from the sleeve up the shoulder and into the neck.
The only possible point I could have picked was some folding across the top of the sleeve (often an issue with my sloping shoulders) but Michael said that would drop out as I wore the coat, and it 99% has.
Of course, this is not a lightweight worsted - it's a relatively heavy wool (actually 90% wool, 10% cashmere - 986021 from Holland & Sherry) and is therefore fairly easy to work with. But I've had similar things not sit as well.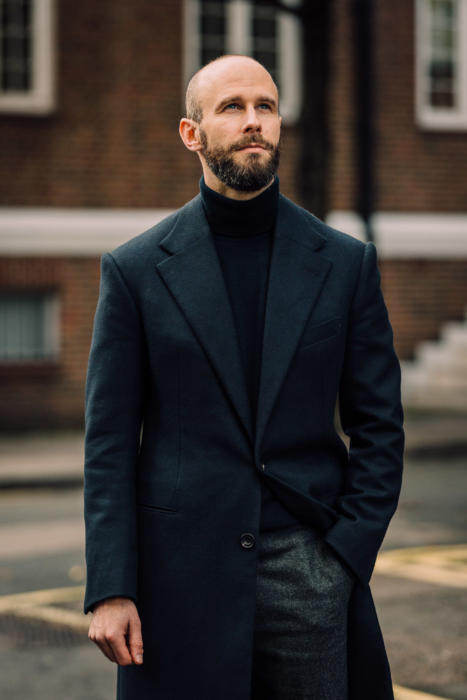 It's worth spending a little time looking at the gorge, lapel and collar. Because in a simple piece like this, that conjunction is one of the few design elements.
The lapel is fairly wide, but its impact is subtle because the collar is long too, making the notch small.
The collar itself doesn't look too wide because it is slightly scooped, curving up from the gorge into the neck.
Overall, I think this design makes the lapel look strong, but not too showy.
I can imagine someone expecting a coat like this to have a peak lapel - as lots of Michael's suit jackets do. That would be dramatic too, but it would be showier, more obvious. I much prefer this wide lapel with a small notch.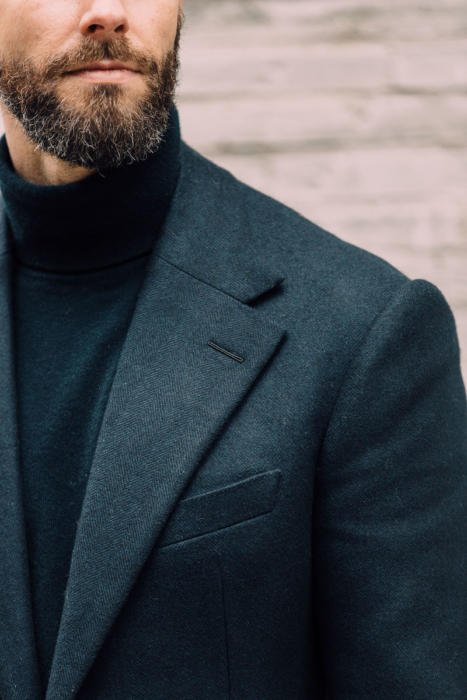 Hopefully you won't have to be told how sharp the overall impression of this coat is. I think the images do it justice there.
But one construction point that's interesting is that the shoulders are only very lightly padded. Even the shoulder roping isn't that great. And yet it still has that sharpness and impact.
This light construction is particularly striking when you compare the coat to my suit from Chittleborough & Morgan, or even Edward Sexton.
You would put those pieces in a similar bracket in terms of style, but they're much more heavily padded, both in terms of thickness and the reach of the pads down into the upper back.
The finishing on the coat is basically perfect.
Super sharp, precise jets on the pockets; one of the most precise Milanese buttonholes I've ever seen; internal pockets that are part of the facing (of course) and then beautifully top stitched.
The central pleat in the back stands a little open when you stand still, which might not be technically perfect. But it's minimal and (I think) actually looks better that way.
It certainly does its functional role very well: providing room when you move, but returning precisely to its starting point when you stop.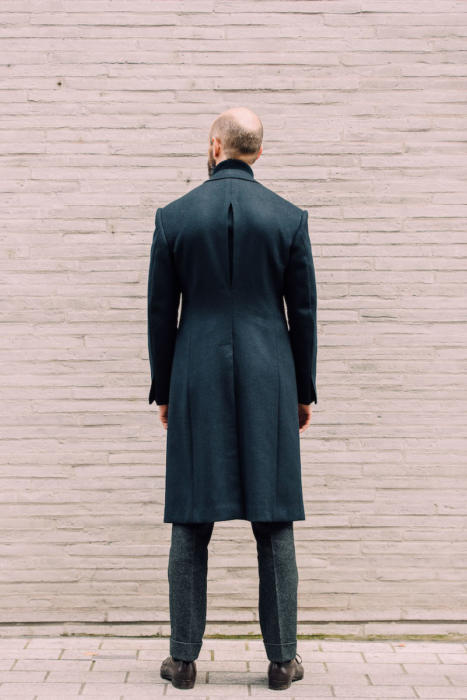 As part of a wardrobe, the coat can be very smart and stylised, or more casual.
I love the way it looks with a navy roll neck underneath - shown here, with sharp charcoal flannels and bespoke dark-brown oxfords. There's no showy colour, pattern or details, yet it looks very smart and elegant.
But I've also worn it with a shirt and crewneck underneath, and it looks much more casual - still sharp, but not as formal as a suit, for example.
And a scarf tied over the top relaxes either outfit - particularly something casual like the herringbone wool scarf I'm wearing below.
In fact, somewhere in here I think there might be a definition of true elegance. Which is not about loud checks, short trousers or gimmicky gurkhas. But about simplicity and refinement.
As Cary Grant put it in this interview with This Week magazine back in 1967: "Simplicity, for me, is the essence of good taste."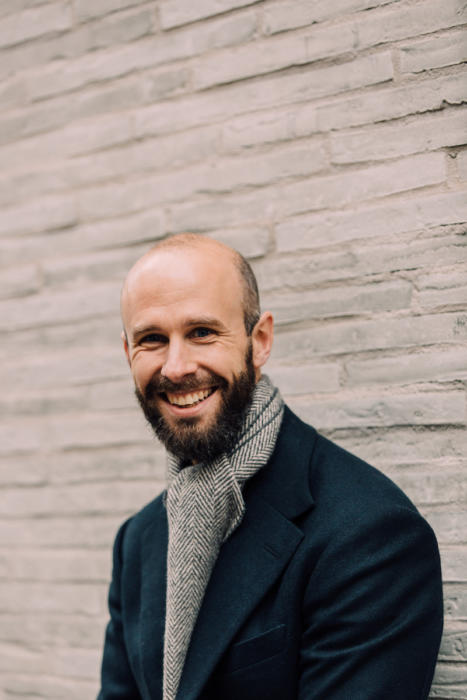 Of course, the one inescapably negative thing about this Michael Browne coat is the cost. At £7500 (inc VAT) it is a vast amount of money for a piece of clothing.
It is very hard to make a case for spending that on bespoke - but if anything could make it, it would be work of this quality from Michael Browne.
This is precisely the workmanship, taste and design you should expect.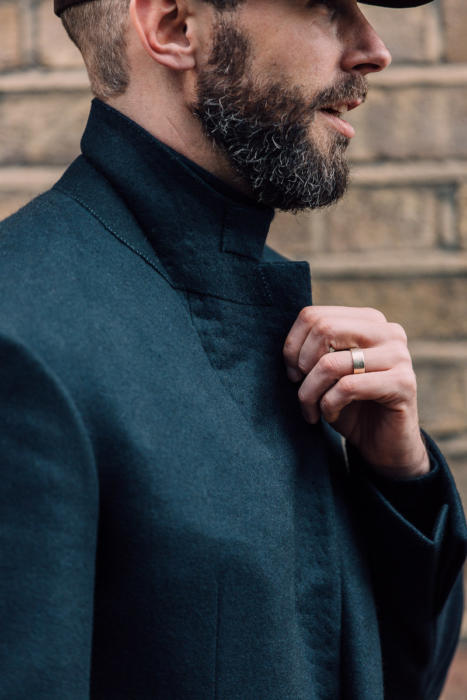 The coat is worn with:
A navy-cashmere roll neck from Drake's

Trousers

made by Whitcomb & Shaftesbury

in 19oz Fox flannel (FS405/A2069/33)

A grey herringbone wool scarf from Drake's

Bespoke oxford shoes

from Masaru Okayama

A brown nubuck tote bag from Frank Clegg

Brown-suede newsboy cap from Lock & Co
Photography: Jamie Ferguson