Gaetano Aloisio – by Bruce Boyer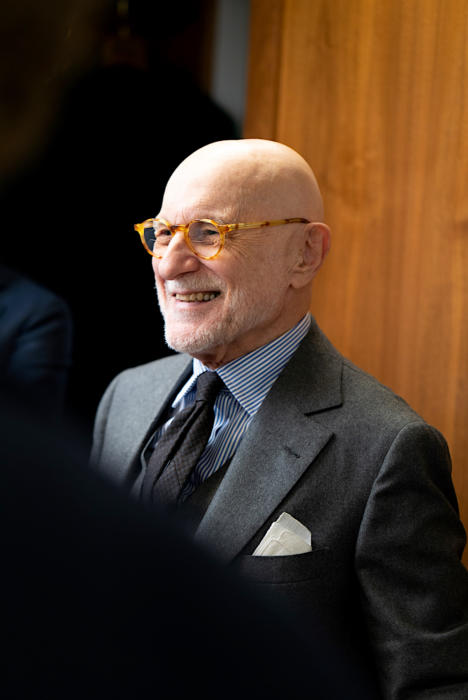 I do not know Roman tailor Gaetano Aloisio. But I've heard good things, and seen one or two as well.
So when Bruce Boyer told me he was having a suit made by Gaetano, I asked whether he would write something brief about his experiences.
It's not a review, but it is instructional, even beautiful. And I managed to get some pictures of Bruce wearing his new flannel suit in New York recently, before the Symposium.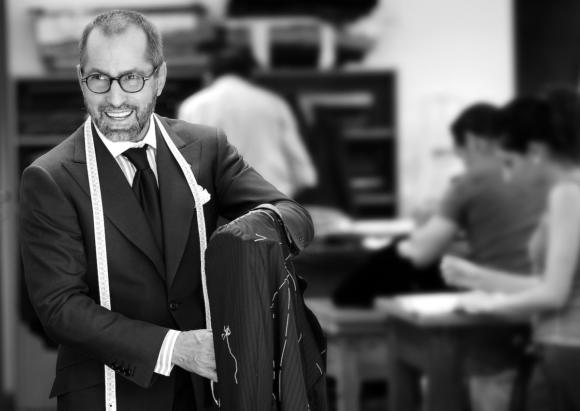 Gaetano Aloisio
by G. Bruce Boyer
"I've been aware of the illustrious Gaetano Aloisio for some time, but, mea culpa, had never met him until recently.
I'd been reading Yoshimi Hasegawa's lovely book, Italian Tailoring: A Glimpse into the World of Sartorial Masters, which awakened me from my slumbers, and I discovered he had started to visit New York regularly - among his other travels to see customers - and so decided to drop in on him.
Well, to cut to the chase, I scheduled an appointment. I wanted to see the clothes he himself was wearing and talk to him about his craft before taking the precipitous plunge.
So, on a sunny day last Spring I sauntered along to his hotel suite and when he opened the door I gave him the quick once-over with my practiced eye.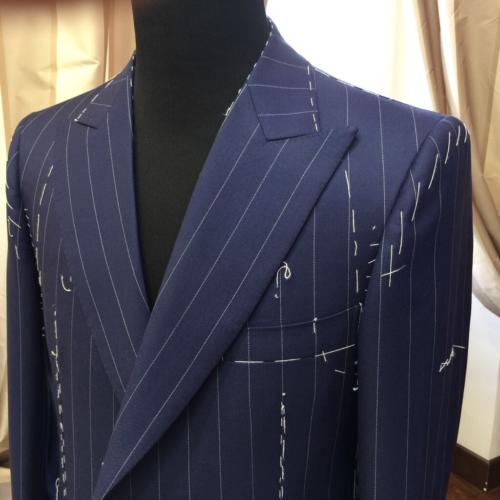 Some tailors, it must be admitted, are merely technicians able to draft a pattern and fit the customer. Mr. Aloisio, on the other hand, is one of those rare artisans who is both technically adroit and a point of reference for style.
He was wearing a beautifully cut blue blazer, not quite navy, perhaps just a whisker lighter in color, in a cloth I suspected was a finely woven fresco, paired with an impeccable pair of lightweight grey worsted trousers.
He had accessorised this combination with a neat pale-blue shirt and discreet tie, looking the epitome of the well-dressed international gentleman I found him to be. So far, very good, I muttered to myself.
I always think it's important to know if you're dealing with someone who's got a nice aesthetic sense, or just a specialist with chalk. It saves time. I could see Mr. Aloisio had style and taste in every pore.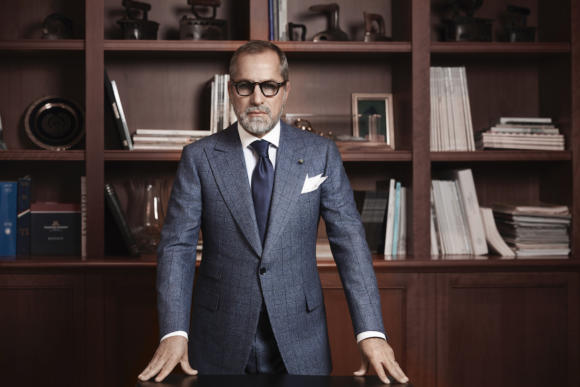 However, it's when you talk with an artisan that you get to know what his aesthetic ideas and ideals are, and that's what I was really interested in.
I don't know how others do it, but I want to have an in-depth conversation with the artisan about how the silhouette of a garment reflects the man who wears it. Does the customer want to be elevated or muted, swagger a bit or whisper, make a bold statement, acquiesce, or be perceived as too cool to care? That sort of thing.
You want to know whether or not you're both on the same page, or even in the same bookstore. We all have a picture in our minds of how we'd like to be seen – as a boulevardier, a country house m'lord, a titan of commerce and industry, or Silicon Valley nerd-cum-billionaire – and we hope the tailor understands that.
We hope that he's not only a cosmetic surgeon but a psychiatrist as well. We wonder if he'll be able to see more than the surface of our beings. Will he be able to plumb our depths and analyse the confines of our minds to discern our secret heart's desires?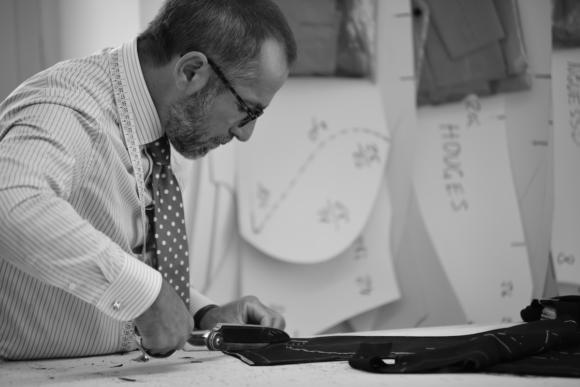 So many tailoring firms adhere to their house style regardless of what your appearance may be or what you might request. Or even what you hope to show to others. So many tailors appear to be listening to you, nod and smile, then go away and do exactly what they want. And that can be maddening when you assume you're going to get what you asked for.
So I spent a pleasant hour or so in gentle but pointed discussion with Mr. Aloisio, chatting of such matters as shoulders and lapels, the curvature of sleeves and the taper of trousers and the placement of pockets. Those little details that are so telling, in which not only the Devil but the angels hide.
I found him more than agreeable. He actually relished talking about his craft and art, and was more than happy to give me his thoughts on the aesthetics of the suit.
I could tell he was sizing me up, his subtle eye moved up and down me like a Kentucky horse breeder looking over a new colt. And he actually listened to my ideas of how I liked my suits to fit. This was the second good sign. Let's move along, I thought.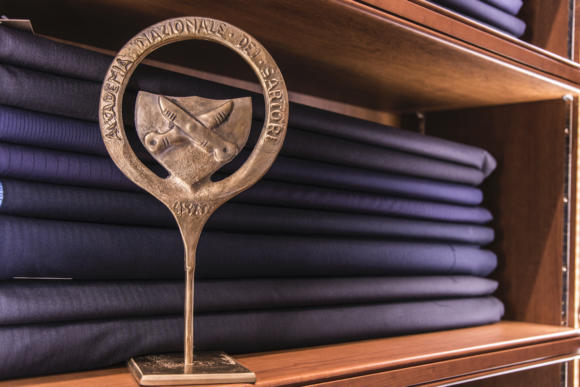 Before I go any further, I should give you a brief tour of Gaetano Aloisio's background. This isn't gratuitous padding, if you'll pardon the word, it will help in explaining and understanding his philosophy.
Aloisio was born in the Calabria region of Southern Italy, where so many great tailors originate and where he started training as a tailor when just a boy.
At sixteen he decided to strike out for the North, the land of opportunity in Italy, to the more sophisticated Milan and managed to secure a position with Cesare Tosi, one of that city's most famous tailors.
After four years apprenticeship in the very belly of Italian fashion, he moved on to Rome to attend tailoring school and complete his education in the craft, from which he was recommended to Sartoria Luzzi, a justly renowned tailoring house.
He did them proud by winning the prestigious "Golden Scissors Award" [Forbici d'Oro] two years later, Italy's highest honour for the art of tailoring. Rather like winning a Nobel prize for literature for a writer.
In 1991 Aloisio made the decision to open his own atelier in Rome, and has been there ever since.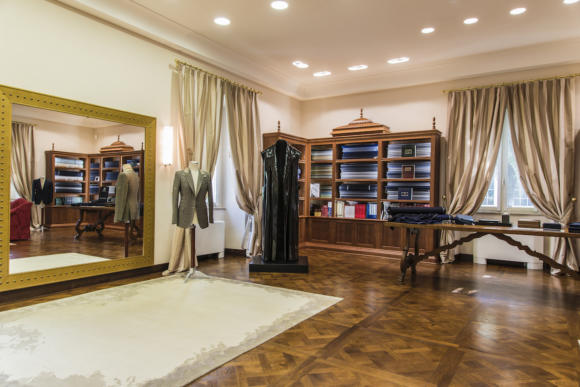 I mention this history because it seems to me it helps to account for Gaetano Aloisio's international appeal to his customers who reside and work in the four corners of the world. He understands the approaches and styles of the various Italian tailoring traditions because he's learned from each of them.
It might be said, I discovered, that he takes certain elements from each when he considers an individual garment for an individual customer. And since he travels the world, making wardrobes for sheiks and politicians, celebrities and boulevardiers, titans of industry, corporate heads and heads of state, and of course gentleman who simply wants to be as elegantly couture as can be, customers provide great scope for diversity in his work.
His atelier now has 40 tailors, seamstresses and finishers, which is something of a measure of his success, since even well-known tailoring firms are lucky to have more than a half-dozen or so assistants.
The craftsmen and women under his direction produce around 70 garments a month, which is nothing for a ready-made factory which can churn out thousands of garments in that time, but incredibly ambitious for a bespoke house.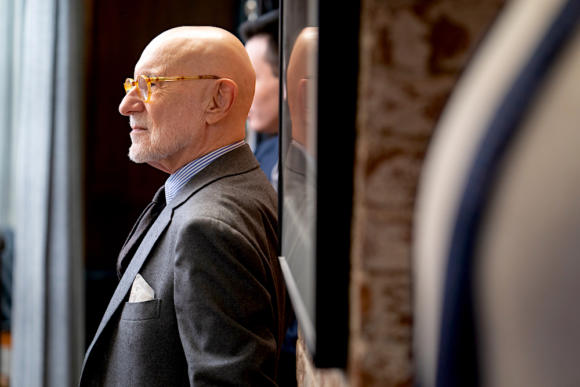 The point is that, apart from his own natural talent, studious approach, high aesthetics, and skills of understanding the psychology of his customers, I'm firmly convinced that it's his experience with the different and varying schools of Italian tailoring that have contributed to his great success.
Italy has at least three major tailoring traditions [Editor's Note: This is something of an over-simplification, but let that pass] – the southern school of Sicily and Naples, the middle one of Rome, and the northern one of Florence and Milan – and Aloisio has studied and practiced in each of them.
"It's much easier to have a house style," he tells me, " because then you can treat everyone the same, pour them into the same mold. I really don't have a 'house style'. I much prefer to study the customer, to observe his body and his movements, discuss his view of himself, understand his lifestyle.
"I want to talk with the customer so I can have an in-depth knowledge of how he sees himself in his own mind. There's a great deal of psychology about our appearances, and I think each man has an idea of how he'd like to look because he knows how he'd like to be perceived by others." A wise observation from a discerning master.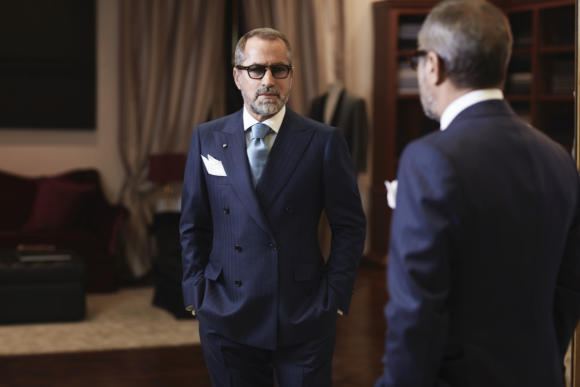 "But I do have a touchstone that I apply to all my customers: I always want them to look elegant. I want to interpret a man's style in terms of sophistication, of being comfortable in the world.
"Many of my customers are in fact worldly men, they have important jobs, they travel a great deal, they have a certain social power and so forth. And they count on me to make them appropriate wardrobes.
"But I try to do this always within the lines of cosmopolitan and cultivated taste. Even if the customer wants something very high fashion and a bit more exuberant, I want to do it with finesse. I suppose I'm something of a consigliere to many of them."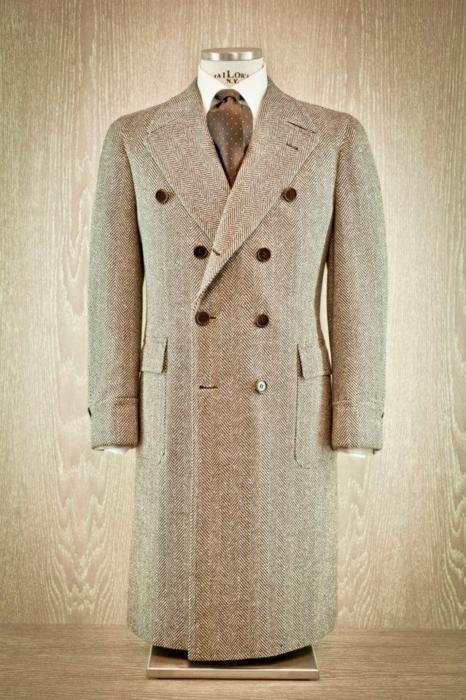 Do we have time for a quick story which nicely illustrates this point?
Awhile back Mr. Aloisio happened to see a photo in the newspapers of one of his customers – a noted politician, no names please – wearing what he described to me with mild distain as "a disastrously fitting, off-the-rack rag of an overcoat."
He dropped the gentleman a note to mention the flaws in the garment. A few weeks later Aloisio received a note from the gentleman's wife to say she had gotten rid of the readymade overcoat and her husband would be stopping by to select cloth for a new one.
Now, although he doesn't follow the unconstructed preferences of the Neapolitan School, nor the more structured silhouette of the Milanese, Aloisio is a fervent believer that a tailored garment should not sacrifice line to comfort, and this I very much appreciate because it perfectly accords with my own views.
I find that when I'm comfortable in my clothes I tend to feel better, if that's not a too-obvious thing to note. "I prefer a soft chest and shoulder, but with shape," he points out. "I don't want to impose a structure on the customer with heavy padding, I follow his body, perhaps making a few minor improvements as I go along.
"This is done by paying attention to how the garment is cut, not by putting layers of cloth inside. Even with a tailcoat, and I make many of them, I try to achieve the formal structure through cutting rather than padding." I found this especially important and relevant to my own thoughts.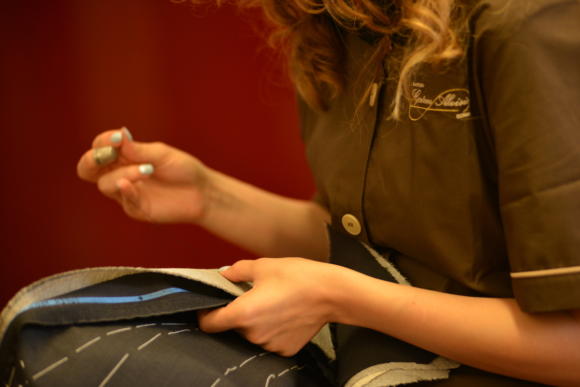 This philosophy of varying his approach to fit the necessities of the customer – both physiologically and psychologically – has stood Aloisio well.
He's been elected Vice-President of the august Academia Nationale dei Sartori, and I fully expect one of these days he will be elected President if he can find the time to fulfill all the duties that come with that title. Not to mention that he's been knighted by the Italian Republic.
It's gratifying to know that occasionally a real artisan is rewarded with honours these days. And I should perhaps mention in passing that he's opening a school for tailors in Rome this year, where young men and women can learn the skills directly from artisans themselves.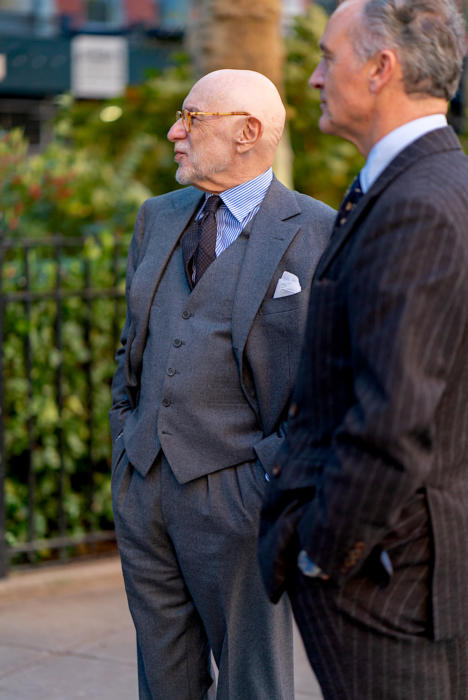 And, oh yes, my suit? I had selected a medium-weight, medium-grey flannel to have made up as a three-piece single-breasted suit. You know, the perfect international cooler-weather business suit for the man who wants to look quietly distinguished and accomplished.
On the first fitting I asked for my trousers to have a slightly higher rise – I always feel more comfortable when the trousers sit over my hips, and it makes for a longer line of leg – and a bit more room in the waist of the coat.
At the second fitting the length of the coat, lapel width, shoulder structure, trouser rise and leg taper were all spot on, so Mr. Aloisio and I concerned ourselves with the smaller matters of style and fit, those telling, angelic details.
Did I think the shoulder line might be extended a whisker? I did. Perhaps lower the right sleeve a quarter-inch? Yes. A bit more room in the seat? Yes, please. And bring the waistcoat slightly closer? Good. Chalked and pinned, my grey flannel would be adjusted and ready for a final fitting. So far, sew good.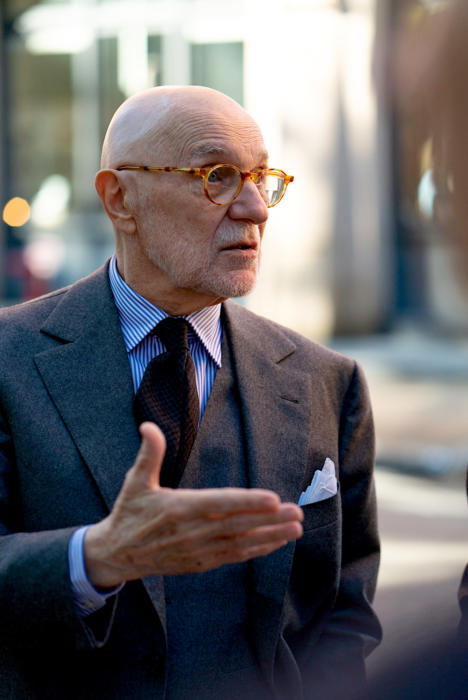 The final fitting, I felt, was more for Mr. Aloisio to admire his work than for me to criticize or carp. Button holes had been cut and buttons placed, the adjustments we had discussed had been made, the trousers were cuffed, and Mr. Aloisio had added the braces buttons I had requested.
The result fulfilled my expectations and surpassed my hopes. The grey flannel sat easily on my body, completely comfortable yet slimming, proportionally correct for my physique (slightly short legs and a tendency to bend backwards), subtle shaping and a slight drape.
I looked, at least in my own eyes, like the unobtrusive-but-knowing gentleman I hoped to present to the world. When I say that the suit was in fact me, I don't see what more I can say in its favour.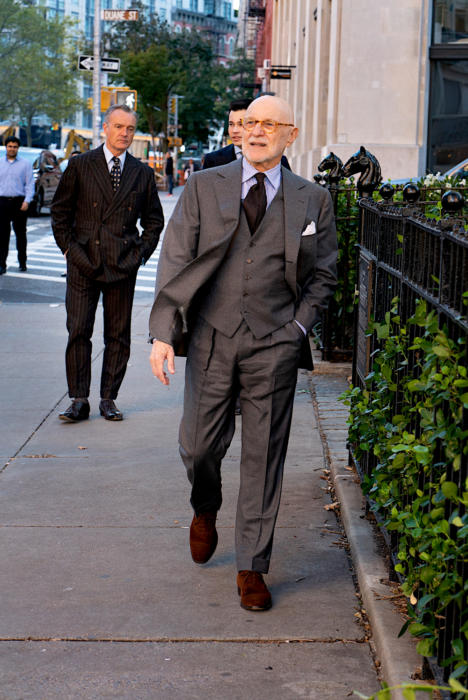 Gaetano travels regularly to Paris, London, New York and Tokyo. There is a showroom in Paris, where is almost every week; he is in London almost every month; and he travels to New York every 4-6 weeks. Tokyo is four times a year.
A two-piece suit starts at €5,500 and a jacket €4,500.
Via di Porta Pinciana, 1, Rome.
www.gaetanoaloisio.com
Tel. +39 06 8081621
Photography: of Bruce, Elliot Hammer; of Gaetano and his studio, Gaetano Aloisio