Spring/Summer Top 10: Chores, shirts and sweats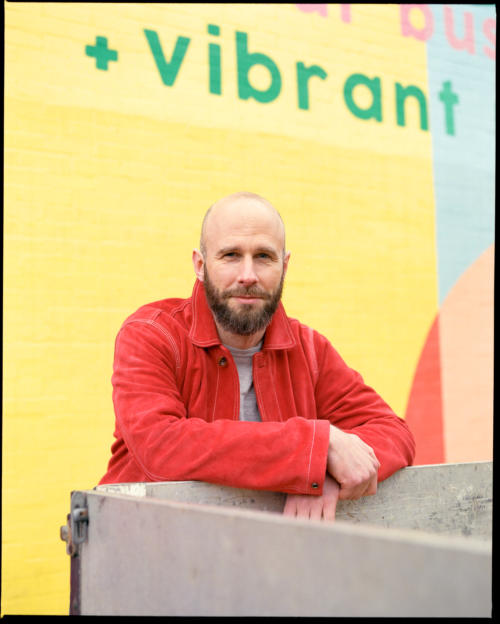 1. Drake's bright-red suede chore jacket
£1195
I've been asked a few times over the years about these suede chore jackets from Drake's. Personally I tend to prefer blouson styles, and chore coats in cottons, particularly vintage ones. But since getting this a month ago I've become a convert, largely for the lovely feel of the heavy suede.
I also loved the bright red. This might seem like an unusual choice, but I already had a Mont St Michel cotton in red, so I knew I'd like the colour with casual things like jeans and workwear chinos. And that's how I'd wear this style of jacket - not with flannels or any smarter cottons.
Unfortunately I had quite a lot of colour transfer with the jacket, with the red rubbing off on my jeans and sweatshirt. It all came out in the wash, but I took it back to Drake's to get the inside rubbed down and treated (with a suede protector) and that largely got rid of the issue. They've now done this on all stock, but be aware there will still be a little transfer. The size shown is a 40.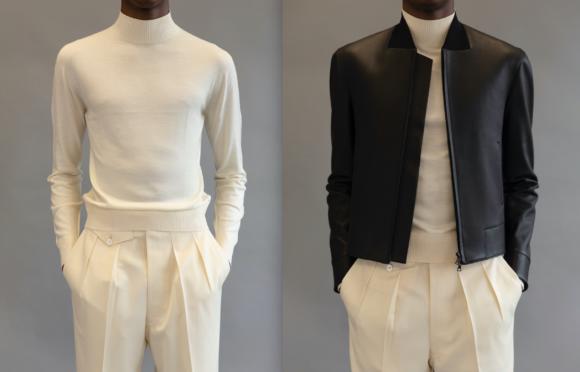 £525
It might seem odd to include a mockneck in a Spring/Summer piece, but Michael Browne specifically designed this knit to be worn most of the year, as the lightest version of this style you can find.
Made in a fine merino and silk, it's certainly lightweight - I barely noticed I was wearing it the few times I have. It comes in cream and navy - I took the navy, in medium.
And in any case, Michael deserves a shout-out for launching his own website selling accessories and clothing in his impeccable style. It launches tomorrow here.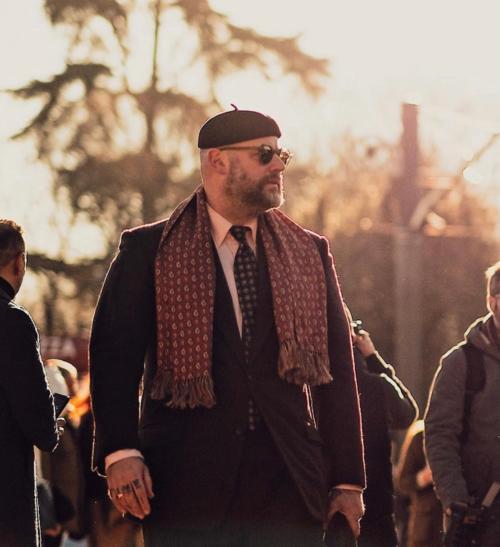 £59
This is another unlikely inclusion in a Spring/Summer write-up. My only excuse here is that Tony has just released them, and I wanted to cover it.
Tony is Tony Sylvester, whom readers may well know from his Instagram presence (@toneloki), work for Timothy Everest, and writings for various publications. He has started offering a small number of products that he loves, but finds difficult to source. These include leopard-print slippers, and now this beret.
It is strikingly different to most berets in being 'short flight', which means the volume of the beret is small, sitting close to the head. I find this easier to wear, and it avoids some associations, particularly military ones.
It is also, - I know Tony won't mind me saying - pretty rough and ready. The wool is not the finest, and nor is the make inside. But that is reflected in the price, and is what Tony wanted.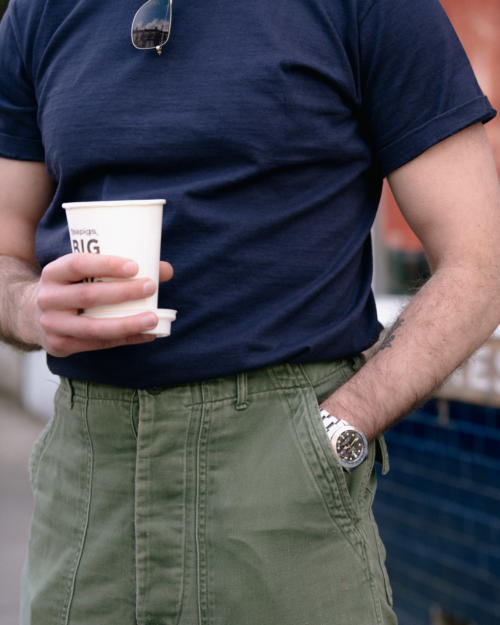 £60
I tried one of these T-shirts from Allevol recently - a Japanese brand run by Taka Okabe of Clutch Cafe. They're great in the same way as many other Japanese tees: circular knitted and heavy weight, but also have the same slight drawbacks of being slightly short and square in fit.
The cotton, however, is quite dense, which I know some readers will prefer to the looser, slubbier feel of the Warehouse ones I've mentioned before. That knit also seems to mean they lose their shape less.
Size-wise, I find I'm a little between sizes, liking the chest of the large, but waist of the medium. I ended up with the medium, and I think that was the right call.
€240
One of best ways to dress down tailoring is wearing casual shirts. Unfortunately while there are lots of denim shirts out there from tailoring brands, and the occasional chambray, there's little else.
Which is why I like this 'Boy Scout' shirt from Husbands in Paris. It's made in a casual cotton twill that softens nicely with washing, and this shade of khaki - particularly as it fades - is quite a versatile one under tailoring, while remaining obviously casual.
The proportions of the shirt aren't perfect for me, but then they rarely are with RTW shirts. I just dart the waist and make sure the shoulders fit and the sleeves are long enough. Here I took a 15.5" neck.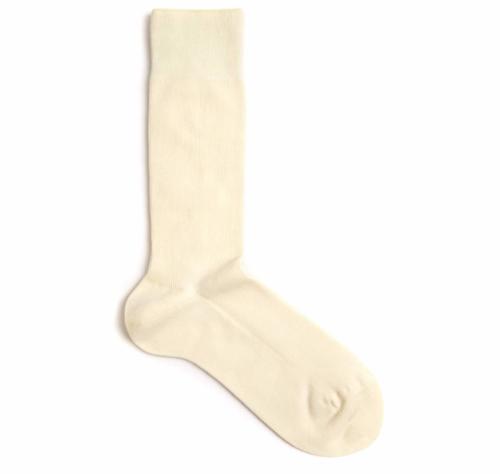 6. White socks: Tabio and WigWam
£35 and €22
As white socks have become more fashionable in recent years, I've had quite a few questions about my favourite pairs. My favourite cotton ones remain the AnonymousIsm ones recommended in the Autumn/Winter version of this list.
I know some people prefer wool socks though, particularly if their feet tend to cold rather than hot. In that case the best I've tried are Tabio wool rib ones, currently available at Trunk (above). The white is just the right shade of off-white, and the wool is fine enough that they feel lovely on the feet.
If you wanted more of a classic Ivy look, you'd want a wider rib than those Tabio ones. Perfect in that regard are WigWam sports socks, which Beige in Paris is stocking.
They are the original Ivy sock, and unsurprisingly are therefore the perfect rib and colour. But they are pretty rough too, and 37% nylon. I'm sure some will like the authenticity and the fact they're made in the US, but I found them uncomfortable and mention them only by way of contrast.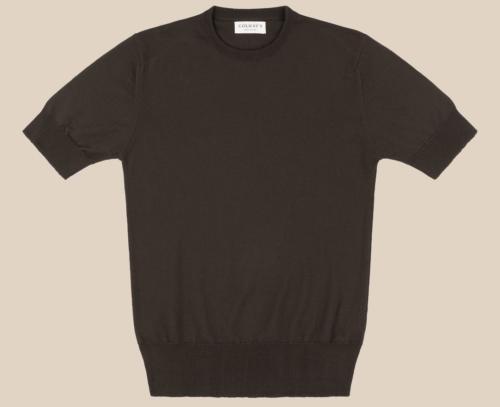 7. Colhay's merino sport shirt
£165
Ronnie at Colhay's has just released his first Spring/Summer collection, and my favourite is the short-sleeved knit.
It's heavier than most short sleeves like this, but that has the advantage that you can wear them more into the Spring and Summer. And the colour selection overall is perfect - navy, cream, dark brown and dark olive.
Fit-wise, I found this easier to fit than the knitwear. I was a solid 40, whereas with the other knits I find I'm between a 40 and a 42.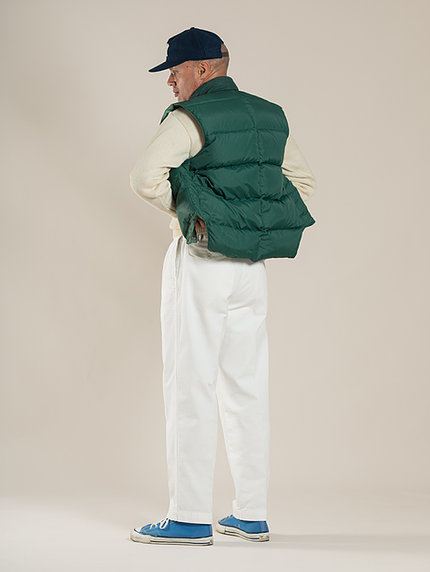 8. Casatlantic Mogador cotton trousers
€150
This is only a brief mention, as I will do a fuller review piece on these trousers soon - many readers have been asking for one.
In brief, I'd describe the Casatlantic trousers as being very high rise (34cm at the front), in a great cotton that's sturdy yet not rough, and with a wide leg throughout the three models that largely just tapers more with the different styles.
I took the Mogador in a size 32 in white, as for me they will be an occasional summer trouser, to wear with an untucked polo and canvas shoe or espadrilles - rather than an everyday chino.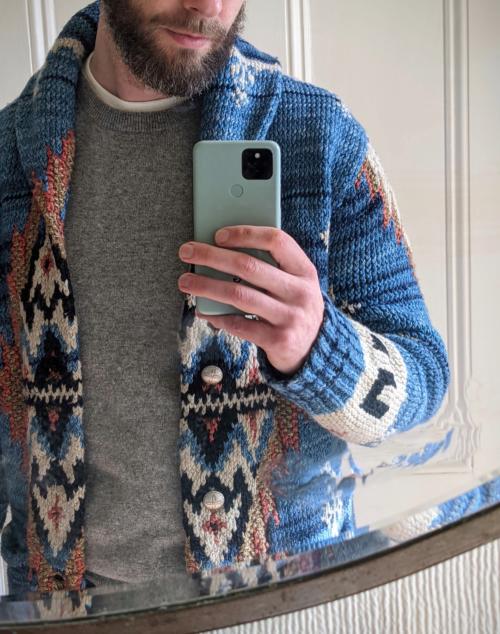 9. RRL hand-knitted ranch cardigan
£1305
I have a real weakness for these cardigans, I think because they combine the menswear classic that is the shawl-collared cardigan, with a freedom to wear wildly different colours and patterns.
I bought this one this season as a treat to myself (even though I know I should wait until the sale with most RL) safe in the knowledge that I know I'll get a lot of wear out of it, given how much I love my navy one and cream one.
I found the weight was also good, which was nice because summer-weight ones are often pure cotton and too heavy as a result. This is a mix of linen, cotton and wooI. I took a medium.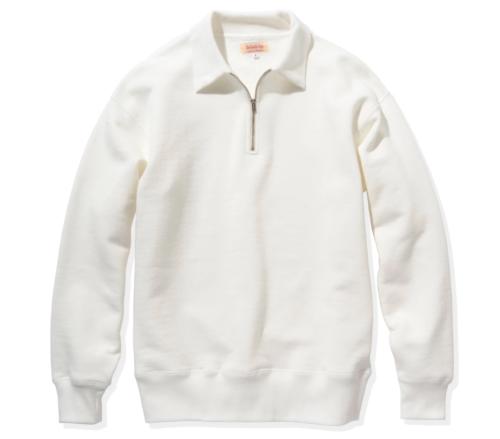 10. The Real McCoy's quarter-zip sweatshirt
£225
Regular readers will know I like a knit with a collar whenever possible. This is tough with sweatshirts (unless you get a hoodie) as there are few of them around. I have an old one from The Flat Head, but it doesn't seem to be available any more.
Fortunately, The Real McCoy's have started regularly restocking the style above, which I really like. It's relatively lightweight for a traditional sweat (9oz) but the loopwheel cotton is great, and the collar does that thing my Stoffa polo never quite does, which is stay up at the back (if you want it that way) but fold gracefully down at the front.
If you already have more than enough grey sweatshirts, try this 'milk' colour. Not something to wear with kids around or while eating pasta, but surprisingly easy to wear for something that is white, not cream. I have that colour, size medium.
Photography: Brands own, Permanent Style, or Alex Natt @adnatt