Pyjamas and working from home: Baudoin & Lange Lunes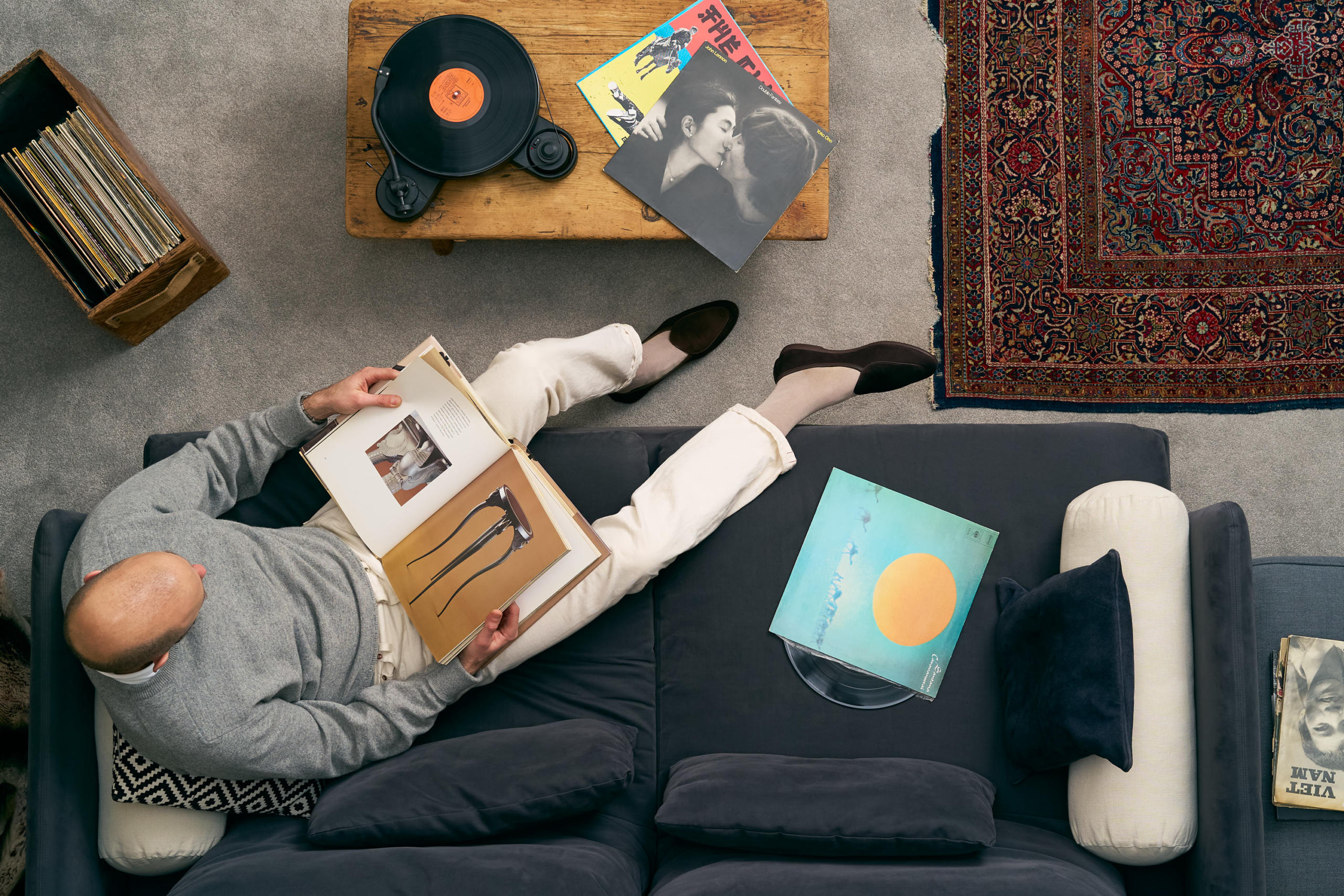 Best stay-at-home wear: Baudoin & Lange
Runners-up: Luca Faloni, Sunspel
PS readers voted Baudoin & Lange the best for 'stay at home' wear in 2021 Awards, principally based on their Sagans or Sagan Lune shoes.
Fortunately I couldn't agree with them more. The two pairs of Lunes I have (black suede and brown suede) are my default at-home shoes, and I wear them every day.
However, we have covered the Sagans quite extensively over the years on Permanent Style. So I thought I'd also take the opportunity here to show the shoes with some work-from-home, even lounge-doing-nothing outfits.
This is an area readers have asked a few times about in the past, specifically what I wear around the house, or first thing in the morning. So pictured are three outfits, all worn with the Sagan Lunes, and my thoughts on them.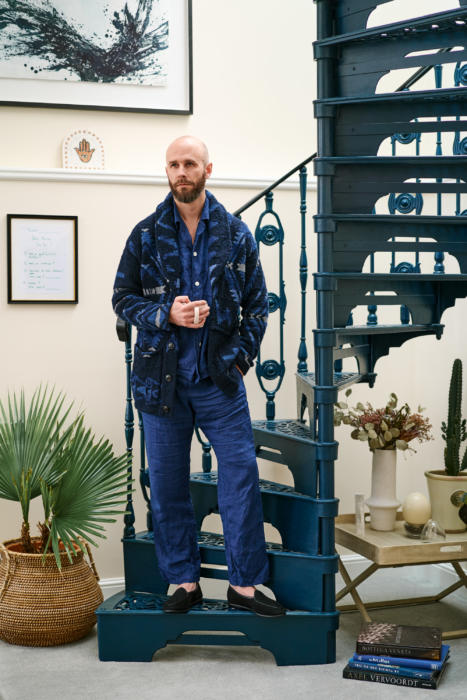 Let's start with the pyjamas, as I'm not sure I've ever shown a photo of me wearing PJs before.
These are the blue-linen model sold by Anderson & Sheppard, which I talked about loving so much on this recent article about elasticated waists.
The colour is a rich, almost indigo blue, which is nice with a surprising range of colours - including navy, black, dark brown, dark grey and white.
The A&S range as a whole is in quite strong colours, but while this indigo is versatile, the other pair I have, in tobacco, aren't so much. Nice with white or black, but not much else. A third pair I got just before Christmas, in grey cashmarello, go with everything.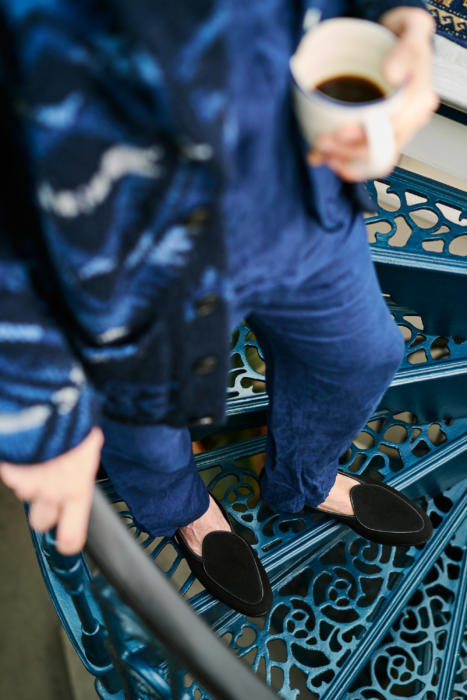 I have a navy towelling dressing gown (again, A&S) which is useful because it can get anything on it (usually food from feeding our one-year-old) and be washed easily.
But I haven't found many other dressing gowns I like. So I commonly wear larger shawl-collar cardigans instead, of which I have quite a few. A favourite is my old hand-knitted ranch cardigan from Ralph Lauren, pictured here, and I wear the PS Indulgent Shawl cardigan in the same way too.
The shoes are the black-suede version of the Sagan Lunes.
I mentioned in my article last year on working from home, how wearing a shirt is the thing that makes me feel I'm not in loungewear, and therefore at work.
However, trousers are probably the thing that divide people most. Why? Because on the one hand, most tailored trousers readers have - flannel, serge, covert - feel too smart around the house.
But on the other, not everyone finds jeans comfortable, while sweatpants are definitely not work clothing.
I find a nice compromise is tailored cotton trousers, such as chinos from the likes of Stoffa, or bespoke cords like the ones pictured here.
They enable me to wear the tailored clothing I love - enjoying their fit and quality, as well as playing around with combinations in the same way I would if I were going out - without feeling stupidly dressed up.
The cords here are my Brisbane Moss ones made by Whitcomb & Shaftesbury, worn with a Bryceland's Sawtooth Westerner shirt, and the black-suede Lunes.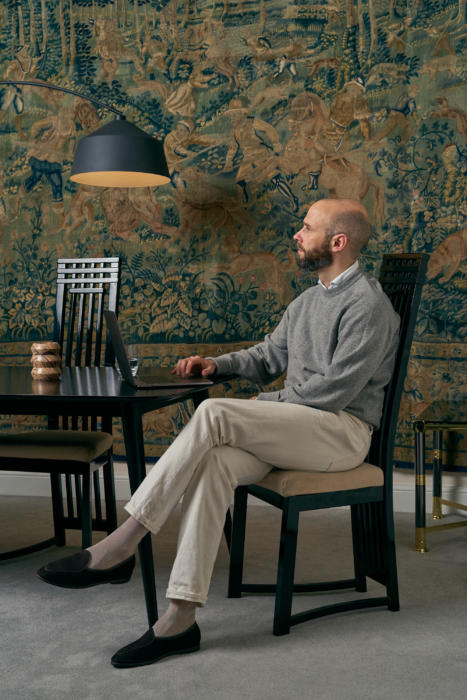 The third outfit is a working-from-home version of the cold-colour wardrobe, and something heavily influenced by the vision of Oliver and Carl at Rubato.
There's a shirt, but it's actually a polo - the white (size small) from The Armoury. As mentioned on our article here about wearing polos under knitwear, this is my favourite model for that purpose.
That gives me a collar under the crewneck knitwear, which is from Rubato. As I mentioned on Instagram recently, I tried sizing up with Rubato recently, giving me the length to wear them with my normal mid-rise trousers.
This makes the upper body bulkier, but it's not a look I dislike. Not bad, just different. Not something to wear under tailoring, and perhaps a silhouette more like a lot of shawl-collar cardigans.
The jeans are my white bespoke pair from Levi's Lot.1.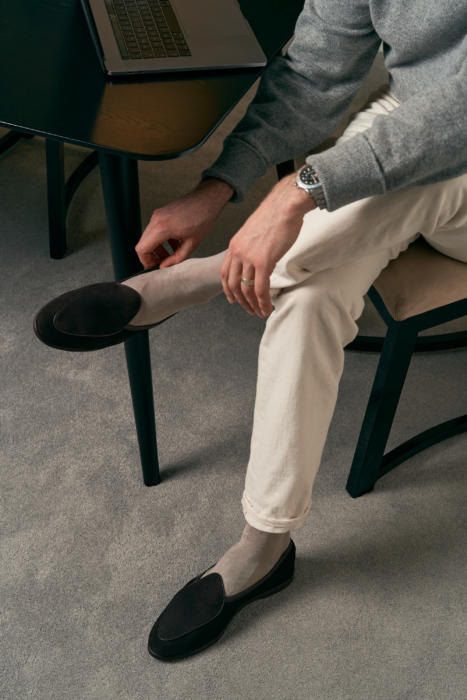 Circling back to the Sagan Lunes, Allan tells me the principal changes he made to these - compared to the classic Sagans - are the nubuck sole, and the lower heel.
The sole really precludes them from being worn outside, but is very effective on a house shoe. There's a little grip there, but it still feels very soft and slipper like.
That effect is enhanced by the lower heel, and there's also a larger piece of the foam 'Lunairmed' insole that is used in the other shoes. With the Lunes, it runs the whole length of the shoe, and makes the shoe feel much more cushioned.
Just as important, of course, is the fact they look good. I understand why some guys find the shape of the Sagan a little effeminate, but that's likely to be less of an issue in a slipper. And they feel like you're wearing something more akin to a proper shoe (in the same way as the cords) rather than flapping around the house in something open-backed.
Congrats to Baudoin & Lange for winning this 'stay at home' PS award, and thanks to all the PS readers for their votes.
If you have any more technical questions about the Lunes, please do say so in the comments. If I can't answer I'll get Allan to do so.
Photography: Pete Navey @petenavey