Lockdown looks: What I really wore at home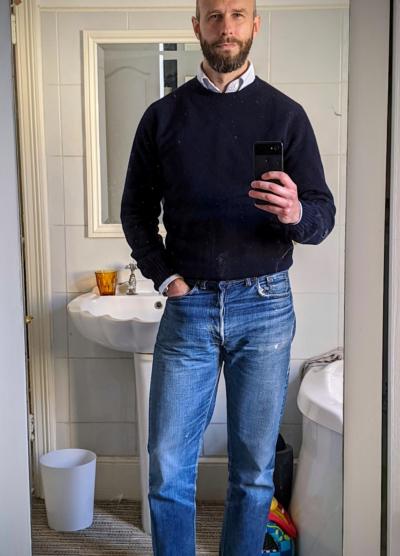 Every day, when I get dressed, there is something new I'm interested in wearing.
Not necessarily new clothing, but a new outfit, a new combination of colours, perhaps a mixing of styles. And sometimes just a combination that feels new, because it's been a while since I've worn it.
What shorts could that knitted T-shirt go with? Does a pink oxford work with paler shades of green? What polo shirts have I just got out of storage?
Perhaps I'm unusual in this respect, but it's a big part of the pleasure of wearing clothes, for me. It's creative and stimulating.
And I was pleased to find it persisted, even during two months of lockdown.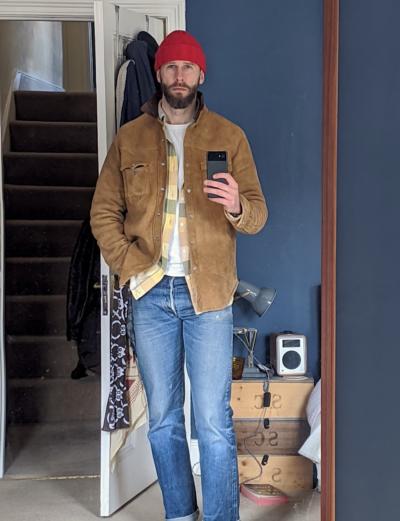 For nine weeks, I barely went anywhere other that local shops and parks.
At the beginning of the lockdown in England, I wrote a post describing what I normally wear when working from home. But that was just for the odd day - would it be the same over such an extended period?
Fortunately, yes. I didn't resort to a T-shirt and tracky bottoms. I didn't stay in pyjamas from morning to night.
Partly because I needed to work still, the same hours, every day. And getting dressed does keep me motivated - as described in that post.
But also because getting excited about clothes was stimulating - when it was sorely lacking elsewhere. With no travel, and no shops, it was great to be able to play with my wardrobe.
In this post, I've highlighted some of the outfits, in order to illustrate what I found interesting.
They are all mirror selfies, taken unceremoniously in the bathroom, and would normally only be for my own reference - or perhaps a short-lived Instagram story. So please forgive the quality and lack of details.
My normal working-from-home wardrobe could be summarised as a shirt, jeans or other cotton trousers, and some kind of knitwear/overshirt.
A jacket feels too out-of-place at home, and even tailored wool trousers seem odd.
Knitwear was where it got interesting. In fact, most outfits revolved around combinations of shirt, knitwear and trouser. Those were the variables.
The absolute standard, the stone-cold classic was jeans, blue oxford and navy crewneck (pictured top).
But I discovered I particularly liked a pink oxford in that combination (above). And black-suede slippers worked, then, where they didn't with the navy. I guess because of the sharper contrast between pink and navy.
I also found the looks tended to divide into a few genres - a few paradigms - of casual style.
Although there were mixtures, most could be categorised as either Ivy, workwear, or modern/tonal.
These are categories I suggested in a previous article here, of course, and it shouldn't be a surprise that this was how they worked out. But I usually started by wanting to wear one piece, or two pieces together - only realising later that it fell into one of these camps.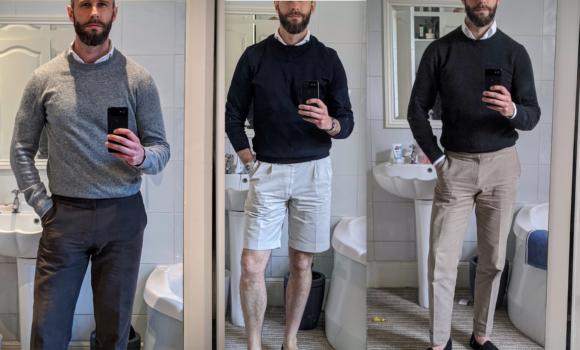 For example, I've written before about why I find the idea of a polo-shirt under knitwear attractive. It can look sloppy with the wrong polo - but if done right, it is a very relaxed yet chic combination.
The first look above is a classic example of that. White polo, grey crewneck, smart brown chinos (from The Armoury, Luca Faloni and Stoffa respectively).
As the weather warmed up, I played around with variations on that involving shorts. The second image was a nice combination: white polo, navy cotton crewneck, stone-coloured shorts (Armoury, Dunhill, Permanent Style). All quite cold and tonal still.
And the third outfit plays with the same colour palette, just with a white shirt instead of a polo. This time the chinos are taupe (Stoffa) and the knitwear charcoal (Faloni), with the latter making those black slippers very suitable (Baudoin & Lange).
With the looks that tended towards Ivy, the trousers and the colours were the main things that changed.
Trousers were more khaki than chino - coarser and wider-legged - while there was more colour elsewhere.
The first image above was pretty standard there: blue-striped oxford, green shetland, khakis and tobacco moccasins (Permanent Style, Trunk, Armoury, Ralph Lauren).
On a fun day, and to show my love for RL, the crewneck might be a teddy-bear sweater (second image).
And although it's not strictly Ivy, jeans could easily be substituted for the khakis (third picture). They have the same practical rugged cotton, after all. And the pink/green pairing is certainly Ivy, as are the cordovan Alden loafers.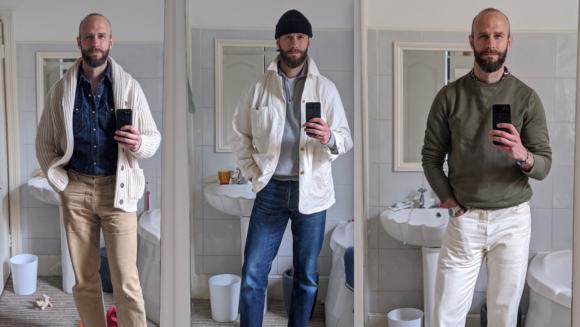 Workwear could involve the same khakis and jeans, but with more T-shirts and denim shirts on top.
A standard here was my Bryceland's Sawtooth Westerner shirt (another pleasure being how these clothes wear in a little more, each time) with those same Armoury chinos and a lambswool shawl-collar cardigan from Colhay's (first picture).
Sweatshirts would usually replace cashmere or shetlands, with a T-shirt underneath. But I do like something at the neck, hence the collared grey sweat in the second picture (Full Count via Clutch Cafe) and the brown bandana in the third (Anatomica).
Cream features more prominently too, whether it's the chore coat in number two (Bryceland's) or the denim in number three (Levi's Lot No.1).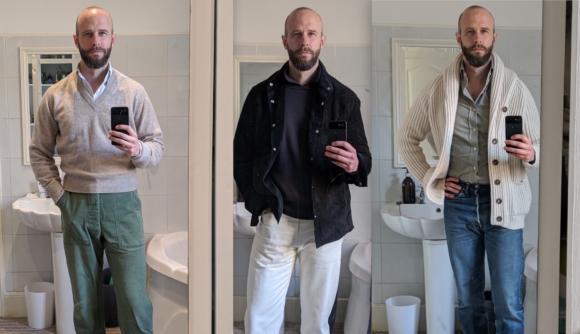 A lot of the fun, of course, is playing around with these different genres, and finding alternative combinations.
I couldn't say which the three looks above fit into. The first is certainly Rubato-inspired, with their short knit requiring high-waisted army trousers, mixed with a smart shirt. (Trousers vintage, shirt Permanent Style).
The second is very tonal, but really centres around the cotton collared-knitwear from Margaret Howell, which I found I liked with cream trousers, despite it being black (admittedly a rather faded black). The jacket is shearling from Connolly.
And the third was also driven by one item: the olive needlecord shirt, which looks particularly nice with denim, but not much else. Fortunately, cream goes with almost anything.
It's fun looking back on them all, and indeed makes me want to wear many of them again.
That's why I take these selfies normally, and file them away on my phone. It's a reminder of all those creative combinations you liked last month, or last year, and would enjoy trying again.
Here's hoping you've found similar creativity during your weeks of lockdown. And perhaps some ideas here as well.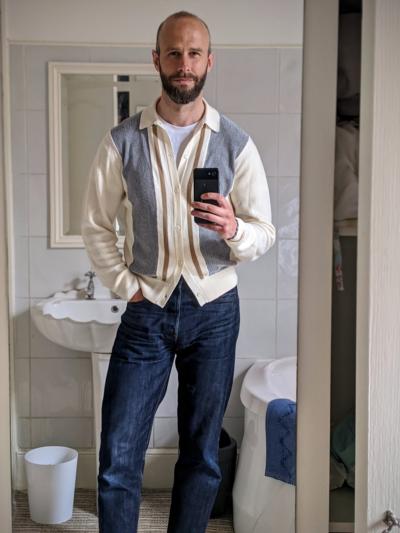 Other clothes:
Jeans in top three images, vintage Levi's
Navy crewneck in top images: Harley via Dick's of Edinburgh
Green sweatshirt: Merz b Schwanen, via Trunk
Second outfit: Overshirt and shearling, RRL
Bottom outfit: Cardigan by King & Tuckfield, jeans from Levi's Lot No.1