What I wear working from home
A reader asked last week what I wear when I'm working at home, given how many more people are now being forced to do so.
It's something I've done on-and-off for years, but particularly in the past two, since Permanent Style became my full-time job. I work most days in a workspace in central London, but I'm still at home at least one day a week.
I've learnt from painful experience how important motivation is to working effectively from home.
It's so easy to be distracted or interrupted (particularly when the kids get home at 3:30). And if you don't separate yourself - physically and mentally - from other aspects of life, the motivation seeps away. I quickly find I can do admin tasks, but anything requiring creative thought (such as writing, which I have to do at least three times a week) is impossible.
The most important thing for me is physical separation: to be in a different room, with the door closed. But clothing is also important to mental separation.
I've found the core item of clothing, is the shirt.
If I'm wearing a shirt I feel I'm at work, no matter what else is going on. I think it's because I pretty much always wear a shirt during the working week, and usually don't at the weekend. It's pure association.
So I'll usually wear one of the PS Oxford shirts (above), which are so softened and worn-in now that they're as comfortable as pyjamas.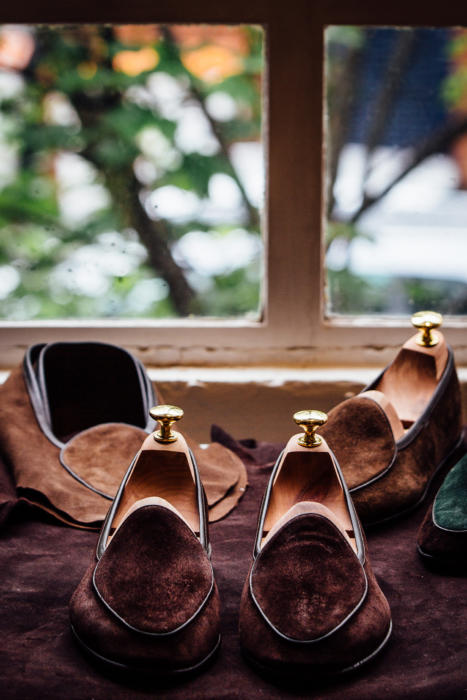 The next most important is shoes.
The reader commented that he wears lightweight loafers like Baudoin & Lange 'Sagans' around the house, and I'm the same. I don't have to wear them for warmth or anything else, but just padding around in socks or slippers doesn't feel right.
It might feel strange to be walking around in proper leather soles and heels, but there's nothing between that and basically wearing no shoes at all.
Next is knitwear - which is more a practical consideration than making me feel I'm at work.
We don't keep the heating on all day, so something is required over that shirt. This usually ends up being one of two things: a shawl-collared cardigan or a sleeveless one.
Both are comfortable, yet feel a little dressed up. The shawl cardigan is very comfy and lounge-y, but in navy still looks smart.
Sleeveless cardigans are for when it's a little warmer, and the shawl would be too hot.
They're still very comfortable because there's so much freedom to move, yet they're very practical in keeping the core warm.
I have two I wear regularly: a charcoal and an oatmeal, both in wool from Drake's. Sadly neither are available anymore, but there are other colours, among which I've tried and would recommend dark brown or mid-grey.
The other advantage of wearing knitwear like this at home, is that you look a little more dressed-up on a video call. No one expects you to be wearing a jacket at home, but wearing something over the shirt makes a visual difference.
In fact, my other recommendation would be an overshirt, for the same reason. I have a grey herringbone one from The Anthology (above) that works well, as well as a green flannel one from PML. (I also recently bought a beautiful vintage buffalo-check flannel shirt, which functions in the same way - though not as smart.)
Overshirts also mean that you can wear a T-shirt underneath, if you want, and still look fairly well put-together.
Like shawl cardigans, they also have the advantage that they can be worn open or buttoned, depending on how cold you are (which in our house, varies considerably depending on which floor you're on).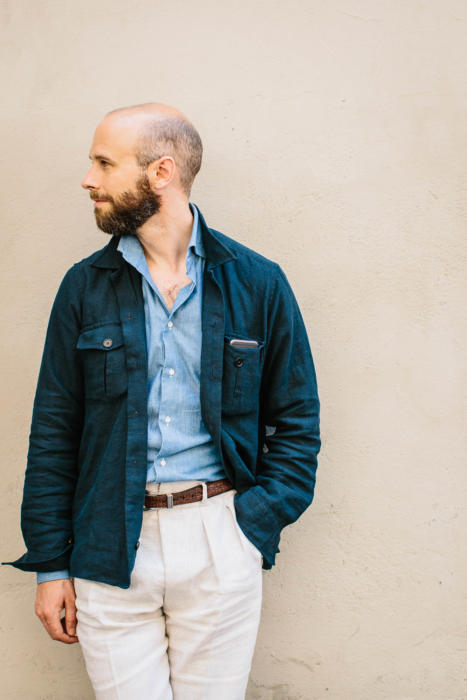 As for trousers, I always end up in jeans or chinos. Mostly jeans. Tailored trousers seem a little out of place, and tracksuit bottoms (sweatpants) are only for actual sport.
Though having said that, this morning I put on a shirt a shirt and navy serge trousers.
I think it was through a sense of anxiety more than anything else. I wanted to tell myself that I was still at work, and that one of the things that connected me to that life of work, to that place of work, had not been lost.
I'm sure I'll be back in jeans, the oxford and Sagans, tomorrow.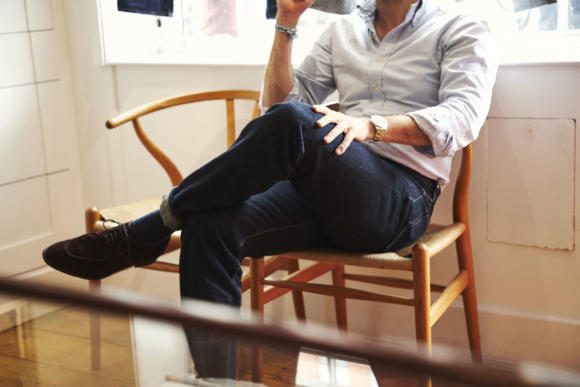 Some of this might seem a little prescriptive, and over-thinking things that don't matter - particularly if you have no video calls.
But given a lot of people, in Europe and elsewhere, are isolating at home for weeks, I think they'll find it makes a surprising difference after the first few days of lounging around in pyjamas.
Clothes don't just signal to others - they also signal something to yourself about what you're doing, and why.
Tell us all what you wear at home, please. Now more than ever, it's nice to share our experiences and views.
To hear what I and other contributors to the Drake's editorial think more broadly about clothes at home, see posts here and here (parts 1 and 2).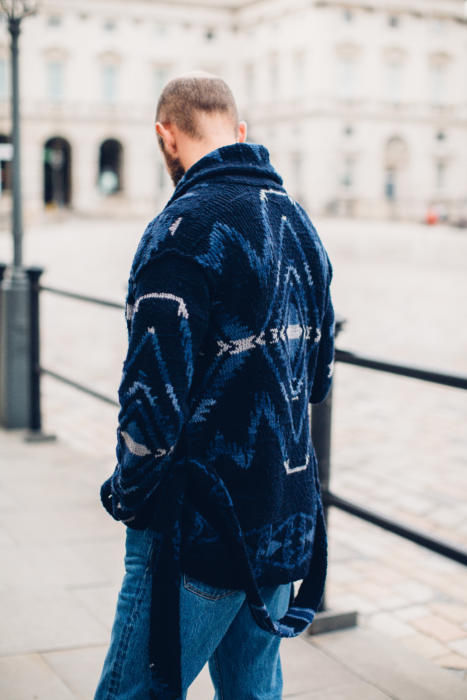 (Oh, and the RRL shawl sweater, shown above, also gets some good wear at home.)