Anglo-Italian denim and Ralph Lauren cardigan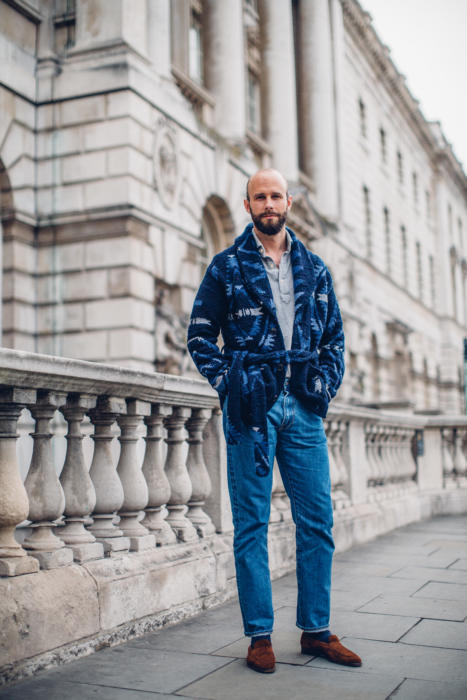 Rather a contrast this to Wednesday's post on dressing for hot weather.
But it's good to look ahead to Autumn (God I'm looking forward to it - the coats, the knitwear, the hats!). And it's nice to be able to write about something that's actually in the shops, rather than sold out everywhere.
The big, chunky cardigan is from Ralph Lauren Purple Label - still my biggest weakness when it comes to designer brands, and the one that has appealed to me consistently over my adult life.
In fact, I would say RL is the only brand that achieves the core thing we want from menswear, season after season: new temptations, but always within the same ethos. And with an awareness of menswear traditions at their core.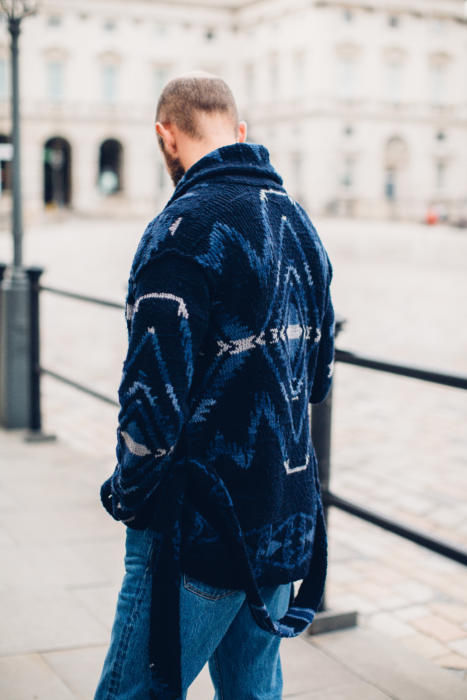 I've wanted a cardigan like this - loose and long, with a belt - for quite a while.
The belt means I have the ability to wear it undone and slouchy (as above), or done up and fitted (top).
I also love shawl collars on knitwear because it is the one design that can be worn perfectly with both a T-shirt and a collared shirt.
This is hand knitted, in 90% cashmere and 10% wool (the wool giving it a little more body and stability) and, as I now expect from all Ralph Lauren shawl pieces, buttons all the way up to the neck. (Yet one more way to wear it.)
In some ways more interesting than the knitwear, however, is the denim, as it is the first piece from Anglo-Italian to be reviewed here on Permanent Style.
Jake and Alex have had their denim made in Japan, and focused on one style in three washes. More washes are to come.
I haven't had washed denim in years, mostly wearing Albam and then Levi's-bespoke raw denim, which of course starts off very dark and then lightens over time, reaching a mid-blue that varies in cast depending on the indigo.
I deliberately chose the shade from Anglo-Italian pictured because it is just too light for my raw denim to ever really fade to.
The other two colours, shown below, are much more of a traditional mid-blue (right) and a very pale summery blue (left).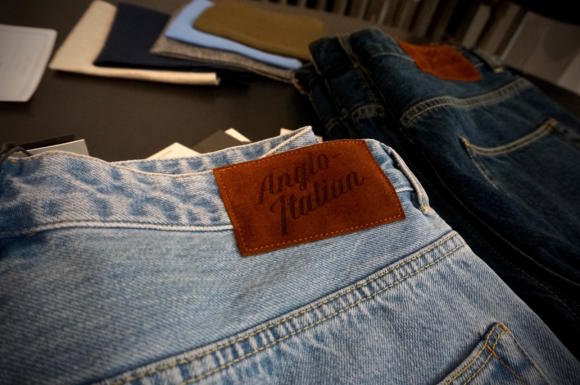 I do like the colour I chose - it looks great with navy above the waist, and is for me a rather nostalgic shade: one I wore a lot when I was a teenager (although from Gap - not at the same level).
I won't go into the quality of the denim or make, firstly because it's not a specialist area for me, and secondly because there just isn't that much to quality in the make of jeans. Certainly compared to tailoring or shoes.
Denim's quality shows in how it wears and lasts over time. And that's something I can't begin to comment on yet.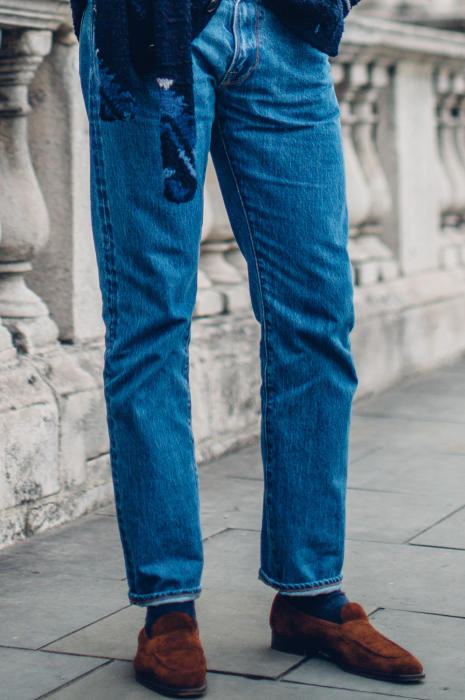 The cut of Anglo-Italian jeans is mildly carrot-shaped, fitting fairly close in the thigh and then tapering noticeably towards the bottom.
They have a mid-rise and are made to end well above the shoe, with a small turn-up.
I would have thought the leg shape wouldn't work on me, given I have relatively big thighs and a big seat. But actually the thighs have given just enough after three or four wears, and now fit perfectly.
They were made to order, as most Anglo-Italian product is, in a 34-inch model with about an inch and a half taken out of the waist. So the legs and seat of a 34, waist of 32.5.
Interestingly, Jake and Alex designed the jeans to go with their jackets, yet the cut is different to most others produced by brands with tailoring in mind (such as the Armoury or Drake's) which are usually high-waisted and cut straight in the leg, in a style more similar to formal trousers.
I have to say I really like the jeans, and they're something I'm really looking forward to wearing again as the weather cools. But denim is more subject to fashion than most other things we cover, and it may well be these appeal so much because they are simply different to all the raw, dark denim that's been everywhere for the past 5 years.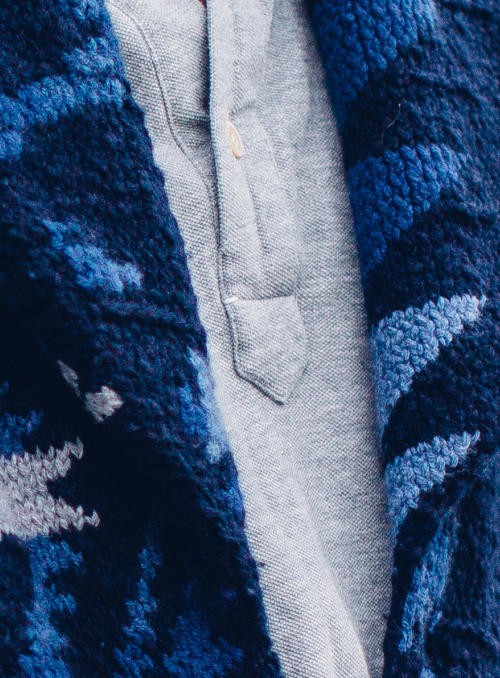 Elsewhere in the outfit:
Friday Polo in grey by Permanent Style
Tobacco-suede Pimlico loafers by Edward Green
Photography: Moeez Tali @moeeztali