Introducing: The indulgent shawl-collar cardigan
Two years ago, I spotted a couple of chunky sweaters on the top of a unit in the Anderson & Sheppard Haberdashery, in London.
I got them down and tried them on: they were big, ribbed shawl-collar cardigans. Like the classic style we know from Drake's and elsewhere, but the most indulgent, luxurious version you can conceive.
I asked Audie and the team about them, and it turned out they were the last remaining pieces from a style they did right at the beginning of the shop, and had discontinued.
After admiring the cardigans over another couple of visits, I ended up buying one in cream - even though it wasn't the right size. It was a Large, and a Medium would have been better; but there were no Mediums left.
Still, it was a beautiful piece and I have enjoyed wearing it - it was featured in a photoshoot with Baudoin & Lange and subsequent post on layering knitwear here.
At the beginning of this year, I approached A&S with the idea of re-making the style, but sold through the PS Shop.
I could understand why the Haberdashery might have to discontinue it - they already have dozens of styles - but it seemed a shame it wasn't available.
We agreed, after a few conversations that revealed the design was based on an old piece that Audie used to sell with Dougie Hayward, when Hayward was alive and Audie ran the shop on Mount Street.
We would make a fairly small run, in just navy, with a few minor tweaks of my own - such as adding a loop to fasten the lapel across the neck.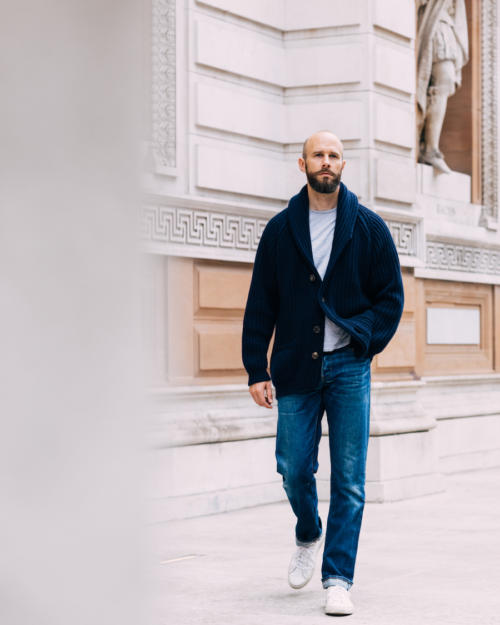 This, pictured, is the result.
Frankly a ridiculously sumptuous piece of knitwear, made in Scotland from 12-ply cashmere, and perhaps the perfect thing to sit around at Christmas and receive presents in.
Like all shawl-collar cardigans of this type, it has prominent ribbing that helps retain shape. But these are bigger and chunkier, wrapping the body. I particularly like the effect of those ribs running around the shoulders and back of the neck.
It can be left open, with the the collar down; or the collar can be turned up for warmth and comfort, and buttoned just at the waist or across the chest.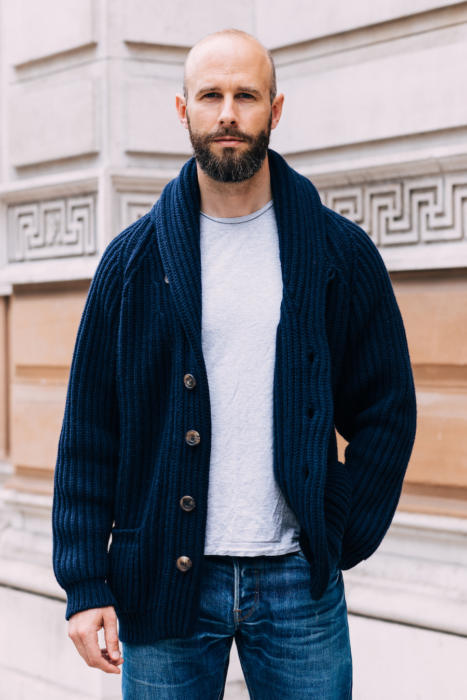 I'm wearing a Medium, and like this sizing on me: it's loose but not sloppy, and still hugs the body when you do it up.
The horn buttons are dark brown and unpolished - my favourite - and we have deliberately basted the pockets shut. So you can snip them open if you want, but they won't sag if you would rather keep things neater.
Other small design changes I made were the removal of a button on the very bottom of the cardigan - as it was really not needed - and that loop to fasten the neck.
It is something to mostly wear around the home, but I do also fasten it up high, stick on a watch cap, and walk around to the shops or a café.
We welcomed a new daughter into our family recently (thank you, in advance) which has meant many sleepless nights. Mine currently sits neatly folded on the chest of drawers, warm and reassuring at 5am when I get up with her.
I've also deliberately photographed it with two outfits - one smart, one casual. As ever, versatility is key to this piece's appeal for me.
The smart outfit of white oxford shirt, light-grey flannel trousers and black loafers (below) is the most formal look many men need today.
The casual one (two shots up) is more for that walk round to the café at the weekend: old T-shirt, well-worn jeans and simple white trainers.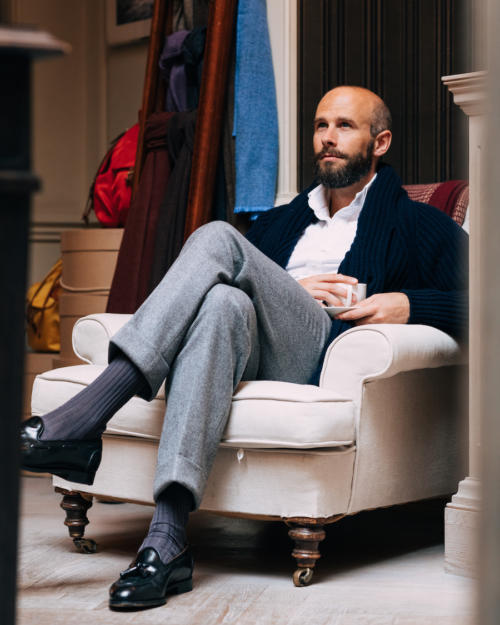 Measurements of the cardigan are below.
As always we recommend comparing them to something you already own, rather than try to go off height or chest measurements of yourself. So much of fit is personal preference, particularly in a piece like this.
For those that don't know, though, I'm 6 foot tall with a 39-inch chest.
Importantly, there is also a size run of the cardigans in the Anderson & Sheppard Haberdashery.
You can't buy them there at the moment, but you can try on the sizes to see which is right for you, and then order from the PS Shop. We only have 30 pieces this time, so apologies if they go fast.
The cardigan costs £785 + VAT.
Measurements
| | | | | | |
| --- | --- | --- | --- | --- | --- |
| | Extra Small | Small | Medium | Large | Extra large |
| Chest | 51cm | 53 | 55 | 57 | 61 |
| Length | 63 | 65 | 69 | 70 | 71 |
| Sleeve | 76 | 78 | 79 | 83 | 85 |
(Chest is pit to pit; length is centre back neck to hem; sleeve is centre back neck to end of cuff. Do bear in mind that sizes might seem large as well, given the thickness of the material.)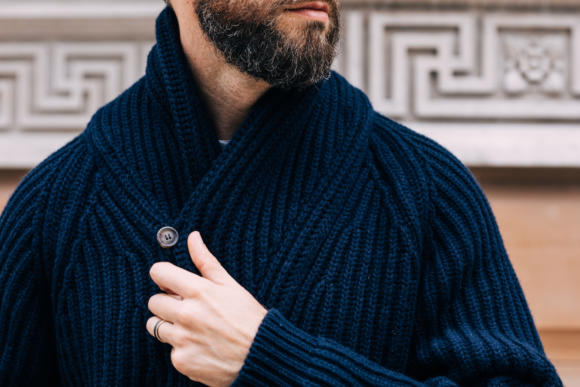 Note: Mr Porter also ordered shawl-collar cardigans from Anderson & Sheppard this season, but the design is different and they are in a strong bottle green.
Photography: Milad Abedi @milad_abedi. Including the odd one below of me practising the old balance-a-teaspoon-on-your-nose trick.