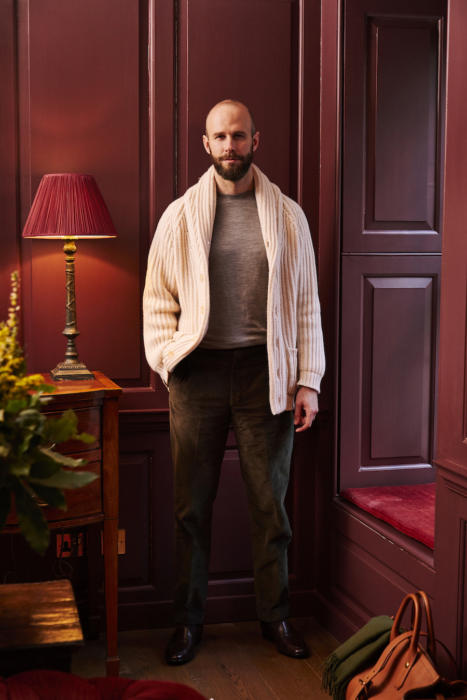 Layering knitwear can be both stylish and practical.
Practical, because it gives particular warmth on a cold day - more, usually, than a shirt under knitwear.
The multiple layers are also easy to add and remove as the temperature varies.
And stylish, because it looks so relaxed and casual, yet unusual. There's zero chance of looking too stuffy or buttoned up, yet it's unlikely anyone will be wearing the same thing.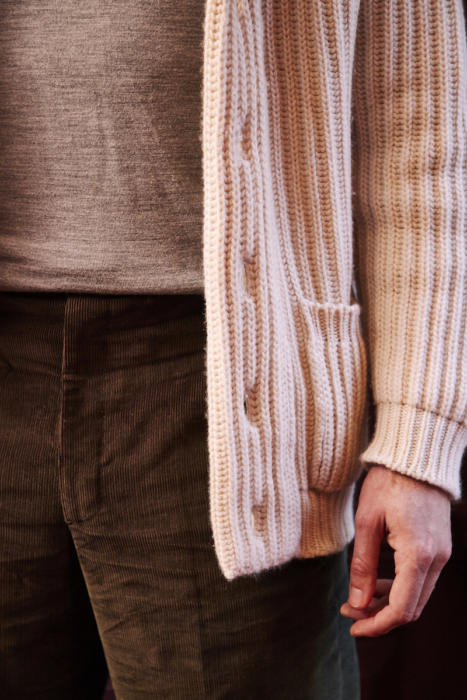 It's also extremely comfortable, of course, which is a prime reason to do it at this time of year.
Chuck a weather-proof layer over the top and it can be worn to the office - and then you can work in one or both layers all day long.
The cream cardigan here is probably too bold for most offices, but navy would work just as well.
I actually have this monster of a shawl-collar cardigan in navy too, both from Anderson & Sheppard (though sadly not available any more).
The fine-gauge merino underneath is from John Smedley, while the green-corduroy trousers are from Ettore de Cesare (Scabal 501281).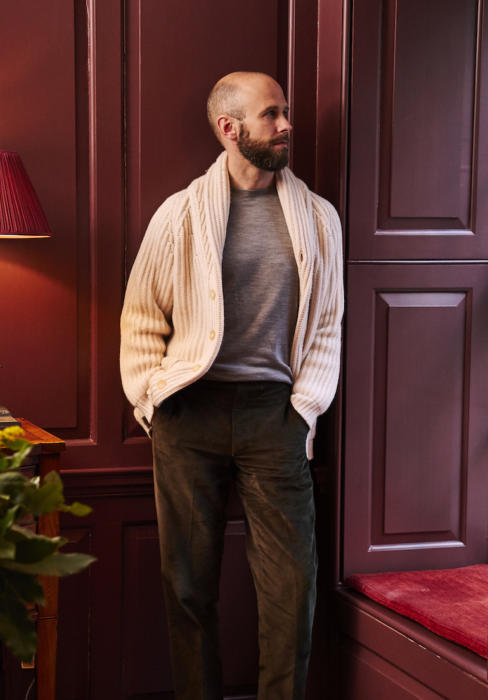 It is possible to layer knitwear in other combinations, but I find this the most practical.
A big shawl-collar cardigan provides a shape that frames the face - and therefore flatters most men - while the crewneck underneath has no collar to get in the way of the chunky shawl.
Wearing a shirt under the crewneck would also work (I'm wearing a T-shirt), and would make that layer easier to wear on its own. (At least for people like me, whose long neck means crews on their own aren't that flattering).
A shirt with a deep V-neck sweater would also be good underneath, as would a roll neck. The latter would be much more stylised though.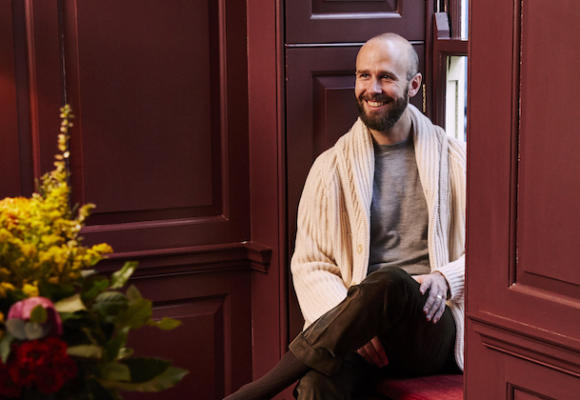 It's only as I write this post that I realise how much I love the combination of grey, green and white/cream.
I wear it often as a grey shirt, green jacket and cream trousers (see piece on grey-linen shirts here), and as a cream jacket over a grey shirt.
Most often, though, and smartest, as a white shirt under a grey jacket, with dark-green trousers.
There might be a post in that somewhere - similar to the one I did on swapping colour combinations.
The shoes are the new Sagan Grand model from Baudoin & Lange - the shots were taken as part of a photo shoot for them.
I don't own any of the Grand model yet so can't comment in depth, but Allan has certainly done a lot of work to try and make a very soft, very comfortable loafer.
The foot bed is complex, as are the areas where structure has been taken out of the shoe to increase flexibility - while still keeping the sharp lines of a dress shoe.
My only concern is the last shape, as loafers rarely fit me well off the shelf (wide joints, narrow heel). They seemed OK when I wore them here, but not perfect.
The scarf is from Begg, the bag from Dunhill.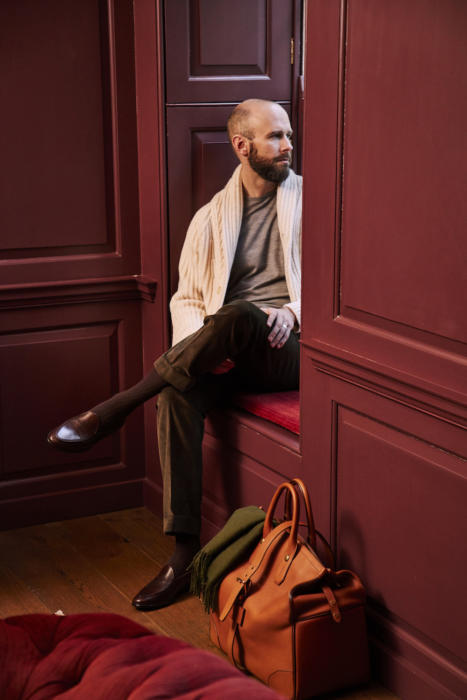 Photography: James Holborow