The Summer Top Five: Adret, Anglo, Anthology, Connolly and Luca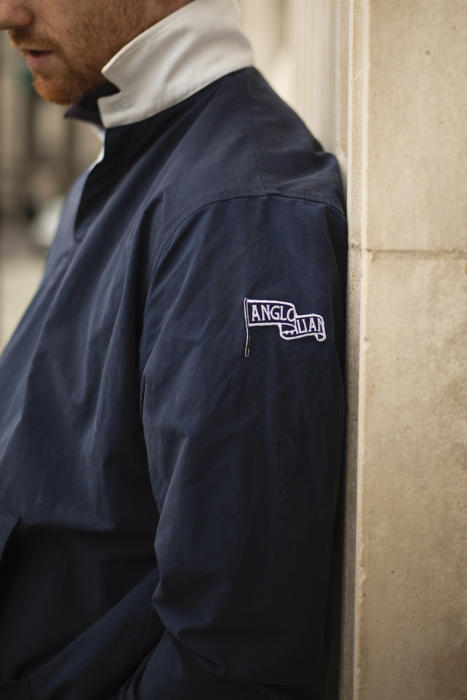 With stock delayed and most shops closed, there seemed less point in doing our regular Spring/Summer round-up earlier in the year. So here, rather later, is a Summer-targeted piece on items I've tried myself and especially recommend.
I've also kept this to five, rather the usual ten, in order to give me more space to get into the details on each product. Here's hoping you find something you like.
£365
I love so many things about Adret, and how Adam and Seto go about designing their clothes.
The natural colour palette, which is large yet surprisingly versatile - there are blacks, greens and tobacco there, yet they all work together. The materials, which are often unusual yet all soft, open and light.
And the slow development and marketing. The best images are all hand-drawn by Adam - he spent most of lockdown hand-drawing a video - and most sales are by appointment. They did open a showroom in central London for a few months, but that was closed at the beginning of the pandemic.
Perhaps most of all, I love the ideal of simple, easy elegance. Drapey clothes in natural cloths, that feel put-together yet are the most un-starchy thing you could possibly wear.
Unfortunately, the cut of most of the clothes doesn't work on me. The loose, longer fit is fine, though not my normal style, but the collars are usually too low, and the chest open. It just isn't that flattering - though it looks great on Adam. I have a cream thermal that I love, but that's it.
However, we met up recently to try on some new developments, and found one other thing does work, which is the Pablo popover. This has a slightly higher collar and firm placket, which frames my face nicely. Below that, the shirt is all drape: loose body, sleeves begging to be rolled up.
The material is beautiful - a super-washed denim, very light and soft. There are two colours, mid- and light blue, referred to as Prussian Blue (pictured) and Bleu de France respectively.
As with many Adret pieces, there are also lots of nice details, such as splits in the side seams and a wider placket with just two buttons.
Adret isn't for everyone, nor is it cheap, but I think the quality with which it's done makes it worth finding out whether it's for you.
£255
The proportions of these first two pieces could not be more different. Where the Pablo hangs in long lines from the shoulders, the splash top cinches at the waist and then balloons in the chest. (Yet they're both aimed at, and achieve, freedom of movement. Interesting that.)
The Anglo-Italian splash top is a waterproof shell, intended to be chucked over a polo shirt or knit when rain threatens. It reminds me of rowing waterproofs I wore at university, and is just as useful for sport as casualwear - I've been wearing mine to cycle over to play tennis, for example (the only racquet sport currently allowed.)
Like most good menswear we cover, though, it takes such a functional piece and elevates it. The material is a cotton blend from Millerain, which has a matte finish and a much nicer feel than the normal synthetics: like Ventile rather than Nylon. And the collar is a heavy cotton similar to a rugby shirt.
They do come up very big in the chest, and I was unsure between a Small and a Medium, eventually going with the Medium as I will want to wear it over a sweatshirt.
I also wasn't sure about the embroidered patch, as I don't usually wear logos. But it is pretty subtle, and nice on something so plain. It's also a lot better than 'Ralph Lauren Rowing Club' or similar fake sporting clubs.
There isn't much stock left of the splash top (just Large and X-Large), but worth registering your interest on the A-I site, for a pre-order.
Cotton £365, cashmere £790
This is one more piece that challenges ideas of proportion.
The Art cardigan is designed by Connolly to be long and slightly oversized. Yet, as often with good oversized pieces, it has enough interest and structure at the top to stop the whole piece look like it's just falling off you. (My Connolly coat is similar.)
So it sits close on the back of the neck, and has a saddle shoulder that creates a horizontal line across the top of the chest. Those help the longer body and deep V-neck to fall down the body without given the impression of collapse.
It's not a style I would normally buy, but this is something I particularly value about the Classic Collection at Connolly: challenging my preconceptions and, in the process, reinforcing some while adapting others.
I was wearing a smart shirt and fairly high-waisted tailored trousers when I visited the shop, and would normally wear a neat cardigan with such an outfit. But actually, the contrast between these sharp, fitted clothes and the loose Art Cardi was great.
I bought the Small/Medium in cream cashmere, which isn't currently on the website. But the dark-brown cotton was also nice - a dry, crunchy-feeling knit that would be better suited to the current weather.
There's a nice piece on the cardigan by Isabel at Connolly here - featuring Jo Ellison and Donald Glover (Childish Gambino).
$90
I've long been a fan of knitted (knitted together, fully fashioned) T-shirts as an elegant alternative to a collared shirt.
I wear them with tailored trousers under a casual top - and although I wouldn't wear a T-shirt with a suit, this is the tee I would wear if I did. A regular cut-and-sew T-shirt just looks sloppy.
My favourites are from Connolly, and Smedley does some nice ones. But both are fine-gauge knits, whether in merino or cotton, and smart as a result. The Anthology tee uses a thicker gauge, which makes the cotton chunkier and the look more casual. I still wouldn't wear it with jeans, but the look with trousers is more relaxed.
The cut is inspired by vintage sportswear, and you can see that in the higher collar (also helps under tailoring), bulky chest and nipped-in waist. Personally I rather like this style, and find it flattering (in the same way I like an extended shoulder and drape on a suit). But the original run was rather too short in the length for me, as I commented on Instagram - really only suited to high-rise trousers, up on the natural waist.
Fortunately the latest run is a little longer. Still a vintage silhouette, but I can wear them with my tailored trousers, which are more of a mid-rise. If you wear low-rise - as most modern trousers are, and something like Incotex chinos are - you'll still probably find them too short.
I wear the navy, in Large. I tried ecru as well, but it is closer to beige than cream, and didn't work that well with my skin colour. I'm also tempted by mustard.
The Anthology deserve a big shout-out, by the way, for giving all the proceeds from the first run to Covid-related charities.
€270
Every shirtmaker sells overshirts these days. It makes sense: it's a whole new category for them, yet with a make that's not that different from a shirt.
I've tried many, and as previously mentioned have a preference for ones without bulky pockets. Usually without hip pockets at all. They're just so much cleaner without, and pockets can easily overwhelm what is a very simple, lightweight piece.
Luca Avitabile, who makes many of my bespoke shirts and all of the PS shirts, has a version called the Valerio which is one of the best for several reasons.
The biggest is that the hip pocket is a side-entry design that sits very cleanly, and you'd barely notice unless you were using it. Both chest and hip pockets are made from the same piece of material, laid on top of the body.
The second is the material, which is very crisp, lightweight linen - lighter than the Armoury one I have, and not as soft as the Drake's one I also wear a lot. The colour of the tobacco version is also less saturated and slightly darker than that Armoury version, making it a little easier to wear.
And finally, the lining of the collar and cuffs is relatively stiff compared to others. Certainly than the Drake's ones. This keeps them sharp, and fits well with the crisp feel of the linen. The whole is smarter , though still wearable with jeans.
If I was going to change one thing on the Valerio, it would be the breast pockets, which could be a little deeper. You can't get anything taller than a card case in there. But otherwise it ticks all the boxes for an overshirt.
Also available in an indigo blue. I wear Medium.
Photography and image credits to stated brands, except top Anglo-Italian image, Ted Mendez