Saman Amel – Classic tailoring with a modern aesthetic
Good trunk shows pick good locations. Not necessarily fancy, but convenient and in a space that shows the product in a good light.
This is particularly true with ready-made or made-to-measure brands, where customers are more likely to compare them to a physical shop.
And it's something even tailors should try to remember - rather than assuming their reputation is sufficient to pull people to any old room in any old hotel.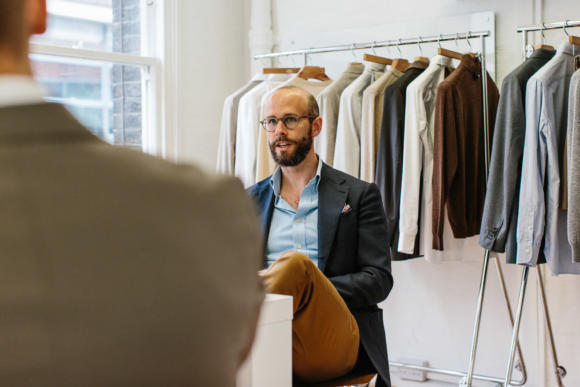 When Saman Amel visited London for the first time last month, they had clearly thought about the space.
The rack of jackets and suits was carefully hung; the sweaters and polos were all precisely folded and presented.
It was a nice set up, with light streaming in from both sides of the second-floor space.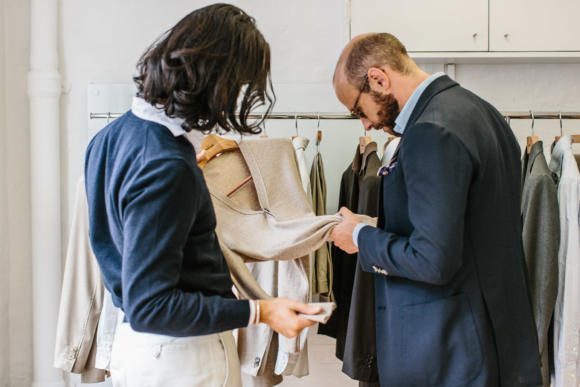 And in many ways it was a neat metaphor for Saman Amel itself.
Set up in 2010 by friends Saman Amel and Dag Granath in Stockholm, the brand has developed an enthusiastic local following for its made-to-measure tailoring, ties and knitwear.
The aesthetic is simple, muted and refined.
You could call it Scandinavian, but that would be to pigeonhole something that, in a digital age, can never be so restricted.
Rather, it feels modern. Dressed-up tailoring that isn't corporate; fine knitwear that isn't fancy or fussy. Cuts that are pretty traditional (particularly jacket length) but still contemporary in their styling.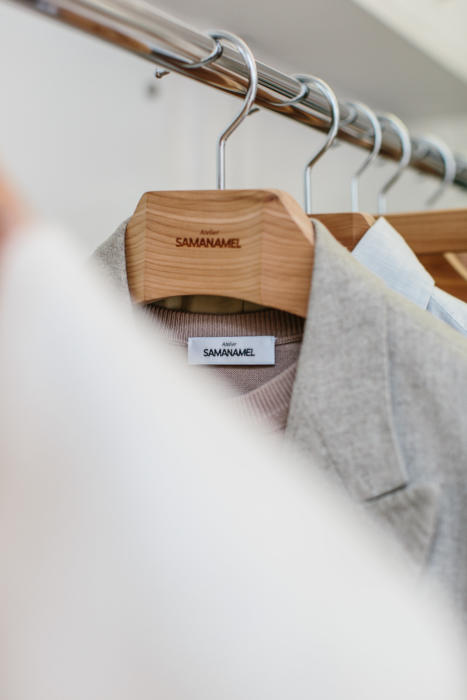 It isn't a unique look. But it does seem to be one that is being well-executed - and as of last month, is now available in London for the first time.
When I arranged to meet Saman and Dag, I was planning to try the made-to-measure knitwear.
I've tried a few MTM services for knitwear over the years, and it usually hasn't worked well (Loro Piana, Simone Abbarchi).
I was hoping, therefore, to find somewhere I could regularly order knitwear from, in a tweaked fit. I also liked the styles - such as the tennis sweater (pictured at the bottom of this post).
But I became interested in the tailoring too when I realised the top line, 'Napoli', has a hand-padded lapel (from £2200, pictured on me above).
There are several other points of handwork, but it is the hand padding that sets this Saman Amel line apart from most of the rest of the MTM market.
I do not pretend to cover made-to-measure comprehensively, unlike bespoke, but I'm always interested in things that can incorporate aspects of bespoke - such as individual patterns, hand cutting, or hand padding.
And if the fit of this Napoli jacket I'm being measured for is good, it is of course a partial recommendation for their cheaper line, 'Toscana' (from £1400), which is not hand-padded but has everything good RTW should have (eg hand-attached collar) and hand finishing (eg buttonholes).
Dag is wearing the Toscana line, below.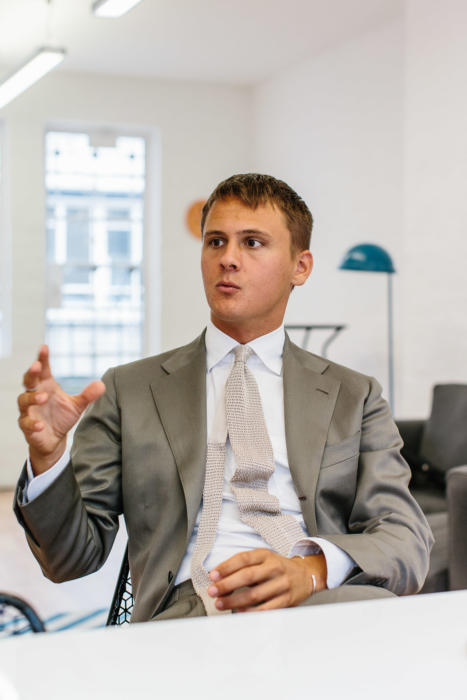 When I was fitted, Saman's approach was impressive. Of course, this doesn't necessitate a well-fitting garment, but it's a good start.
Saman (below) took about half an hour to measure my body, looking carefully at the slope and pitch of the shoulders, the collarbone, the back shape and posture.
And he then took similar measurements on a ready-made garment, with Dag taking notes on his laptop the whole time.
This was by some way the most involved measuring session I've had for a made-to-measure garment.
Saman studied for three years in Sweden in an institute called Tillskärarakademin, which translates as Academy of Cutting.
Like many such courses, fashion and design was a big part of it, but there was some extended study of fit and cutting techniques, which Saman initially used to develop dresses that gained him some attention.
In his second year he started making his own shirts and tailoring, staying away from high fashion. And in his third year started the project that became Saman Amel.
Saman then worked for J.Lindeberg, becoming their head of MTM for Europe. So he has quite a bit of experience with tailoring - but neither he nor the brand refer to themselves as tailors.
I opted for a brown three-button single-breasted jacket, in Loro Piana Prince-of-Wales-check cashmere, with patch pockets and a welt outbreast pocket.
In the knitwear, I went for a half-zip sweater in brown cashmere (above).
The Saman Amel ready-to-wear fit is actually pretty good for me in the knitwear, being a little slimmer and a little shorter than most. But we still slimmed it a touch more.
You can get an idea of the range of Saman Amel designs on the website, by the way, which sells ready-made knitwear and ties.
As with everything else, it's simple and muted colours: cream, taupe and brown, alongside the classic grey, navy and black. With minimal patterns.
I'll be very interested to see how the jacket and knitwear turn out (Saman and Dag are back in London from November 1-2).
I know readers are always keen to have lower-priced tailoring options reviewed; and I know many are equally excited about brands that combine classic ideas of fit with modern, younger styling.
It is that style that separates Saman and Dag from the cheaper bespoke tailors, by the way. And as I've said so frequently, style is something bespoke tailors underestimate at their peril.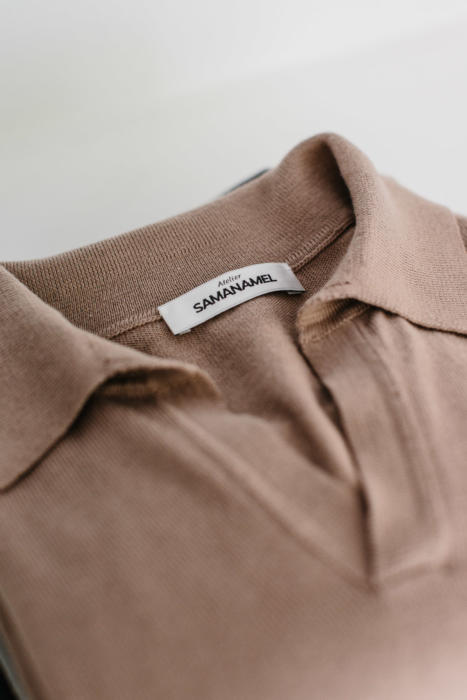 Pricing list for London:
Napoli suiting from £2200

Jackets from £1800

Trousers from £550

Toscana suiting from £1400 (which makes up the majority of their business)

Jackets from £1100

Trousers from £350

Shirts from £280

Overcoats from £1300

Business suiting from £1200 (same as Toscana but with very limited, stock cloths)

Knitwear, MTM cashmere from £450
More images from the Saman Amel lookbooks available on their website, here.
Photography: Jamie Ferguson @jkf_man
Contact: [email protected]