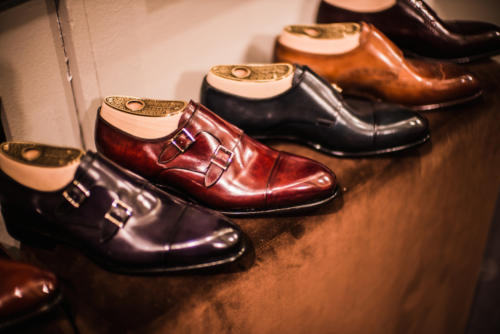 It might be surprising to see Santoni here. Their aesthetic is not of the kind normally featured on Permanent Style – a little too bright perhaps, a little too brash. But Santoni deserves a few words in its defence. It is a great company, and produces well-made shoes with, occasionally, a nice technical touch.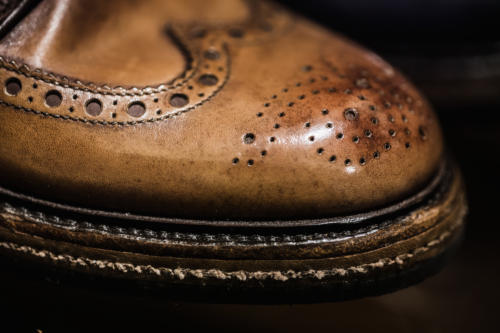 The shoes are all made 100% in Italy, in an age when some cynics will point out the Romanian number plates streaming in and out of Italian factories. And the factory in Corridonia is beautiful – one of the greenest out there (it is entirely run on solar power).
Neither of these things really matter to me – it's about quality, nothing else – but our discussion on Sunspel last week clearly showed that they matter to others.
The construction of Santoni shoes varies with the price, as it does with a lot of makers: Goodyear and Blake, closed and open channels. But one thing that sets all of them apart is the colouring – particularly the depth of colour, given the softness of the leather.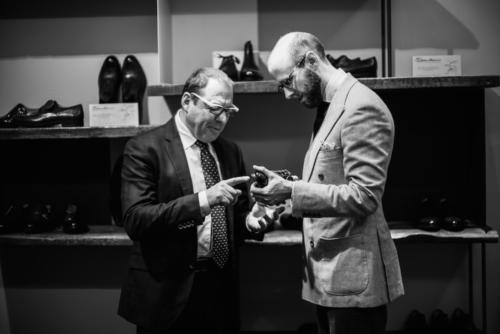 Unlike the vast majority of English shoemakers, the shoes are painted rather than burnished or dyed in the leather. And unlike most French and Italian companies, the painting is done slowly and individually. It is this care that creates that depth.
On the technical side, Santoni will often include things like skeleton stitches, where the thread can just be seen pushing against the surface, or hidden seams. Some English makers highlight their only similar technique – hand sewing a split-toe Norwegian – as the jewel in the crown of the whole company. (And their only attempt at colour variation is the pre-washed look best known from Lobb's Museum Calf).


The range of designs available, every season – from summer slip-ons to camo-patterned monks – also gives the buyer a broad range at a decent quality. Very few European shoemakers have this combination – they are mostly fashion companies or very traditional shoemakers. When Santoni was founded in the 1970s, it was with the intention of injecting a bit of extra quality into this market.
Most Santoni shoes are not to my taste. I don't like bright colours or most of the technical details. But I often see Santoni compared to faddish European makers that are much more poorly made. It deserves a few words in its favour.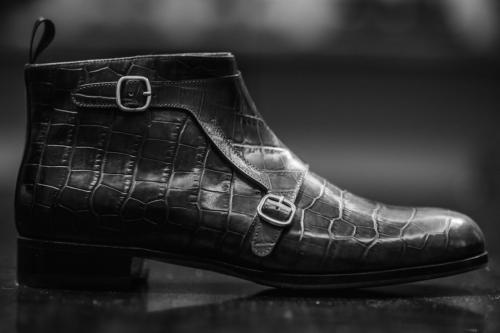 Photos: Luke Carby