The appeal of workwear, and my favourite pieces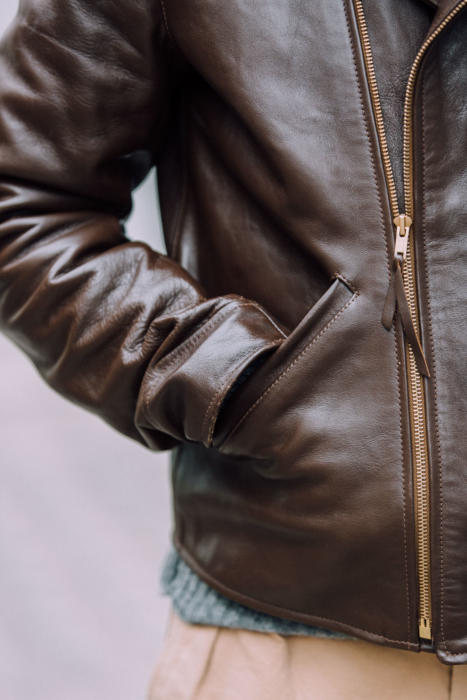 Although tailoring is my primary passion, I've always worn clothing that these days would be grouped under the term 'workwear' on the weekend.
Good denim, obviously, but also sweatshirts, waxed boots and canvas trousers.
Some of the best-loved have been a pair of Wolverine 1000-Mile boots in Chromexcel leather, a battered Filson briefcase, and The Armoury's Army chinos.
For me they're a way to wear high-quality clothing but with a more practical, rugged feel – something stylistically removed from bespoke tailoring, but with other aspects in common.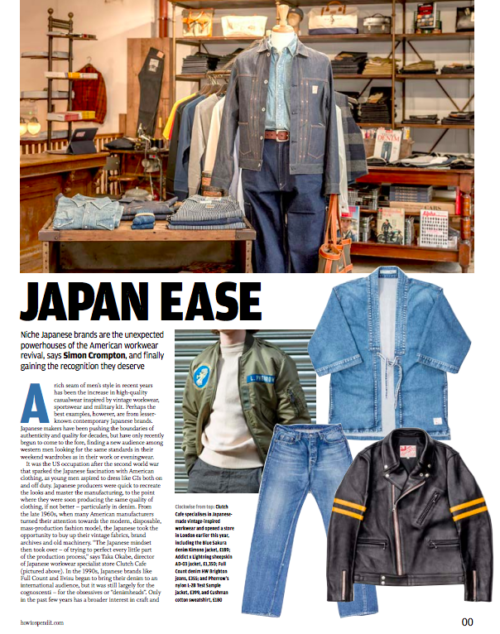 I had the opportunity to write about this recently for How to Spend It, the luxury supplement to the Financial Times here in the UK. You can read the article here.
The piece focused on the rising popularity of high-end Japanese workwear; but while the Japanese probably lead the way, there has also been growth in popularity of American brands like Filson or Red Wing, and the occasional local brand around Europe as well.
It's an area I'd recommend to any readers. Although workwear is never going to take up much space on Permanent Style, I do believe that to be well-dressed you need to be able to wear knitwear and jeans just as well as a shirt and tie.
Workwear rarely involves the same mastery of a skill, or investment of time as bespoke.
But there are many other common themes, among them investing in quality, seeking timeless style, and supporting traditional manufacturing.
I've included some examples of my favourite pieces here by way of illustration.
One is the Wolverine boots above, which I bought at Leffot around seven years ago and have done great service since. The waxed leather makes them very weather-resistant (despite having a single leather sole with a regular welt), and they're really comfortable.
The only downside to Chromexcel is that the wax clings ferociously to dirt, and the vamp gets big, broad creases. Keeping them looking smart at all is not easy.
I've written consistently about leather outerwear over the years, including recently how vintage pieces are repaired at Cromford.
One of my all-time favourite items of clothing is a vintage horsehide jacket, which has a beautiful repair-patchwork lining. It's something that will feature in the 'How Great Things Age' series at some point.
Earlier this year I also got an asymmetric horsehide jacket that The Armoury made with The Real McCoy's (above). I've loved how that has moulded to me, and I'll do a full article at some point.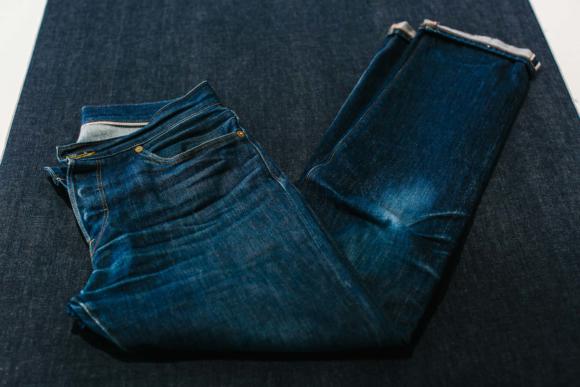 My Filson briefcase is a large twill model – bought second-hand with extensive repairs, but subsequently also hauled all over the world.
It's very practical, and a good accompaniment to other casual clothing (it's shown above with the Wolverines).
Jeans of course I've covered consistently too. From Levi's bespoke (above) and more recently from Blackhorse Lane.
I don't think I've ever talked about The Armoury's 'Army' chino though, which is the only chino I've ever had that wears in like denim. My pair are also in that shot above with the Filson and Wolverines.
The Army model hasn't been available for a while, but I'm told The Armoury are working on a new version.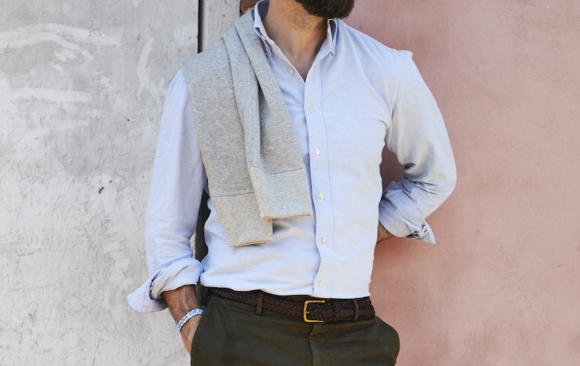 Loopwheeled sweatshirts are wonderful, and the ones I wear most are from Merz B Schwanen (above). But I also have models from Loopwheeler in Japan (pictured bottom) and The Real McCoy's here in London.
Real McCoy's T-shirts are lovely and thick, but they are rather square, having no side seams.
I recently got hold of a Flat Head one that is better - via Rivet & Hide - as it is circular knitted but then cut and tapered, before being re-sewn.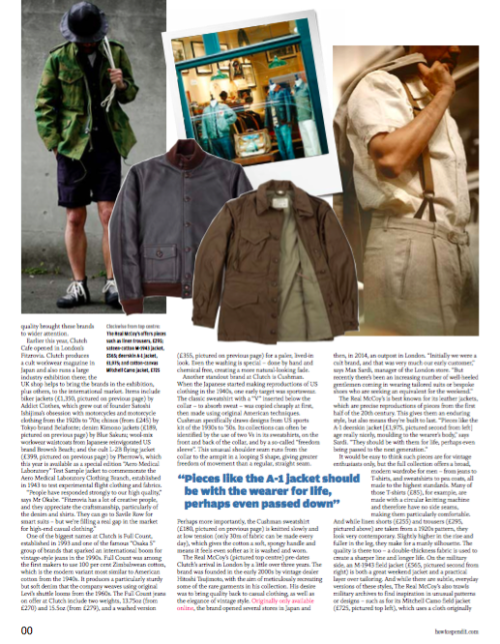 For anyone that's interested in this type of clothing, several shops in London are mentioned in the article.
They include Son of a Stag, The Real McCoy's, Nigel Cabourn, Rivet & Hide and the recently opened Clutch Café.
They're in three clear groups, in Shoreditch, in Covent Garden and near me in Fitzrovia, so easily visited in batches.
My last thought on the topic would be that I find it's easiest – certainly at the start – to concentrate on one genre of casualwear.
Horsehide jackets go great with raw chinos, cotton sweatshirts and canvas trainers. Common Projects-style trainers are better with slim, washed chinos and buttoned suede jackets.
Nothing wrong with mixing them up in time, but I think casual wear should not just look relaxed, but be casual and easy to throw on as well. More on that here.
And whatever you wear, it's all better than athleisure.
Photography: Jamie Ferguson, for Plaza Uomo, Levi's and The Workers Club; except Merz B Schwanen shot, James Holborow.