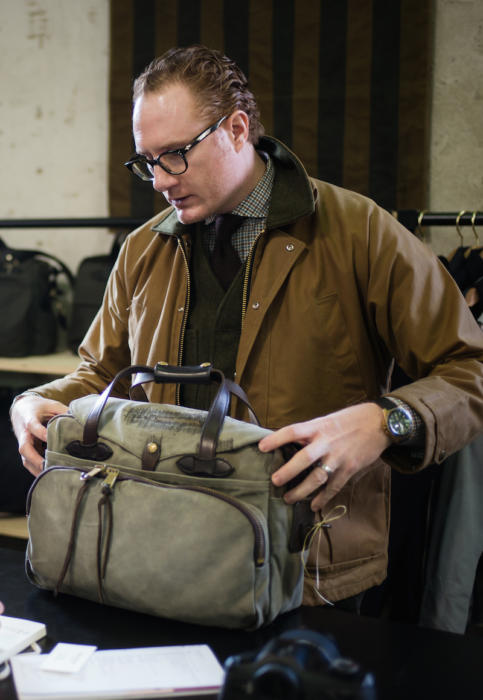 I've known Filson bags for quite a few years now, but only got to know the management back in January when I met the President, Gray Madden (above).
The aesthetic of Filson bags has a lot to recommend it, with its rugged mix of bridle leather and heavy canvas. The finish is not as clean as some other canvas/leather bags, such as J Panther, and certainly not in the luxury bracket of Troubadour, Lotuff or the big fashion brands. But they work and age very well.
In fact, that's probably the biggest reason for including them on Permanent Style: the graceful ageing, backed up by a lifetime guarantee.


Filson regularly repairs bags that come back to it after years of year, with the most common repairs being replaced zips and tears in the canvas, which are vigorously over-stitched. Again, this is a rather rugged finish, but anyone that likes the look of jeans that are well-worn and well-loved will appreciate it.
"It's one of the advantages to making so much ourselves – 90% is made by us in Seattle or Idaho," says Madden. "We tend not to repair clothes though, as it's usually not worth it. Those we usually replace."
And does he get many people taking advantage of the repair policy – by buying them second-hand and immediately sending them back? "That does happen a bit, yes, but it's the same work we're doing to keep a bag going. And you have to accept there will be people who try to take advantage."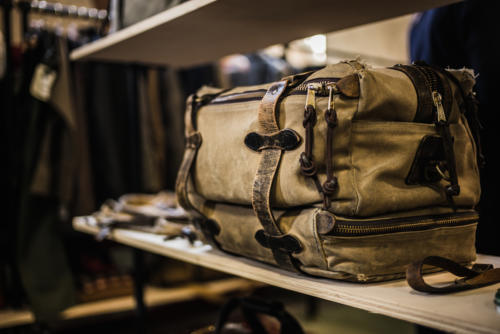 Filson has actually only been making bags for 20 years; the clothes have a much deeper provenance, going back to the Alaskan gold rush in nineteenth century. Today, however, about 60% of the production is bags and accessories.
The standard canvas is a 22oz Millerain twill, and there is also a 'tin' cloth that is slightly lighter and waxed to make it more waterproof. The zips are largely YKK and the fittings are treated brass.
The Millerain ages the better of the two – as you can see in the image of the 15-year-old bag above. It's always nice to have brass hardware as well, although personally I'd prefer one that is allowed to naturally tarnish – it's just as beautiful as the ageing canvas. (I'm clearly in the minority here though – almost no one does untreated brass on bags any more.)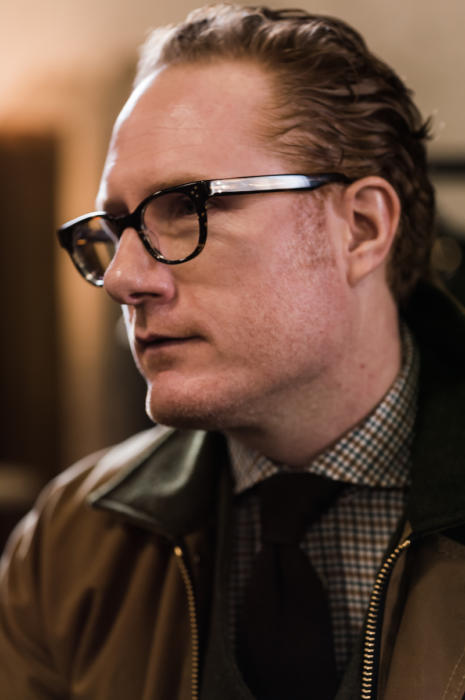 "One nice thing is we don't order our zippers pre-cut, which would be easier and cheaper," comments Madden. "We order the rolls and then cut them ourselves, which takes longer but gives us flexibility in getting the fit right, and makes those repairs easier."
Filson opened their first store outside the Northwest United States in 2013, on London's Newburgh Street (just off Carnaby St). It's worth checking out, particularly for the old Filson luggage that the brand are offering.
Shinola, which is part of the same group as Filson, also just opened across the street, selling its watches and related accessories – and they will be making a Filson range of watches that launches later this year.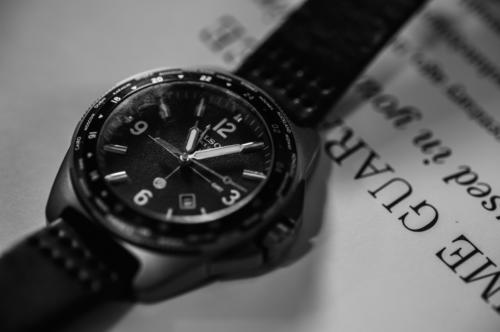 Photos: Luke Carby