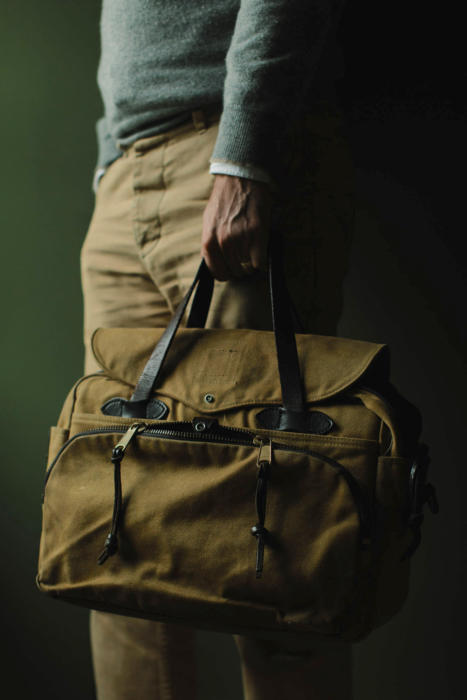 Of all the things we cover in the 'How great things age' series, a bag such as this probably has the most potential – because it is made of canvas, leather and brass.
All those three materials age differently.
Brass, presuming it's not coated, will tarnish at the edges where it isn't touched, and get sharp highlights where it is – on the edge of a zipper, on the top of a stud.
Leather, when veg-tanned and stuffed with oils like this bridle, darkens but also cracks on the surface, exposing the lighter layer underneath.
It also moulds – the handle of this bag is wrapped in a strip of leather that has been the shape of my hand for years, and makes fastening the two sides feel like something it actually wants to do.
And lastly canvas. Canvas gets dirty (but can largely be scrubbed clean) and then slowly wears down, thinning, fraying and finally wearing through. But then of course it can be repaired, and in some ways looks better for it.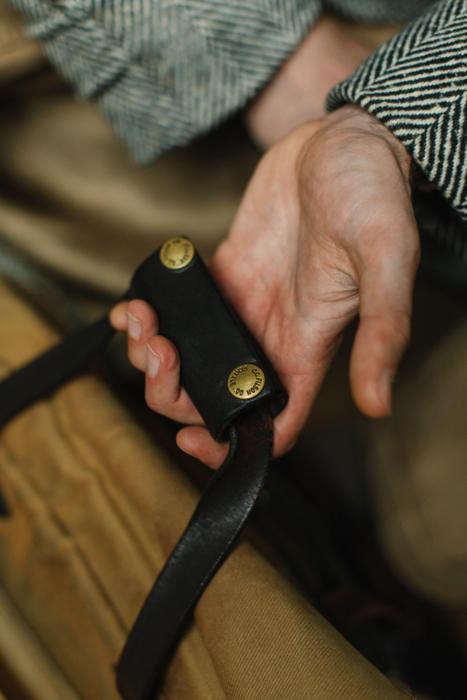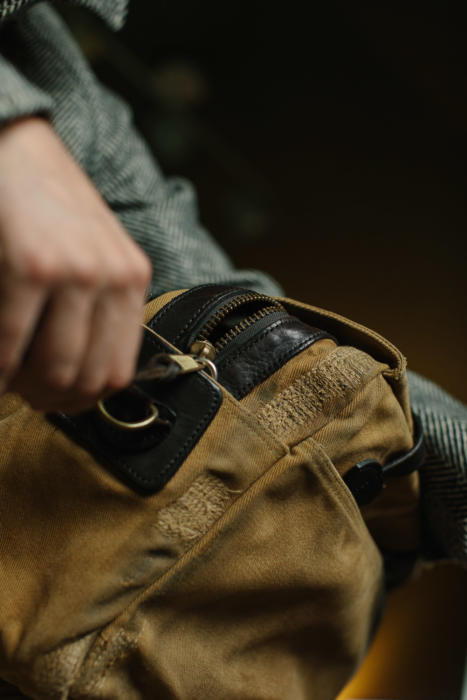 I've had this Filson briefcase for about seven years, but didn't buy it new. Much as I adore all of these signs of ageing, I wouldn't use a bag like this enough to cause this degree of wear.
But, it has worn more since I've used it. The handles have moulded, as mentioned, and it's required a couple of good cleans. It might not have been mine to start with, but I feel I've given it a good home, kept it going when someone else had no use for it, and gone some way to making it my own.
I know there were some people who saw elitism in the English Country House Look we discussed on PS recently. But most understood the central lesson – that there is a dignity in great things worn to ruin, and a particular style in mixing those with luxurious, newer items.
That's why I love carrying a bag like this with, for example, a fine suede jacket. The latter is more luxe and not designed to age in the same way, but it's leant a sense of authenticity by its heavily aged companion. Perhaps it brings the fine suede down to earth.
Other combinations in this vein could be vintage jeans with a cashmere camel coat, or frayed tennis shoes with drapey linen trousers. It's a species of high/low dressing, but to my mind not as obvious or obviously deliberate. Which also makes it less risky.
You do still need to keep an eye on formality – I wouldn't carry this bag with a navy overcoat, or probably a double-breasted suit – but it's not hard to get a sense of what makes for pleasing contrast.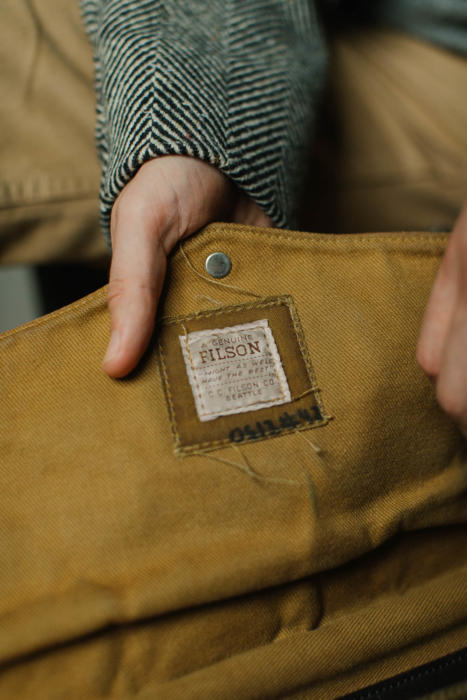 OK, back to the bag.
As I said, I've had it for about seven years, and have carried it everywhere. The volume of compartments is extraordinary – it will hide a laptop in the back slot while overnight gear (a washbag, a T-shirt, some fresh underwear) expands the middle section to its limit.
It also has that crucial modern element – an outside compartment on the back.
We use our phones, headphones and other things so often these days, that it becomes frustrating if you have to undo the flap of a bag to access them each time. I'm sure that's one reason tote bags have become popular.
So a discrete flap on the back allows you to drop your phone or wallet in there, and get it out quickly at the turnstile for a train, or when it pings with yet another message.
I'm actually having a beautiful Barenia briefcase made with the Swiss craftsman Peter Nitz at the moment, and I realise now it's something I should have asked for. It's particularly useful on a more formal briefcase like that, where you need two hands to open it.
Filson still sells this style of bag, or pretty close. It's now called the Padded Computer Bag and has an added foam-padded section.
Unfortunately it doesn't seem to be available on the European web shop, only the US one, which perhaps reflects that Filson uses a licensee – WP Lavori – to run the European side. More significantly, the repairs service is also not explicitly offered through this site, though I'm told bags can still be sent to the US for repair.
I feel this is significant because back when I bought the bag, repairs and longevity were a big part of Filson's marketing. When I interviewed then President Gray Madden back in 2015 at Pitti (above), the stand was full of old bags as well as new – putting their history but also their repairs front and centre.
The shop on London's Newburgh Street (which soon became two) also sold second-hand, repaired bags alongside new ones. Both those shops have since closed, and there have been reports about various parts of their US production shutting down or cutting staff in recent years.
I really hope this side of the business can survive. Although not inevitable, it's much less likely that repairs will be offered if production moves outside of the US. I can't think of any large brand that offers it from Asia, but several, such as Barbour and Mulberry, do in the UK.
Of course, the best way to help that kind of service survive is to patronise it, to demonstrate the demand. Hopefully articles like this – showing how attractive ageing can be, as well as publicising the brands that enable it – help a little as well.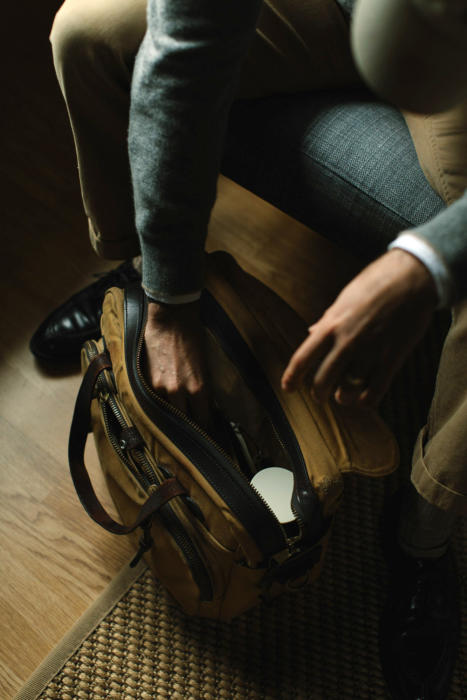 I think this kind of canvas bag is great option for a guy today that doesn't work in a suit every day.
It can still work with a suit – in the slightly absent-minded way a battered Barbour does – but its natural home is with the man who is more likely to wear chinos and a shirt to work, with a knit or coat over the top when required. I think that accounts for the majority of professionals I know.
It also has a pleasing bulk, which is something I think some men forget about when picking a work bag. Smaller and thinner bags – including Filson's Original Briefcase – can look a little dinky, particularly when carried by a larger guy.
The downside of a canvas bag is that it gets dirty, but it's not the hardest or most time-consuming thing to scrub with soapy warm water every few months. In fact rather like polishing shoes, I think it makes you appreciate the thing, and produces a feeling that has something in common with the thrill of buying new.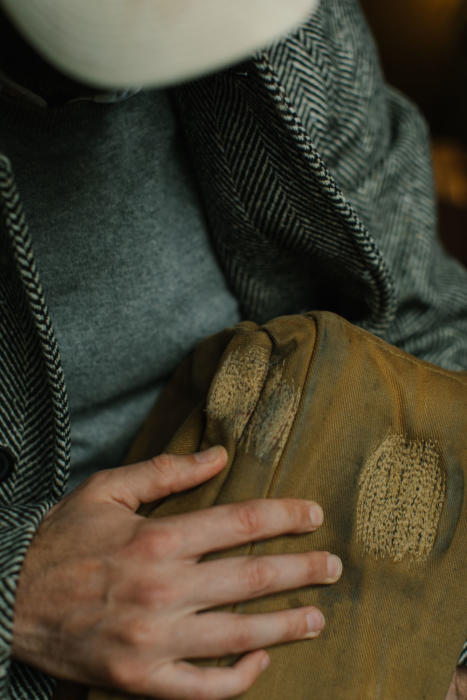 Other clothes shown are the PS Herringbone Donegal coat, old Armoury chinos, and Alden Color 8 cordovan Norwegians.
Photography: Jamie Ferguson