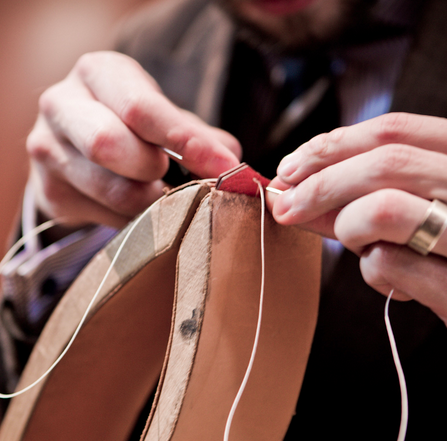 One of the advantages of a long-running blog, perhaps, is the ability to look back and see how purchases have performed over time. It's particularly useful when we emphasise – as we do, day after day – the value of investing in quality.
Here, then, are ten bags that I have bought and used over the past ten years.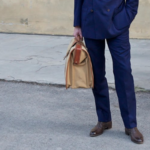 1. Alfred Dunhill doctor's bag
Dunhill doesn't make this model anymore, but it is a nice combination of canvas and leather. The canvas makes it lightweight and it hasn't dirtied over time, as some canvases do. I can also highly recommend Dunhill's repair service – they repaired the lining and two corners on this a few years ago. The Alfred Dunhill line used to be that made in the Walthamstow factory, and therefore hand sewn. It is now called the Tradition line.
Beautifully hand sewn throughout, and has worn well. The design is classic yet instantly identifiable. I would say that the clasp mechanism could be improved, however, as it is always difficult to secure with one hand. It is also a shame that Hermes no longer does replacements of such clasps with brass or other yellow metals. Finally, the 'shadow' leather is pleasing in its individuality, but it does prevent the leather from acquiring any sort of patina.
I bought a vintage Filson 'tin cloth' briefcase following by interview with Gray Madden last year, and can't recommend it highly enough. The style is much more rugged than anything else we discuss here, but it goes perfectly with non-tailoring – and even with a suit, can nicely subvert the formality of the rest of the outfit. Great heavy canvas, brass fittings and bridle leather. Good value, and an excellent repairs service.
Lotuff & Clegg have unfortunately parted on acrimonious terms since I first reviewed this Working Tote, back in 2011. I am still in touch with Frank and Ian Clegg, however, and I can continue to recommend their bags. I personally prefer Frank's simple designs like this tote and the duffle bags to the briefcases. My tote has aged very well, acquiring a subtle but definite patina.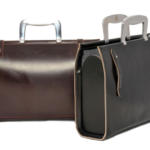 5. Bill Amberg briefcase
Bill's bags are cheaper than most of the other producers mentioned here, and the quality is in line with that. I have a briefcase and the 'double truffle' shoulder bag. I'm fond of both, and Bill's designs, such as the Rocket Bag, are wonderfully original. I rarely use them these days, however. Unfortunately they always lose out to Dunhill, Hermes or (more recently) Filson.
I've always admired the ingenuity in design of the guys at J Panther – how they find three different options for bag handle positioning, for example. And the RucTote has worn very well. It is often used for commuting, carrying heavy weight, and dealing with adverse weather. If I have one criticism, it is that the 'pull through' handles don't work that well – they need something to prevent them pulling on the bottom of the bag.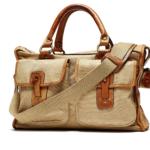 7. Ghurka vintage Examiner No.5
I became acquainted with Ghurka quite recently, and really liked the look of some of their luggage, in particular the vintage pieces. We all know that our Mr Boyer is a fan too. There is quite a contrast with the Filson vintage however – Ghurka is much lighter, less structured and from my limited experience the canvas pieces such as the Examiner No.5 (left) don't age as well.
Big fan of Troubadour, though weirdly have yet to write a post on them despite knowing the founders for a while and covering them in How to Spend It. Must correct that soon. The thing that sets Troubadour apart is the aesthetic – modern, dark, very non-traditional. Not hand sewn, but great quality materials and finishing. And the suit carrier, though heavy, is perhaps the most beautiful big piece of veg-tanned leather you will ever see.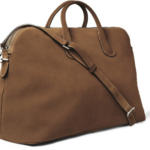 9. Valextra suede holdall
I've never liked Valextra that much – the standard finishing, although also used by other brands, always seemed quite artificial. I had my head turned by this holdall, however. Fantastically designed and great suede (although the lining is rather too obviously synthetic). The only thing that still stings me with Valextra is the prices, which it is very hard to justify for any of the pieces that aren't hand sewn.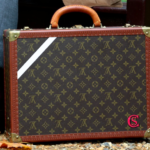 10. Louis Vuitton Alzer briefcase
A real love, but hopelessly impractical. Heavy, given the copious brass hardware, and with only two straps to divide up the contents: briefcase sized, but designed more like luggage. The vintage Alzer is a lovely thing, and having it hand-painted with a design taken from the Vuitton archives was special. But its role is as interior decoration – on the sideboard, filled with back copies of the New York Review of Books.
Top image: taken from my series on hand sewing of Hermes bags in London