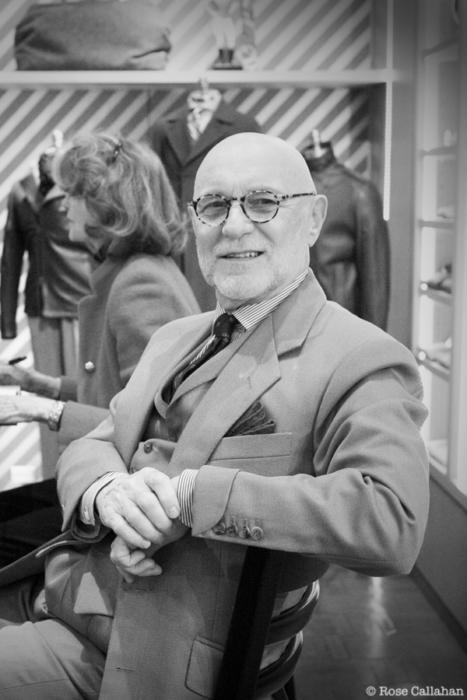 Following the almost embarrassingly positive response to last week's post on Bruce Boyer (embarrassing for Bruce that is, not me), here are his answers to your questions.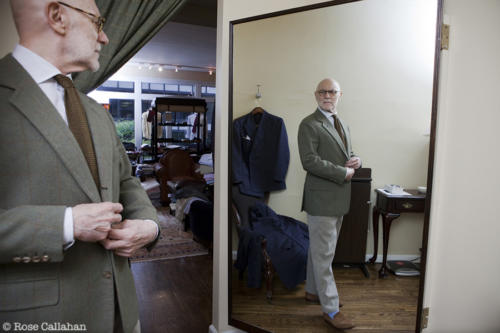 1 – Are your suits, jackets and shirts mostly bespoke?
Almost all my suits and jackets are bespoke, from a relatively few tailors. It's hard to go back to ready-wear once you've had a good custom-made garment. Probably half of my shirts are bespoke, from a variety of shirt makers. [Bruce declined to list the makers]
2 – Does the white Oxford shirt in your last picture have a spread collar? Isn't that a bit unusual?
The white spread-collar shirt is indeed oxford cloth. It's from the custom department of Brooks Brothers and has no lining. I prefer softer collars. A spread-collar oxford cloth is slightly unusual, one tends to think of oxford cloth being only for button down collars, but I like to experiment occasionally and mix things up a bit. Nothing revolutionary, but slightly individualistic.
3 – How do you find dress in NYC differs from Europe?
There used to be great differences, and it was easy to tell an American from an Englishman, Frenchman, German, or Italian. But today everything is global and wherever you go in the world you tend to see the same stores selling the same products made by the same manufactures. And walking down streets like Savile Row or Via Montenapoleone or Madison Avenue, that once were incredibly chic, I see too many men wearing the same cargo shorts, polo shirts, and hyper-designed running shoes. Men's desire to be a member of the group seems to be stronger than their desire to be individuals, and the dress of the group these days seems to be determined by the lowest common denominator. Perhaps we are all more homogenised today. Or more frightened and lonely.
4 – In your book Elegance you talk about what to take when travelling, and how to look after ones clothes on the road. Would you update or change that advice now?
There have been a number of technical advances in luggage, and travel wardrobes are much more casual than than they were thirty years ago, even for business trips. And we all have more electronic gear.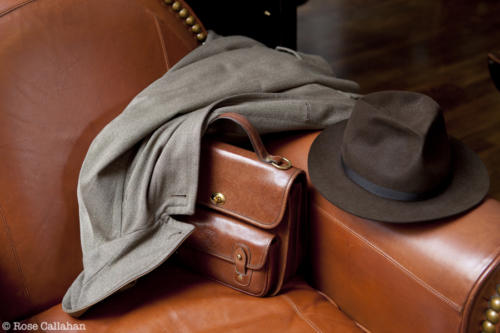 5 – Do you think young men should focus on building up a wardrobe of bespoke clothing, slowly but surely?
I've always advocated this, because I think a young man on the make cannot afford cheap clothes. Cultivate your sense of style, buy the best you can afford, be disdainful of fashion trends, and never throw anything away if you can help it. And that's part of the larger picture of valuing and respecting craftsmanship and quality.
6 – Did you find it hard to stick with your style of dress through the 80s and 90s? What kept you faithful?
Actually the 70s were much worse, an almost complete abandonment of taste. By the time the 80s rolled around, an equilibrium had begun to set in on the wave of a Neapolitan style. Most of my interests — virtuoso music, worldly women, good clothes, not necessarily in that order — were set by the time I was 15. My tastes ran to Anglo-American dress, jazz and blues, and sophisticated women, and I've never seen the need or desire to diverge, or flow with the times. Which of course makes me a bit boring and predictable.
7 – Where are your leather bags from, in the pictures?
The small carry-all – and I like small bags because I hate to stuff my pockets and ruin the lines of a garment – is an old Ghurka bag, #191 (called the "O'Rourke"). I recommend it, if you still find one.
8 – What brand of glasses do you wear?
The frames I've worn for the past thirty years and more are the Anglo-American Optical Company's "Model 406". I think they make me look somewhat urbane and literary.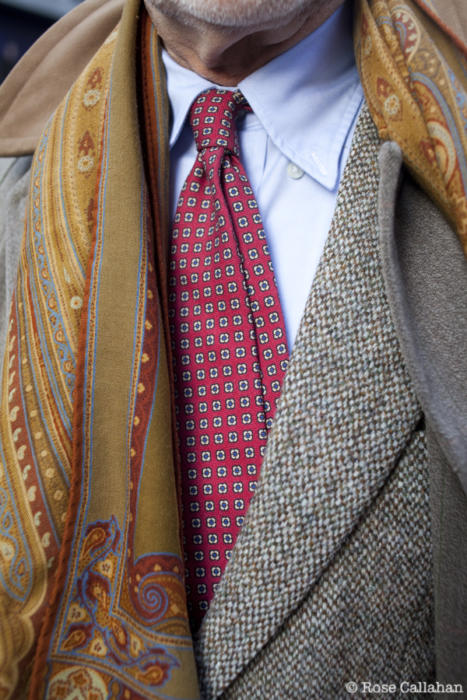 Thanks to Rose for the pictures