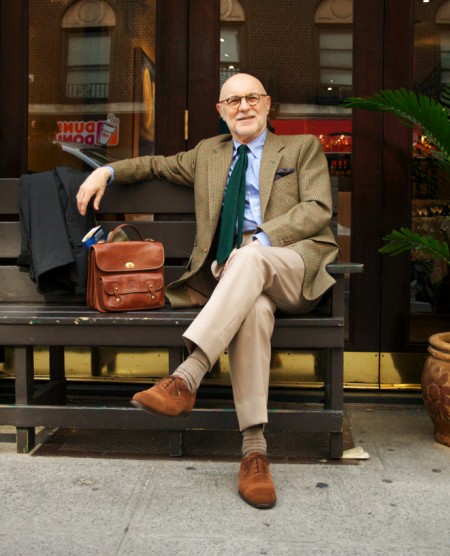 Bruce Boyer is my style icon, my favourite writer and, I'm honoured to say, a reader. We recently had a conversation – following the coverage of Pitti on Permanent Style – about experimentation, classic dress and personal style.
In order to try and illustrate that conversation, I asked Bruce to comment on a few of my favourite photos of himself, in typical combinations.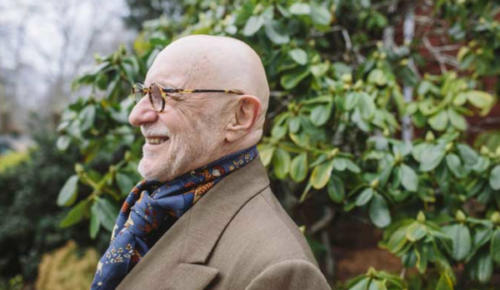 "It's funny when I think about it, but I still experiment a bit with my clothes, albeit in small ways. My general style, I find, was formed by the time I was 15 – the great American novelist Willa Cather said that most of the basic material a writer works with is acquired by that age anyway – and I really haven't deviated much from a conservative Anglo-American approach in all the intervening years.
My feeling has always been that a man should get to know himself, set his style, and then work at perfecting it. My other feelings about this are that he shouldn't have to sacrifice comfort to look well dressed and groomed, that simplicity is indeed a virtue (Diana Vreeland famously said that real style is refusal), mixing town and country clothes can be fun, and that a person should dress his age and have a concern for quality (which means I have a veneration for old clothes).
So my experiments take the form of small details: a two-button jacket instead of a three-button perhaps, a bow tie in place of a four-in-hand, a brightly colored scarf or pocket square, maybe a pair of pink socks or cordovan tassel slip-ons. I will probably never try cowboy boots, bowling shirts, tight black jeans, or a knit cap with a pom-pom. Although I shouldn't say never.
Some people are very good at imagining spatial relationships in their minds (interior designers for example), or food tastes (all good chefs can do this). I just happen to be able to put together outfits in my mind. I don't take any credit for this, it seems to be a natural ability. So I can be in bed at night and put together an outfit in my mind for the next day, get up in the morning and simply grab the various components from my closet and get dressed. But sometimes I lay out clothes on the bed the night before simply to try combinations I haven't previously worn. Would this orange pocket square go with the brown herringbone jacket and grass green tie? Or the small check shirt with the chalk-striped suit? Do I dare?
And of course you learn from others. I'm not particularly adventurous, so I rely on getting new ideas from watching what others wear, and I find I'm particularly impressed by young guys who have high taste levels, I mean guys who have a respect for tradition but put things together in new ways. I'm bored to tears with the guys who are more into costume and following some ancient rules. I've seen all of that and it's soul-smotheringly predictable."

Outfit #1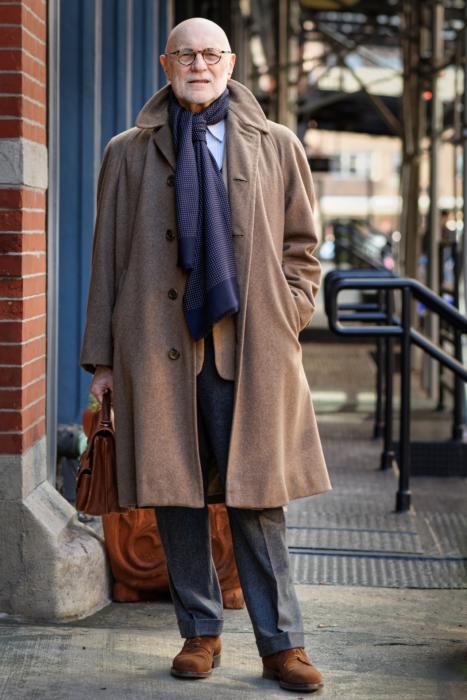 "This cashmere balmacaan topcoat is almost old enough to go out at night by itself. A couple of years ago I had it shortened a bit. It's fairly lightweight but warm, roomy and comfortable as an old bathrobe, and I love its' slightly rough-looking finish and neutral but vaguely military olive drab color. I think a coat like this needs a bit of accompanying color, so I tend to wear it with scarves that are brighter and have a smoother finish for a bit of contrast. My odd trousers are almost always either gray or tan because those colors can be worn with any jacket. I like brown suede shoes for the same reason, they can be worn with anything (even a navy blue suit).
Outfit #2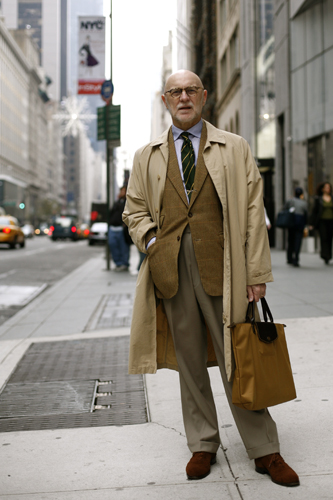 "I have to confess that I don't pay much attention to what colors might suit me, I simply wear colors I like. And I happen to like browns and greens, particularly in sports jackets. It's simply that those colors are capable of so many shades of variation – from ash, fawn, and ecru to lovat, emerald, and teak – and can be intermixed so easily. As I've done here. I suppose this outfit looks a bit studied, but I really just randomly combined brighter and drabber greens with neutral tans, perhaps getting some variety from the textures of the rough tweed coat, semi-smooth cavalry twill trousers, to the smooth cotton raincoat and slightly lustrous silk repp tie.
Outfit #3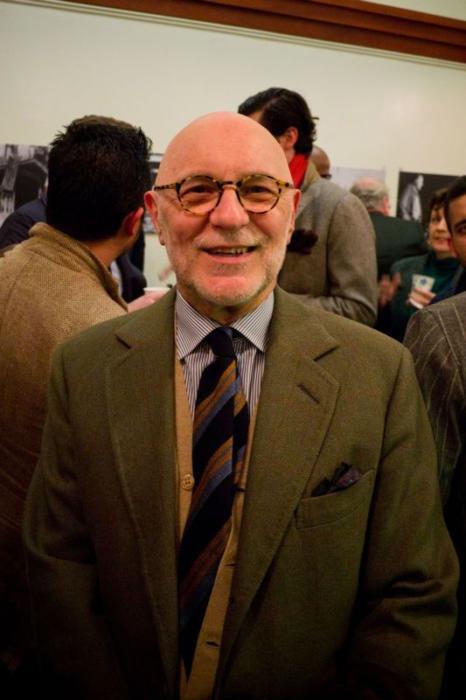 "I'm addicted to tweed sports jackets – there are so many wonderful patterns, the colors are so subtle, sports jackets are so easy to wear – and this is one of my favorites because it combines unique colors – lovat green and burnt orange – in a subtle, muted, almost patinated way. The shirt, pencil-striped blue and white – is a default garment that I wear with anything, here I've tried to punch it up a bit with the blue striped tie, chosen because the orange stripe echoes the orange windowpane overcheck in the jacket.
Outfit #4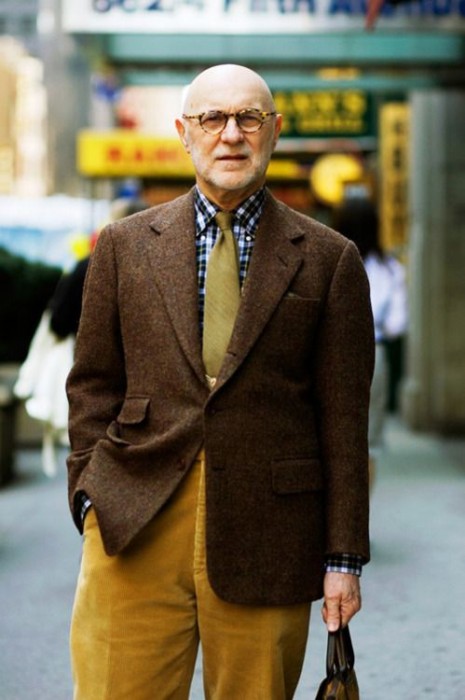 "This is me at my wildest, which is still pretty staid because everything is traditional country wear: corduroys, tweed jacket, wool tie, checked shirt. The yellow trousers are unusual for me, as is the tartan checked shirt because I find I have to think a bit more when I wear something like that than I really want to. The solution for me here was to use only one boldly patterned garment and keep the others plain. Blending patterns takes time and reflection, or you can end up looking like a Mardi Gras parade. But an idiocyncratic touch of boldness here and there can do wonders.

Outfit #5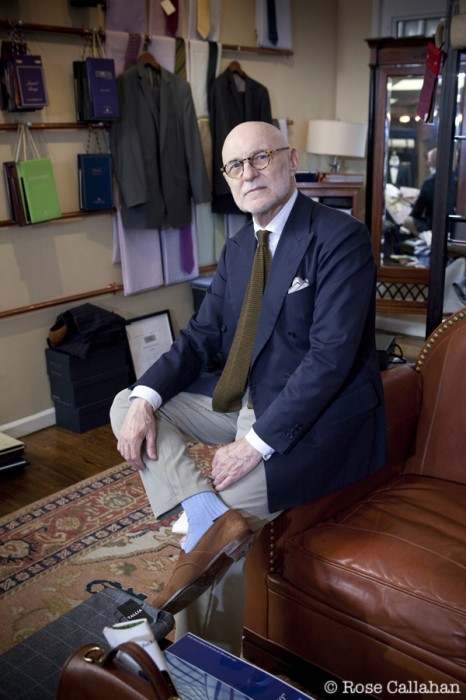 "This is a decidedly basic, simple, and trad outfit. Since it's a summer outfit, the d-b navy blazer is a polished cotton; I always use plain black buttons on my blazers because I like the simplicity of them and don't like any sort of jewelry except my wedding ring and discreet wristwatch. The shirt is white oxford cloth, the tie tobacco brown silk knit; knit ties always seem more casual to me, and provide a nice dressed-down effect. The trousers are light gray cords (jeans cut, with no turn-ups). I remember I wanted to wear yellow socks with this outfit, but I couldn't find them in my sock drawer in time. The slip-ons are simple and unadorned in keeping with the rest of the outfit. I'm a big fan of the blue-brown color combination, which I learned long ago from the Milanese."
With thanks to Rose Callahan and Zach Jobé for two of the images