Although I applaud the resurrection of British craft, it is the quality of the work itself - rather than where it takes place - that I've always thought should be the consumer's priority.
So while it was lovely to know Blackhorse Lane Ateliers was producing jeans in London, it wasn't until the difference in craft was pointed out to me that I really became interested.
BLA focuses on improving the finishing and functionality of its jeans in every way possible, rather than copying copying old styles for their own sake.
So in the image below, for instance, you can see a pair of high-end Japanese jeans (Momotaro, right) compared with BLA (left).
Note how clean the Blackhorse Lane fly is, largely as result of replacing the big yellow overlock stitches of the Momotaro with a neater felled stitch.
It wouldn't be too much to call this a more tailored, or sartorial finish.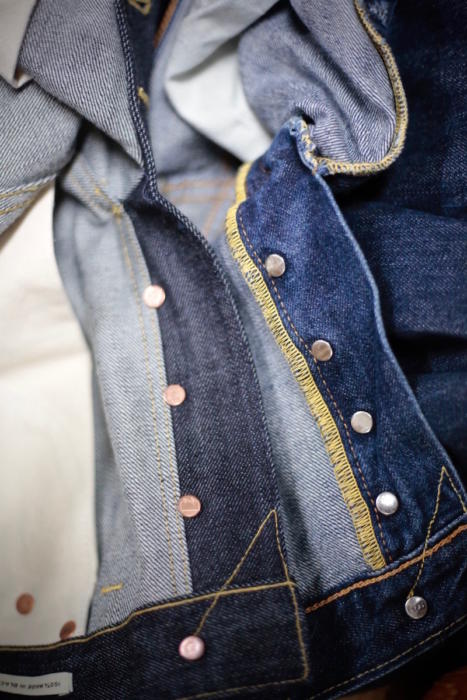 And functionality is just as important. In that same image above, note how the chain stitching on the waistband (bottom right) runs an inch down the fly, then jags diagonally back in, ending on the copper rivet.
This method of attaching a waistband, with chain stitching that runs all the way around the waist, integrates the leather patch on the back, and ends on the rivet, is stronger.
It's used by both of these jeans, but by no means all jeans.
BLA also tend to use heavier pocket bags, line the bottoms of their rear pockets, and tack their belt loops to seams rather than the body of the jean.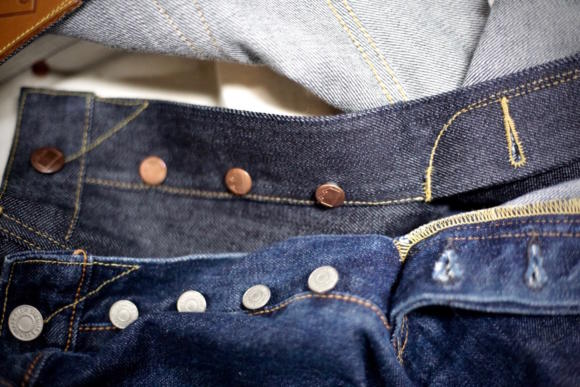 Then some refinements improve finish and functionality. The best example here is the one-piece fly (above), which is very rare.
This comparison is between Levi's 501s (bottom) and BLA on the top. You can see how the fly of the BLA jean is made of a single strip, while the Levi's are two pieces stitched together, which creates a weak point.
It's both neater and stronger.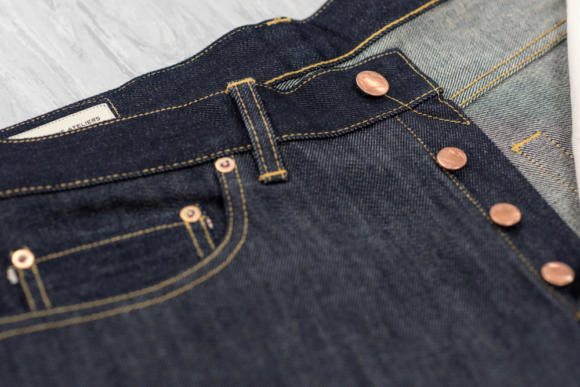 Although I've bought many pairs of jeans over the years - British, American, Japanese - my focus has always been different denims or different fits. (It was the drive to find a perfect fit that led me to use the Levi's bespoke service - which I still use and recommend).
But I've never seen much of an argument for different levels of make in a jean. Blackhorse Lane changes that - largely by rethinking the assumptions of the industry.
Global high-end denim is largely driven by a desire for heritage and authenticity. It's what launched the Japanese industry and what still drives many denim obsessives.
But in the same way I'd question location of manufacture as a factor in rating a product, I'd also question old methods of working. In many cases they were better, at least for functionality. But not always.
Blackhorse Lane began their journey just over two years ago, by going to the legendary Rudy Budhdeo of Son of Stag and asking for his top 12 pairs of jeans.
They analysed all of them, noted the things they all did better or worse, and put together the best composite jean.
And then they started innovating on top.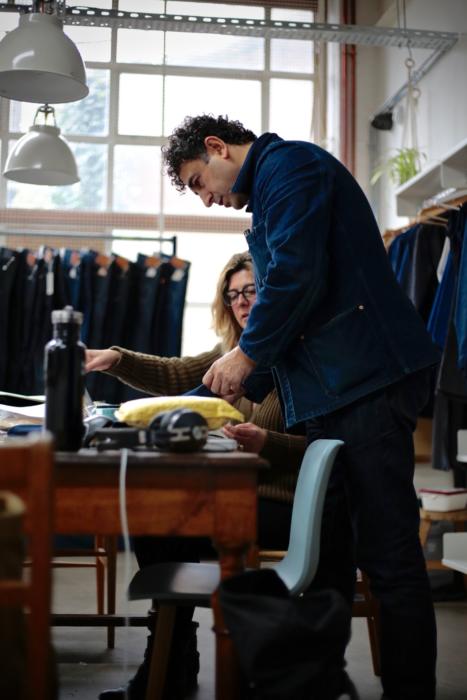 The factory's owner, Bilgehan 'Han' Ates (pictured above), had been running garment manufacturing in London for 30 years, on and off, but largely for tailored garments rather than workwear.
So he and his workers naturally tidied up a lot of the traditional ways of making jeans - such as the overlock stitching.
And some innovations came from original research. The one-piece fly, for example, was in a 1896 pattern for jeans that Han found.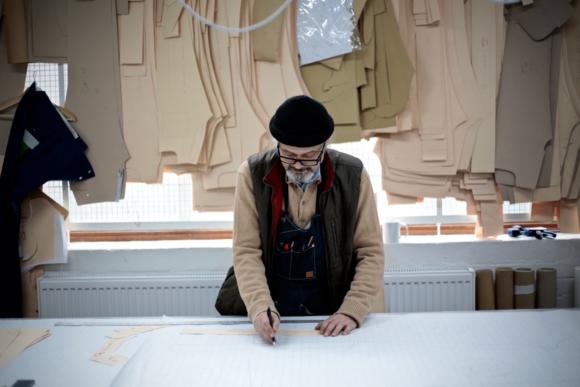 The other reason I hadn't been sure about covering Blackhorse Lane before was that the jeans I had tried - the Drake's model and the ones The Rake had at our pop-up - didn't fit me that well.
However, I tried the full range at the factory, and the NW1 is actually a good fit (high enough in the rise, big enough in the leg). Not bespoke, but very good.
I'm currently gradually beating the 18oz NW1 into submission.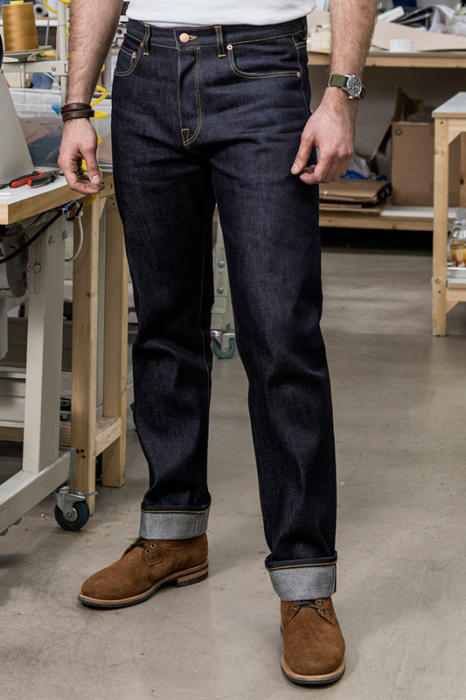 I should also say a word about the value for money at Blackhorse Lane.
Although my jeans were £290, which is a lot, models like the E5 start at £155.
(The saving is largely a result of using Turkish-woven denim rather than Japanese. There's a really interesting point here about how they weigh up quality, price and environmental impact; but that will have to wait for another day.)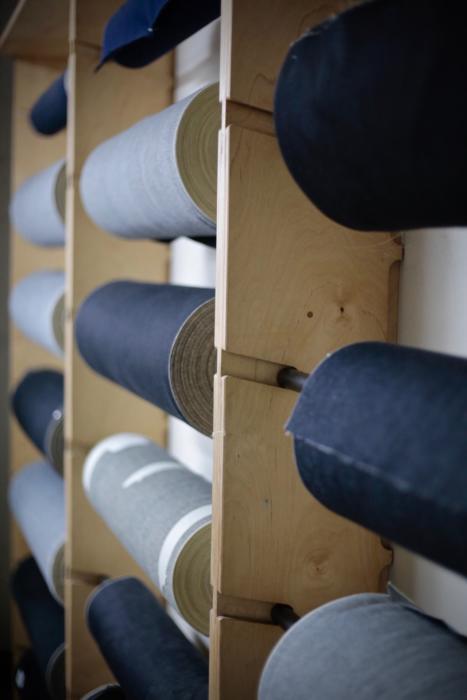 If you're a first-time customer, BLA also offers 17% off your first purchase if you sign up to the newsletter.
"We recognise that going with a new jeans brand, particularly for guys, is a big step," says head of digital and retail David Giusti. "So we wanted to reward people for putting that trust in us."
And they also offer free repairs. Which is amazing, given the whole beauty of jeans is wearing the cr*p out of them and then patching or stitching them back up again. They might never sell you a second pair.
Below are some on the pile to be repaired.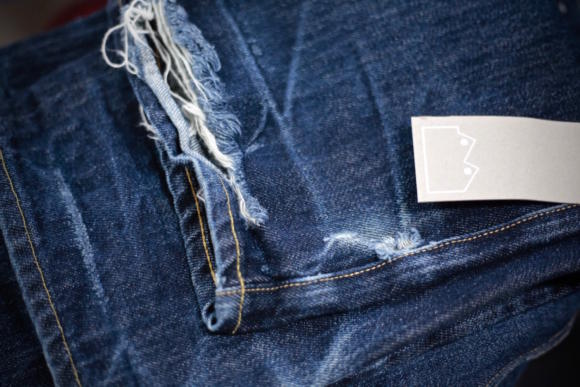 Much as I play down the importance of location, Blackhorse Lane is a lovely place and definitely worth a visit.
There are weaving studios at the back, making and dying workshops, and 'Dine and Denim' evenings that apparently do some wonderful food.
It's also, of course, the best way to see all the fits and other products (accessories, coats and some shirts coming soon).
And that's a much better reason for focusing on location.