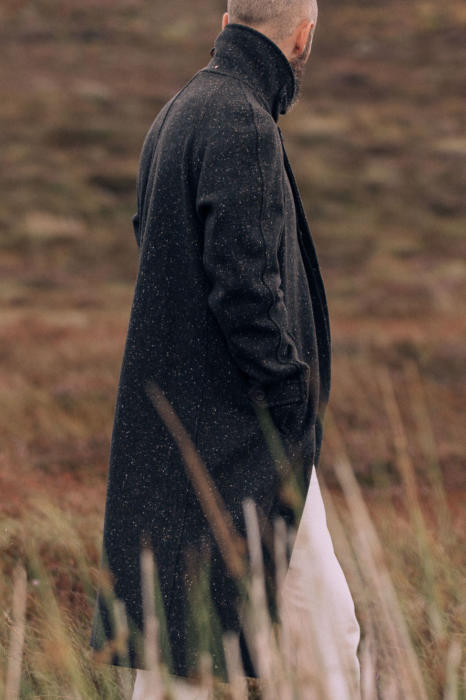 This is the new Donegal Overcoat - the update on the raglan coat released last year.
The only change on that version is the colour and the weight of the cloth. We decided to go with a heavier tweed this year, to make it into a true Winter coat: it's now 800g rather than 620g.
That makes it warmer, but also makes it drape and fall even better - something that's particularly lovely in a loose raglan, and hopefully comes across in images like the one above.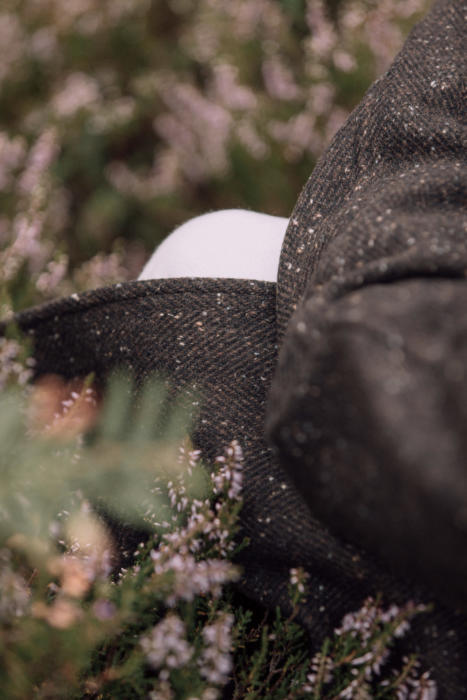 The yarn is the same as last year - from 'Donegal Yarns', the last remaining spinner of the product in Ireland. It's a tiny mill that has been spinning the distinctive flecked yarn since the nineteenth century, and the Kilcarra tweed we used deliberately echoes the feeling of the first incarnations.
This year we just used a heavier version, and tweaked the colours. Essentially, last year's was a grey and black herringbone, with variously coloured flecks. This year we've swapped the grey for brown, so overall the effect is of a deep, dark-brown cloth, with natural, organic variation.
We did this both to offer something different and because I felt a dark brown like this would still be versatile. It's easier to wear with grey trousers or knitwear, but just as smart - an effective bridge between casual and formal, as the grey was.
I knew I didn't want warm brown, as mentioned on the original piece. But this mixture with black works perfectly.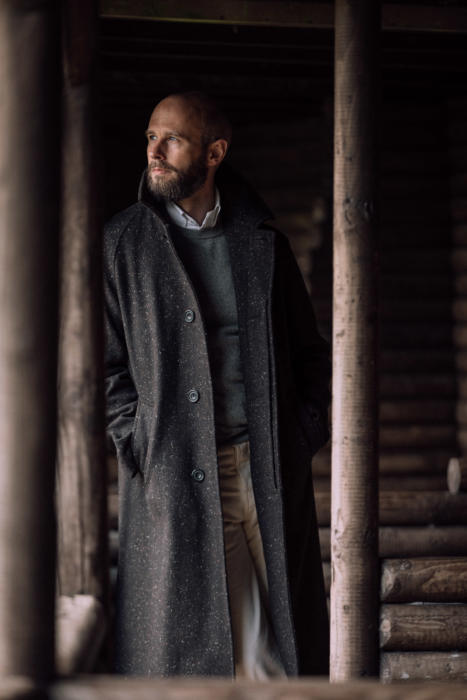 As with the shoot last year, Jamie and I photographed this in Ireland with two different outfits, in order to illustrate that versatility.
Above the coat is worn casually, with cream jeans, a white oxford shirt, a grey knit and loafers.
Those loafers could easily be swapped for slim sneakers, and while white jeans look particularly nice, indigo denim also works well. The examples on the first post are still illustrative there.
A baseball cap makes it more casual still; a watch cap keeps it smarter.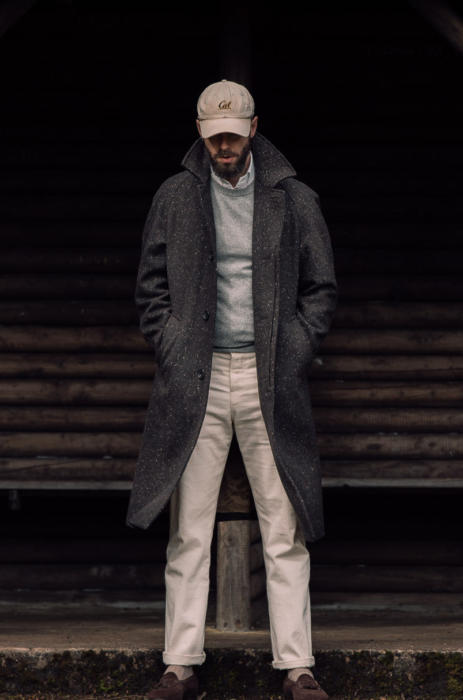 Then below, the coat is worn with fairly formal tailoring: a navy cashmere jacket, a blue oxford shirt, mid-grey flannels and black-suede shoes.
This demonstrates, hopefully, how the coat could be worn for commuting to the office as well as at the weekend. It's a little casual for a full worsted suit and tie, but is good for any sports-jacket combination.
Even the graphic print of an Hermes scarf (just peeking out of the pocket here) doesn't look out of place, despite its aesthetic being rather far from the ruggedness of Donegal.
And the cream scarf shown with this outfit further down smartens everything up. A hairier, checked scarf would have had the opposite effect.
The coat is available to buy on the Permanent Style shop here. We've bought slightly more than last year, but I'd assume they're still going to go fast.
All the other details from last year's iteration are the same: the dark-brown matte-horn two-hole buttons that I like so much; the dark-gold lining; the big newspaper pocket; the cashmere-lined pockets.
Actually, one small thing we did tweak last year was the front of that lining on the pocket, which seemed to snag a little on mine. Now it sits perfectly. We also widened the sleeve slightly following feedback.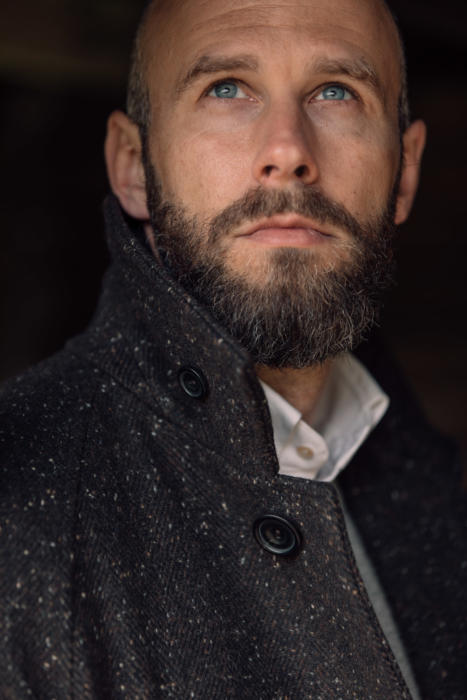 There are many other things I could go into, all of which have been retained from last year as they functioned so well.
If you want the full run-down, it's probably best to read the original launch article, here.
For those that want a quick summary, here are the key bullet points:
Cloth and make:
The Donegal Overcoat was designed to be the most versatile coat possible for modern tailoring and lifestyles.

It was made in Donegal tweed because of the pleasing but subtle texture. "There's slubbiness in there and colour variation when you look carefully, but it never feels as old-fashioned as a big windowpane," as I said at the time.

The yarn is dyed, blended, carded and spun all by the same mill in Donegal.

The cloth is woven by Mallalieus of Delph, a small family-run mill in the middle of the Pennines.

It is manufactured by Private White VC in Manchester.

The pockets are lined with cashmere. I don't understand why anyone uses a synthetic - it's so cold. And cashmere is a big step-up on normal cottons. It's like putting on luxurious gloves every time you put your hands in.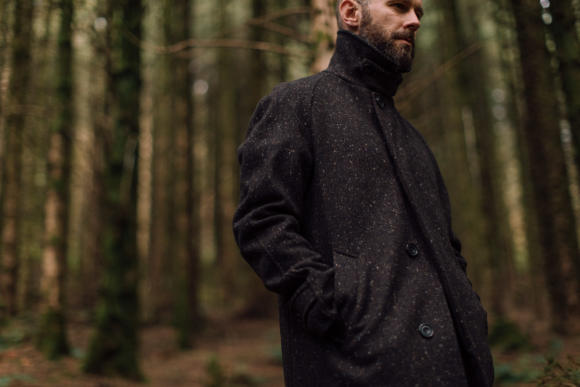 Design:
Collar lifted up, slightly higher on the body, so it encircles the neck and covers the shirt and tie when buttoned: "This is practical, giving more protection from the wind, but also flattering, as it makes the wearer look taller and broader across the shoulders."

More importantly, the collar has a large crescent-shaped insert at the back, allowing it to stay up when popped. Something bespoke overcoats often miss out.

Coat a couple of inches longer than most, so it drops just below the knee. But easy to shorten and with 2cm of inlay so it can even be lengthened. (There's also more inlay in this new version - full details below.)

Throat latch cut to follow the lines of the collar, and sweep away with angled ends (see above).

Two buttoned in-breast pockets, one newspaper pocket on the left hip.

Buttoned straps on the wrists.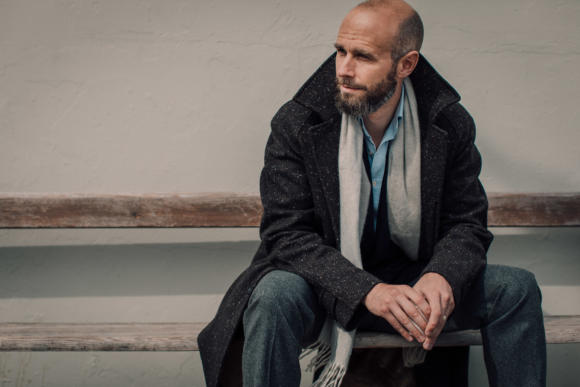 Ordering
The Donegal Overcoat costs £792 plus VAT. The price is slightly higher than last year, reflecting the extra raw material that has gone into the cloth.

At the moment it is exclusively available through Permanent Style, on

the webshop here

.

There are sizes from Small (chest 48, Private White size 3) up to Extra Large.

Have a close look at the measurements below if you're unsure of sizing, and if in doubt compare them to a coat you already own.

However, the coat fit is pretty standard, so taking your normal size is usually safe.

I am six foot tall and usually wear a size 50-chest jacket. I am wearing a Medium.

As with all PS products, there are free returns should you want to change sizes. Ships from the UK.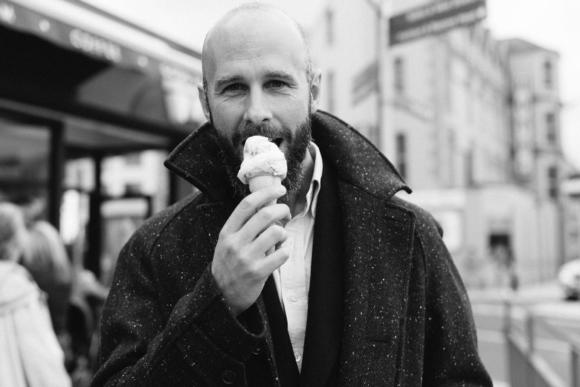 Measurements:
| | | | | | | |
| --- | --- | --- | --- | --- | --- | --- |
| | X-Small/2 | Small/3 | Medium/4 | Large/5 | X-Large/6 | XX-Large/7 |
| Chest | 50.5cm | 53 | 56.5 | 60 | 63.5 | 67 |
| Waist | 52 | 54.5 | 58 | 61.5 | 65 | 68.5 |
| Bottom hem | 58.5 | 61 | 64.5 | 68 | 71.5 | 75 |
| Length | 108.4 | 109 | 110 | 111 | 112 | 113 |
| Sleeve | 81 | 82 | 83 | 84 | 85 | 86 |
| Cuff (width) | 13.8 | 14.1 | 14.5 | 14.9 | 15.3 | 15.7 |
Alterations:
The new version of the coat has extra inlay, increasing the possibilities for alteration.
Length can easily be shortened - up to 10cm without interrupting much of the balance.

It can also be lengthened slightly if needed, by up to 4cm.

The sleeves can be lengthened by around 4cm if required.

And they can be shortened. Shortening by 1.5cm would be easy - more than that would require the wrist strap to be moved.

The sleeve width can be increased from bicep to cuff up to 2.5cm.
The body - chest, waist, and hem width - can be increased by up to 4cm in circumference.
Photography: Jamie Ferguson @jkf_man