Hats with coats: A sliding scale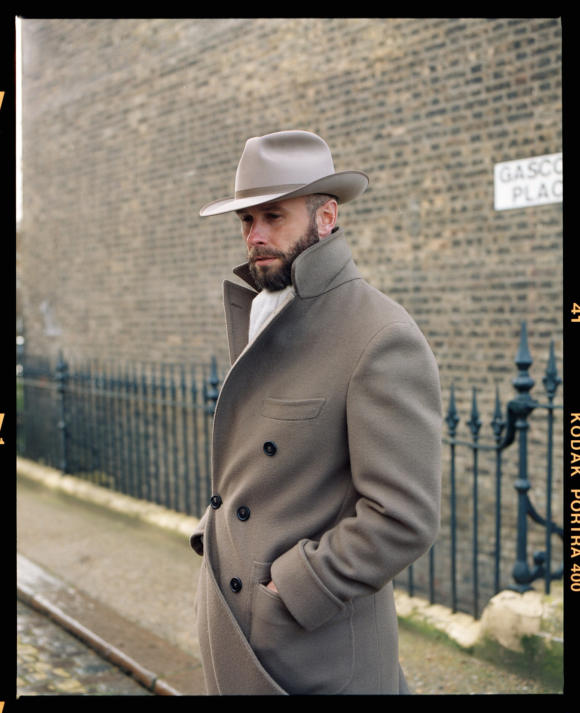 I'm often asked which hats work best with different types of coat. In fact, it often comes up at this time of year - I guess when unexpected showers are more of a hazard.
The sliding scale of formality with hats is pretty intuitive: a fedora is smarter than a cap, which is smarter than a beanie. But, some of them do cover a greater part of that scale than others.
A good, neat watch cap for example, can work with everything from a navy overcoat to a blouson. Whereas a brimmed hat is more limited.
Here then is my breakdown of the types of hat and what I find they work best with, illustrated with examples from previous articles. Let me know if you don't recognise any of the images, and want to know where the various pieces come from.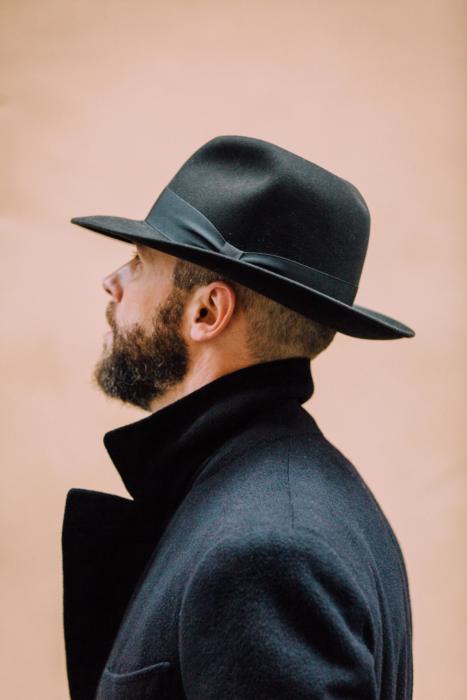 Brimmed hats
The smartest hat is always going to be brimmed headwear like a fedora, and it's smartest in dark colours like charcoal (above).
Generally a hat becomes more casual the smaller the brim (at some point becoming more of a trilby) and after charcoal the smartest colour is usually dark brown, with mid-brown, green and other lighter colours being more casual.
A brimmed hat is not an easy thing to wear these days, as they stand out so much. But it's always easiest when they're eminently practical - with an overcoat, in the rain. When everyone else is trying to avoid clashing umbrellas, and you're perfectly dry and well as perhaps looking rather good.
Fedoras work best with overcoats and with raincoats, for that reason. They can look good with casual coats or even just a jacket (a friend regularly wears his with a field jacket).
But it is always more of a look, and you're more likely to want something smaller, perhaps even worn with the brim up.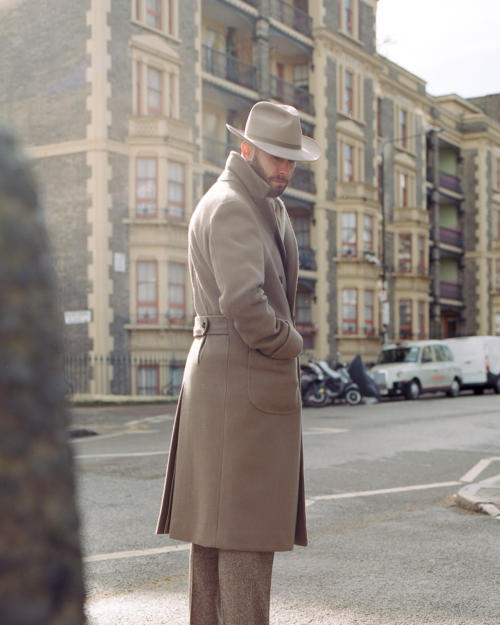 Casual brimmed hats
The only alternative to the classic hat-and-coat I wear is more casual colours or materials of fedora, with more casual overcoats.
Above, for example, I'm wearing my taupe-coloured overcoat from Ciardi, with a hat from Optimo in a colour called silver belly, which you find most often in Western-style hats.
Indeed, even with the brim snapped down at the front, this has something of a Western look - due to its high curl at the sides.
I find these paler hat colours often look better with my more casual styles of overcoat. Another example is my tweed ulster from Liverano, with a Wellema 'pecan' coloured hat - which I've included an image of at the bottom of this article.
Still, a brimmed hat still has fairly narrow use for most everyday guys, who won't want to look that unusual.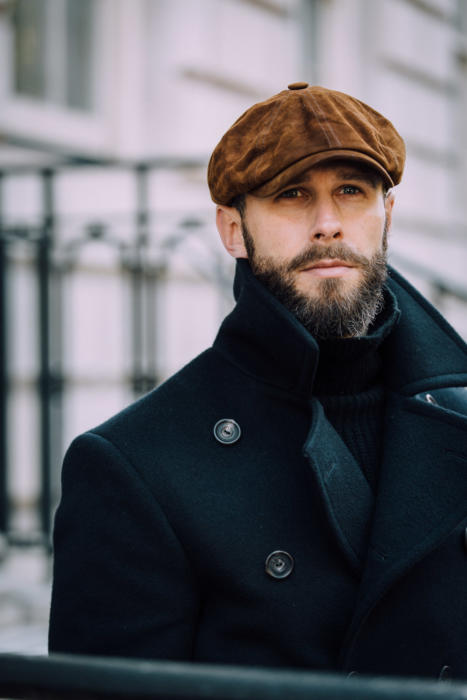 Flat caps
I'm using the term 'flat cap' here to encompass everything from a close-fitting cashmere to voluminous baker-boy. Basically anything flat with a peak at the front.
I find this category rather versatile, as long as the style of cap is right. I have two suede caps from Lock & Co, for example, (the Tremelo model, above) and they work with most overcoats as well as a pea coat or waxed jacket.
The reason they do, I think, is they're fairly close-fitting - not flopping over to one side, covering an ear - and are in suede rather than hairy tweed. A coarser material and bigger shape would be much more casual.
The biggest issue with flat caps, as with many hats, is their associations. Some people just think a flat cap makes you look like a wide boy or a dustbin man.
To them, I would suggest they check out how John Simons or others from his era wear the cap. To create some better associations.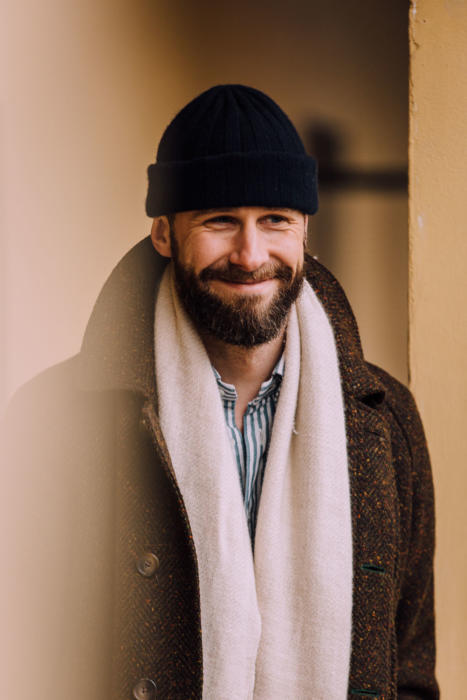 Beanies / watch caps
This is by far the most versatile of hats. In fact, its biggest danger is making people lazy, encouraging them to wear nothing else.
A neat, dark watch cap can look surprisingly smart. I often find myself wearing a dark-navy one with even my smartest overcoats. It does have to be neat though - not too thick, not coming down to back of the neck. (Which was, of course, the spur for designing our own, the PS Watch Cap.)
And yet a watch cap also works with a field jacket, with a blouson, with a horsehide jacket (see below). It goes with everything. For that reason I think everyone should have two or three - perhaps a navy and grey, then one more unusual like cream or red.
However, don't let this put you off wearing other styles of hat. When the rain is falling, when you're not rushing out of the house, or when you just feel like something different, try a fedora or a flat cap.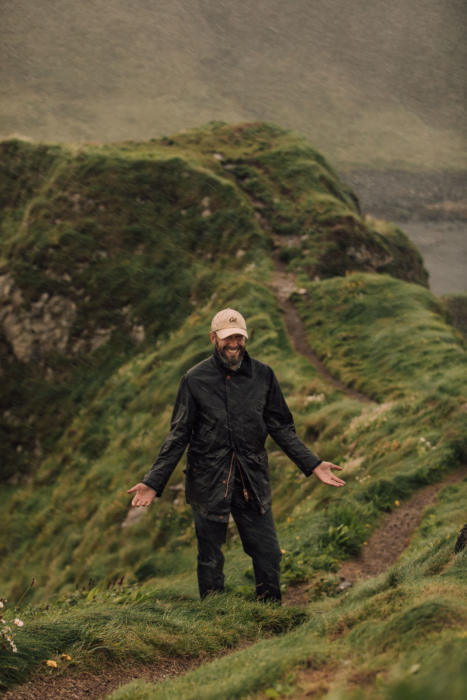 Baseball caps
Baseball caps have seen a surge in popularity recently, partly because their fashionability also makes them more versatile.
If you liked them, a baseball cap was always suitable for more casual coats and jackets, and of course just a shirt or knitwear. But it's also become fashionable to wear them with tailored jackets or overcoats, partly because it adds a sporty element to otherwise sharp clothing.
I'm always sceptical about such trends, but I rather like a baseball cap worn in this manner. It's a very easy form of high/low dressing, and one that is easy to play around with, or switch during the day (or a trip).
As I discussed in our article on high/low dressing, it's easier to do this with outerwear and accessories, because they are so easy to change yet have an immediate impact.
Still, I wouldn't wear my beloved Berkeley cap with a really smart overcoat or double-breasted suit. That's too much for me. The smartest I'd wear it is with a polo coat (below) and more standard is with a waxed jacket (above). And everything more casual than that.
That's my hat/coat sliding scale of formality. For those that like these sliding scales, others include:
Below are a few more coat/hat combinations, to add examples to those above. As mentioned, let me know if you're a new reader and don't recognise the outfits: leave a comment and I'll direct you to the details.