The Trench Coat with casual wear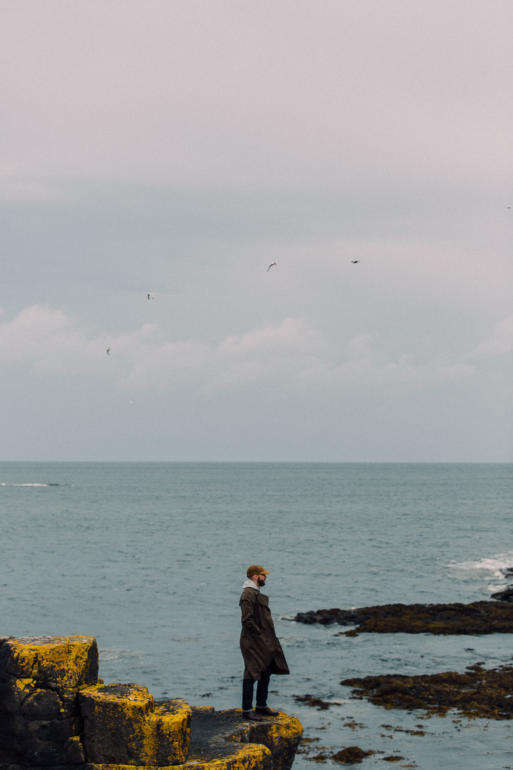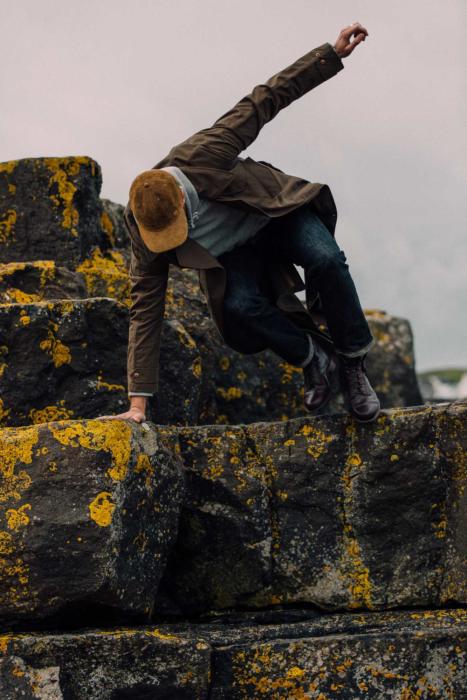 Over the past three years, Permanent Style has gradually covered more casual clothing in response to requests from readers.
Guys want to know how to extend PS principles of quality, fit and simplicity to weekend clothing, and that makes sense. I've always done the same in what I wear off-duty - I just haven't written about it as much.
Casual clothing is nothing new on Permanent Style: posts on quality denim go back to 2008, a few months after it launched. And of course the casual side of tailoring has always been a thrust: hence Friday Polos and Everyday Denim shirts.
But the balance has consciously moved a touch. Indeed, perhaps to something that reflects a full week: five days of tailoring, two days of casual.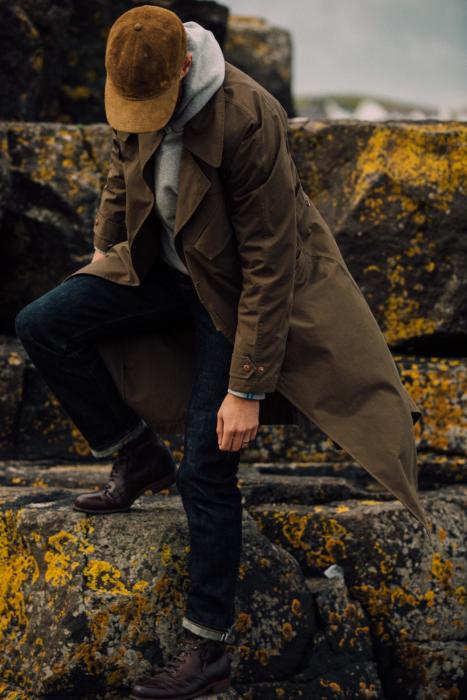 In that vein, I wanted to show how I wear our Trench Coat, developed in 2017 with Private White VC, in a more casual guise.
It sits alongside the original launch photos - shown here - to make up pretty much a full style spectrum: worn with a suit and tie, with smart trousers and knitwear, and with denim and a sweater.
It's something I wear all week, to the office and to the pub.
I've also been uncharacteristically organised and timed this post for a re-stock: the Trench Coat is available in small to extra large, on the PS shop site. Only six pieces though.
And it's currently in the pop-up shop on Savile Row, if anyone wants to come in and try a size.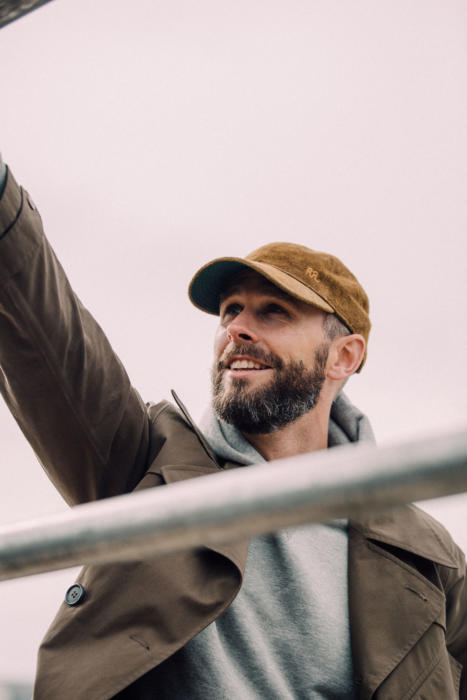 The shots here are from Northern Ireland, where I travelled out to see Jamie last month and shoot around the coast. It seemed fitting to photography outerwear in this blustery setting.
The trench is worn with a grey loopback hoodie from Loopwheeler, jeans from Blackhorse Lane denim, a suede cap from RRL, and Chromexcel boots from Wolverine.
Despite the casual styles and materials, those same PS principles are at work.
I bought the Loopwheeler hoodie in Tokyo in June, in exactly the same style and size as the cream one I'd purchased three years earlier (and featured here).
That first one had proved its worth several times over. It has softened with wear yet kept its shape; it has been washed several times with ease; and the loopback jersey is the nicest I've worn.
The fit is perfect too. It's shorter than most hoodies on the market, but not as much as vintage recreations - so it sits perfectly with the mid- to high-rise trousers I usually wear.
The body shape is slightly slim at the waist, but larger in the chest, creating a slightly large, athletic look. The hood sits high and neat around the head. The ribbing of the cuffs and bottom hem are pleasingly long.
I care about all those things, and appreciate all of them.
Style wise, it's also subtle. A classic colour, with no external branding beyond a tiny label at the wrist.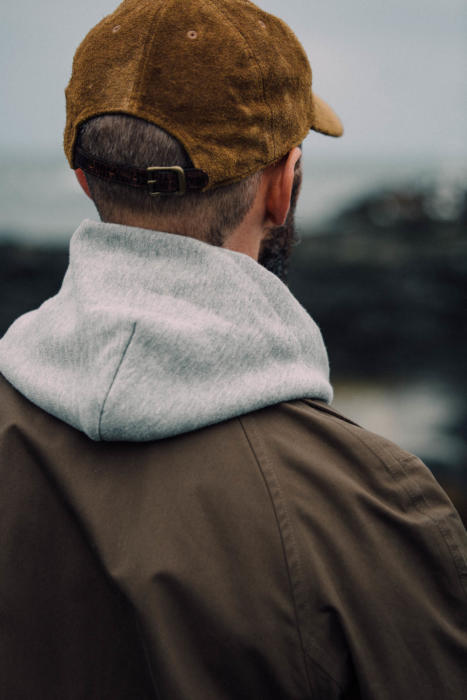 Although fit, quality and style are the most important factors, it's also nice that the hoodie is made by a tiny production in Japan on an original loopwheeler (circular knitting) machine.
Same goes for the jeans. I've already set out all the quality points on Blackhorse Lane here, and the fit and style is the same as the heavy pair I had first from BHL, just in a lighter weight denim.
Actually, they're very similar to the hoodie in that respect, being a re-purchase of something I've used, tested, liked and therefore invested in again.
Again it's not required, but it is nice that the jeans are made locally, in London, and so can easily be repaired and looked after.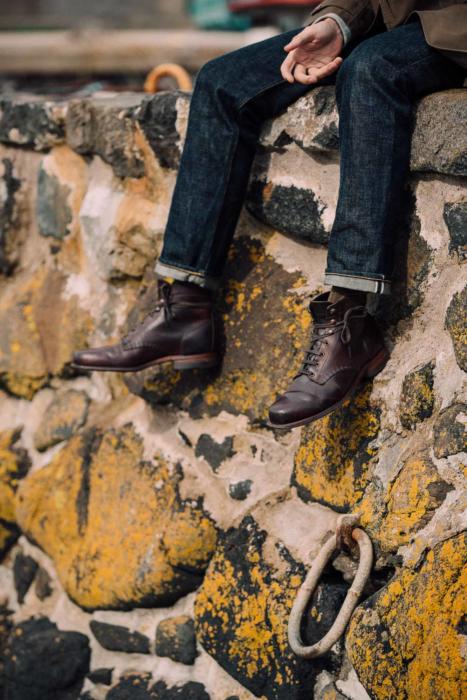 The Wolverine boots have been covered, though briefly, in the piece on my favourite pieces of workwear.
They've recently had a scrub and a clean - to get rid of all the dirt that can build up in waxy Chromexcel - and are looking better than ever.
Again though, the same principles. A quality product, in a subtle style. There are no pretensions to be a hiking boot, no bright-red laces or other flashes of colour.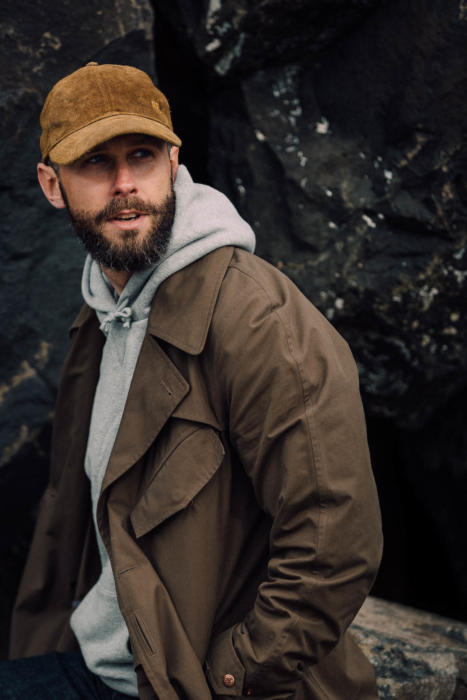 And finally, the cap. I'm not about to pursue the high/low dressing of wearing a baseball cap with a suit, but it's perfect with denim and sportswear.
I like the fact that it's made from rough-out suede, which is hardy and has a lovely texture.
It's from RRL, and ideally wouldn't have the brand sewn into the outside. But it is subtle, and I've yet to find one as nice that's branding-free.
I guess the trench coat is the final piece, actually.
I've written at length why I like the colour and the cotton - and therefore picked them when designing with PWVC. Those things have only proved more true over time.
The cotton Ventile has proved water-resistant enough, but doesn't rustle like a synthetic and wears in nicely: there is now subtle fading along the seams and edges.
And the muted olive green is smart enough for that grey suit shown before, yet works with denim and burgundy-red boots as well.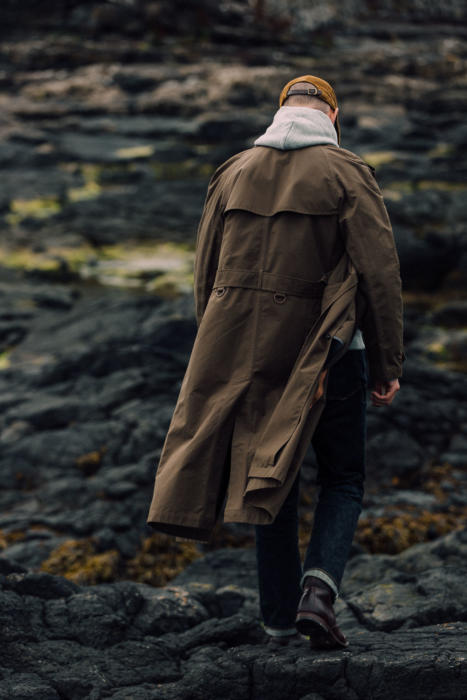 That probably seems like a bit of a rattle-through of these different pieces and their virtues.
But I hope it demonstrates the similarities of good casual wear and formal wear. And that I think about both in the same way.
Nothing here has the same craft as a bespoke suit, but then neither do fine scarves or knitwear. The materials aren't luxurious either, but that wouldn't suit the look.
This is perfect for a walk at the weekend - perhaps down the harbour, perhaps jumping over rock pools - where tailoring would not be.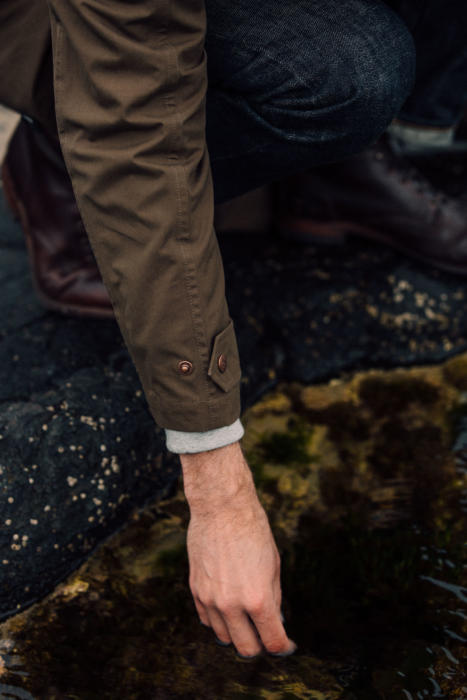 Photography: Jamie Ferguson
Trench Coat available on the shop site here