Designing the Anthology polo coat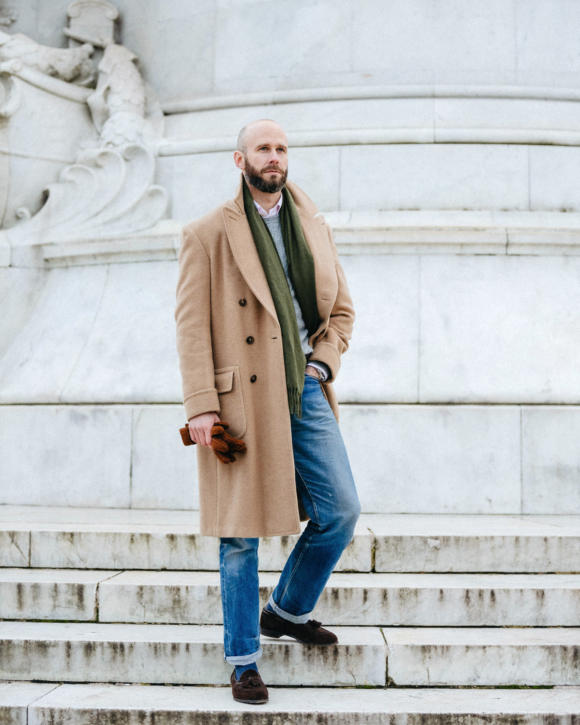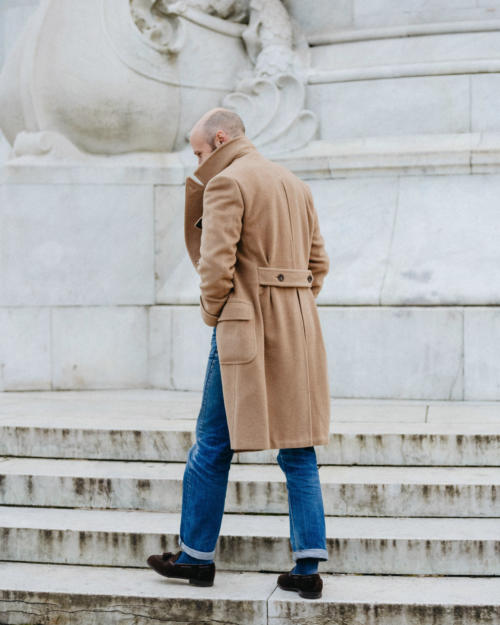 Last year The Anthology asked me to help design a new polo coat they were going to produce. They've only gradually added coats to their bespoke offering, but are now doing so more, as they expand into ready-to-wear.
Buzz at The Anthology was well aware that I've never done a tailored coat as part of my regular collaborations with Private White VC, on principle.
Given how much I love bespoke overcoats, and eulogise them, it would never make sense to help make a RTW one that didn't have some aspect of that bespoke make.
However, the lower costs at The Anthology's workshop in China make it possible to offer that: a ready-made coat with some significant, functional hand work, such as hand padding of the lapels.
And of course, this model also serves as a design for future bespoke orders, so Anthology customers can get a bespoke overcoat, to my design.
For the moment, however, the polo coat is only available RTW, through the Anthology website here. It is made in 100% camelhair - and costs $1950 plus VAT.
We went with camelhair for two reasons. First, it has a nice, almost-cashmere feel without being too expensive; and second, it means we can have a natural, undyed material and the traditional colour of a polo coat. The cloth is 23oz (650g) from Standeven.
There is a range of colours of camelhair, even if they're all natural, from rather strong and yellow, to rather dark and caramel-y. We went for a fairly muted shade (you'll be unsurprised to hear) but also one that was pale enough to clearly get the polo-coat reference.
The most important parts of the coat, though, are of course the make and the design.
To cover off the make, quickly. The coat is machine made, like any normal RTW overcoat, except for hand-padded lapels and hand-sewn armholes. You can see the hand padding in the image above, and this was the making point I wanted more than any other.
There are then hand-sewn buttonholes, which are not so functional but do add a bespoke feel to the coat, and other tiny details like hand-sewn bar tacks, turn-back cuffs and sprat's heads.
We did initially plan for a hand-padded collar and chest, but that would have added too much to the costs. Equally, the prick stitching around the front edge, pockets and belt is done by machine, even if it gives some appearance of being done by hand.
It's a hard balance when you want to make the coat as good as possible, but keep costs down - to avoid it basically being the same price as bespoke.
I wanted that swelled edge, to replicate the look of a traditional polo coat, but doing it by hand just took long, and would have added almost £200 to the price.
The design had two main influences: the many different historical iterations of the polo coat, and the things I ask for on my bespoke commissions.
Those polo-coat iterations vary wildly. There have been single-breasted and double-breasted, belted and not, various pocket designs, different gorge angles, different sleeve constructions.
Some of those were only introduced relatively recently, though, and often with the aim of becoming more commercial. Most original polo coats - thrown over tennis or polo clothing to keep players warm - were consistent on several points.
They were double-breasted, with a set-in sleeve and patch pockets. They had swelled edges, and a gorge line that meant the lapels could be folded up, under the chin. They were long, protective and practical.
The other decisions we had to make on design were primarily whether to include a belt (we went with just a half belt, Martingale-style), whether to have patch or postbox pockets (postbox, my favourite), and whether to have a split sleeve (where you'd see a seam running down the top of the sleeve, similar to a raglan).
The latter was the only area I was really unsure about, but decided a conventional sleeve would create a cleaner, smarter look that might suit more Anthology customers.
The only idiosyncrasy I did add was a flapped breast pocket. This was partly style, and partly practicality. I like the fact that it's a touch unusual, but it's also great that you can keep a mobile phone in there without it falling out - an issue I often have.
When it came to the design aspects I liked from my bespoke commissions, the primary one was a lapel with a good amount of belly.
I don't think skinny double-breasted lapels look great at the best of times, but they seem particularly dated now. Wide lapels are also more satisfying to wear up, and wrap across the chest - as I picture a good number of Anthology customers doing.
This also fitted well with the ability to button the lapel under the chin.
Designing for this is always a little fiddly. First, the point of the lapel has to finish just under the chin, and not poke up into it (see below). This determines a lot about the shape of the gorge line.
And second, the top pair of buttons on the body has to be narrowed, and the lapel widened, until that top body button can fasten. This is a tricky balance: you don't want the lapel to be stupidly wide, and I don't want that top set of buttons to be the same width as the rest either - it just looks too boxy.
Other, small design points are generous turn-back cuffs (7cm), matte-horn buttons with plenty of mottling, and a collar which is large without being too wide at the gorge line.
There is something about a collar that's too wide at the gorge, almost overshadowing the lapel, that seems much less flattering to me. It's very military and top-heavy.
The coat has a dark-brown lining, and two internal breast pockets. There is a box pleat in the back, four tuck pleats around the belt, and then a vent that buttons shut below it.
I'm wearing a size 48. I've shown the coat without tailoring underneath, but if I was to wear a jacket under it regularly, I would size up to a 50. For those that don't know, I'm six foot (183cm) and 12.5 stone (79kg).
The fit is of course not perfect, because it is RTW, not bespoke. I might also have the coat an inch or so longer if I was having it made for myself - but then I'm above average height.
Measurements of the coat are all available through The Anthology. Also best to ask them for details about potential alterations.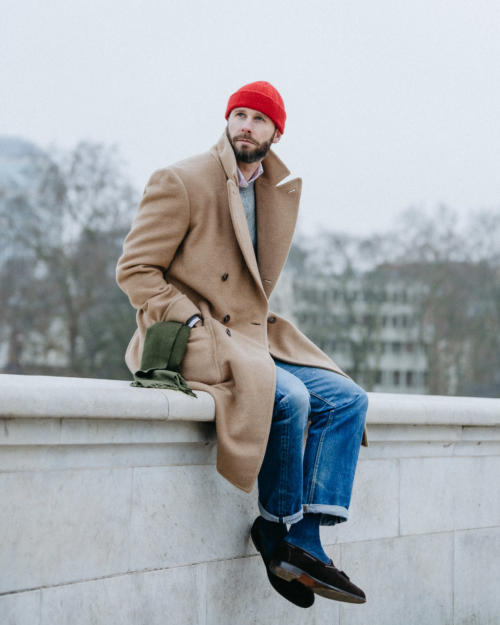 The two outfits are intended to demonstrate how versatile a camel-coloured polo coat can be.
Now, I don't think a polo coat is great for business. I had one, in fact, when I was 25, and regretted it. The colour was too showy for grey and navy suits - like I was some kind of flash trader. I should have gone for a navy coat, or dark brown at the most.
The advantage of this colour though, I think, is how good it can look with casual things like jeans. I think it looks particularly nice above with my vintage Levi's, a grey cable knit and suede loafers (above).
That colour combination is of course heavily influenced by Ivy (and Ralph Lauren's retelling of the story): pink oxford, grey knit, green scarf, brown suede.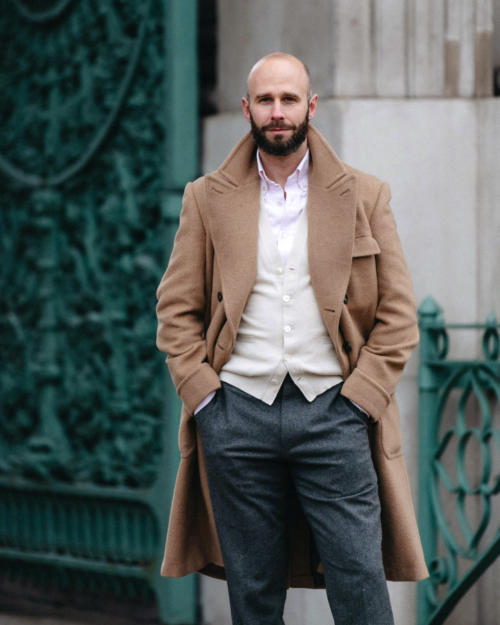 The second outfit is certainly not a business suit, but it is considerably smarter.
The shirt and shoes are the same, but there's a cream sleeveless cardigan and grey flannel trousers. Still mining the same vein of American influences, but a touch more uptown.
The other pieces shown are my old Berkeley cap, much-worn Frank Clegg leather tote bag, a PS Watch Cap in red, and Merola snuff-suede gloves.
The shirt is bespoke in pink PS Oxford cloth, the scarf is from Begg, and the knit is from Luca Faloni.
The polo coat is available on the Anthology website here.
Photography: Alex Natt