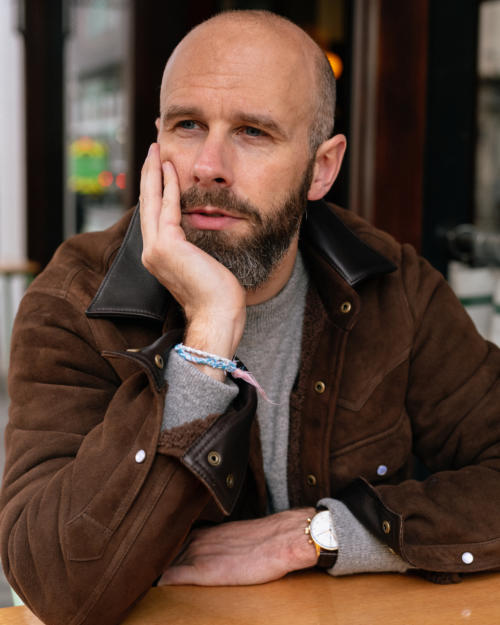 I've had a few requests over the years to do one of these, our wardrobe-building guides, about knitwear.
One of the challenges of doing so is that very little is right or wrong, and a lot is personal. Still, there are some helpful things that can be said about colours, styles and materials I think, particularly if the main aim is versatility, which it usually is with these pieces.
Our presumption is that we're talking to a young guy trying to put together a small wardrobe of quality clothing, who needs to buy things that work with everything else, and can ill afford mistakes or whimsy. And then along the way, hopefully I say things that apply more universally.
Reflecting that challenge of knitwear, this piece is not organised as five individual knits, but the three choices that affect each of them. Each category (colour, style, material) is organised in order of priority, from the most versatile to the least, so the appropriate selection can be made from each.
Note that we're talking only about fully-fashioned, knitted-together knitwear here, by the way, not sweatshirts.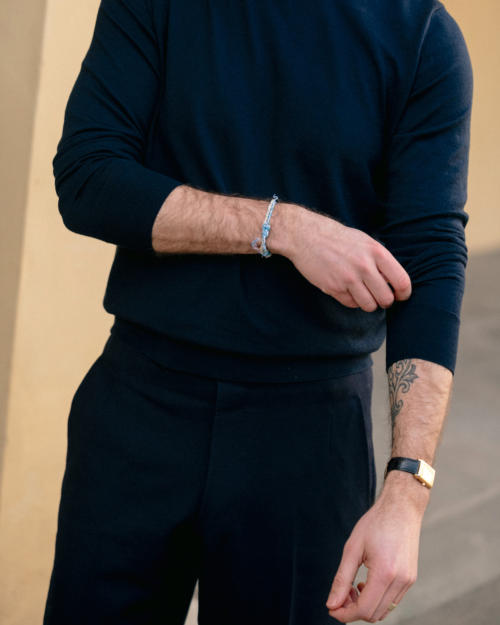 Colours of knits
Grey
Unlike tailoring, grey is probably the most versatile colour of knitwear, for most people. Why? Because it goes with pretty much every colour of trouser, the only exception being grey itself (eg grey flannels).
Navy
Navy is next, and is only limited by the fact that you might own some dark-rinse jeans or navy chinos that it could match too closely. Which of navy and grey works best for you depends a lot on your trousers, therefore. And chances are you'll end up with both anyway.
Brown, beige, cream
After those first two, most other muted, conservative colours are similarly useful. I especially like dark, cold shades of brown, but then I know they fit well with everything else I wear (eg black jeans, cream jeans). Beiges vary quite a lot but are similarly useful; creams don't, but not everyone finds cream easy to keep clean. Easier in a tough material like shetland wool.
Green in all its shades
Greens are similar to browns, in that it's all about the tone. I love a dark olive knit, but wear stronger, warmer greens much less often.
Charcoal and maybe black
These come some way down the list because they often make quite specific demands on the trousers. Charcoal is by far the easier of the two, but it's fairly smart while not being as universal as navy. Black knits are an easier way to wear black than most other categories, but are still less versatile (the aim, remember) than most other colours of knitwear.
Strong, rich, bright
Strong colours are not the friend of the versatile capsule wardrobe. An orange shetland can be beautiful, but you need enough other knitwear such that you're not always wearing that sweater. Other than that yellow/orange, my other favourite bright colours are lilac and purple.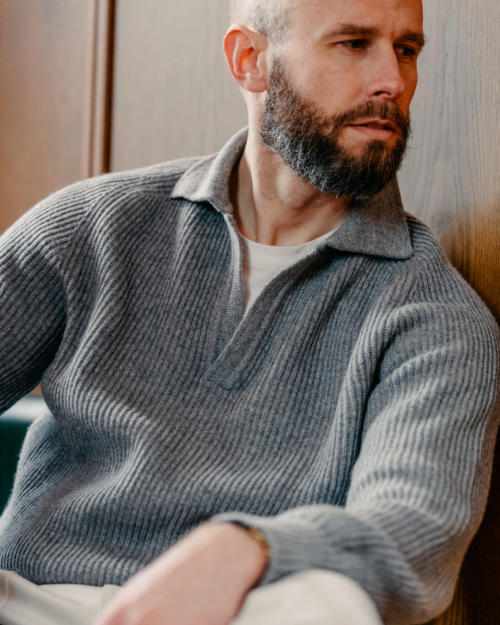 Styles of knits
Crewneck
The two main styles of knit are crewneck (round) and V-neck. There are many reasons why a V-neck is great, and it depends on the depth of the V, as well as your neck/shoulders, but for most people, most of the time, a crewneck is a better first choice. Easier to wear without a collar underneath as well.
V-neck
See above. Really flattering when the V is relatively deep, and accentuates the opening of a shirt, the line of a lapel. But harder to wear with just a T-shirt. I'd always have three crewnecks for every V-neck I owned. And in fact I own more of the next category.
Shawl
Perhaps this should have gone above V-necks. Anyway, this covers both shawl necks and shawl-collar cardigans. The latter are a real menswear staple, and with good reason. The collar and the chunkiness (it should be chunky) are flattering, and they are very happy with both a shirt and a tee.
Collared/polo
A knit with a collar, like a polo shirt. Some makers even call their knits, in any weight, polo shirts or sports shirts, which reveals something about their origins but feels rather out of step. Still, this is a great option because it flatters the face like a shirt collar, and is easy to wear. Only issue is it doesn't look as good with a shirt collar, as a result. Too many collars.
Roll neck
Great for winter, cosy and flattering under a coat. Not that forgiving on its own, however, unless pretty chunky. Too many fans of classic menswear buy them and then realise this when they take their jacket off.
Cardigan
Those without a shawl collar. Cardigans are a really nice option if they flatter you, but many don't. They're much easier to wear with a shirt underneath, and can create pleasing lines under a jacket. For thoughts on the right cut, see PS articles on sleeveless ones, relaxed ones, and sloppy ones.
Vest, zip, funnel, mock
Vests – sleeveless V-neck sweaters – can be great, but in particular cuts and combinations. Probably not one for a small capsule. Zips are, in general, the devil: a lazy choice by those who mistakenly think they work with both shirts and T-shirts. Funnels and mock necks are rarely better than rolls, but for more on mocks see a piece on necklines here.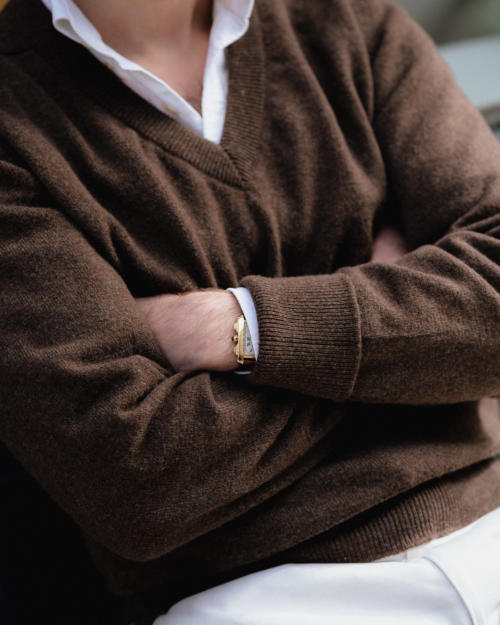 Material
Cashmere
Arguably, this shouldn't be the first choice for a guy buying his first quality piece – let's say a navy or grey crewneck. It's expensive and it's delicate. But actually, if it's looked after well it's not that delicate, and we are talking fairly smart knitwear overall. I'd only say, don't buy really cheap cashmere. If that's your only choice, buy lambswool instead.
Lambswool
See above. Perhaps a good option for your first knit, it should be easier to look after and unless you're wearing it over a T-shirt and are fairly sensitive to such things, shouldn't be itchy.
Fine merino
So, lambswool is also merino; one is the age of the animal, the other the breed. But in general, when people say merino they mean a finer merino lambswool yarn, one that produces a thinner, smarter knit. Think about John Smedley. This is lovely, but can be too smart for jeans, workwear etc, whereas the thicker wools above are often good with everything. Hence why it's third on the list.
Cotton
God I love a cotton sweater in the warmer half of the year. There's nothing like that feel of heft, of being clothed, with the accompanying coolness of cotton. Our fictional reader starting out shouldn't get one until he has at least four or five other sweaters, but eventually he should get a great chunky cotton knit.
Shetland
More a style choice, a way to add something interesting, which is what pushes it down the list. Some people also just plain don't like them. But if you like your sweaters rugged and fuzzy (plus, often, strongly coloured) shetlands are wonderful.
Linen, mohair etc
There are a bunch of other fibres I wouldn't recommend to our knitwear naif, including linen and mohair, so they're not that relevant, probably, to this piece. But feel free to ask about them and every other permutation in the comments. Or read this on mohair.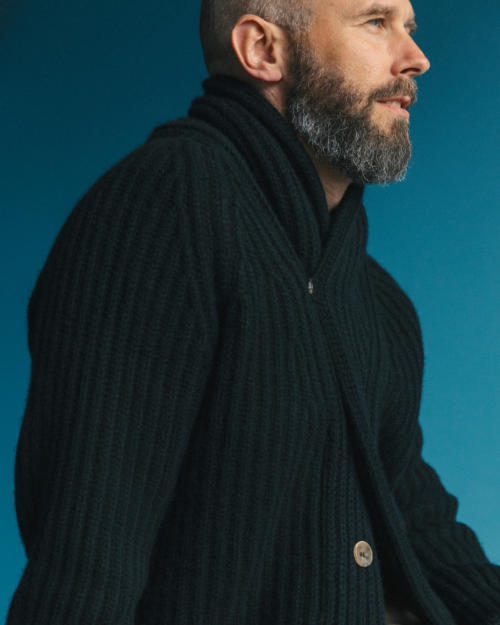 So. Completely unsurprisingly, the capsule wardrobe starts with a navy cashmere crewneck, perhaps a grey lambswool crewneck, and then a shawl-collar cardigan.
The hard thing to decide is, which variable do you change with each acquisition? Should that shawl be navy or grey, as that would be the most useful, or is that too boring? Is this why guys end up with nothing but navy knitwear?
Given there are approaching 600 permutations of the above variables, this is something we must all have made decisions on, as nobody (not even me) owns that many. And we haven't even got onto other design choices, like cable knits or Fair Isles.
So what choices do you make, and why?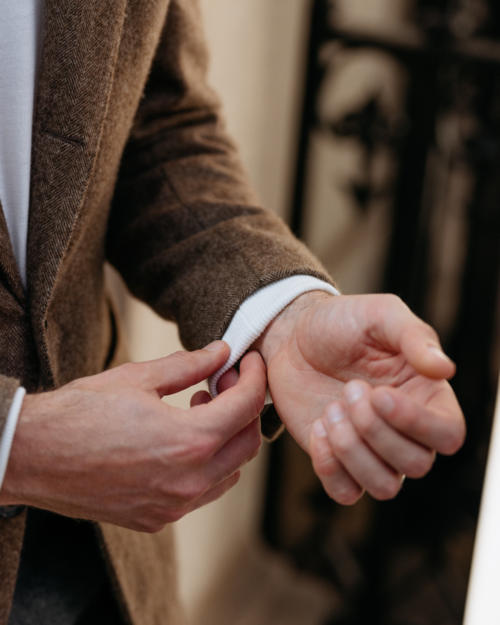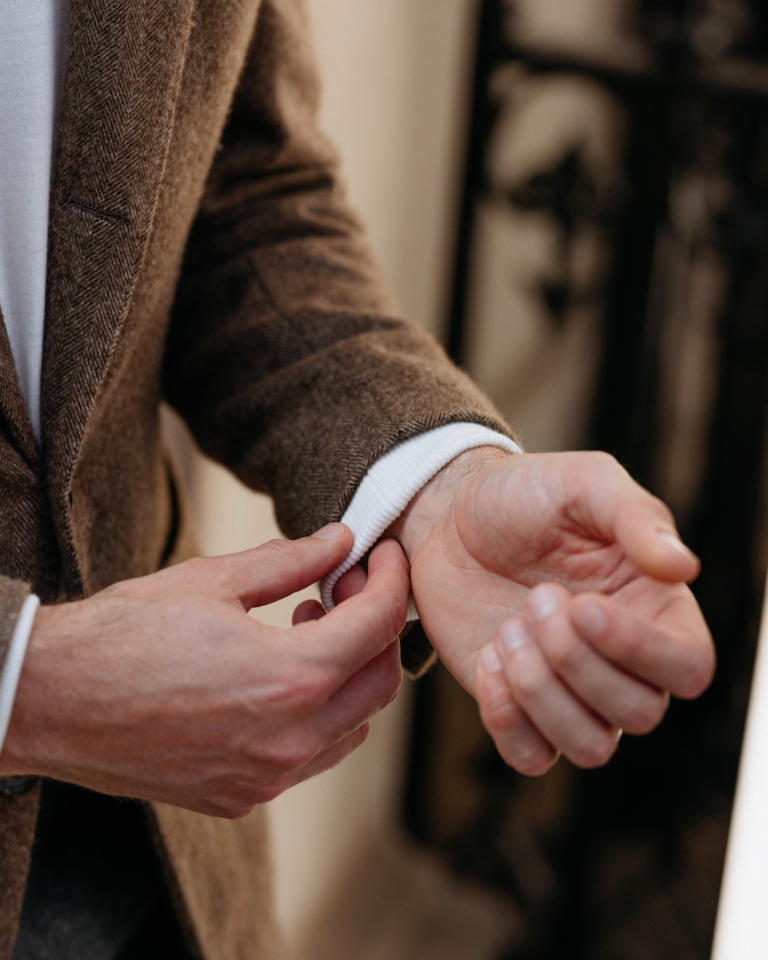 Knitwear shown (with links to the articles they come from):
That last piece is also a nice sub-set of the question we're discussing here: which knitwear colours are best under tailoring