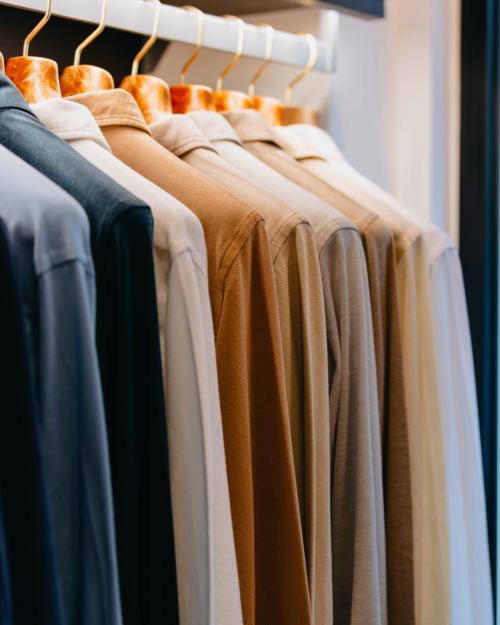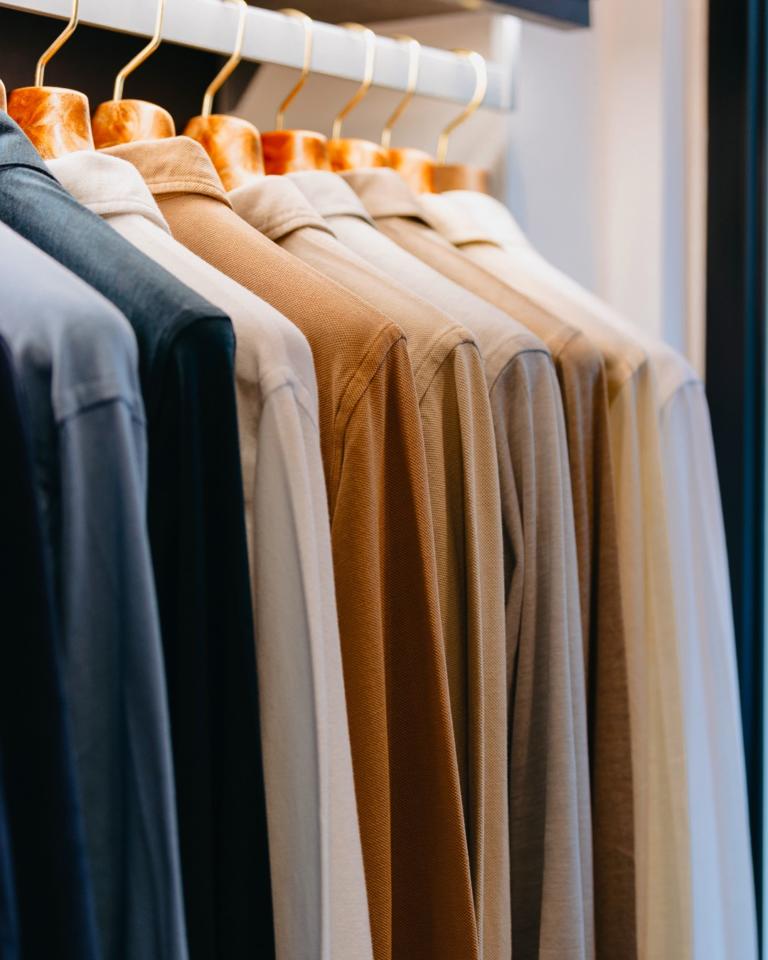 Part of the point of this website has always been to encourage men to buy quality clothing in long-lasting styles. The point is to be better dressed, but also to have clothes last longer and look better as they do so.
To that end we make quality a cornerstone of reviews, celebrate how those 'great things age', and consistently encourage care, repair and good maintenance.
Those links go to dedicated sections on those areas.
However, a reader recently suggested that given most of the articles are still about beautiful, luxury clothing - week after week - PS could be encouraging overconsumption.
I therefore wanted to write something making this all more explicit. So here it is: don't buy too much clothing.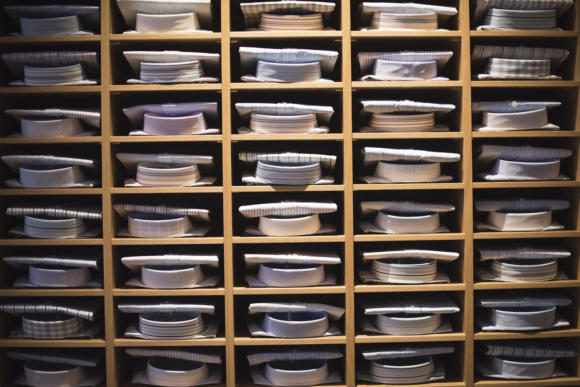 But how much is too much?
Well, let's set some wide boundaries to start with. I doubt any PS readers are as bad as consumers of fast fashion. In the UK, surveys show things like 64% of young women admit to owning clothing they have never worn, one in three consider something worn once or twice to be old and an average woman will own 1,116 tops in her life.
Those clothes are more likely to be plastic, and to be made in countries with both worse labour practices and less environmental regulation. As we've covered previously, one fortunate aspect of luxury menswear is that just by being made in somewhere like Europe, its production is more strictly controlled.
On the other hand, we all consume more than previous generations.
My great-grandfather, I'm told, was not atypical in only ever having three suits of clothes: one for Sunday best, one for the working week, and one for manual work. Every year he would buy a new one, and the suits would be shuffled down: the new one became Sunday best, the best became working week, and so on.
The work of Professor Laura Ugolini is good on this, if anyone wants to delve deeper.
So we're better than some, and worse than others. But none of this excuses us from looking very carefully at how much we buy. After all, we all know friends who care less about clothing than us, but also buy less as a result.
So again, how much is too much?
I think it's a hard thing to pin down, and will always be a little personal. But I do think there are some things we can say about it. For example, clothing purchases should be considered. They shouldn't just be done out of boredom, like a form of entertainment.
I've been guilty of that occasionally in the past. You're having a great day out in town, it feels lovely to buy something to celebrate the day. To carry home. Not that you seek something purely for that purpose, but it tips a decision one way rather than another.
Or, you're at home during lockdown, and scrolling through page after page of sales. Thinking what you like is a form of entertainment, and it would be pointless if it never resulted in a purchase.
This all sounds horrible written down, but I'm sure some readers will be able to relate.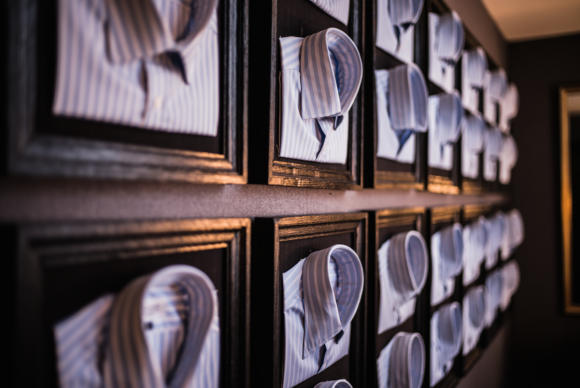 Here's something else we can say: there's no point having clothing you don't wear, or can only wear a certain amount.
Further: if you have so many things that you're chopping and changing every day, you lose the pleasure of familiarity - of having clothes you particularly love and value.
Actually, value is an interesting way to look at this. Consider how much you value all your clothes, how much emotional connection you have with particular ones, and what pleasure they give. (Marie Kondo would approve.)
The thing that really seems distasteful to me about fast fashion is not the volume, but the fact that the clothes seem to be treated as disposable: they have very little value to the owner.
I know some friends that have a lot of clothing. But clothing is their life, and they hugely value everything they own. They research them, they create with them, they talk about them. And most revealingly, they care about them: the clothes are protected, cleaned, repaired; never just disposed of.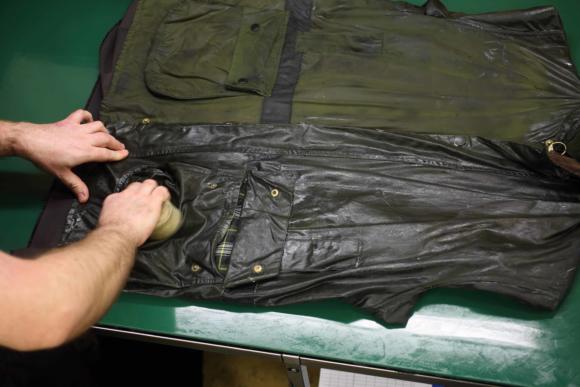 The average person, however, only has a limited amount of 'value' they can give to clothing in this way.
And because that value is finite, every time they buy more clothes they slice the value up smaller and smaller. Everything becomes less valued, because there is so much of it.
That's often the impression you get from caricatures of the ultra-wealthy: they have a lot of expensive things, but they don't value any of them. Price and value are disconnected.
Understand, I'm not saying value is the most important way to assess overconsumption. The sustainability of production and its impact on people and animals are much more important.
But it can be a useful way to consider whether we are buying too much, and it's not one that comes up that much.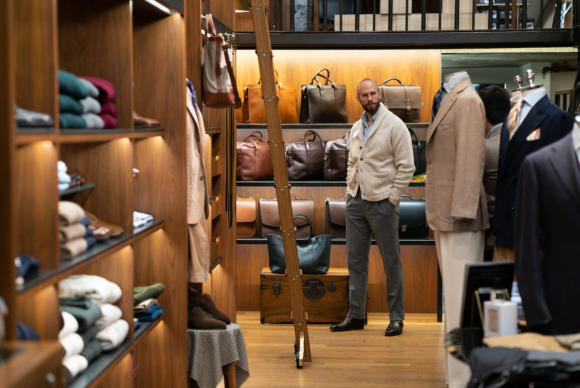 If we can reach a decision about how much clothing to have, how can we stop buying more?
One approach that I know works for a lot of readers is to be systematic. It's not very exciting, but making a list of what you own and how it all works together can be helpful in establishing what you wear, and what (if anything) you lack.
It's also helpful to be inherently suspicious of new fashions. These happen, even in classic menswear, and I find the key is to give the trend time to settle, never diving in early. That's something we've written about before here.
Obviously, avoid impulse purchases, particularly in the sales. The idea of value is useful again: consider how much you would actually use it. The value is not the clothing's original price, it's how much you would treasure it. Compare that to the discounted price instead.
Also, look after clothes well. Not just because it makes them last longer, but because something that has been refurbished often feels as good as new. Even better. Suddenly you have a pair of trousers that isn't skinny any more, or a pair of shoes with new polish and soles.
It's a cheaper, more personal and more sustainable retail hit.
I know friends that have other rules, such as 'one in one out', so every new purchase requires one to be given away. Or people that don't buy anything for one month a year, such as January. That can be a powerful exercise, even if just tried once.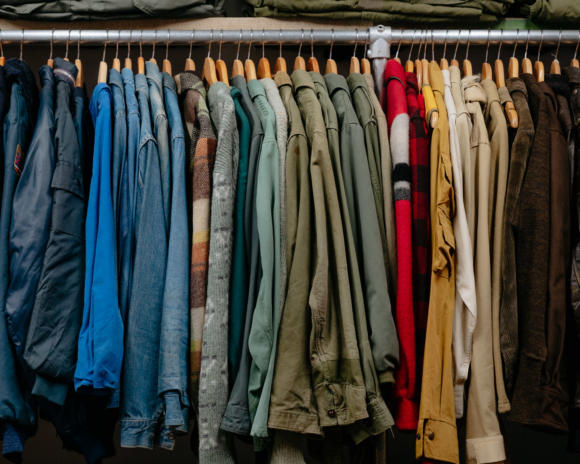 Last point: I think it helps if you have an efficient way to find new homes for the clothes you no longer wear. So they can go to someone that will value them more than you do.
Giving to a charity shop is great, but if you want to find the best home, it might be better to sell them through pre-owned sites like Marrkt, high-end ones like Vestiaire Collective, or even vintage shops. Or simply give them to friends and family. Then you know exactly how they'll be valued.
Between the products I review for this site, and the samples created for the PS Shop, I go through a lot of clothes. I'd find the waste infuriating if I weren't able to pass them onto people through Marrkt, or give them away to my brother, brother-in-law, and a group of friends of similar proportions. (There's a WhatsApp group.)
If you can't avoid buying too much, at least avoid owning too much by selling it on well.
On Permanent Style we're never going to stop writing about new clothing, and lots of it.
There's a huge amount to cover, from many different brands, and everything new requires some kind of an assessment in order to be able to give relevant recommendations.
But we would never encourage anyone to buy more than a small amount.
How much exactly is probably something for everyone to consider, honestly, themselves. But hopefully the ideas in this article have helped stimulate some thoughts - particularly looking through the prism of value, rather than just volume.