Introducing: The reversible Valstarino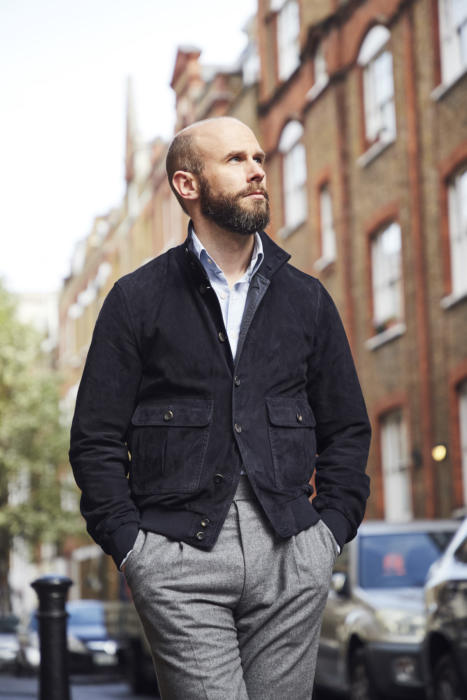 The Valstarino - Valstar's button-up suede blouson - has been very popular among fans of classic menswear in recent years.
Although that shouldn't be generally surprising given its quality and heritage, I do think it's become particularly popular because it fits so well into a tailored wardrobe.
The suede, the slim pockets and (most importantly) the button-up front make it unusual among blousons in being smart enough to substitute for a tailored jacket.
It can work with the same shirt and flannels you might have worn to the office, but be rather more casual - perhaps swapped for that jacket in order to meet friends down the pub.
And it works well for travel. Wear it with that same shirt and trousers to get on the plane, and have a blazer folded up in carry-on.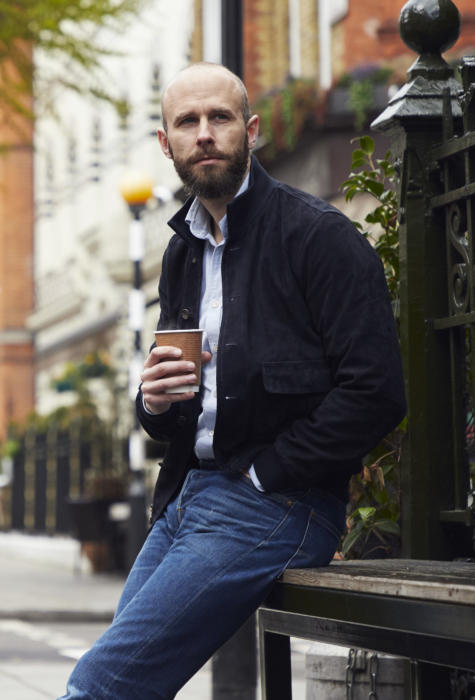 However, one thing I always thought would increase the Valstarino's usefulness would be to make it weatherproof.
Although it's not as hard to care for suede as people think (see our video here) I do know that the suede puts potential Valstar customers off.
So at the beginning of last year I started working with Matteo at Valstar to develop a reversible version of the jacket. One with a really quality, breathable waterproof layer inside (Loro Piana Storm System) and an easy method of reversing it.
This was initially just a made-to-order project for myself, but after a while it seemed obvious we should make a small run to offer to readers as well. There aren't many, therefore: just 35 pieces. But if it goes well we can always make more.
The Storm System layer is of course entirely waterproof yet breathable (particularly important when it's the lining - you get rather sweaty otherwise).
In order to reverse the jacket, each button has an extra buttonhole next to it, enabling you to push them through to the other side (see illustration below).
This means the reverse side buttons-up left to right, rather than right to left, but the only alternative is to have a line of buttons on both sides of the jacket, and this doesn't look great.
(We tried it, as prototype number 2. It meant the second set of buttons was often visible, particularly where the collar rolls outwards. Having buttons pressed against you on the inside also isn't very comfortable.)
Suede also doesn't make the best lining for a jacket, as it has such friction. But the jacket isn't designed to have two wearable sides, to swap for different looks.
Rather, it is designed to have a waterproof option at all times, so you can wear it in the morning without any fear of getting drenched later on.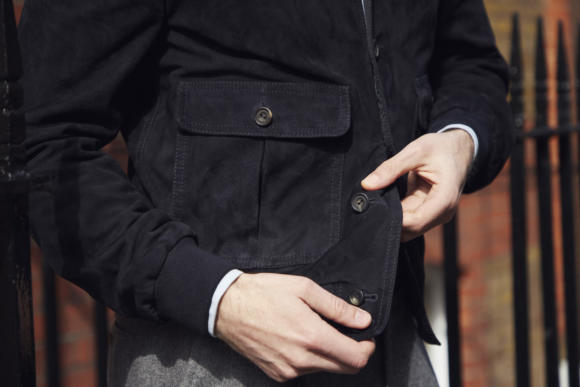 Another change I wanted to make was the buttons themselves.
Polished buttons might be more Italian, but they've always looked a little cheap to me. I prefer unpolished horn, as is traditional on Savile Row and as we used on our Bridge Coat with Private White VC.
So the buttons on this version of the Valstarino are matte dark-brown horn, and two-hole buttons for good measure. Another thing you rarely see outside the Row.
As to colour, although I love brown suede, navy is the perfect colour to play that jacket-substitute role in a modern sartorial wardrobe.
Travel in a navy Valstarino, pack a navy blazer, and you've got the great foundations of a great travel wardrobe.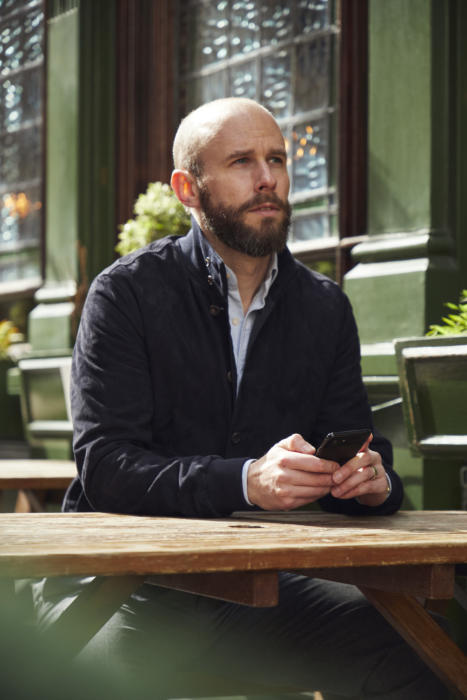 In the pictures here, taken around Fitzrovia, I've deliberately worn the Valstarino with the same PS Oxford shirt (just restocked by the way) and Saint Crispin's brown-suede boots - but swapping between flannels and jeans.
This means you can see how it works with both types of trousers.
Indeed, if the navy blazer were a casual, small-shouldered Neapolitan cut, and therefore worked with the jeans as well, you'd have four different levels of formality and style: blazer/flannels, Valstarino/flannels, blazer/jeans and Valstarino/jeans.
Add in a knit navy tie to create one more option at the top of the formality scale. Or a pair of slim white trainers for another option at the bottom.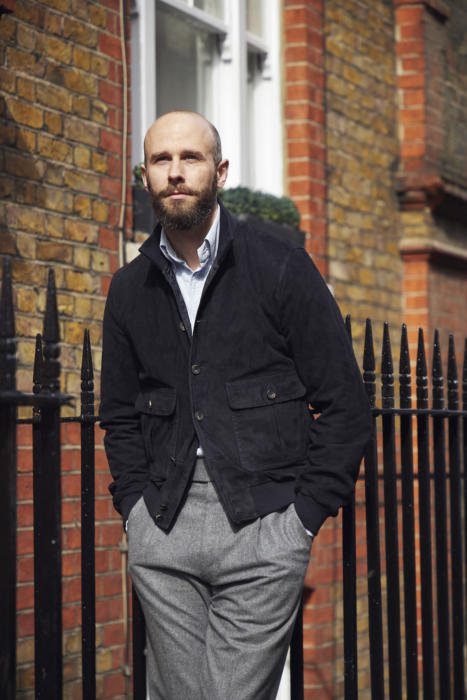 In every other respect, this version of the Valstarino - which is exclusive to Permanent Style - is the same as the classic style.
Same materials, ribbing and suede, and same details. The fit is the standard for the Valstarino in Europe, sometimes referred to as the slim fit (the model stocked by Mr Porter, Trunk Clothiers etc).
I am wearing a 50 in the pictures, which is a nice fit over just a shirt. But were I to regularly wear knitwear underneath, I would size up to a 42.
I would suggest that if anyone wears sizes generally that aren't a slim fit, they should size up. Full measurements are also available on the shop page here.
The Storm System and the jacket's reversible nature make this more expensive than other Valstarinos, as it's essentially two jackets finished together. It comes out at £950 including VAT, but I think worth it for the extra functionality.
It is available in sizes 46 to 54, on the shop site here.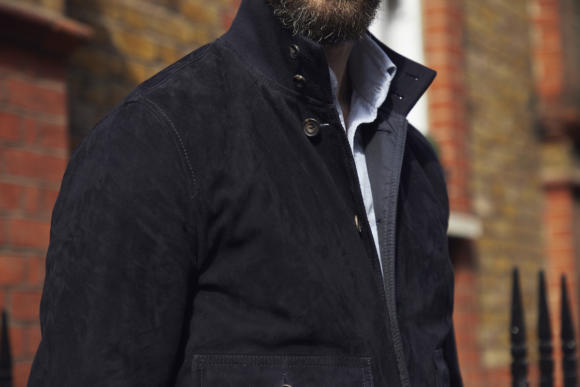 Other details:
Navy goat suede

Lining in navy Loro Piana Storm System, water- and windproof

Matte horn two-hole buttons

Two flap pockets on the outside and two inside. Cut flush to add no extra bulk

Side-entry pockets on both sides as well

Made by Valstar in Italy, shipped from England

Price £792 plus VAT, so £950. (Prices on the shop site are ex-VAT, because most customers are outside the EU)
Jacket worn with:
Photography: James Holborow