Saint Crispin's shoes: Reflections two years later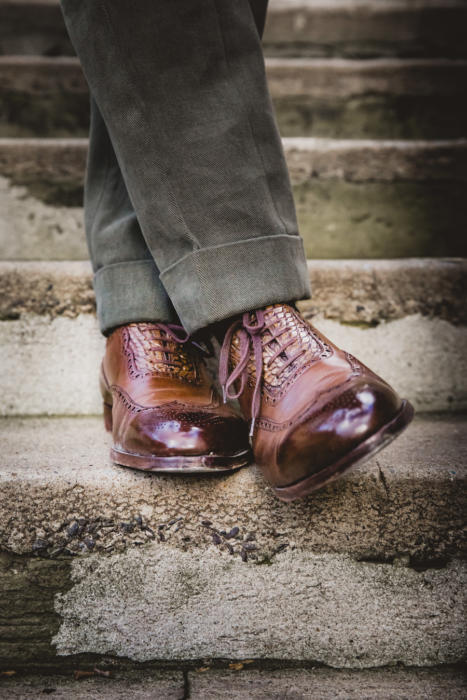 I now have three pairs of Saint Crispin's shoes: the alligator/calf wing-tips pictured above; brown-suede chukka boots; and most recently a pair of dark-brown suede cap-toes.
I have ordered steadily and regularly, each time gaining in confidence based on my experience with how the shoes have aged, and on the consistency and service of the Saint Crispin's team.
We had a couple of real issues with the first pair, as mentioned in my review.
But those were corrected (that pair being re-lasted) and it is telling that when I received my second pair and my third, those same issues were still fixed.
Given that this gradual creation of a perfect fit is such an attraction of bespoke, it's incredible how many bespoke artisans are inconsistent with it.
Although Saint Crispin's at this level isn't strictly speaking bespoke, they absolutely succeed in this regard.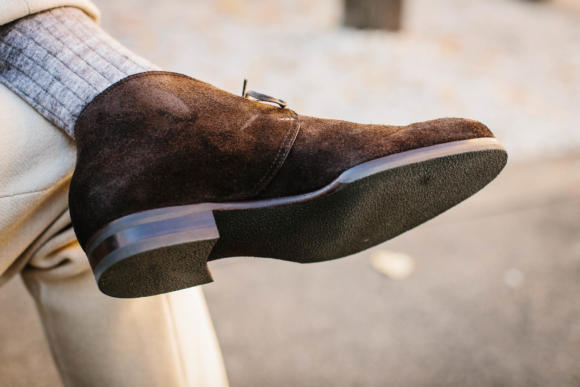 In this post I wanted to focus on two other points that are distinct about Saint Crispin's, and upon which my thinking has developed over the past two years.
The first is structure.
In that first review, I mentioned how stiff Saint Crispin's shoes are to start with. This is largely down to how they hand-peg the waist of the shoe, and then use a longer, firm stiffener through the waist.
When you first put a pair on, and for the first dozen or so wears, this feels pretty constrictive. In my review I said it was the one thing I wasn't sure I could ever get used to.
Two years later, my opinion has probably changed. Those first wing-tips are just as comfortable as any other shoe, but are more supportive and have a cleaner look through the waist.
When I received by suede cap-toes (below) I knew exactly what to expect, and I'm wearing them in gradually and satisfyingly.
The second area is hand dying.
Saint Crispin's start with natural-coloured crust leathers for their shoes, and then dye them individually, once the leather has been cut into the shoe's constituent pieces.
This creates a natural variation in the finish, and makes it a little less colour-fast.
Most other makers get dyed leathers from the tanneries instead, and add variation with burnishing, finger polishing, or a painted patina.
When I first bought my wing-tips, and in my first review, I talked about how much I liked this process because it meant the shoes had a personal colour, and looked aged very quickly - as some of that colour faded with wear.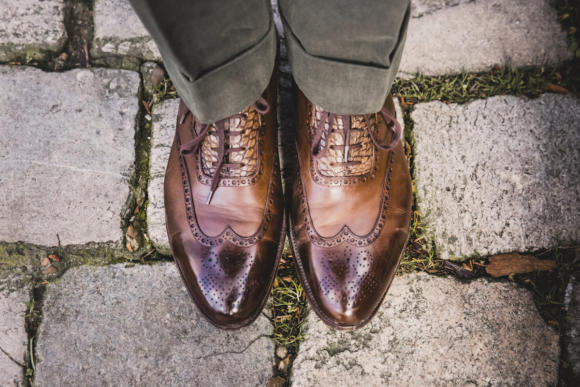 Over the past two years it has occasionally been annoying, largely because the shoes need more cream and polish than other brands to maintain the same look.
I know this is something that puts others off too, particularly if they didn't realise this in advance and were buying into Saint Crispin's more for the value or the personalised last.
However, I've come to accept this aspect of the shoes, and even love it.
I've learned to use cream (such as Saphir Pommadier) a little more than I would on other shoes, and to leave areas like the vamp to crack and fade while I keep the heel and the toe polished.
It's also worth pointing out that any brand that does a hand-patina finish on their shoes is doing a very similar dying process, and that too needs more careful upkeep (as mine, for example from Berluti, G&G or Corthay, also have).
Compared to my original review, I'd say this is the area that potential customers need to carefully consider whether they like or not. (Although, it should be noted that Saint Crispin's can do other leathers if requested, such as aniline calfskin.)
Elsewhere, my view hasn't changed that Saint Crispin's is great value for money, given it is hand welted and handmade generally, with a personalised last that can approach bespoke for fit.
The design choices and ranges of materials are also great.
With my cap-toes, for example, I went for a finer, more closely cropped suede ('Hunting') than with my chukka boots, given they were a smarter model.
I just need to find a way to get Saint Crispin's stocked in London now, so I don't have to do everything remotely.
I may well have experimented with a different last, for example, if I had a range of them close by.
Trousers worn:
With wing-tips: Green cotton Loro Piana, from Whitcomb & Shaftesbury
With chukkas: Cream heavy-wool Pardessus from Holland & Sherry, by Elia Caliendo
With cap-toes: Grey heavy-wool Pardessus from Holland & Sherry, by Whitcomb & Shaftesbury
Photography: wing-tips, Hannah Miles @photographybymiles; cap-toes and chukka boots, Jamie Ferguson @jkf_man