The hatch-grain loafers I commissioned with Gaziano & Girling back in 2012 have consistently been among my favourite shoes - both for me and for readers.
The mid-brown colour is tremendously versatile (everything from cream to mid-grey trousers, chinos to worsteds) and the texture created by the hatch grain has aged beautifully.
I first wrote about them for The Rake in 2012, back when I was running their website. Since then they have featured in numerous shoots and posts, such as this comparison with Cleverley and the particularly popular post 'Which office are you?'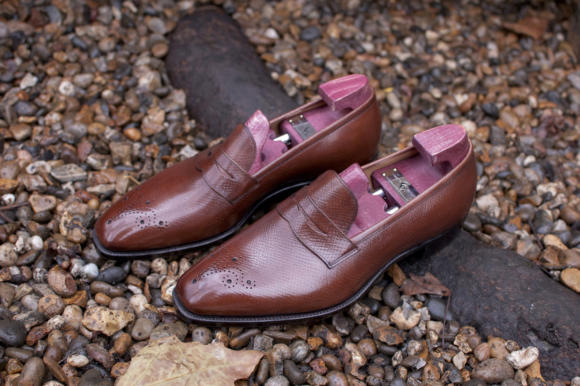 Apparently the design has also been popular with G&G's bespoke customers, and there have been requests to have it available on made-to-order.
As a result, I was honoured to find out that G&G have decided to introduce the model into their range, and call it 'The Crompton'.
It won't feature the one-piece, seamless construction of my pair (that's only available bespoke) but everything else is the same.
The last is the G&G standard loafer last, KN14, and as it's MTO customers can have it in any leather and sole - not necessarily the chestnut hatch-grain leather pictured.
The price is £1,470 including VAT and shoe trees, or £1,225 without VAT. Delivery time for MTO is currently 3-4 months.
I would also like to make clear that this is not a commercial collaboration - I don't receive anything either from covering this model or from its sales.
It's just a really nice thing.