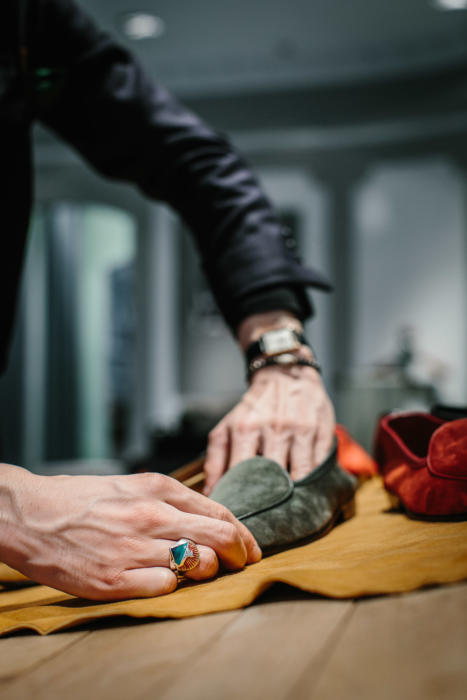 A few menswear shoemakers have expanded into women's shoes in recent years.
These shoes will generally be a lot better made than the other women's shoes in the market, and not necessarily more expensive (given the designer mark ups on the latter).
But there are two challenges.
One is getting a woman to pay a designer price for a non-designer shoe - to appreciate the quality and to look after it well enough so that the quality comes through.
And the second challenge is style. Men's-style brogues may be fashionable at the moment, but they won't be forever. Paying that much for a fashion item is tough.
Baudoin & Lange don't have that second issue.
Their new women's shoes (launched at the current Savile Row pop-up) are very similar in style to women's flats, or ballet shoes.
They are already a staple of the female wardrobe. Allan and Bo just have to convince women to pay more money for better quality.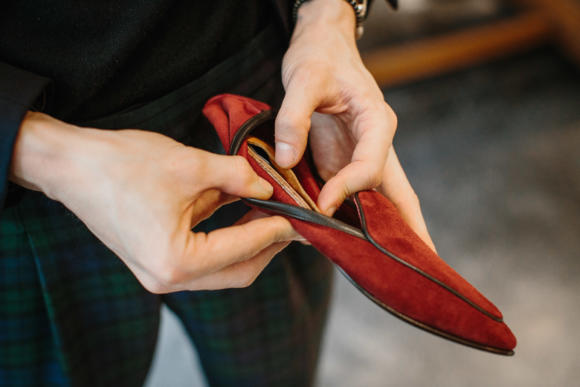 That quality is a considerable.
As a man you rarely realise how spoilt you are with shoe construction until you look at a ballet shoe.
It usually has nothing between the thin leather sole and the leather sock inside except a cloth-covered shank and a little bit of foam (which quickly compresses).
A Baudoin & Lange Sagan is a very simple men's shoe, but it adds a proper leather insole to this list, quality foam padding and cork under that padding.
The upper is obviously also much higher quality, both looking better over time and being more comfortable.
I saw one stylish woman try on a pair of Sagans while waiting for her husband in the pop-up shop on Sunday, and the quality difference was immediately obvious.
Only the first issue, of paying £305 for a ballet shoe, remains.
Elsewhere in the pop-up shop (now in Week 2 - see schedule here), Luca Faloni has been as popular as expected.
His formula of high-quality cashmere in classic styles, and a good price, is an easy one to buy into.
Interestingly though, it has been his brushed-cotton shirts and buttoned hoodies (above) that have gone down particularly well so far.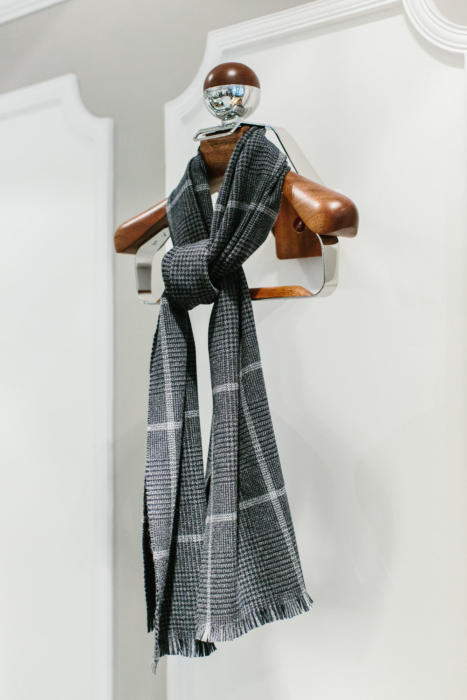 And Mantas Lesauskas, founder of Honorific, deserves a big thank you for the valet stands he has contributed to the shop.
Not only does the pop-up have on display Mantas's original valet stand (in steel and mahogany) and my personal stand (in brass and walnut), but the walls are decorated with his latest offering - the wall-mounted valet (above).
This model retains the most attractive parts of the stand - the hanger and trouser bar - but is a lot cheaper for being smaller. Although still expensive at £1,440, it's a lot less than the classic stand's £3,300.
Do pop into the pop-up if you have time this week.
It's open until Sunday, before starting again next Wednesday with the second round of brands: The Armoury, The Rake and Begg & Co.
Photography: Jamie Ferguson @jkf_man