*For updates and stock please see the shop page*
Of all the things I've developed or helped develop over the past few years, the PS Trench Coat was one of the most satisfying. That was partly because it seemed to fill a particular niche for people, but also just because it was outerwear.
Outerwear is one of the most exciting things to buy as a man, largely because it is so transformative. It changes your whole silhouette, and often dramatically: big lapels, long length, lots of lovely cloth wrapped around.
It's also, therefore, one of the most exciting to develop. And it has been great working on this, the PS Bridge Coat, with Private White VC over the past eight months.
[The coat is available now on the Shop page. Please note that shipping is not until next week, however.]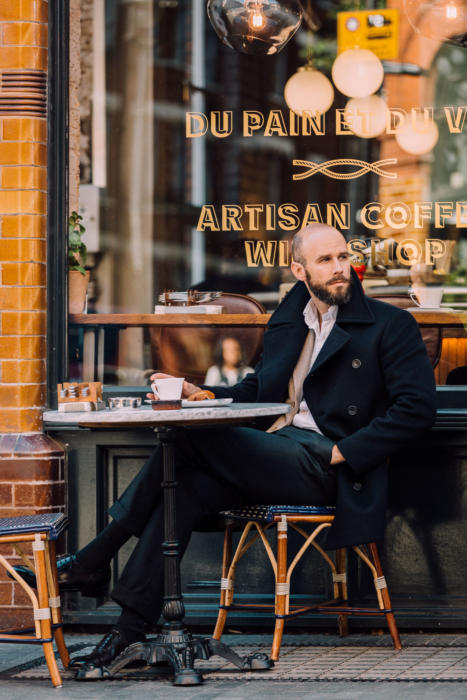 The elevator pitch was simple. Given how diverse and fluid modern wardrobes are, pea coats are an incredibly useful piece of menswear. Few other things are versatile enough to go with smart jackets and trousers, but also with jeans and knitwear.
But they're rarely designed with tailoring in mind. Pea coats are usually too short to cover a traditional suit jacket, and are often too small in the shoulder and sleeve.
So we made a version that corrects these points - suited to the Permanent Style reader.
That they can wear with their oatmeal blazers as well as their shetland sweaters.
But as well as adding 2.5 inches to the length, we put in some traditional design details. For as great as a lot of modern pea coats are, their designs are quite basic.
Most importantly, we changed those two lines of buttons up the front. These are usually straight and square, which is pretty dull.
They have been replaced them with a sweeping, flattering line more usually seen on overcoats - or on the naval officers' equivalent of the pea coat, the bridge coat.
Those two lines (as you can see below) narrow slightly from the hips into the waist, which is flattering in itself, but then bow dramatically outwards around the chest, creating an impression of strength - an impression accentuated by the line then narrowing again at the collar.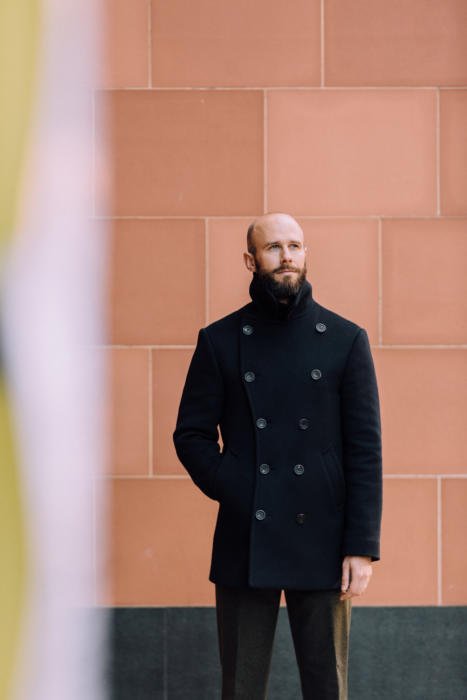 These two sweeping lines are only seen in full when the coat is buttoned all the way up (which of course it is able to do - like any good tailored coat).
But even when only partly buttoned, this curving front edge adds character to the coat, creating lapels that curve outwards too - more like a double-breasted jacket than a normal pea coat.
Perhaps most importantly of all (for me), the materials are luxurious but understated.
So distinctive as that sweeping front edge is, the effect is subtle because the buttons are dark and matte: unpolished dark-brown horn set on deep navy cloth.
It hopefully achieves my usual aim with clothing: being stylish and elegant, but in so subtle a manner that no passer-by can point to its cause.
He may suggest the collar, or the cloth, but he would be wrong. It's all about the front edge and those buttons.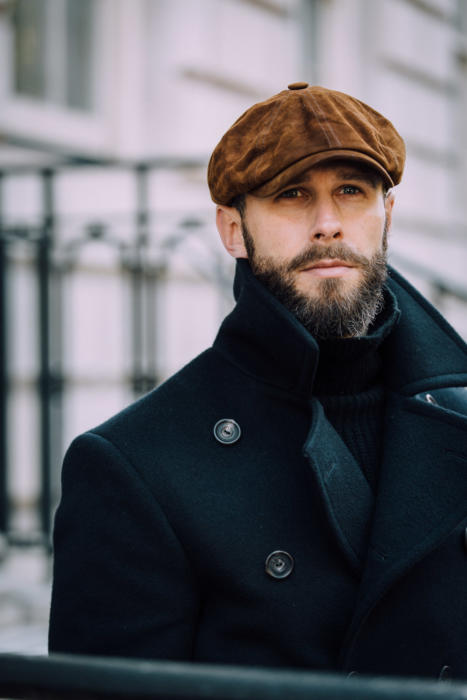 This is perhaps a minor point, but I also wanted to echo the Savile Row style I have always loved by using the same buttons they do.
So the horn is not shiny, as the Italians use, or even really matte, again as the Italians sometimes offer. Rather, it is completely unpolished: often described as 'dull', though it is hardly dull to me.
And they will be two-hole. Again, a small thing, but it's a style of button rarely used in menswear outside Savile Row.
Perhaps it seems a little more refined. Or perhaps I've just been looking at buttons too long.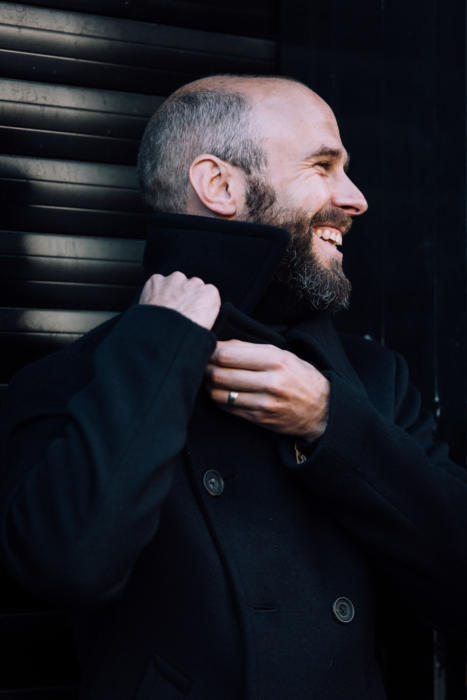 In the same way the buttons are a step up in luxury, so is the cloth.
I love hard, stiff wools or melton in a pea coat. But over tailoring it's a little too rigid. So for the PS Bridge Coat we picked a wool/cashmere mix.
At 20%, there's enough cashmere to feel luxurious, but enough wool to make it suitably robust for an every-day coat. And the weight (620g) makes it versatile, if not heavy enough for the coldest winters.
Oh, and a point I particularly love: the pockets are lined with 100% cashmere. Because I use pockets a lot, and there's nothing like putting your bare hands in a cashmere-lined pocket on a cold day.
It's the kind of thing most brands would never bother with, because it wouldn't help sell the coat off a hanger.
Other details.
The coat has two in-breast pockets, with the left-hand one placed between two buttons so that, when the coat is fully buttoned up, you can still access it by sliding your hand in between them (shown in two stages above).
There is a nice big poacher's pocket on the inside-left hip - so even if you have your hands plunged in both the outside pockets, there is sufficient room inside to carry everything.
There are two jigger buttons on the inside of the coat. One at the waist, as standard, and one at the neck level.
The latter enables you to fasten one layer of the coat across your chest, keeping you warm, while keeping the other open.
Style-wise this arrangement avoids looking too buttoned up, but it's practical at the same time (below).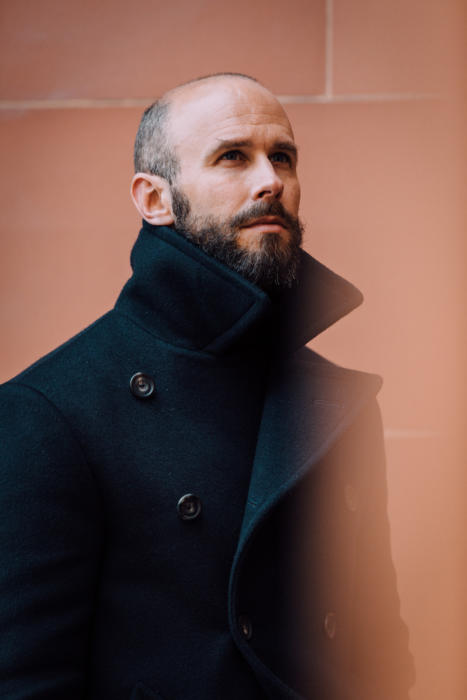 In the back there is a central box pleat, to help a little with movement when wearing a jacket underneath.
There's then a half belt, merely for show, with a raised edge that echoes the pockets on the front.
And below that, a central vent that can be fastened with two button tabs. The tabs are nicely hidden away inside a fold of the vent, rather than sticking out (image further down).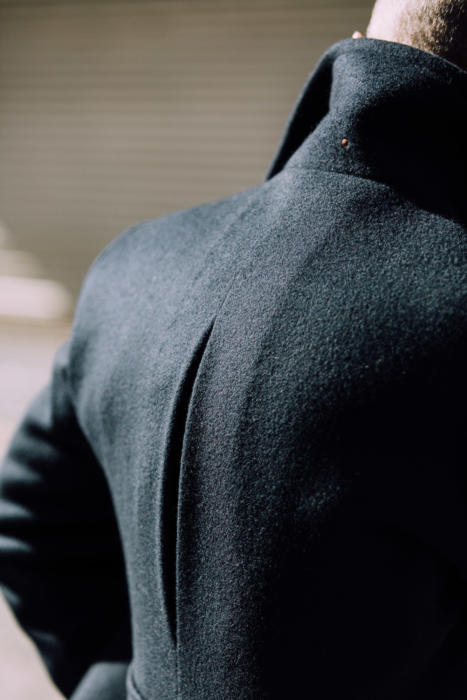 And last but certainly not least, the Bridge Coat has a lovely brass-coloured lining, which I picked to look luxurious without being showy.
A traditional bridge coat - by the way - would be rather longer than this, ending just above the knee. But it's a helpful term to indicate our version's longer length than a normal pea coat.
And a bridge coat would have been worn by the officers on board rather than general seamen, so it fits with the higher-specced PS Bridge, with its cashmere-mix cloth and sartorial hardware.
(I should also say that the Private White VC pea coat, from which the Bridge Coat evolved, is a great example of the more traditional model - with that shorter length and in great thick wool.)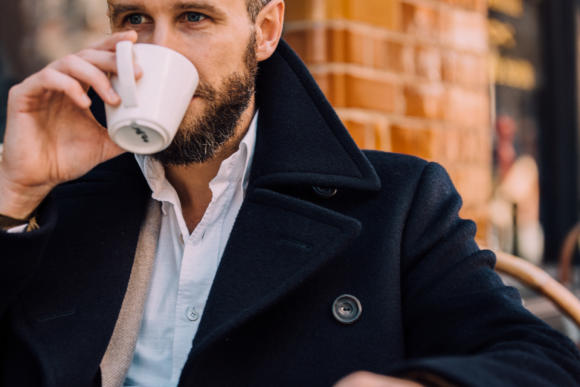 The Bridge Coat is available to buy now on the Permanent Style shop here, priced £850 (including VAT - displayed price does not include VAT until destination is selected at checkout).
There are 50 pieces in four sizes, from Small to Extra-Large (though several have already been taken by those on the waiting list).
You can see the measurements of the coat below, and I always recommend checking these against a coat you already have as the best way of ensuring the right fit.
However, as a rough guide the Small is equivalent to a normal size 48 chest (in European sizing; 38 in English), 50 for Medium, 52 for Large and 54 for Extra-Large.
For those used to Private White VC sizes, a Small is a 3, a Medium is a 4, and so on.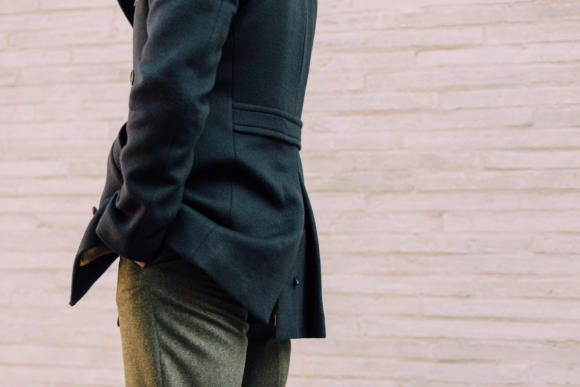 Sizing detail
I am wearing a Medium in the pictures here. I'm usually a 50 in ready-made tailoring, sometimes a 48 if it's a boxy cut. I'm 6 foot tall and wear a 32-inch-waist trouser.
With the Trench Coat, I found I was between sizes, with a Small fine except over a jacket with the lining, and a Medium a little big over knitwear without the lining.
With the Bridge Coat I'm a solid Medium. It helps that there isn't the complication of adding or removing a lining, and that the shoulders have the structure to fit different sizes of physical shoulder underneath.
Like the Trench Coat it is cut relatively slim - not skinny by any means, but also not the straight and boxy style of traditional pea coats.
The Medium is long enough to fit over all my bespoke jackets, the longest of which have a 32-inch back length.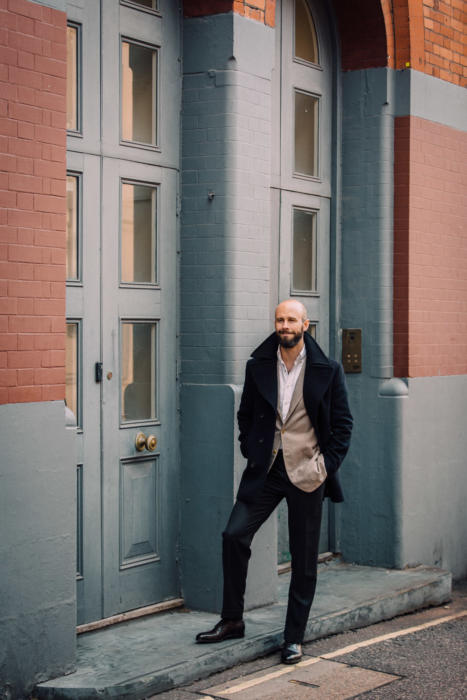 The advice from Private White in comparison to the Trench Coat is as follows: "The trench coat has a traditional style and is made with about 6 inches of room between the wearer's measurement and the garment. This is to allow for multiple layers underneath.
"The Bridge Coat has more fitted style with only 2 inches of room. It allows for a light to semi-weight jacket underneath or a medium-weight jumper. However the cloth has much more give so it allows comfortable movement despite the narrower fit.
And in comparison to other Private White garments: "This is formal coat so it shouldn't be worn oversized; but if you are in between sizes then you should likely size up. To compare to our Manchester Pea Coat style the coat is about a half-size slimmer in measurement but has much more forgiving fabric."
The measurements are below - in centimetres, on a flat coat going across or up and down, rather than the circumferences.
| | | | | | | |
| --- | --- | --- | --- | --- | --- | --- |
| | X-Small (46, PW2) | Small (48, PW3) | Medium (50, PW4) | Large (52, PW5) | X-large (54, PW6) | XX-large (56, PW7) |
| Chest | 48 | 50.5 | 53 | 56.5 | 60 | 63.5 |
| Waist | 45.5 | 48 | 50.5 | 54 | 57.5 | 61 |
| Hem | 54.5 | 57 | 59.5 | 63 | 66.5 | 70 |
| Shoulder (half) | 15.1 | 16.3 | 17.5 | 17.9 | 18.4 | 18.8 |
| Bicep | 19.3 | 19.9 | 20.5 | 21.3 | 22.2 | 23 |
| Cuff (diameter) | 13.8 | 14.4 | 15.0 | 15.4 | 15.8 | 16.2 |
| Length | 81.8 | 82.4 | 83 | 84.5 | 86 | 87.5 |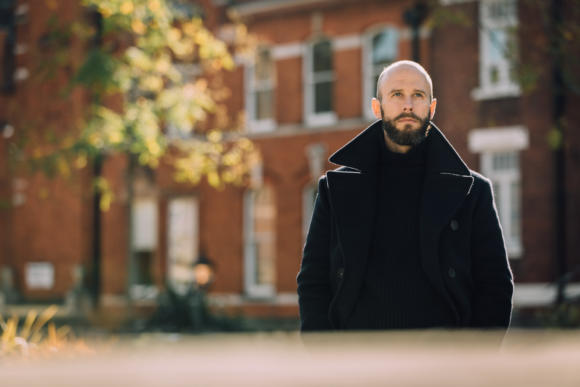 Alterations
The sleeves are made without buttons, cuffs or lines of stitching, so they are easy for any tailor to shorten. They can also be lengthened, and there is excess lining in there, allowing up to about 2cm.
The length is fairly easy to shorten, but make sure the tailor is happy altering the vent at the back. That vent also makes it very hard to lengthen, so that wouldn't be advised.
The coat can easily be taken in at the waist, with three seams to work with. But I wouldn't recommend doing so by more than 3cm on each side. It can also be let out, up to around 2cm on each side.
As readers will be aware, the Bridge Coat has been delayed rather from its original launch date in October.
We decided to put it on sale now as so many readers have been asking about it, but the coats will only be ready early next week - so please be aware shipping will not be until next Wednesday onwards. Thank you.
In the images I am also wearing:
Oatmeal-cashmere jacket from Elia Caliendo
White button-down shirt from Luca Avitabile
Green flannel trousers from Elia Caliendo
Black roll neck from Anderson & Sheppard
Suede cap from Lock & Co
Leather bag from Dunhill
Suede boots from Saint Crispin's
Photography: Jamie Ferguson