We are travelling gradually south in this series covering the styles of the finest tailors in the world.
So having covered the major styles of London, we arrive in Paris – which is all close chests, roped shoulders and ornate finishing.
Now, the major French tailors like Cifonelli and Camps de Luca owe much of their heritage to Italy. But that was over 50 years ago, and in that time the French have developed enough of a style to be distinctive.
It's most obvious in the finishing, just because they do it better than anyone else. Not just the amount of handwork, but its precision – the neat Milanese buttonholes, the number of pick stitches to the inch.
But the tailors have more subtle points in common too, such as a clean chest and a prominent sleevehead – which puts a full stop to the end of the shoulder.
We begin with this grey end-on-end suit, from Camps de Luca.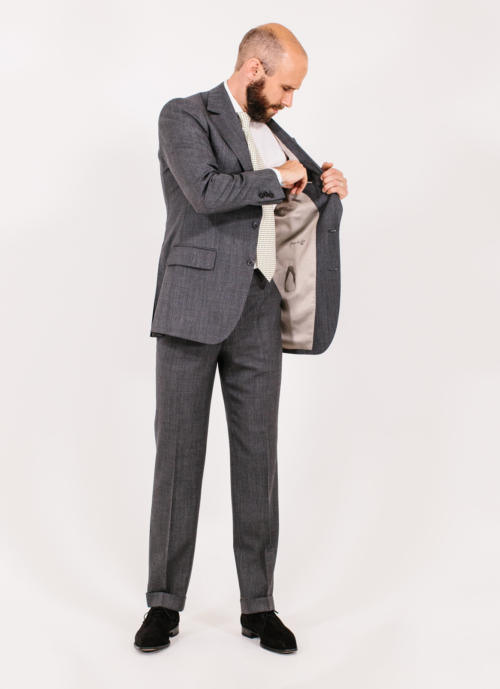 House: Camps de Luca
Address: 16 Rue de la Paix, Paris

Site: campsdeluca.com
Cutter: Marc de Luca

Price of suit (at time of writing): €6800 (incl VAT)
The suit was cut for me in 2014 by Marc de Luca, with fittings done both with Marc and Julien.
It was a heavy cloth for them, at 13 ounces, in a very professional-looking mid-grey but with some nice surface detail through the pick-and-pick weave ('sharkskin' in the US).
It is two-button, with grey mother-of-pearl buttons and shallow turn-ups (4cm) on the trousers.
The style is more distinctive than you might think, with the thick sleevehead and characteristic fish-mouth style gorge (the lapel angles up slightly, making it halfway between a notch lapel and a peak).
Initially I wasn't sure about those style points, but over time the suit has grown on me, and I am very fond of it now. A great option for a business suit, in fact: serious yet full of character.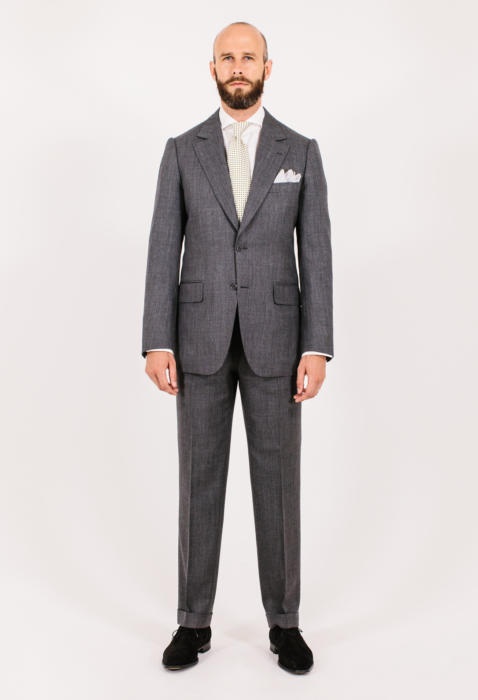 Interestingly, that wide sleevehead is not achieved through a lot of sleevehead wadding, but by extending the shoulder pad slightly into the top of the sleeve.
Which technique a tailor uses makes little difference to the overall effect, except that sleevehead wadding is able to make the sleevehead higher as well as wider.
Whether you think a prominent sleevehead like this makes the wearer seem broader or not is slightly subjective.
To my eye, it rather stoppers the shoulder and prevents the eye travelling to its full width. To others, it makes the shoulder look wider by drawing the eye to the ends.
Both Camps de Luca and fellow Parisians Cifonelli use a wide sleevehead like this, although Cifonelli also cuts a rather wider shoulder (6½ inches, compared to 5¾ inches on this Camps suit).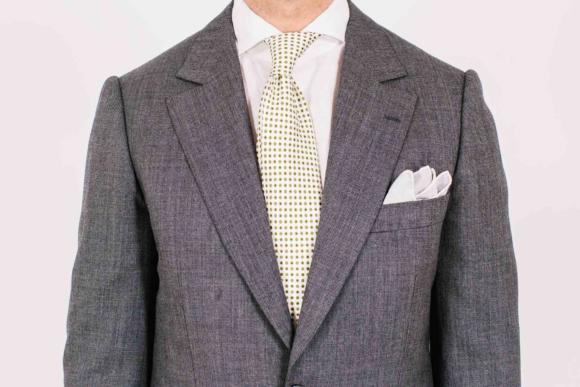 The shoulder pad itself is moderate: not as thick as most English, but thicker than Neapolitans. And the line from the sleevehead down into the chest has a slightly inwards cut.
The lapel is not that wide, despite the fish-mouth shape pushing out its width (3⅝ inches) and it has a fair amount of belly, like most English single-breasted lapels.
Everything else is also moderate. A moderate gorge position (not too high, not too low); moderate shaping through the waist; and moderate quarters, opening up just slightly towards the bottom.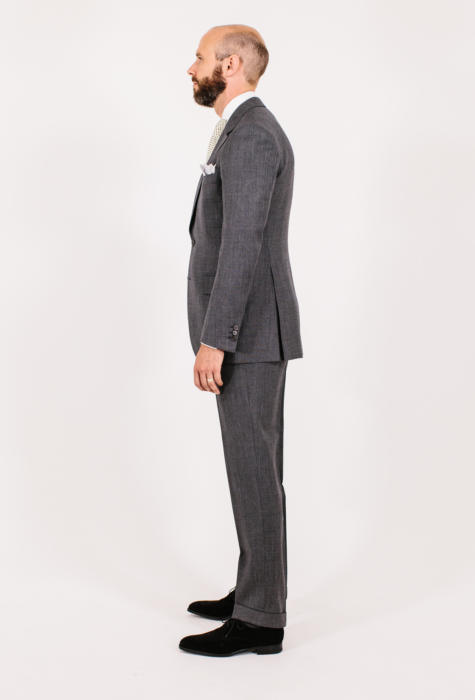 In the side-on image above, you can see how that sleevehead makes the top of the sleeve quite large and prominent – and exaggerates the effect of what is quite a slim sleeve.
Interestingly, though, the cuff is not that slim. The sleeve even appears to flair out slightly towards the bottom, though that is just the visual effect of less taper than normal.
The jacket a little shorter than most English suits (as are most French) at 31 inches, and the buttoning point a touch higher than either English or French.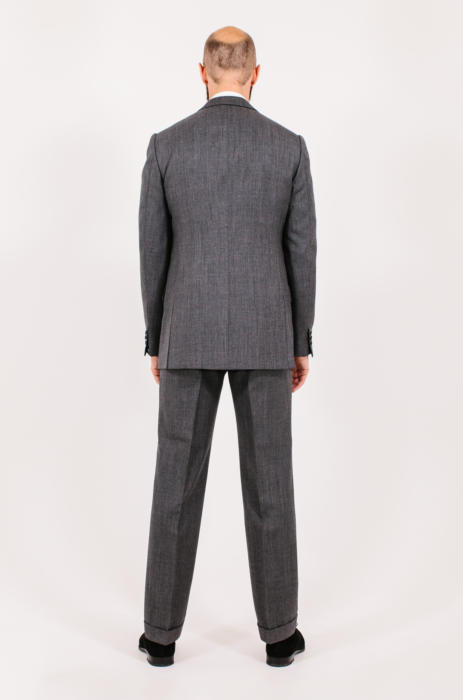 We're deliberately not talking about fit in these posts, as the focus is on style. Plus, static photos are always a poor way to analyse fine points of fit.
That said, the back on this suit is really beautiful and clean, and only a touch restrictive.
In the image above, you can also just see the effect of the characteristic Camps vents: they have a large amount of overlap that is pressed back inside, making the vents look more like pleats.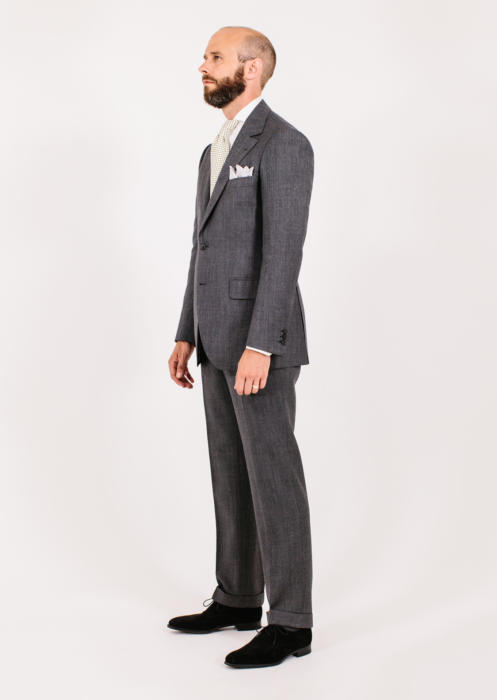 There is pick stitching everywhere on the suit by the way – on almost every seam – but even close-up shots would struggle to show it as the stitches are hidden by the textured cloth.
The buttonholes are also beautiful and neat ('the best I've ever seen' in one tailor's words).
The buttonhole in the lapel is rather small though: more like an Italian size and a point of difference from Cifonelli or Smalto.
The turn-ups on the trousers are narrow at 4cm, which reflects the time this suit was commissioned: before I had most of my trousers with turn-ups and had settled on a size I liked (5cm). It's not a point of house style.
Arguably this suit would look better without turn-ups anyway, given its relative formality, and I might have them taken off at some point.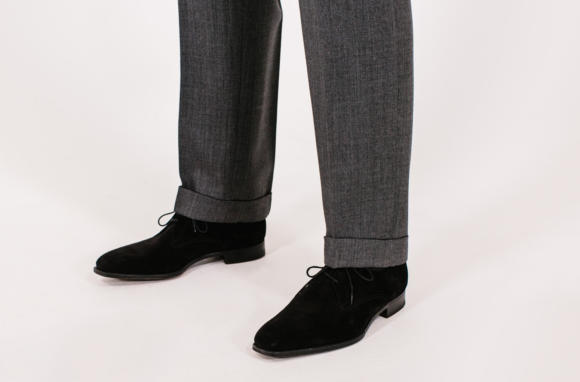 I have a weakness for black-suede shoes with grey suits. They suck up the light wonderfully, and are subtly unexpected.
These are from Edward Green, while the cream tie with a small green-and-brown geometric pattern is from Anderson & Sheppard. The tonal whole feels formal, yet dandyish at the edges.
By the way, readers have commented that these suits don't look as good as in the 'lifestyle' pictures they were originally reviewed with. (See Camps example here.)
To an extent, that's the point. In this series the suits are stripped bare and under harsh light, for precision and consistency.
Most lifestyle images (much more common on websites and of course on Instagram) never really expose or examine suits in the same way. (Particularly by pressing them just before wearing – and then standing just so.)
So if anything, these suits look better in person – and I'll continue to post those kind of images in other posts for greater context. Just not here.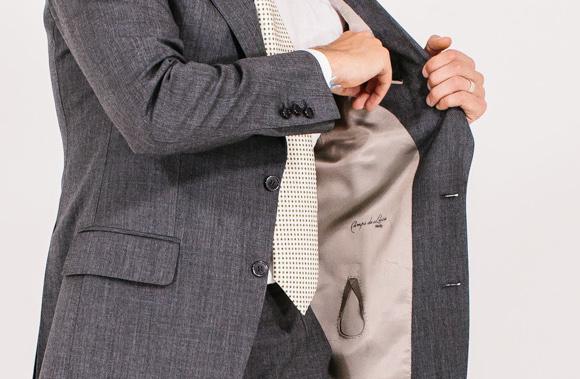 Style breakdown
Shoulder width:

5¾

inches
Shoulder padding: Moderate
Sleevehead: Strong roping
Sleeve: Slim, no taper to cuff
Lapel: 3

⅝

inches, fish-mouth style (closed notch)
Gorge height: 4 inches
Drape: None
Outbreast pocket height: 10

⅜

inches
Buttoning point: 18

¼

inches
Waist suppression: Moderate
Quarters: Quite closed
Length: 31 inches
Back seam: Quite straight
Vent height: 11 inches
Trouser circumference at knee: 20

¼

inches
Trouser circumference at cuff: 17 inches
Photography: Jamie Ferguson @jkf_man