Reader Profile: Andrew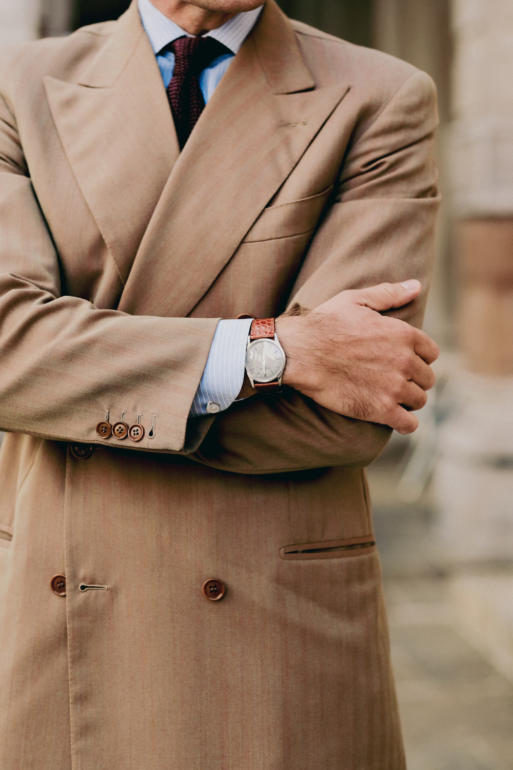 This is the third in our series of articles meeting, and questioning, Permanent Style readers.
The first profiled Manish, who enthused about Russian watches and recommended that readers should start building a wardrobe with good trousers. And the second featured David, an Australian whose advice was that readers should seek out tailors who also offer good style advice.
Today it's the turn of Andrew, an American who currently lives in Zurich, and buys at perhaps at a slightly higher level than the other two.
OUTFIT 1: FORMAL
Here I'm wearing a DB solaro suit by Ferdinando Caraceni, a striped poplin shirt from Siniscalchi, and a knitted silk tie from Charvet. The shoes and belt are from Stivaleria Savoia.
This outfit is indicative of how I like to dress this time of year for work. Solaro wears quite warm and I find it is the perfect fabric for spring and autumn, on sunny but not hot days. It's too heavy to wear in the summer above 25 degrees or so, as is a gabardine so and doesn't breathe well.
At first I was worried solaro would be hard to wear, but I actually find it very easy as it goes with a very wide range of colors. I actually have to stop myself from wearing this suit too often.
What job do you do?
I own a restructuring and turnaround advisory business based in Zurich. My clients are mainly SMEs and mid-sized investment firms based in Switzerland, Italy and France, and I travel regularly to Paris and Milan to visit clients.
I wear a suit and tie to the office almost every day. In these cities, light-coloured and more casual suits tend to be more common than in London, where I used to live, and are considered acceptable business attire. As a result I wear a lot more gabardine, cotton, linen and flannel suits and a lot fewer blue and grey worsteds than I did in London.
Has that changed with things becoming more casual too?
Yes, I've made some subtle changes to how I dress to continue wearing a suit, but in a more casual way. I love striped shirts of all kinds, for example, and often wear a striped shirt with a solid knitted (in spring/summer) or wool (in autumn/winter) tie and suede or slip-on shoes with a suit, to take down the level of formality.
I usually only wear a solid white or blue shirt, printed silk tie, pocket square and black oxfords for an important occasion, like a board of directors meeting. Otherwise, that combination feels a bit too much these days. But these things go in cycles and I'm sure I'll go back to solid shirts and the rest before long.
Who are your style icons?
My style icons are Sergio Loro Piana, Yves Saint Laurent, Carlo Caracciolo and John Stefanidis. These are all men who, in my opinion, dressed elegantly and had a certain nonchalant attitude that made them very chic.
For more current examples, I take inspiration from men I meet or see walking around on the street, mainly when I travel to Milan and Paris. They are usually older men who have nothing to prove, and as a result look perfectly comfortable and natural in their clothes. For example, my Russell Check jacket, loden overcoat, and yellowish cotton suit are all things that found their way into my wardrobe as a result of taking inspiration this way.
I don't really follow anybody on Instagram, mostly because I use social media very little.
OUTFIT 2: SEMI-FORMAL
In this outfit I'm wearing grey flannel trousers and a brown jacket by Ferdinando Caraceni, a button-down chambray shirt by Siniscalchi, and a dark-green merino cardigan. The suede oxfords and the belt are by Stivaleria Savoia.
The outfit shows the benefits of visiting a tailor in their workshop, rather than selecting cloth from sample bunches during a trunk show. The cloth for the jacket is a vintage hazelnut and black grain-of-rice pattern from the 1970s or 80s (maker unknown) that I found digging through F. Caraceni's archive of fabric.
The flannel trousers are also from an old roll of Fintex flannel that's at least 20 years old. I tend to prefer vintage flannels to modern ones, as they tend to be heavier and more compact. I find newer flannels can be a bit spongy.
How do you travel to work?
I normally walk to work, often dropping my son off at the creche and then continuing to the office.
In Zurich we have four distinct seasons: in spring and autumn it tends to rain a lot, summer can get quite hot, and winter is very cold. As a result, I have use for a lot of things that I wouldn't in a more temperate climate, like heavy outerwear to avoid getting too cold in the winter and linen and high twist suits in the summer to avoid overheating.
It also means that for the sake of practicality I tend to wear things that, according to the textbook, should not go together, like my suede EG Galway boots with a suit on a rainy day.
Does the amount of light, and sun, make a difference too?
Yes, moving to Switzerland from London in early 2020 and setting up my own business had a
big impact there. The places I spend my time now tend to be sunnier than London, which lend themselves to wearing more and warmer colours.
During the week I wear a lot of light-coloured, more casual suits (for example, in shades of beige, taupe, brown and green), which I never did in England. We try to spend as much time as possible in the mountains or in Italy at the weekend as well, and I tend to wear warm shades of brown, green, burgundy, and yellow when I am out of the city.
What do you spend least money on?
Trousers, summer sports jackets, and accessories.
Relative to the number of suits and jackets I have, I have few trousers. This is because I tend to use trousers as a neutral base to build an outfit around, a bit like Simon's concept of the Italian Background applied to trousers.
I find that you can go a long way with only a few pairs of trousers: one or two grey flannels, grey tropical or high twist, blue jeans, and then a pair of cotton trousers or chinos depending on your taste and how formally you dress.
With a basic wardrobe of 5-6 pairs of trousers I can mix and match a lot and cover almost any occasion where I don't wear a suit. My trouser wardrobe will probably grow slowly over time, but these will be more nice-to-haves than anything essential.
I don't spend much money on accessories like bags, scarves or gloves because I have a few of each that I really like and have used for a long time, and I don't have any need to replace them.
OUTFIT 3: CASUAL
In this outfit I'm wearing a russell-check jacket by Ferdinando Caraceni, Levi's Lot 1 jeans, and a Barolo-coloured (I made this name up, it's a dark red with more brown in it than Burgundy or Bordeaux, which tend to have a bit of purple) cashmere rollneck. The boots are suede Edward Green Galways.
I spend a lot of time in the mountains and countryside over the weekend, and this is how I like to dress when I am away from the city. The jacket is a 560g thornproof tweed from the Huddersfield Alsport bunch and is absolutely indestructible. I have no doubt it will outlive me.
The Galways are a masterpiece of design. I wear them like this over the weekend, as well as to the office with a flannel suit on a rainy or snowy day. The fit isn't quite as good as my bespoke
shoes, but it's good enough and these boots are otherwise so good that it makes no sense to try to improve them by asking a bespoke maker to copy them.
How long have you been reading Permanent Style?
I've been reading PS since almost the beginning, and I recall going back and reading through the archive of what was written before I started.
What I like most about PS is that it has evolved over time as my knowledge has grown and I have built my wardrobe. Simon and I are almost the same age, and we were in very similar stages of our lives when he started PS and I started reading it.
Early on, I really liked the reviews of tailors and other makers, as I was trying to find which styles worked for me and why and to find a tailor that fit that. Now that I have found that tailor and am no longer shopping around, I am much more interested in the thought pieces and interviews.
I still read the reviews and technical pieces, though I tend to skim through them as I am not in the market for a new tailor and have never really been interested in the technical side of tailoring. I view that as my tailor's job, not mine.
I like PS because Simon is genuinely curious about all kinds of tailoring, and that shows through in the breadth and depth of the articles. The articles are well written, thoughtful and cover a broad enough range of topics that they don't become repetitive.
I also find it remarkable that, unlike any other website or social media feed, PS has managed to keep the level of discourse in the comments section extremely civil, which is a reflection of Simon's personality.
What's your best piece advice for readers?
My tip for readers is based on great advice I got from my dear friend Gianluca Migliarotti, which is that tailors are made by their long-term clients.
It is very hard to understand the style of any tailor without understanding the tastes, preferences and lifestyle of their clients. Those clients are the ones that keep tailors in business, and tailors become good at making what they order.
Based on my experience, you are most likely to be satisfied with the work of a tailor with clients whose lifestyle and taste most closely match yours, as they will be more likely to make you a garment that matches your own vision of how you want to look.
Everybody has that vision and it is worth thinking hard about it before spending a lot of money on clothes - bespoke or otherwise. That vision will be refined over the years as you develop your sensibility, but investing a bit of time and energy up front can help to avoid costly mistakes.
Photography: Mohan Singh @mohansinghphotography