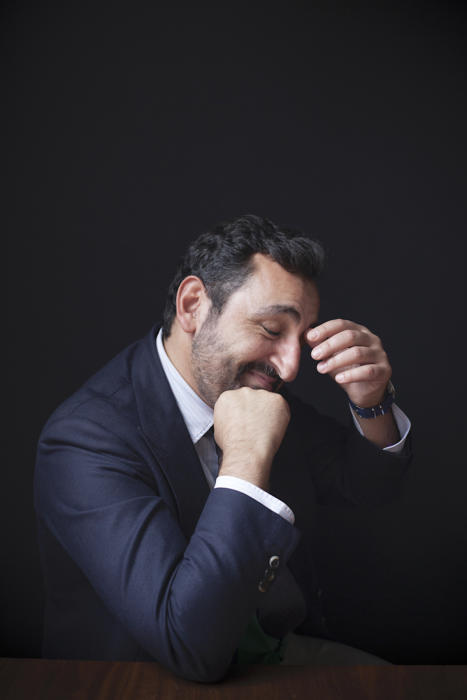 Scrolling through the swathes of social media, I recently came across the image below of friend Gianluca Migliarotti – the filmmaker and co-founder of Pommella and PML.
For me, it encapsulated everything I love about Gianluca's style. He is smart but silly. He is always well-dressed – valuing taste and beauty in everything around him – yet never seems to take himself seriously.
He also wears strong colour. Not always in ways I would, but usually in ways that get me thinking about whether I could and should. He recently made me a pair of muted mint-green corduroy trousers, for example, which I love but would never have picked if he hadn't recommended them.
So, spurred by that image, I dug out a few of my favourite outfits of his, and we had a chat about them for this latest article in our 'How to dress like' series.
Unlike many people we've covered, Gianluca does not use social media much, and so there are relatively few shots of him around. All the more worthwhile, then, to publish a few and discuss them.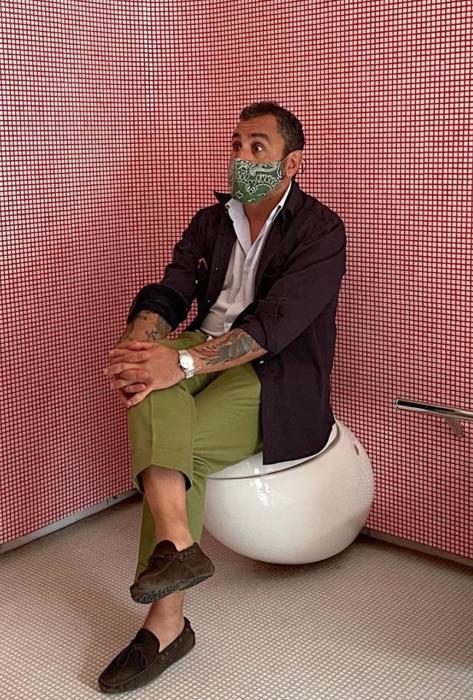 Outfit 1: Green trousers
Permanent Style: "OK, let's skip past the question of why you're taking a selfie on a toilet. What are you wearing? Is that a dark-purple overshirt? Or dark brown?"
"Ha! Not it's dark navy actually, but now you mention it dark brown or aubergine might have looked good with those colours.
The trousers are cotton from Brisbane Moss, the Shakespeare bunch, and the colour is fantastic. Every time I wear them, a client ends up ordering the same thing. It's impossible to get a sense of it from a little swatch, but it's really nice – actually quite muted and subtle.
You wear a lot of green, particularly trousers. Why do you like it so much?
I love green. I have a couple of suits in green, a sports coat, a few trousers. I love it, even when it's not as bright as here. It's nicer in Winter when it's darker and more muted too. Plus of course we do the Palazzi flannel with Fox, which is that kind of green.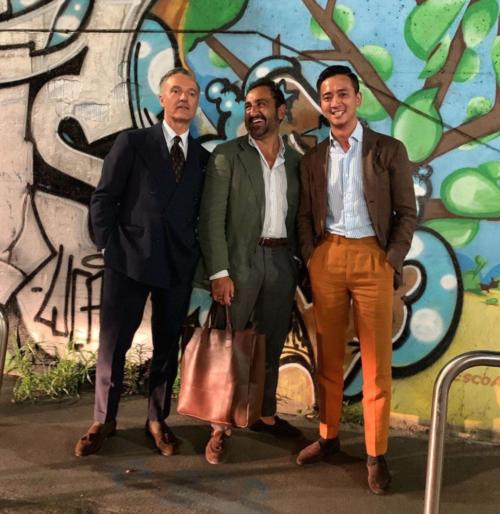 It makes me happy. It's a happy colour. It's not as obvious as navy, pale blue or anything like that, and it's more fun.
The other thing is green has so many different shades, that you can find any variation you want. And when it's muted, you can use it as often as grey trousers. You could wear those trousers in the picture with a navy jacket for instance – simple – or with shades of brown. I mean you know better than me how to do these combinations, but it's so easy.
I feel like you usually look smart, but never look corporate, business-y. So green rather than grey is a good way to do that.
Exactly. My father is a lawyer, but I'm not. I'm a filmmaker, I do this thing with Pommella, so I want to be different.
When my father started me with tailoring, he wanted me to have a blue suit, a grey suit, then a chalk stripe. But I feel awkward in that. I love it on other people, it's beautiful, but it's not me. I need something more creative. It's good to know the difference.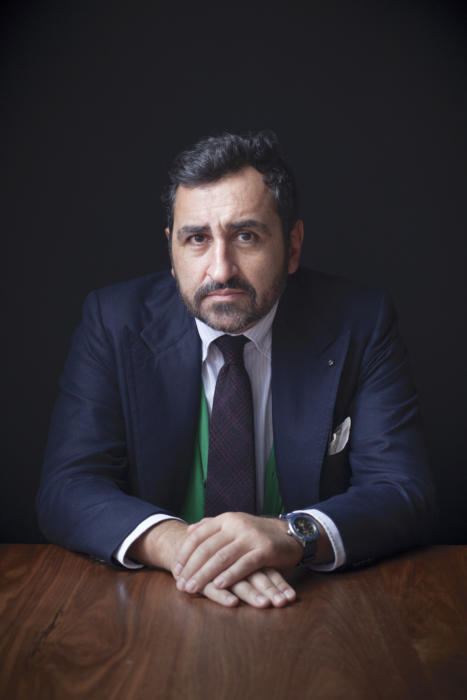 Outfit 2: Cardigan punch
Let's talk about this second shot, which Rose took of you. You're wearing green there as a brighter pop of colour, but you also wear cardigans in that manner a lot.
Yeah, the cardigan is another story. It's something I grew up with – it was very Neapolitan back in the days. Winters weren't that cold, so my father and my uncles wouldn't wear an overcoat, but they'd have a heavier jacket, and then a cardigan like this underneath, without the sleeves.
I got a lot of inspiration on the colours from one uncle who was a little colourblind . He'd wear all these combinations without realising it, and some of them were great. He'd say, 'what are you talking about, what colour is this?' and I'd say 'burgundy' and he'd say 'what? I thought it was blue'.
This was a common look in Naples: even lawyers wouldn't wear a suit a lot of the time. It would be grey trousers with a beautiful jacket: a casual, countryside kind of look. Brown shoes and so on. So a cardigan went well with all of that, it was comfortable and you could play with it if you wanted too.
But I think it's important to keep things smooth generally, and then just have the punch with one piece. Otherwise you're a joker.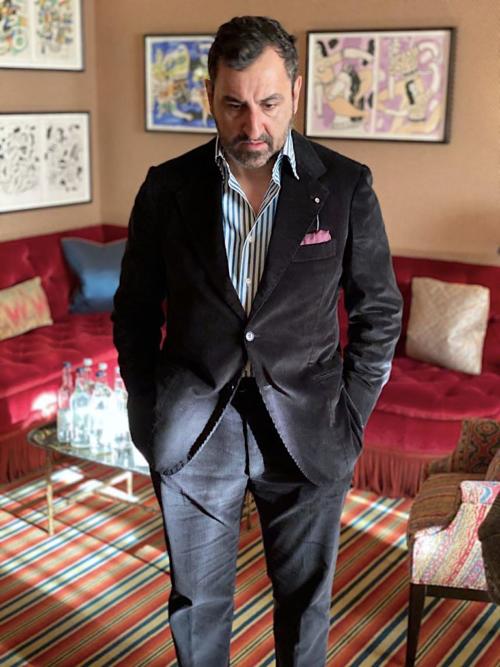 Outfit 3: Black cord
You wear a lot of striped shirts as well man – do you find it's a nice way to be able to wear colour, given you rarely wear a tie?
Yeah, I like that the shirt in the next picture, with the black corduroy, can stand on its own.
The suit is the frame, and then you have this interest there coming out. The suit is a dark block – solid – and then there's something playful.
I always like to wear something that has some light, some colour, which lifts things. But just one thing – and stripes can do that well. If you mix in too many colours and patterns then it's a mess.
The only tie I'd probably wear with that suit is a dark grenadine, like a black. But in Naples there is this very strong association between black ties and funerals. Maybe because people wear colour more, generally.
I don't believe in this – it's bullshit, I love a black tie – but whenever I'd wear one, I'd hear my mother's voice in my head, asking whether I was going to a funeral.
Given how much you like colour, was black a rather unusual choice for a suit?
It is quite unusual for me, yes. The inspiration came from Jim Parker at The Armoury, who showed up once at Pitti in a black linen. And I really admired that.
So I started digging in my memories, and I remembered some old British spy film where the guy wears a black-cord suit. But he would wear it with a turtleneck, which is too sleek, too playboy for me.
I love that cool look, Sean Connery in lots of films, but I need to do it with a sense of irony.
How do you do that? Show that irony, or self-awareness?
I think it's mostly about personality. I wouldn't wear a turtleneck with that suit because I would feel I was trying too hard – like I was trying to tell everyone I was the cool guy. You have to recognise what looks good in theory and what actually looks good on you.
This is the biggest difference between what I do and what I see a lot at Pitti, I think. I see a lot of people taking themselves so seriously. They think they can be the Godfather and they can't. They're trying so so hard.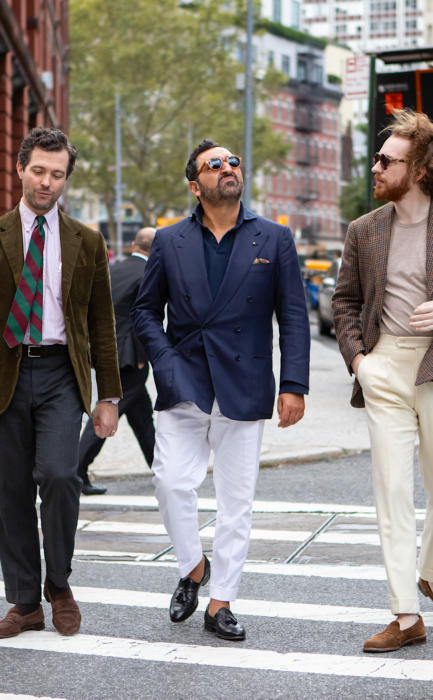 Outfit 4: Tone on tone
And I think you'd say an example of that is wearing a shirt collar over the top of the jacket, Montezemolo style, right? Which leads us onto the next outfit.
Exactly. I do it with a polo, maybe. But if you wear a shirt collar over the top of a jacket, you have to be 'the guy'. You have to be Montezemolo [below], or Giovanni Gastel, the photographer that just died. You have to be the head of the whole outfit. Otherwise you're just pretending.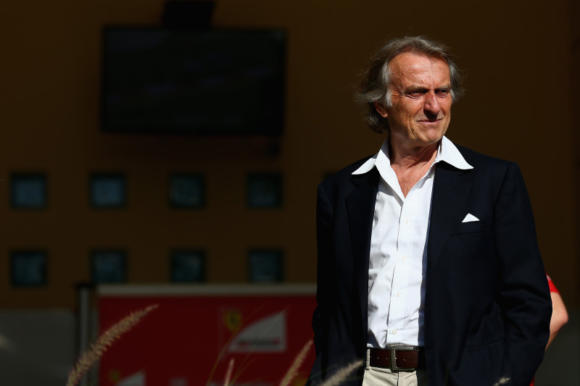 Alan See is a master of that, and Ethan is too. They can do it. But you see guys at Pitti from a mile away and you know they can't.
We all need to understand our space, that area where we can look good and play in. Recognise your personality, the kind of person you are. You're not a playboy or a designer.
There's a reason you and I can't wear a big cowboy hat and boots, and it's nothing to do with our physique or facial shape. It's just not our personalities. Even if you could manage to take a photo that looked good, as soon as you actually spoke to someone it would be obvious.
Exactly.
So, when and why would you wear a collar over the top of a jacket, as you're doing in those images with Dick [Carroll] and Jim?
It was partly the polo. It has this high collar but kind of out of shape, and it wouldn't sit right under a jacket. So I tried it over the top, and I think it looks OK. Because it's soft, it's smaller than a shirt collar, and of course it's tonal – blue on blue.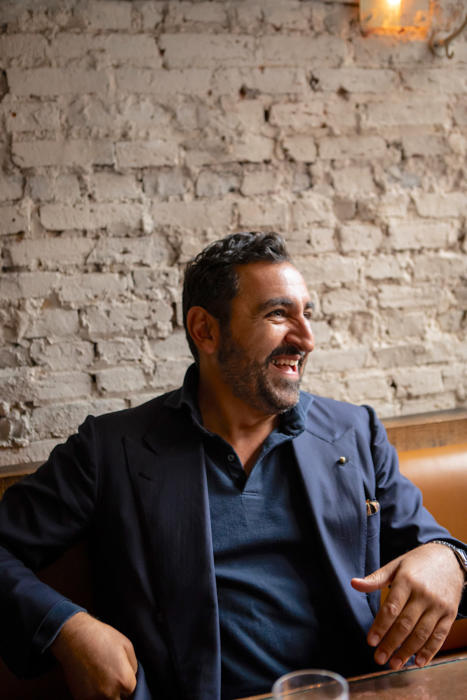 The black shoes are quite stark against the trousers. I think a lot of readers would instinctively go for brown there, probably brown suede. Why did you prefer black?
I think the black with this kind of outfit is more appropriate, honestly. Brown would be a little too light, given how dark the jacket and polo are.
You almost want the shoes to be like the jacket, but blue shoes never look good. So black is the closest thing. Unless the brown was very very dark.
I also think black feels very appreciated in New York, where this was. You see more black shoes in New York than anywhere else, except perhaps London. It's about being a city, being business, but also about what other people are wearing. Because in Milan, no one wears black shoes.
There was this look, when I was in my twenties in Milan, of wearing black lace-ups, with blue jeans and a tuxedo jacket. It was the cool thing for going to clubs. But I think that's about it on the black shoes!
Outfit 5: Double denim
OK, so the last look. Of you counting bills in a corner like some kind of dealer. I like the fact you're wearing double denim here – shirt and jeans – but keeping them apart with the cardigan.
Yeah, I think that helps it not become too much. Everyone likes that look of the denim shirt and jeans, usually inspired by Agnelli, wearing it with a beautiful tweed jacket on top. But as I said before, I don't want to look like I'm trying too hard. So I put my personal thing in there, which is the cardigan.
Agnelli would wear a crewneck instead, but a crewneck always feels too neat and conservative for me. Maybe it's my body, but it's also too clean-cut for me, too much of a 'good guy' thing.
And we all know you're not a good guy… Jokes. You usually button the cardigan low, just one or two buttons. Do you like how relaxed that looks?
Yeah I learned that, particularly from seeing Francesco Marino, the tiemaker [below, right]. He's the master.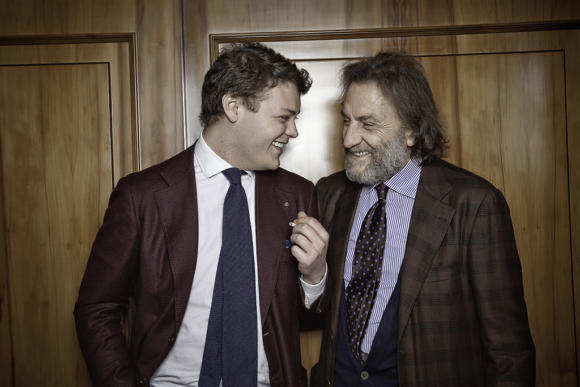 I used to close three buttons out of five, so the top and the bottom ones were undone.
Which is what I do.
Exactly, more classic, but still not stuffy. But then I saw Francesco, and I loved how he wore it – particularly with a tie. You see more of the tie that way, it's longer and the look has more personality. Now, wearing it done all the way up feels too much like a vest for me.
You don't need it that much for warmth either. It's not going to cover the chest in any case, so it's really the back mostly that's keeping you warm.
Where are the clothes all from?
My jackets are always from Zizolfi, the only difference recently being that I have no padding in the shoulders. Mostly because I feel my shoulders are getting bigger.
The jacket here is a super-heavy Fox cloth, limited edition, which I love in Winter. Honestly, you wear that and you never want to wear anything over the top. I wear it whenever I can.
The trousers are Pommella of course, and the shirts are usually from Andrea Canevelli, my shirtmaker in Milan. Generally I prefer shirts made in Milan rather than Naples. They're cleaner, none of the details or frills. Quality's there, but nothing showy.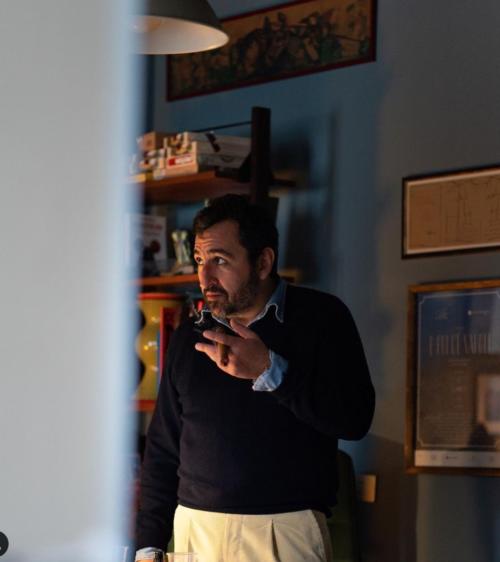 Any closing thoughts?
Maybe just that point about trying too hard, and being a little too jet-set. A lot of the magazines these days, even ones that used to be good (no names) are all about cars and yachts and cigars.
Honestly, I've been smoking cigars since I was 20 and it's a normal thing. But some people just seem to need to show off about it. And that's the worst thing – when you feel you have to show off.
Because it all seems a little shallow?
Exactly, like you're trying to prove something to everyone all the time. Why do that, just be yourself.
And why pretend to be this bullshit luxury jet-set thing anyway? Where's the culture, the taste? It's all so focused on appearances. I love beauty, I'm obsessed with beauty, and that's where a lot of my ideas of taste come from.
But the problem with a lot of these cars and cigars guys is that there is no beauty. It all looks cheap and insecure. It's the definition of nouveau riche.
Thanks man. Couldn't agree more.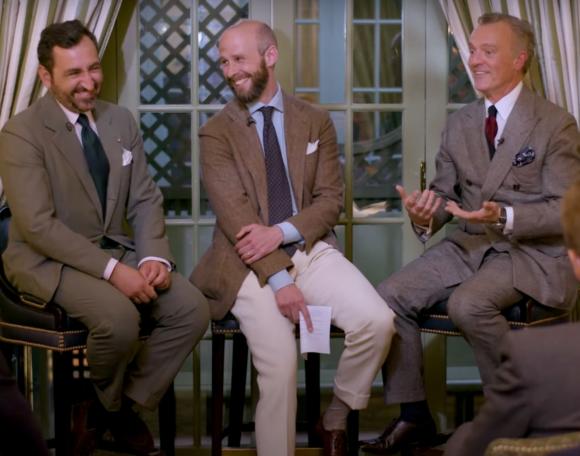 You can see Gianluca talking about his work, background and style in the video we made here, also featuring Douglas Courdeaux.
Pommella makes bespoke trousers, ready to wear, and the offshoot PML makes many other things including shorts and shirts.
Gianluca's film work in menswear includes the wonderful O'Mast, about Neapolitan tailoring, and I Colori di Antonio, about Antonio Liverano in Florence.