Ciro Zizolfi bespoke tweed jacket: Review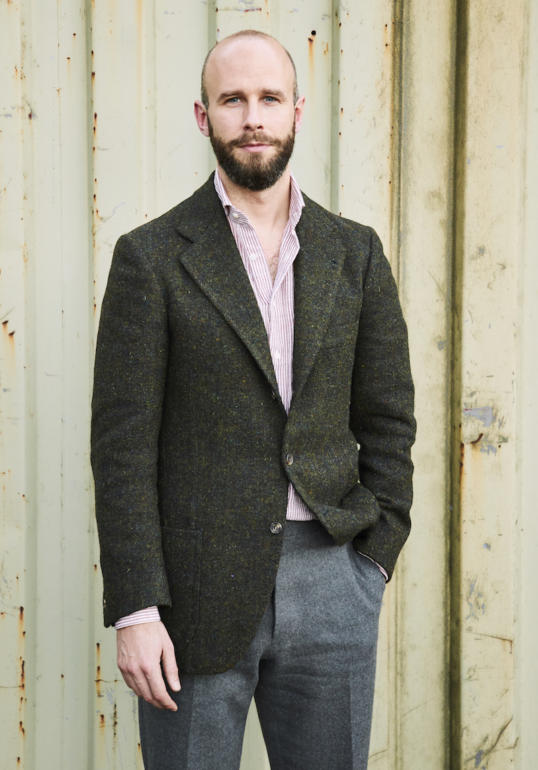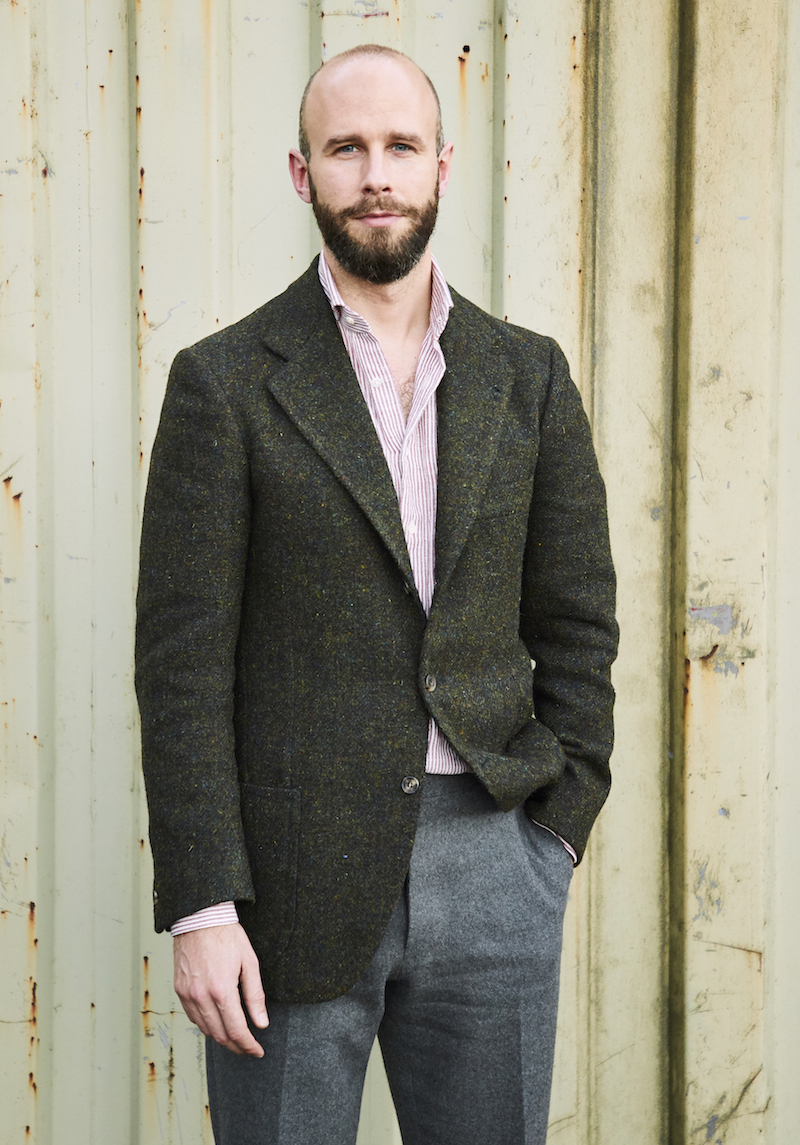 Now and again, a bespoke commission is almost seamless.
At every fitting, you like the look of the jacket and almost nothing seems to be needed on the fit.
Just as importantly, the tailor delivers what they say they will: the jacket is always ready for the next stage; the details you discussed last time have all been done.
This was my experience with Ciro Zizolfi, the small Neapolitan tailor long used by filmmaker Gianluca Migliarotti.
Gianluca is keen to give Ciro (below) some wider exposure, and on this evidence he deserves it. He also travels with his son, Andrea, so there's a clear future there.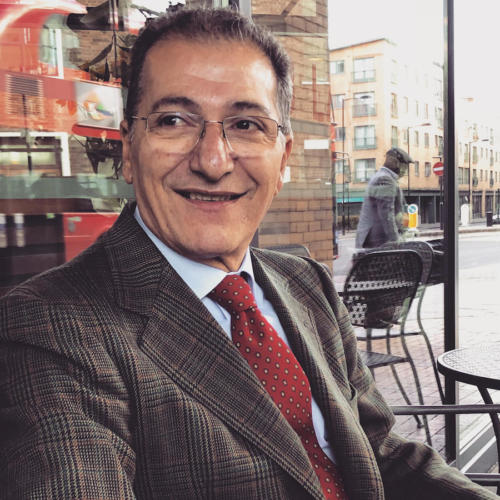 The jacket I picked was classic Neapolitan: three-roll-two buttons on the front, patch hip pockets, welted chest pocket.
However, Ciro's style is definitely traditional Neapolitan - so roomy, no wrinkling at the top of the sleeve, and certainly not tight or short like some of the younger or newer cutters.
The shoulders aren't extended, but they're certainly not small either. There's a little drape in the chest, some room in the back, and a length similar to many English tailors (finishing on the second joint of my thumb).
This is more the traditional style created by Vincenzo Attolini in Naples, and passed down to his son Claudio Attolini and Ciro Palermo - both of whom trained Ciro.
By comparison with others tailors covered previously, it's more similar to Ciardi than to Solito or Ettore de Cesare, for example.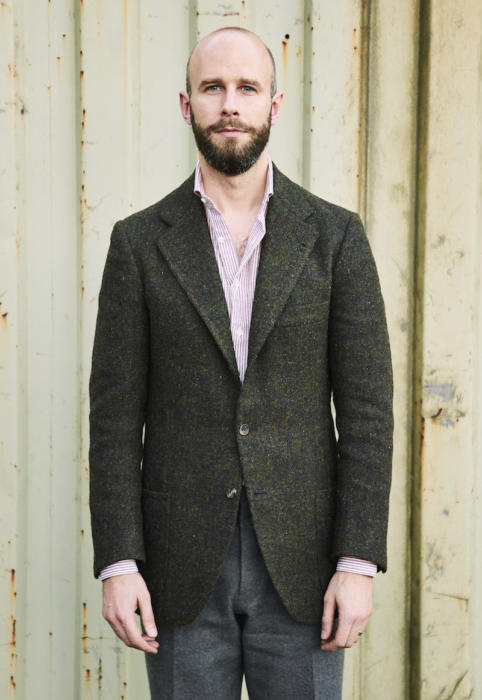 It's still distinctly Neapolitan, with a lightweight construction, generous rolling lapel and open quarters (the opening below the waist button).
Things like the touch of roll in the sleevehead do make it a little smarter than other Neapolitans, though, and it's borderline as to whether it works with very casual trousers, such as jeans.
I think it does - just - but it would be a better partner to denim if it were a touch shorter, and a little more natural in the shoulders.
I've found the same with Ciardi and with Panico - where Caliendo and Solito, for example, are more casual.
I might experiment with reducing that roll and shortening the jacket slightly, in any future commission.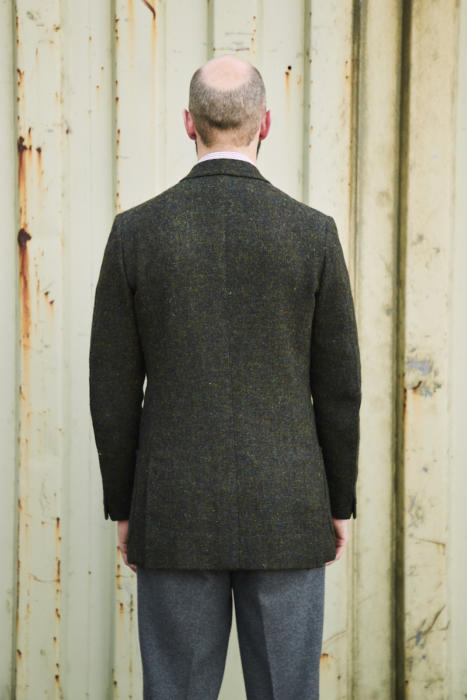 The back of the jacket is very clean, as you can see, though this is definitely helped by the heavy cloth and slightly looser fit. (So much easier to get a clean look with a little looseness - as with my Steven Hitchcock donegal).
The only small fit issue is just below my left shoulder (always a problem area) where the tweed is collapsing slightly and could be lifted. But in other photos this looks perfectly smooth.
A small style point I might change is the position of the hip pockets, which Ciro has placed rather close to the bottom edge. It's a matter of half a centimetre, but I'd still move it.
And the breast pocket is rather low - 11 inches from the shoulder seam rather than the more standard 10. That too I would raise.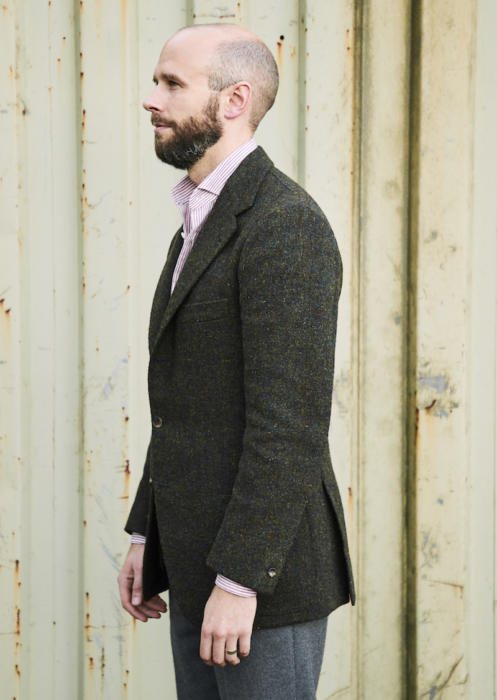 The quality of the finishing is among the best from Naples, with top stitching around all the external seams (though not really visible on the cloth).
That cloth is a 15/16oz tweed from Holland & Sherry (892017) - in the same Harris Tweed bunch as my brown-tweed Caliendo.
That's heavy enough to be outerwear most of the time, but very effective outerwear, given Harris Tweed's wind and water-resistance.
I'd wanted a green-tweed jacket for a long time, and considered this one several times.
I thought the various primary colours in the yarn would be too bright, however. They didn't instinctively appeal in the same way the ones in the Caliendo tweed did.
Turns out I was wrong. It works brilliantly made up, and if anything is more useful than the brown tweed, as it's darker.
Hopefully this is a helpful thing I can do for readers: not just write about mistakes, but highlight surprising successes as well.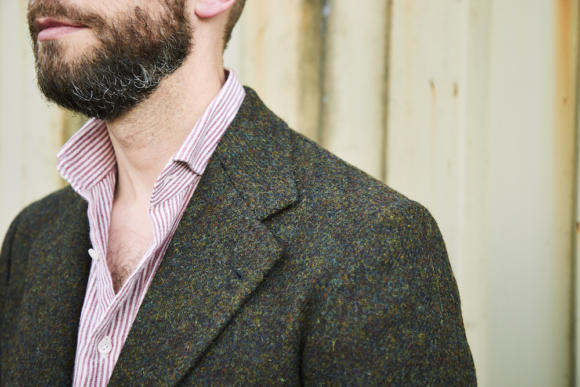 The shirt pictured is my second from 100 Hands. The fit is perfect now, though I've found this material a little hard to wear.
Its colour is great, a red and white stripe that makes a nice compliment to green. (Always worth considering opposing colours on the colour wheel.)
But the fabric is hand-woven (on a manual loom). This makes it very light and breathable, plus it looks nice and casual - more like linen. But as it uses a rather coarse cotton, it makes it slightly scratchy against the skin.
Hand looms can't use the finest of cottons, but they can be finer than this. So I might try that from 100 Hands next time.
Ciro is currently travelling to London only, and of course can be seen in Naples at Via San Pasquale, 4.
I should say that another advantage he has (as does Pommella for trousers) is having Gianluca there to meet clients. Not only does that mean fluent English, but Gianluca has taste - something I think it's fair to say is often lacking among tailors.
My jacket was €2500; suits start at €3300. Contact is [email protected], by phone on +39 081411749 or +39 3383758872, or through Gianluca.
www.sartoriacirozizolfi.com
Elsewhere I'm wearing trousers in grey Pardessus cloth from Holland & Sherry, made by Whitcomb & Shaftesbury, and my vintage folio case from Bentley's.
Photography: James Holborow, except Ciro portrait. Photography in situ shown during a visit to the Joshua Ellis mill. Full article coming soon.