The quality of 100 Hands shirts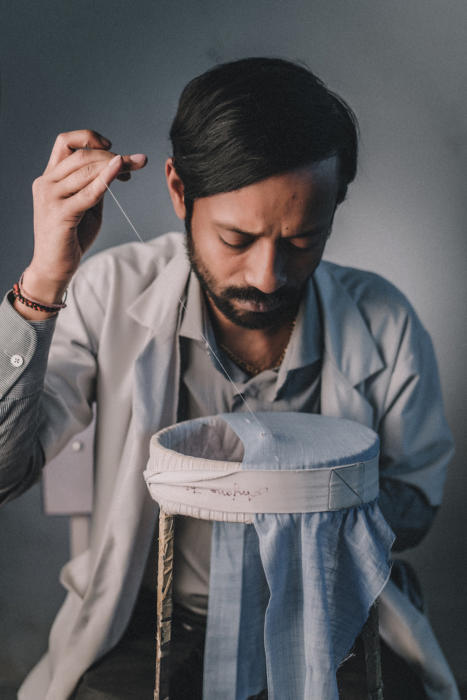 Back in April I wrote my first post on shirtmaker 100 Hands, having visited their factory in Amritsar, India.
I argued that the important point to address first was that making in India involves no necessary compromise on labour conditions, skill or quality. That although issues exist in parts of India, generalising about such a huge country is always misleading.
I only mentioned the actual quality in passing, however. Here I'll run through and illustrate the work that goes into them, in order to flesh out that point - again, drawing on first-hand experience of my visit.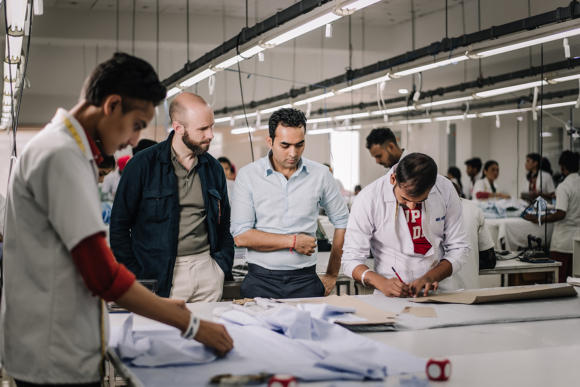 India has a strong tradition of fine embroidery. Much of the world's embroidery is outsourced here, and many families have heirloom pieces that are examples of the work.
Akshat at 100 Hands (centre, above) showed us one kashmiri piece of his mother's that took one person almost two years to embroider - and a piece of 'phulkari' (a type of cross-stitch) that women in Amritsar specialise in.
"Most of the workers here have some experience of embroidery or hand stitching, learnt from their family," says Akshat. "The challenge is to get them to do it more consistently and more efficiently."
That's where Akshat's background comes in helpful. A software engineer previously, he has created several systems for managing production, including an online tracking system that allows him to see where a shirt is at any time.
"Given we live in the Netherlands now, I'd also like to think the factory is managed more along northern European lines," he says. "Efficiency is the name of the game."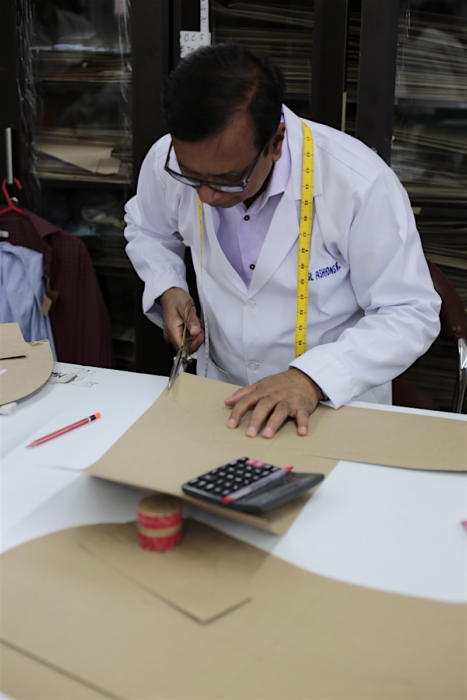 The head of pattern cutting (above) has been fitting shirts for 45 years, and works with a team of four, two of whom are trainees (there is an unusually large number of trainees around the factory - a good sign for the future).
Next to him are two tables of cutters, nine people in total. One of Akshat's early changes was to make sure all shirts flow in a single direction, stage by stage, rather than going to whomever was free at the time.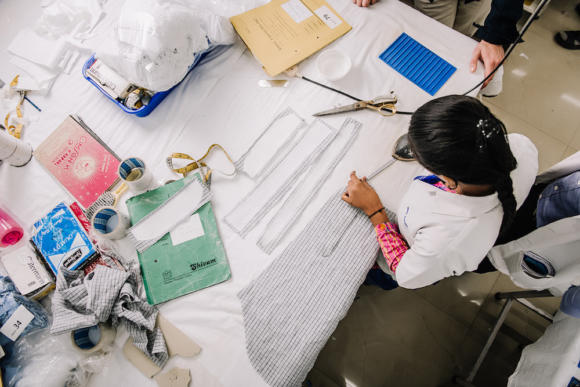 The next stage is cutting the fusing, to go in the collars, cuffs and plackets (above). 100 Hands do offer floating linings as well, but only a handful of English customers ask for it.
These fusing pieces are all cut individually alongside the cloth - nothing is cut in multiples. And they are all attached to the cloth with hand ironing (below), rather than pressing in a machine.
"You're much more likely to get a collar fraying when the fusing has been pressed by machine," says Akhsat. "It's one reason fused collars have a bad reputation with some people."
(I agree, as someone who wears pretty much only fused collars. Preferences for floating linings are often based on experiences of very cheap high-street shirts.)
Cutting the fusing by hand alongside the fabric also cuts down on problems later on. The pieces are much easier to stitch to the body of the shirt, reducing wastage.
"I get a little obsessed with these wastage statistics," admits Akshat. "There are a lot of spreadsheets! We aim for 0.5% rejected shirts, where other factories would look to 1% or 2%."
Another element that helps there is re-ironing. "We iron after every stage of production. It takes a lot of time, but it's amazing how much easier and more consistent it makes the work," says Akshat, reminding me of a very similar conversation with Ring Jacket in Japan.
He offers to show me the difference in numbers. I suggest we move on to the sewing.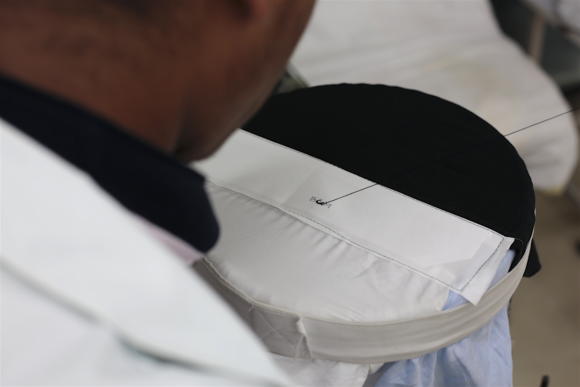 There aren't many sewing steps that it's useful to do by hand, but the armhole is certainly one.
It enables the sewer to gather more fullness of the sleeve into the armhole - and anyone familiar with bespoke tailoring will know how a small armhole and large sleeve means freedom of movement.
This doesn't mean that the sleeve is only attached by hand, however - it would be too weak. Rather, it is attached first by hand, gathering up that fullness, and then sewn over the top by machine to add strength.
It should be added that 100 Hands don't sew the whole armhole by hand, even the first time, just part of it. "We find that's all that's needed to gather the fabric in," says Akshat.
He also argues that too much attention is often paid to hand sewing: "We find hand cutting and pressing makes more of a difference to quality, to be honest. The problem is, you can't see that so obviously, so people focus on hand stitching."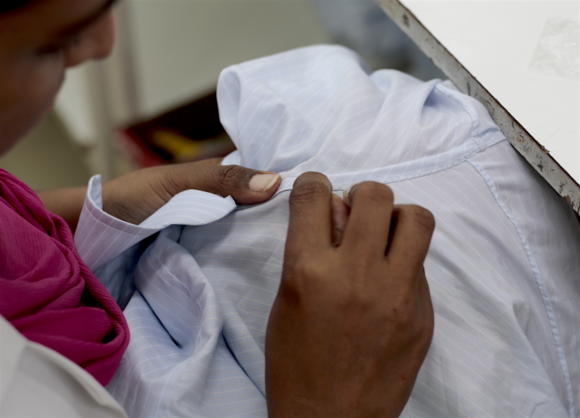 That stitching is lovely, though.
This is where the embroidery heritage comes into its own, with the women (it's mostly women; machine stitching is largely men) using a thinner needle than normal - the size they'd use for traditional embroidery work.
As a result, the buttonholes have over 100 stitches per inches, where others would have 40 or 60. And each one takes 35-40 minutes to do.
"It's a luxury to be able to take this time over each buttonhole," says Akshat. "If we were doing this work in Europe, we'd probably have to charge twice as much per shirt, given the time it takes."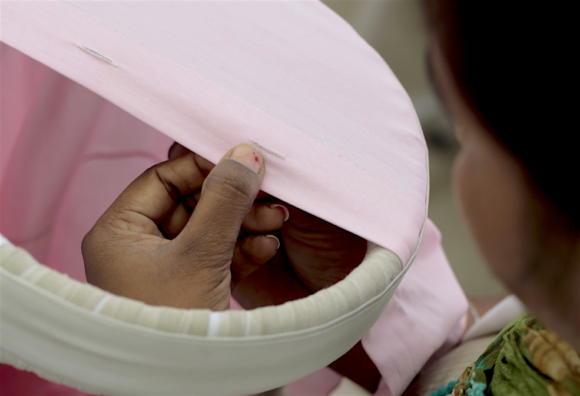 Of course, hand sewing the buttonholes and buttons is largely aesthetic, rather than functional, and this is particularly true of hand-stitching the side seams and bottom edge.
I've covered a few companies over the years that hand-sew that bottom edge - rolling it like a handkerchief - including Kiton, Luxire and D'Avino. I've also seen examples from others.
But 100 Hands seems the finest. Below, you can see their work (top) compared to D'Avino (middle) and Luxire (bottom).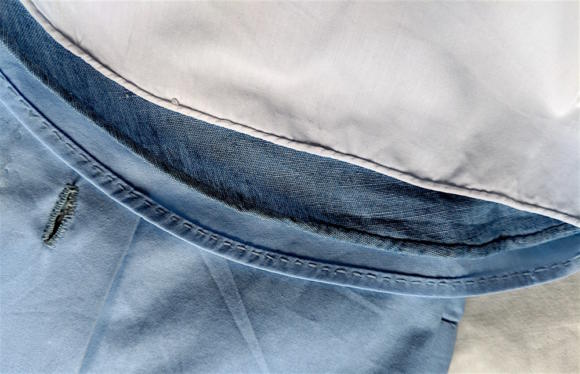 Other areas of fine work include the actual embroidery for monograms and crests, which is beautiful, as you'd expect.
And the use of traditional techniques on fancier shirts.
Below, for example, a craftsman is hand-embroidering the whole front of a tuxedo shirt, with tiny crosses that intertwine.
This uses a different embroidery technique, with a long hooked needle. The hook enables the sewer to pull the thread back through the fabric, where normally they would have to pull it through by hand underneath, and then insert it upwards again.
These two panels, which will take 2-3 days to complete, are for a dress shirt for a certain well-known bespoke cutter.
100 Hands offers different product lines, which it's important to outline.
There are two for quality, Black Line and Gold Line, and then different levels of fit.
The Black Line has all the steps outlined above except the hand sewing of the side seam and bottom edge. So: individual hand-cut fabrics, hand-matched patterns and individual hand-fused collar and cuffs, as well as semi-hand-sewn armholes, hand-sewn collars (inside and out), and hand-sewn front placket and gussets.
The Gold Line adds a lot more hand-sewing: of the bottom hem, the side seams, the sleeve plackets and the embroidered buttonholes. Making a Gold Line shirt takes around 35 hours.
There are then three types of fit: ready-made, made-to-measure and bespoke. The made-to-measure is sometimes referred to as semi-bespoke as it still involves an individual pattern. It is what the various stores and stockists offer; bespoke is something Akshat himself is starting to offer through trunk shows.
Prices vary between retailers, but are roughly £239 for Black Line RTW, £259 for Black Line made to measure, £319 for Gold Line RTW and £ £329 for Gold Line made to measure.
Stockists include Pauw Mannen in Amsterdam, Lund & Lund and Linnegatan 2 in Sweden, Mercken in Belgium, The Rake online, and Isetan, United Arrows and Barneys in Japan.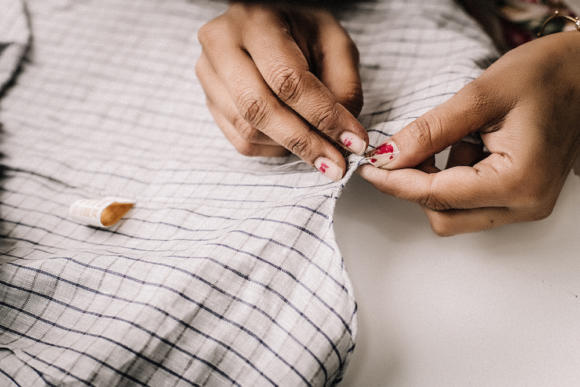 The prices are high for RTW or made-to-measure shirts, but as I've outlined, every Line involves a huge amount of work.
Bespoke is an interesting area, as it's something Akshat is learning to do himself. I recently had a bespoke shirt made by him (fitting below, in India) and will cover that separately too at a later date.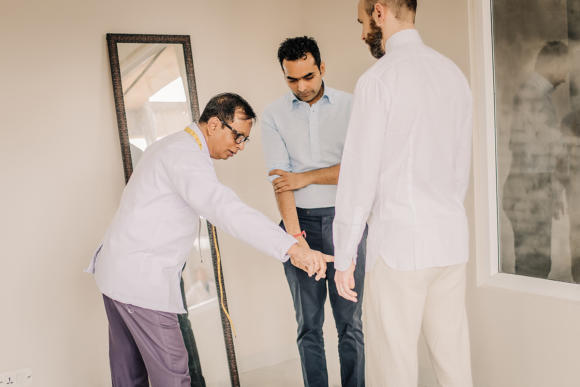 Thanks again to Akshat, Varvara and everyone else for your hospitality when we visited.
The children have been talking about the coconuts and swivel chairs ever since.
Simon