Ring Jacket, Japan – Factory visit
Given Japan's reputation for quality and craft - particularly in denim and bespoke menswear - it would be natural to assume its suit manufacturing was of the same level.
But until recently, most factories in Japan produced at a fairly low quality, and in very traditional, square styles.
The first to change was Ring Jacket, whom we visited at their factory when we were in Japan.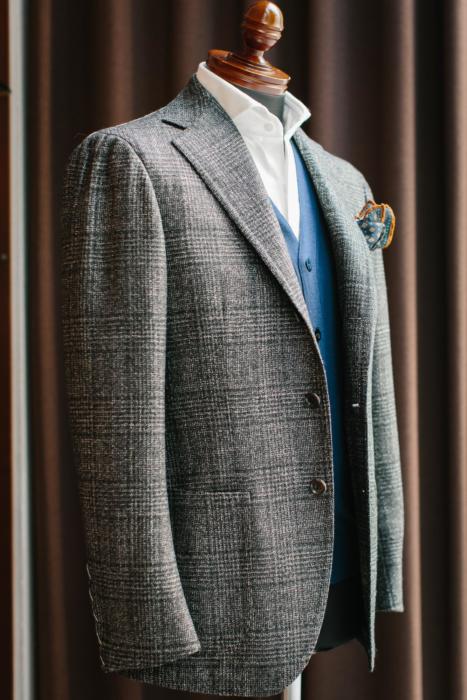 It's interesting how many different menswear trends Ring Jacket has embodied over the past decade.
The shift to softer tailoring; the raising of quality levels and craft; the use of Italian cuts (particularly in its Armoury styles); and the move from being a pure manufacturer to a brand.
Ring Jacket was founded in 1954 and for a long time specialised in making Ivy-style clothing, with many designers and stores such as Beams and Barneys clients in recent decades. It then started working on its own brand just over 10 years ago.
It now has several stores in Japan (Osaka shown above and below), 17 stockists across the US, and is in Fenwick's and Richard Gelding in London.
The change in making style was led by factory manager Murakami-san (below).
Murakami worked in Italy at a few different factories (including Kiton and Attolini) and assiduously absorbed their techniques.
It reminds me of the point about Japanese apprentices we made in our Sasuke swordmaking article. Their traditional role is to watch and observe - to learn that way rather than to ask questions, or to be specifically taught.
Murakami says that served him well in Italy, where he watched carefully but was never in the way.
Japanese bespoke tailors also sometimes say this is key to them be able to learn in Italy despite not speaking the language.
(Although Aki, pictured below, our guide and an employee of the Osaka store, also pointed out that this has a common disadvantage - that the Japanese can have a tendency to copy rather than create.)
The new Ring Jacket style Murakami pioneered had softer pads and canvas, and was generally geared towards comfort.
"For example, a Japanese suit traditionally had 1cm of extra cloth on either side of the back," says Murakami. "We increased that to 2cm, so 4cm in total. It's quite a big difference."
He also increased the size of the sleeveheads and reduced the armholes (shown above), creating more of that freedom of movement bespoke customers are familiar with.
And for Japanese customers, more of that fullness was kept at the front of the armhole, as the Japanese have a tendency to forward-leaning shoulders.
In terms of quality, the factory began offering a line with a greater level of handwork, such as sewing the gorge line between the lapel and collar by hand, and attaching the collar itself by hand.
I found it particularly interesting looking at all the stages involved in pressing a jacket. Seeing the difference between a jacket before pressing and after was striking.
Although I haven't covered this aspect of suit manufacture at other factories I've visited - and so can't make a comparison - Ring Jacket clearly put a lot of emphasis on these finishing stages.
Murakami has slowly been training new people in the factory - not necessarily by hiring staff, but by moving people around.
So when a worker has mastered one area of the new system, he will often move them to something else, and begin training another person on that first area. That way the techniques slowly permeate through the team.
"I find we have a lot of young men from around Japan who want to come and learn now," he says. "Guys in their 20s - and a lot more than women."
Bespoke customers will be aware of this from the various bespoke tailors, such as Kotaro Miyahira at Sartoria Corcos in Florence, who worked in the factory at one stage.
Hopefully this influx of young people will mean a bright future for the area.
The Osaka region traditionally had lots of clothing factories (though not exactly where Ring Jacket is, in Kaizuka). But most of these have closed in the past 20 years.
Tanimachi was the clothing heartland. "I used to work there and there was a real pride in our reputation," says Murakami. "Ring Jacket was actually helped by the fact that it was in a different area to everyone else."
His hope, of course, is that Ring Jacket's growth can help bring back fashion manufacturing to the whole region.
Photography: Jamie Ferguson @jkf_man
The Armoury's range of Ring Jacket here
Full list of Ring Jacket stockists here