A very modern cut: Kotaro Miyahira of Sartoria Corcos, Florence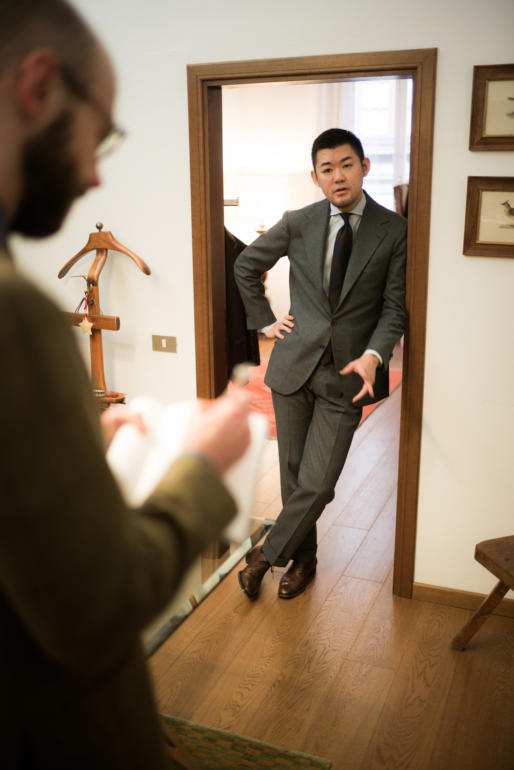 One young tailor I've been meaning to cover for a while is Kotaro Miyahira of Sartoria Corcos, in Florence.
Kotaro is not taking on new clients at the moment, having just had his first child and not wanting to expand the workload of him and his wife. But several friends have had pieces made by him, which display an interesting and decidedly modern combination of styles.
Kotaro started in tailoring in Osaka, Japan, where he worked in the Ring Jacket factory. He was there for four years, and also trained a little with a local bespoke tailor before attending a tailoring school.
Eleven years ago, he moved to Italy. This was driven by a love of Italian and English tailoring, and a desire to learn from the masters.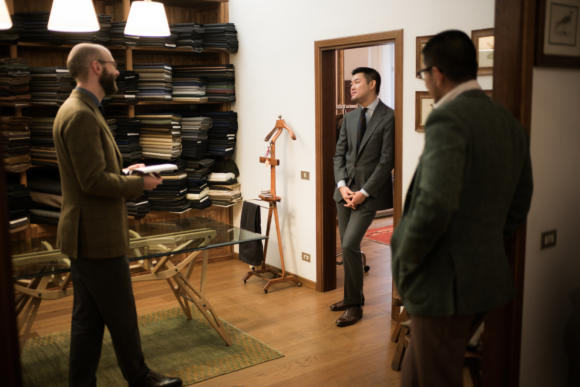 Most such visitors head to Naples, which has a far larger number of houses and therefore a greater likelihood of finding somewhere to learn and work. But Kotaro went to Florence, which he partly knew from seeing images of Pitti.
Once there, he worked with several masters, including Seminara and Francesco Guida. He also travelled regularly to Naples, and worked there with Franco Ordine (who has since passed away). So there was a mix of influences, the soft south and the hard(er) north.
"I also visited Savile Row at one point, which I was impressed by," he tells me. "But I knew big houses were never going to be for me, and of course the style was stiffer than what I naturally make."
Kotaro set up on his own seven years ago, and quickly began to evolve his own personal style using these various influences. The shoulders of his jackets are much softer than anything else in Florence, for example, but the fronts also sweep back from the waist, in a not dissimilar way to Liverano.
"I like a wider lapel, with a straight line to a lowered buttoning point," he says. "That lower button stance is actually an older, traditional Florentine style."
If there is one term that could characterise the whole style it is 'modest' - something that reflects Kotaro himself as much as the work.
When he contrasts his cut with Liverano, Kotaro uses this word in reference to the shoulders of his jackets, with their Neapolitan softness but slightly extended line. Despite the lack of English-style padding, a Liverano jacket can be quite strong and square, given its shoulder line and high notch on the lapel.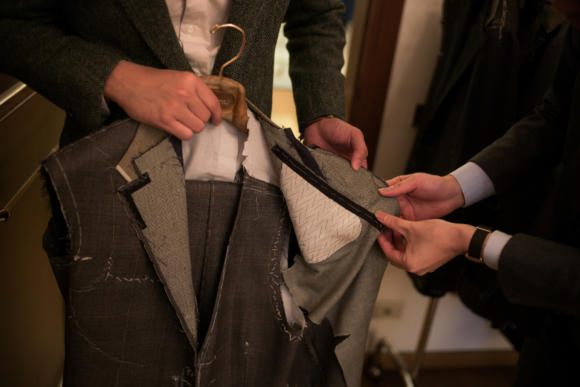 Elsewhere you notice fine finishing and tight pad stitching on the chest (typical of Japanese tailors), and interesting styles such as pea coats and hunting jackets.
"Finishing is very important to me," says Kotaro, "as I am at heart a coatmaker rather than a cutter. The attitude to making is at the heart of everything I do."
This focus on craft is typical of a lot of Japanese artisans, but many do so at the expense of fit or style. And what style there is is simply a copy of traditions elsewhere.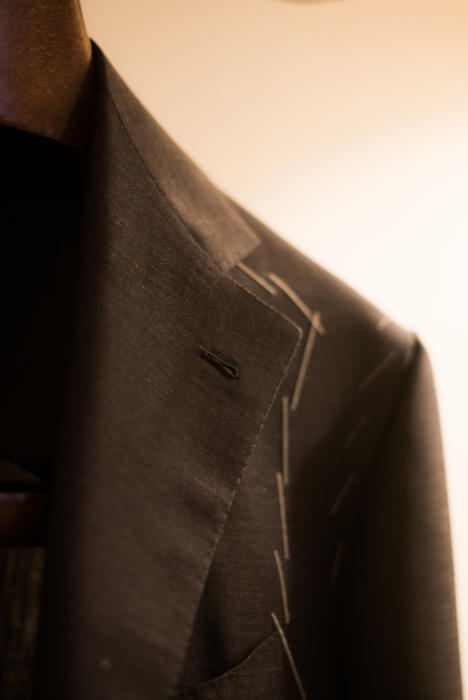 What's most striking about Kotaro, therefore, is how flattering and modern his self-evolved style is. (Something George Wang of Brio, pictured below, has had much to do with since he became a Corcos customer six years ago.)
If you were to create a perfect modern style, it would be soft in shoulder (for casualness as well as comfort), long in the lapel (to flatter the chest) and sweep away from the waist (to emphasise that waist). And yet be subtle about all of it.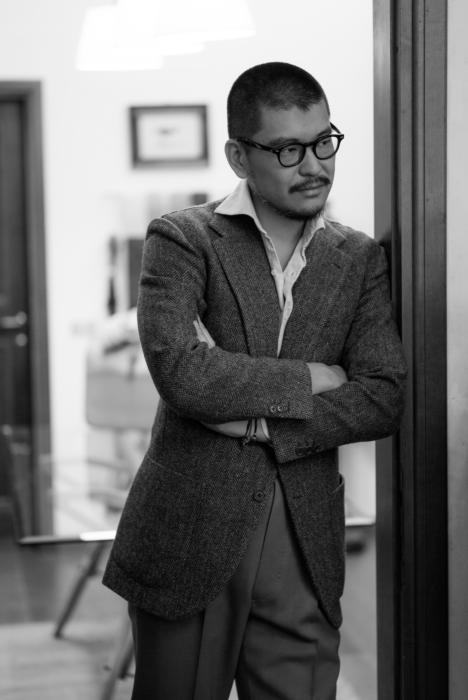 Kotaro's popularity is helped by his prices: 3000 euros for a two-piece suit. And he does occasional trunk shows in Tokyo, Munich, Stockholm and Hong Kong.
But as I said, no new customers. The best you can hope for is a reservation for 2018.
For details on my outfit, see this post on the escorial jacket.
Photography by Luke Carby
Images below from Kotaro's Tumblr account