White tie and blue shirt: Sunny formal in Sartoria Ciardi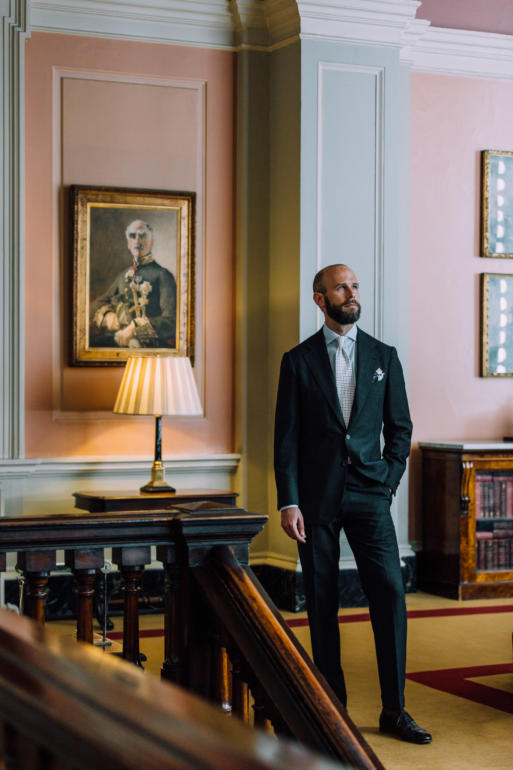 Wearing a white tie with a blue shirt is something that makes perfect sense in Naples.
To a certain extent, wearing sugary-pink jackets and lapis-blue tailoring makes sense too. It's just sunny so much of the time, even in winter - and that sun is strong.
Bright colours seem most congruous on bright days, and there are far more of them in the south of Italy.
In the UK, you need to wait for the sun - and then take your chance. For me that means getting out bright jackets, cream trousers or - as here - a white tie.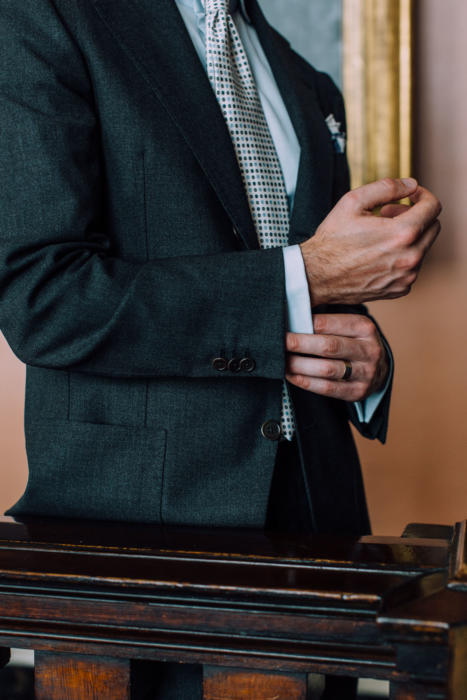 When I first saw this colour combination, I think it appealed most because it was unusual yet subtle (a running theme through many of my preferences).
I'd never seen anyone in the UK wear a white necktie like this, and yet it didn't seem out of place in a professional office.
Indeed, some might be happy to wear the combination any day of the year. I just like waiting for particularly bright, sunny days.
It took me a year or so to buy this one (from Marinella) and then a couple of experiments to decide I liked it best with grey suits - particularly dark grey, as pictured.
It's a printed silk, with the print a regular geometrical pattern in pale-blue, black and navy - colours which also make it easy to combine with formal tailoring.
Those colours are reflected in the cotton handkerchief from Simonnot-Godard, which is white with navy bands around the edge.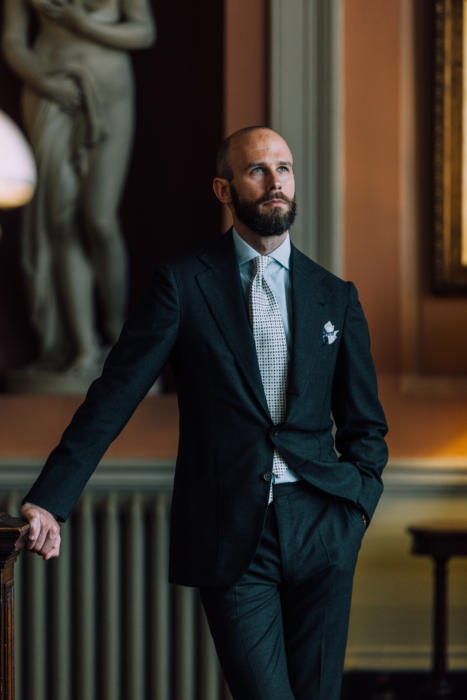 The suit readers will probably recgonise as my first from Neapolitan tailor Sartoria Ciardi.
It has become pretty much my default dark, professional suit, and I think this is largely because it combines the soft Neapolitan cut so well with a sharp, formal cloth.
In fact, I was conducting a personal consultancy session with someone last week - discussing investment in a new wardrobe - and this was the suit we ended up circling around.
He wanted something light and soft, Italian and rounded, yet still suitable for any client meeting or official engagement. This ticked all the boxes.
Since having this made, Sartoria Ciardi have started coming to London more often - and are here next December 12-14, at 9 Hertford Street. Contact [email protected] for details. Suits start at €3200.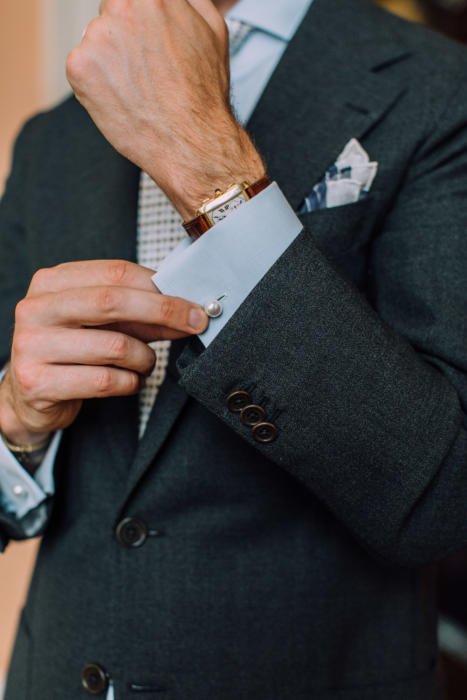 The cloth has become one of my favourites for high-twists, and I plan to use it for some trousers for the summer as well.
It's a four-ply worsted in 21 micron wool from Vitale Barberis Canonico (853.601/56, 390g). I've found it has performed well, hardly creasing and feeling light and airy to wear.
At 390g it's a good deal heavier than most high-twists, but I found it fine even on hot days in Italy.
For those that want something lighter, there is a two-ply option which I mentioned I'm using for my Sartoria Cornacchia pale-grey suit here.
Although it's not that important to me, some readers also mentioned that they like vertical integration. For them, VBC is (like most big Italian mills) highly integrated, doing all the spinning for this cloth themselves as well as the weaving.
That's particularly challenging on a heavier high-twist like this, as two two-ply yarns have to be created, before both then being twisted together again to make the four-ply.
The shoes are my (very) dark-brown oxfords from Cleverley: the first shoe I had made bespoke, and a nice match the dark-brown buttons of the suit.
[There is a full series on the stage-by-stage making of these here.]
They've worn well, except for their tendency to throw up a salt stain at the first sign of precipitation (something I largely put down to the thin soles).
You can also see above how there was too much fullness through the arch of my foot initially - subsequently changed for my next pair, black imitation-wingtips.
The other accessories are socks from Bresciani, Permanent Style cufflinks in white pearl, and my Cartier Chronoflex watch on a bespoke strap from Jean Rousseau.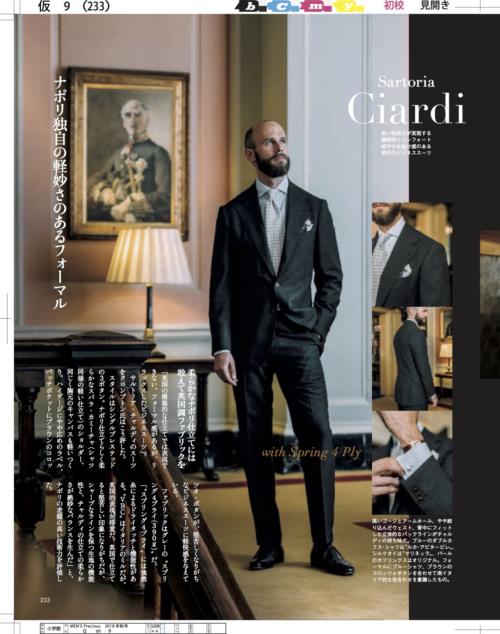 The suit was part of a recent feature for Japanese magazine Men's Precious looking at three recent Italian suits of mine - thank you Yoshimi Hasegawa for your help there.
Photography by Jamie Ferguson at the Traveller's Club in London.
I couldn't find the same tie online from Marinella, but let me know if you spot it anywhere.
In the meantime Viola Milano seems to have the biggest range of printed silks with a white ground.