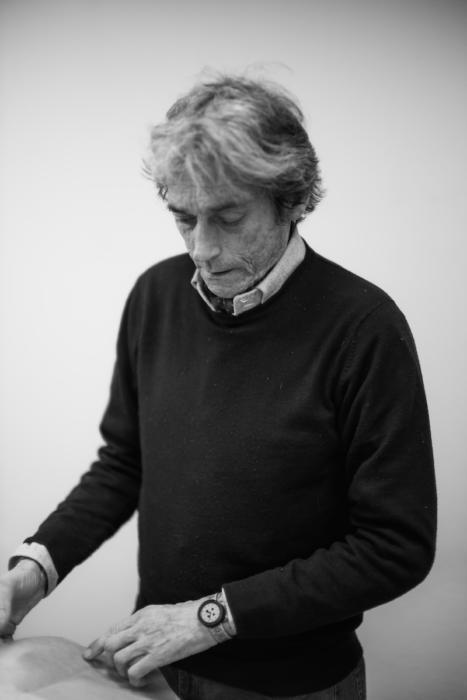 Siniscalchi is one of the world's best-known shirtmakers. Based in Milan, it has made for celebrity and royalty alike since it was founded in 1948. It is also, however, bizarrely expensive.
We visited Alessandro (Ale) Siniscalchi at the workshop following our event at Pitti in January, where Ale was a guest. The company was founded by father, and Ale does all the patterns and most of the cutting today, with his lovely wife also involved in the business.


At its peak, Siniscalchi employed 14 shirmakers; today there are six, with one embroiderer working from home. The quality of that embroidery work is stunning, with incredibly fine renderings of family crests and personal symbolism (above).
The quality of other work, such as the hand-sewn buttonholes, is not as fine – I've seen better finishing at other shirtmakers, and they charge a lot less than €700 (Siniscalchi's starting price for a shirt – there is no minimum). This is merely judging the making rather than the fit, of course, as I haven't commissioned anything myself.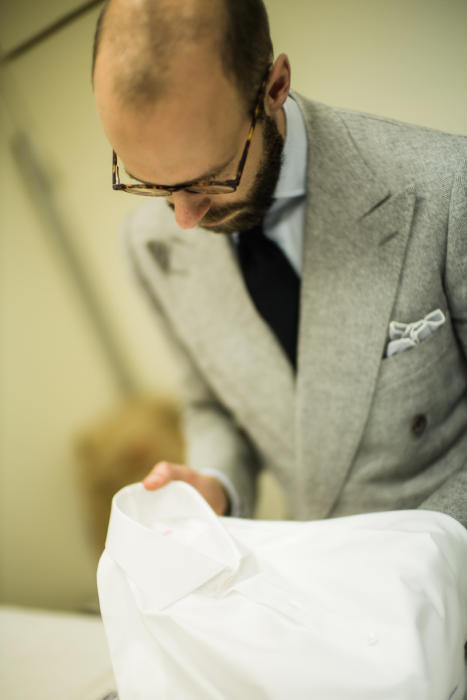 Elsewhere in the make, Siniscalchi attaches the collar and sleeve by hand, but everything else is by machine (save the attachment of the gussets). The collar normally has a floating lining, with occasionally a (stiff) fused lining when requested.
The shirtings on display are impressive: a stock of around 500 bolts upstairs and the same in the basement, all available for the customer to try – draping the cloth across themselves to get a better sense of colour.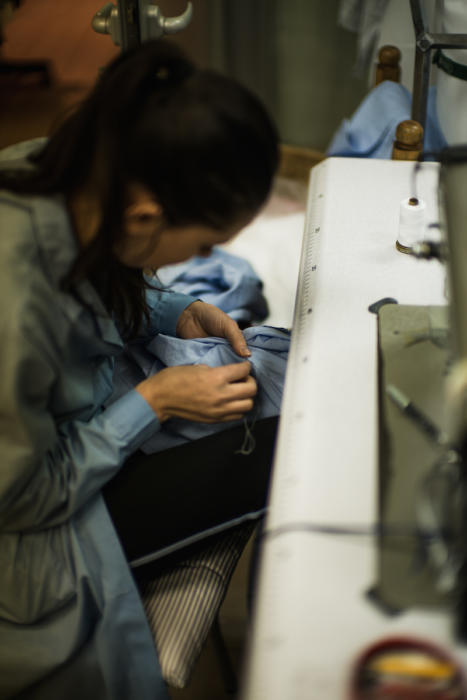 Ale also commissions his own cloth, and provides certificates of authenticity for them. Other makers, apparently, have been known to offer unlabelled bolts that turn out to be cheap Chinese versions of the English or Italian mills.
Siniscalchi has a few other idiosyncrasies, such as stiff but very thin collar bones, and inventions such as the shirt-cum-boxer-short, where the customer steps into the short before buttoning himself all the way up, like a onesie.
Not that convenient for going to the toilet, perhaps, but it does create a nice clean shirtfront in a more pleasant way than the tails that button under dress shirts, or 'shirt suspenders' that someone started pedalling again recently.