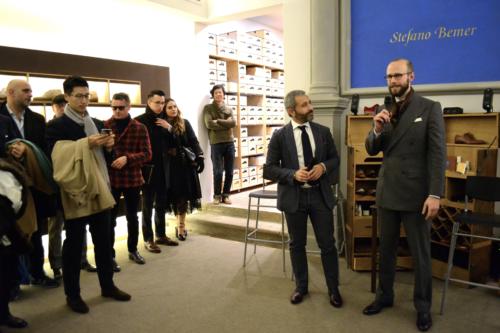 At one point in the evening, I introduced John Carnera to Pierre Corthay. These two titans of bespoke shoemaking – and gentlemen both – yet of course they had never met. Later, at the Villa Cora party, it was introducing Edward Sexton to Luca Rubinacci; then Nicoletta Caraceni to Lorenzo Cifonelli.
The highlight of the shoe symposium we organised this week in Florence was bringing these wonderful craftsmen together.
It's so easy to assume people won't get along – indeed, one maker commented that they had been told that another maker was arrogant and dismissive. They were so pleased to find out that that wasn't the case.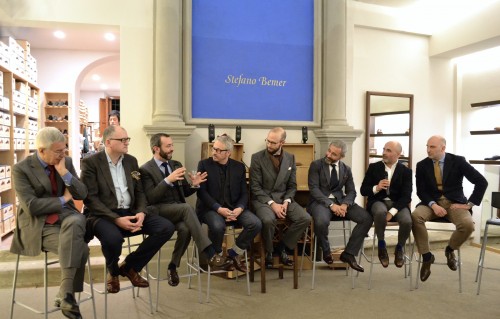 At the roundtable discussion itself, which I chaired at the Stefano Bemer workshop earlier in the evening, the mood was similarly congenial. Everyone admitted they were inspired by others' shoes; everyone praised each other's work; everyone expressed real optimism for the industry. There was talk of more official collaboration, even a club or association.
Everyone loved meeting John Carnera (Cleverley, now semi-retired). It helped that he knew Italy and spoke fluent Italian, of course. But his longevity also brought many of the themes of the evening together. When he joined in the 1950s, his employer asked him why he was getting into the industry – it would be dead in 10 years.
The symposium brought in most of the finest makers of both bespoke and RTW shoes in the world: Cleverley, Foster's, Gaziano & Girling, Corthay, Saint Crispin's, Norman Vilalta and Stefano Bemer. Stefano's spirit was everywhere – his generosity was remembered by Norman (who trained under him) and of course by current owner Tommaso Melani, who is endeavouring to continue Stefano's legacy.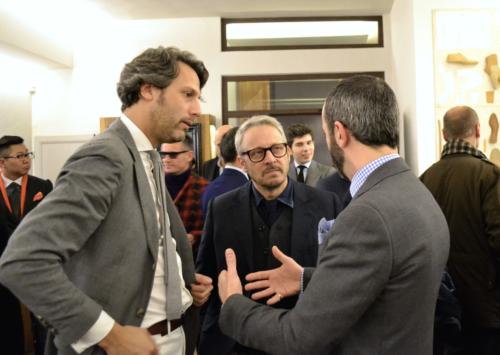 We had drinks and general discussion for about an hour, with our friends from Isetan, The Rake, Anderson & Sheppard and many more examining the shoes of the various makers – serried around the walls – and exploring the Bemer workshop (particularly the school on the top floor).
Actually, the loveliest part of the whole affair might have been meeting Ravi, a young guy who read my post on the Bemer school while having lunch with his family last year. After 20 minutes, he had convinced his father it was a good way to spend six months, phoned up Bemer and secured the last place on this year's course. I know it sounds naff, but it warms the heart. It really does.
After that hour of milling around, one representative from each shoe company took a stool at the front, and we began the roundtable. Questions included: how do you find producing bespoke and RTW inform each other? What do you think we need to push the industry forward? And which is your favourite shoe?
Collaboration and education were the answers to the second question, and interestingly most people picked a simple, pure shoe for their favourite. Tony (Gaziano) went for a black whole-cut; Pierre for a black derby; Philip Car from Saint Crispin's choice was blue-black, but the philosophy was the same: single, dark colours put the emphasis on the lines of the shoe, which most agreed were the most beautiful part of it.
Many, many thanks to everyone that came, both makers and audience. I'll post some pictures of the Villa Cora party later.