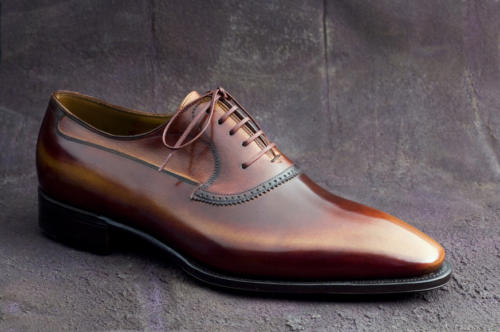 Pierre Corthay is one of the best shoemakers around, but is not well-known outside France. Trained at both John Lobb and Berluti, he has a pedigree from possibly the two most respected shoemakers in the world, for quality and design respectively.
Like Berluti, he has used some innovative marketing and eye-catching designs to gain attention across France. And he has gradually acquired stockists in Japan, Germany and the USA (Leffot and Bergdorf Goodman). If he were owned by the giant LVMH, he'd probably be as big as Berluti already.
I like Corthay shoes because they are sleek without being pointy (cf. Artioli), have a lovely patina without being over the top (cf. Berluti), and are universally renowned to have great construction (again, cf. Berluti).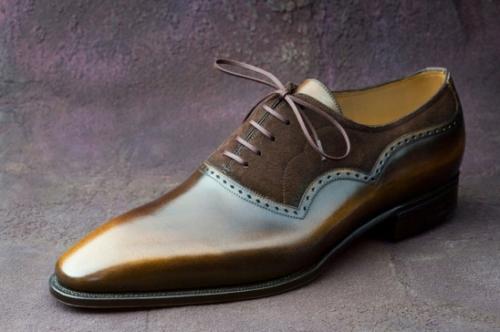 I wore my pair of Wilfrids, probably inadvisably, in torrential rain in London recently. They coped very well, without a stain on them and no signs of damage. In fact, come to think of it, they had had a few spots of rain on a previous occasion and there were no marks that time either.
I hasten to add that on neither occasion did I submit the shoes to this treatment on purpose. But as an assistant in the Gaziano & Girling showroom told me that day, "you wouldn't want to be wearing a pair of Berlutis on a day like this."
A look at the website (www.corthay.fr) illustrates the Corthay taste for the extreme. Neon-orange leathers and turquoise two-tones are always going to stand out from the crowd. But I am informed that 90% of the shoes they sell are still black or brown.
What blacks and browns though. Highlights are the two-holed derbies with elongated tongue, which look great in smart and clean shades, and the suede-and-calf combinations – a modern take on the traditional business model.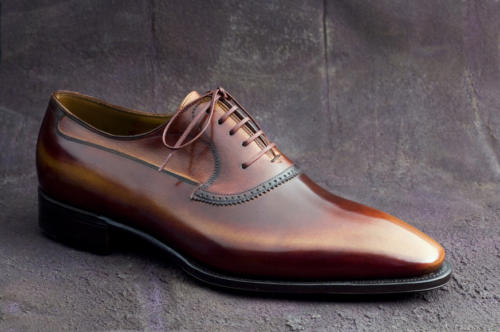 Having trained at Lobb in 1984 and become the senior craftsman at Berluti in 1985, Corthay opened his own store in 1990. Five years later a contract for 150 bespoke pairs from the Sultan of Brunei kick-started the business, which added a ready-to-wear in 2001. A tricky experience with a subcontractor led the company to start doing its own ready-to-wear and opening its own factory in 2003.
Today, Corthay probably competes with Aubercy for the reputation of the best-respected shoemaker in France. I highly recommend a look next time you are in New York (Leffot, Bergdorf Goodman) or, indeed, are strolling down Rue Volney in Paris.